Catching snooks is unlike regular fishing because you're going after sly, ambush predators that rule the saltwater troughs.  There's a chance you won't see a single snook for the entire day, especially during the winter months.  
Snooks also feed during specific hours and hang out in different depths. For a novice angler, reeling in a large snook the first time around is rare.
If you stocked up your tackle box with all sorts of lures but haven't had any luck, we're here with some smart snook fishing tips for the average fisherman.  
Did you know that you're more likely to catch a big snook at night than during the day? Keep reading for more tips on catching snooks this fall.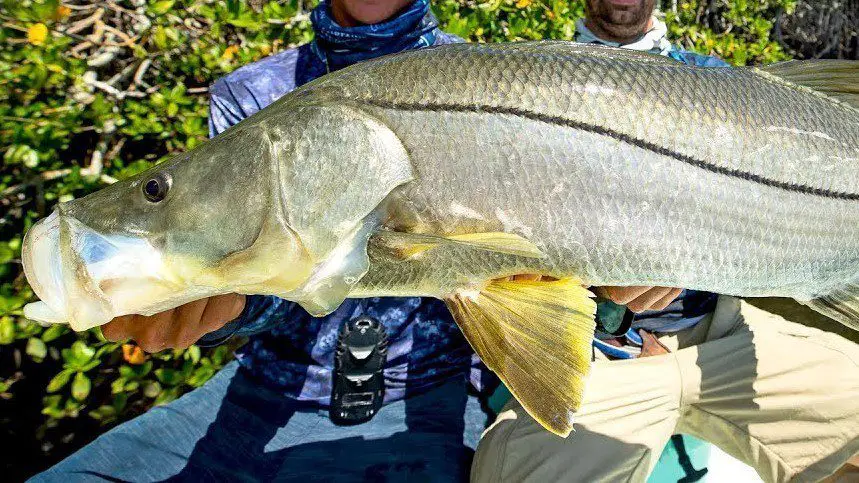 6 Tips on How to Catch Snook Easily  
As a beginner, you might have difficulty finding the snook population in the surf. More often than not, snook hide behind underwater structures and oyster bars. Or, they swim together a few feet from the shoreline.  
Inshore Fishing is Your Best Bet  
From July to August, baitfish move into shallow water, and big snooks follow them. During this time, snooks will also feed on red minnows. It makes the perfect premise for sight fishing.  
Hit and stir the sand with your rod. It will help you cast to snook cruising close to the beach. Snooks can't stand cold temperatures, so fishing for them in warm seasons will be more productive.  
Target Snook Fishing in Spring or Fall  
Most anglers are keen to catch snook during the snook fishing seasons. For a kayak angler, it's easier to target snook that hangs around jetties, bridge pilings, and sea walls.  
Places Accessible by a Flats Boat Make Excellent Fishing Spots for Snook 
Most anglers don't bother taking their flats boats out when it's easy to catch big fish off the troughs.  
From the first day of September, the open season is expected to last through fall. So, grab your snook permit and head out for the Everglades.
Choose Your Fishing Spot Wisely  
Beach fishing is more effective than kayak fishing when it comes to snooks. 
Most snook locations are under Florida's Atlantic Coast, making it easy for novice anglers to shoot their shots. Find a portion of the beach that is free from sunbathers.  
Snooks prefer low salinity in the water, so fishing in a spot where freshwater meets saltwater is something seasoned anglers do but will never admit to doing.   
Search for Feeding Snook in the Troughs  
Snook is a versatile fish species that will alternatively hang out in freshwater and troughs. As a half saltwater and half freshwater species, snooks are never far from the sea when there's a current. 
You can find them on the gulf coast near freshwater, hunting for a jumbo shrimp or a threadfin herring.   
Large snooks are adventurous by nature and will follow lights. So, fishing near bridge lights and docks can give you an advantage no matter what bait you're using.  
Cast Your Line Two Hours Before High Tide  
Snooks will often feed at night or a couple of hours around dusk and dawn. The time before the high tide is when snooks search for prey in saltwater. The rising sun will be in your face if you're fishing snook on the east coast.  
The moment after sun-up is usually the prime time to catch trophy fish in every other region. Stay on guard because snooks don't give you much time to set the hook.  
Set Your Hook in Time and Prepare for Battle  
Once you feel a big snook pulling on your line, quickly hoist the rod back up at a 45-degree angle. To avoid losing your fish to a loose line, lower the rod occasionally and keep reeling to minimize tension in the fishing line.  
A snook caught on artificial lures signifies that your fishing game has reached a new height or that you know how to rig a topwater lure like a pro.    
Snook are predatory fish. They don't give in without a fight. While fishing for snook in strong currents, use a 30 lb braided line with a 60 lb line leader. Topwater fishing in light current calls for a lighter line with sensitive fishing rods.  
A good presentation can help you catch a big snook in beach fishing. When kayak fishing in the inlets, you must choose your fishing line wisely.  
Do you want to catch a dozen snook along with the Florida Keys? We've put together a little list of fishing gear for different sight fishing and paddle fishing conditions.  
Suitable Fishing Lines for Snook   
Open grass flats with slow-moving current: 10-15 lb braided line with 30 lb leader 
Docks with slow to medium current and mangroves: 15-20 lb braided line with 40 lb leader  
Fast-moving currents and inlets with structures: 30-40 lb braided line with 50 lb leader 
The best tip for surf fishing is to match your gear to the baits—most fish feed in moving water, including largemouth bass, trout, and snooks. Cast your line so the lure moves toward the snooks, not away from them in the current.  
Best Fishing Reel for Snook
Snook can grow up to 50 pounds, so you must ensure you have the gear to handle the fight. The best-sized reel for snook is a 4000-sized saltwater spinning reel. I would pair this with a 7-foot inshore spinning rod to give you sufficient power to handle this species. You should go for gear that is corrosion resistant because you will often be fishing in brackish waters that you should treat as saltwater in terms of flushing your reel.
Best Bait for Snook
Crabs, shrimps, or small fish are the best bait for snooks. As with most inshore species, you can catch large snooks with topwater lures. Snooks love pinfish, sardines, small mullets, and greenbacks. But their number-one choice is usually crustaceans like small crabs and shrimps.   
The best bait for snook is:
Pink shrimp  
Finger Mullet  
Pin Fish  
Pilchards  
Atlantic Croakers  
Snappers   
Ballyhoo  
Ladyfish   
Grunts 
Sardines   
Red Minnows  
To make bait fishing more effective, reach the fishing spot a couple of hours ahead and catch some live bait. Considering snooks are super lazy, you might not have to put in the effort. Soft plastic baits are great options for shallow depths, usually two feet or under.  
Snook bite on grunts, live pilchards, and snappers. You can always go for synthetic bait if you don't want to get your hands dirty.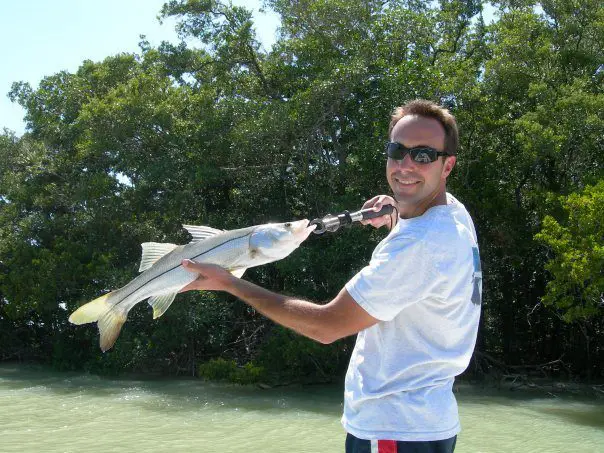 Best Lures for Fishing Snook   
To sight fish in the snook hiding spots, it's good to use different baits and lures. The 3-inch paddle tails are arguably the best lures for snooks. However, fishing for snook in deeper water can be easily done with a 1-½ ounce hawk jig.  
There's nothing like soft plastic lures for attracting the biggest snook your way. Snooks also like shiny lures that imitate the scales on smaller fish. In that case, you can use a twitch bait like Mirrordine or a jerk bait from Stick Shadd. 
Popular lures for slob snooks include bucktail jigs, gold spoons, and colorful plastic baits. We often fish for snook in the summertime and use dead bait. If you've tried this tactic before and failed, here's how you can improve your snook fishing tackle asap.
Best Lures for Snook Depending on Depth:
| | |
| --- | --- |
| Depth Category  | Suitable Lures  |
| Shallow water (Under 2 ft)  | Hard plastic twitch baits, soft plastic jerk baits, Topwater plugs   |
| Mid depth (2-5 ft)   | Small-lipped crankbaits, swim baits, and bucktails   |
| Deep (More than 5 ft)   | Bucktails, swim baits, heavy jigs, large-lipped crankbaits   |
This table shows the best lures for Snook depending on the depth
Need more tips on rigging a live bait for snook? Our friends at Coastal Angler Mag have plenty regarding surf fishing for snook.  
Frequently Asked Questions 
Can you fish snook off of the beach?
Yes, you can fish for snook from the beach with live bait or an artificial lure. Targeting snook with a bucktail jig is an excellent way to catch the big ones. Fly anglers use topwater baits and cast to the many snook fishing locations along the east coast. 
What size reel is suitable for inshore fishing?  
For saltwater fishing, the 40 spinning reel is the optimal size. It's got enough strength to reel in 25 lbs fish from 5-foot-deep waters. Pair your 4000 series reel with a 7′ medium to a heavy fishing rod. You'll need about 15lbs of drag in the reel for catching snooks.    
How to hook live baits for snooks? 
Hook live baits towards their nose when fishing in heavy current and towards their tail when fishing in slow currents. Large fish like snooks face the current because that's the direction they think small fish will be coming from. 
Rounding Up  
You can use a fish finder for catching big fish. But nothing feels more rewarding than sight-casting to a nice snook based entirely on your insights.
Looking in shallow waters for snook right after sunset is how we do it. We hope you liked our snook fishing tips and gear suggestions. Hit us up if you have more questions about snook fishing.