Planning to go for ice fishing and don't know how to select the right fishing lures? You're in the right place.
Ice fishing offers the most satisfying fishing experience as compared to the other types. The extremely cold temperature and the hunt for the right spot present many challenges that make your fishing adventure very fun and interesting. But without the right tools and gears, you ice fishing can turn into a distasteful experience. Hence, it is very important to have the right set of fishing gears.
Talking about the important gear, ice fishing lures secures the top position in the list. The right lure will decide what kind of catch you can make easily. It will help you to attract the desired type of fish in a particular location and under specific climatic conditions.
I understand that finding the right ice fishing lures can be a bit tricky after looking at tons of varieties available in the market. Having that in mind, here I am sharing all the information you need to buy the right fishing lures. But before that, let's find out the reason why you need special lures for ice fishing!
Quick Summary – Best Ice Fishing Lure
Hooks
Center Treble Hook and Two Single Reversed Hooks
Hooks
Center Treble Hook and Two Single Reversed Hooks
Why Should You Use Special Lures For Ice Fishing?
This is the most common question asked by a majority of fishing enthusiasts. What makes an ice fishing lure different from the regular ones and why you should use them for ice fishing?
Visibility is the answer. When you're ice fishing, visibility from the water is very important to catch the fish. In simple words, your lures should look more realistic in order to attract the desired fish.
These lures also have the ability to work under different climatic conditions. Ice fishing is slightly different from any other type of fishing. So, to increase your chances of making a catch, you should make sure that you're using the right lure according to your environment. And this is where ice fishing lures play an important role.
Ice Fishing Lures Buying Guide
Now that you've learnt why is it important to use special ice fishing lures, it is the right time to look at the list of factors to consider while buying the right products.
Type of Material
The first and foremost thing to look at while buying the best ice fishing lures is the material from which they're made. Generally, ABS is considered as the best material for all kinds of lures. There are certain other materials also but a majority of fishers prefer their lures to be made from high-grade ABS plastic. A good quality lure will make sure that it performs better under different conditions without wearing quickly. In simple words, good material quality will make sure your lures last for a long time.
Also, prefer buying non-toxic and environment-friendly fishing lures.
Ease of Use
No matter how expensive fishing lure you purchase, if you don't know how to use it, it is not going to be any useful. So, prefer buying the lures with a clean and simple design instead of the ones with complicated designs. Even if you're an experienced Fisher, easy to use lures will save a lot of effort and time.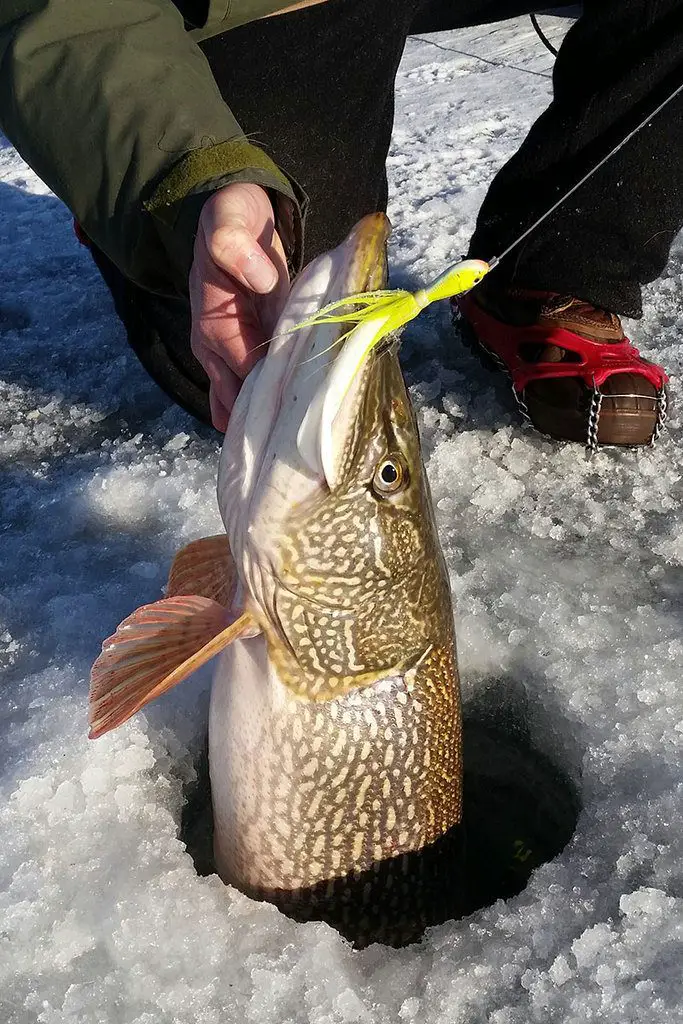 Durability
Just like any other product, ice fishing lures also needs to be sturdy and durable. Obviously, you don't want to invest in lures that breaks off right after a single-use. So, look for the lures that are sturdy and durable. They shouldn't break easily and should be corrosion and rust-resistant.
Style and Design
Fishing lures should have good prints, designs and finishing. If the lures are cheap, you'll not find these qualities as they don't come with high-quality fishing. So, avoid buying cheap lures just to save a few bucks. Instead, invest in a good quality ice fishing lures that have nice prints, patterns and style.
Type Of Fish
When you're ice fishing, you'll be targeting a few specific types of fish as there will not be a huge variety of species to catch. Only a few fishes spend their time under the ice. As a general fact, walleye is the most common fish during ice fishing. Hence, you should get lures that are suitable for targeting walleyes. This is a fast fighter fish that moves very fast. If you don't use the right lure, it will just eat the bait and swim away. On the positive side, catching walleye can be rewarding and they move in groups, so you'll be able to target enough fishes at a single time.
Sauger is another fish that can be found under the beds of ice. This fish is very similar to walleye and found under similar areas. Good thing is, you'll be able to catch both common types of fish using the same lures.
Color Of Fishing Lures
Most of the people ignore the fact that choosing the right color for fishing lures is very important when it comes to selecting the right ones. But that's a very wrong practice. No matter how good quality and expensive fishing lures you get, if they're not of appropriate colors, they will not perform well. Colors play a very important role in ice fishing.
Water color is the safest option to go buy if you have no idea what colors to use. Another way is using the jig with multiple colors in case you're not familiar with the conditions you are fishing under. This is a safe option because you'll be able to cover a number of bases.
If you're fishing in clear water, then primary colors will work fine for you. But if you're using metal lures, make sure that they're not too reflective or bright. Similarly, if you're finishing in foggy or cloudier water, go for fluorescent or neon colors as they are more visible in such water. A good idea is to use contrasting colors in foggy water and solid colors in clear water. If you're using metal lures, go with golden color for cloudy water and silver otherwise.
10 Best Ice Fishing Lures
1. Rapala Jigging Rap 07 Fishing Lure
Bestseller No. 1
There's no denying that Rapala is widely considered to be among the top brands in the fishing industry when it comes to making effective artificial lures. The company has been around for almost a century and they have developed a reputation for producing lures that are just what fish want in many cases. In addition to their freshwater fishing lure lineups, the company has been making ice fishing lures for many decades. 
What I Like About It
The Rapala Jigging Rap 07 Fishing Lure is our top choice for the best ice fishing lures thanks to this bait's versatility and overall effectiveness when it comes to attracting bites at times when other lures simply can't measure up. Many experienced ice fishing enthusiasts consider this lure to be the single most attractive ice fishing lure on the market and it's a good idea to bring a few of the most popular color options on your next ice fishing trip if you're looking for a lure you can rely on. 
Like most other jigging lures, you'll be able to use this in a methodical fashion that might be faster or slower depending on how active the fish are on that particular day. The overall shape and design of the Rapala Jigging Rap 07 helps to give it the distinctive action most anglers want that sends their lure darting and diving in a circular motion that most hungry fish simply can't resist during the frigid winter months. 
The Rapala Jigging Rap 07 is available in 15 different color pattern options, which means you can pick out the one that's ideal for the lake you plan to fish in order to match the hatch. This lure is one that offers excellent balance and will last many years when cared for properly as it is made with the same high standards that all other Rapala lures are manufactured with. 
2. Salmo CD5-PH Chubby Darter Lure
The Salmo Chubby Darter Lure is a true classic among the best ice fishing lures that you can choose from on today's market. This small, but effective lure is perfect for enticing fish to come and investigate its unique, wobbly action that other lures simply can't mimic. If you're an avid ice fishing enthusiast, you've likely heard of or even used this bait before as it is considered one of the most popular. 
What I Like About It
This particular lure is made to be fished in a vertical fashion that creates a distinct wobbling motion as it is pulled up, which very closely resembles a small bait fish making its way toward the surface. This wobbling motion usually appears to be very realistic and can entice a large fish to strike, thinking they are taking advantage of an easy meal in the form of an unsuspecting fish. 
The darker colors and stripes on the Salmo Chubby Darter Lure help give it the same appearance as a small perch or other fish that is natural to northern areas where lakes are commonly known to freeze over. Anglers are recommended to use a smaller diameter line with this lure and to pay special attention to strikes that will occur shortly after the lure starts falling back down in the water column. 
3. Dynamic Lures HD Ice Fishing Lure
Dynamic Lures is a company that is well-known throughout the ice fishing community. They are responsible for making some of the most popular ice fishing lures on the market and one in particular is easily among the best ice fishing lures available today. 
The Dynamic Lures HD Ice Fishing Lure is a small, slender minnow-like lure that is made to deliver a specialized darting and bouncing motion that so many freshwater game fish species find appealing during the frigid winter months when things can really slow down. This lure's weight is evenly distributed and lets anglers get the most out of specific twitching motions with their rod that can help draw the attention of nearby fish. 
What I Like About It
The lure is small enough to be capable of catching perch, crappie and many other types of fish, but might also appeal to larger species like bass, musky, and others. One thing that sets this bait apart from most other types of ice fishing lures is the bright color pattern, which turns out to be quite an advantage for anglers who are fishing in low-light situations at dawn or dusk. 
The Dynamic Lures HD Ice Fishing Lure is exceptionally tough and made with size 10 treble hooks, which are small enough to allow a wide variety of fish to bite. The body is made of hardened ABS plastic material, meaning it will last for many years when used and cared for properly. 
4. Sougayilang Ice Jigging Lures Kit
Sougayilang is one of the fastest-growing brands in the fishing industry thanks to their reputation as a company that manufacturers quality gear, equipment, and lures for a more reasonable price than most others. The Sougayilang Ice Jigging Lures Kit is a clear addition to our list of the best ice fishing lures as this special kit provides a range of baits that are likely to appeal to most types of freshwater game fish that anglers go after when ice fishing. 
What I Like About It
This kit includes up to four different individual lures that vary in color pattern. The most popular option that most anglers opt for in this Ice Jigging Lures Kit is the minnow-like design that offers the action-style tail. This specialized tail is made in the same way that many other top ice fishing lures are designed and is capable of delivering the distinct darting and diving motions that so often entice large game fish to bite. 
The variety of colors are one of the most appealing aspects of the Sougayilang kit as you'll be able to select the lure that's right for the specific time of day you're fishing, as well as the particular fish you aim to mimic with your bait. Best of all, this kit is available for a much more reasonable price than most other premium baits that are virtually identical in size, shape, and design. 
5. Acme Kastmaster Lure
Bestseller No. 1
Bucktail jigs and lures are one of the most common styles used by ice fishing anglers and have long been a mainstay in coldwater fishing going back many decades. Many anglers prefer the classic look and feel of a bait like the Acme Kastmaster Lure to perform in a way that fish simply resist. This lure might not be as flashy or visually appealing as some of the other options on our list, but I can assure you that its effectiveness is enough to put it into our top 10 list of the best ice fishing lures. 
Acme lures have been around for a while and many anglers might already have a few of the Kastmaster style options in their tackle box. The main purpose of the bucktail jig is to tease the fish in a way that piques their interest and generates a strike when other lures often can't. This lure's large spoon is an added bonus that makes the Acme Kastmaster's overall action even more appealing when used in the right way. 
What I Like About It
This particular lure is often considered to be best for smaller-sized fish, but many anglers have reported catching large bass, walleye and other species with it. One of the strong-suits of the Acme Kastmaster is that anglers can truly develop and customize their lure presentation to match the mood of the fish. 
This lure is among the most reasonably-priced options on our list and it should be one that any dedicated ice fishing enthusiast has in their tackle arsenal. 
6. Rapala Jigging Shad Rap
Bestseller No. 1
Another popular item from the Rapala lure company is the Rapala Jigging Shad Rap. This is an option that I could possibly include at a higher position on our list of the best ice fishing lures, but it might be considered one that's a bit more specialized and targeted for larger-sized fish. 
This lure has a very similar design to other minnow-like choices on our list as it features the action-style tail that helps give the Jigging Shad Rap much of its unique motion. Instead of a quick, darting action, this lure will give off a much more pronounced, slower circular movement that typically draws the attention of larger fish that aren't necessarily looking to chase after a tiny, fast-moving bait fish in the middle of winter. 
What I Like About It
The Rapala Jigging Shad Rap offers a distinct vibrating motion that often helps entice sluggish fish to strike when other lures aren't capable of drawing any attention. This lure is an ideal option for using around underwater structure as anglers will have a greater amount of control over the specific turns and motions the bait will make underwater. 
7. Live Target Golden Shiner
Some lure companies are said to manufacture their products in a way that is designed to "catch the angler instead of the fish." This simply means that anglers will often purchase a lure simply on the basis that it offers a hyper-realistic look over other characteristics. However, when it comes to what fish actually will strike at, most anglers might be surprised to learn that their bait doesn't need to look identical to a real fish. 
This isn't the case with ice fishing. Many times, anglers are fishing in water that is exceptionally clear and fish have more opportunity to get a better look at their target. Having a lure that is exceptionally realistic and provides good overall action is key. The Live Target Golden Shiner is perfect in these situations as it very closely resembles a real fish, but also provides outstanding movement and motion that draws fish in for a closer look more often than not. 
What I Like About It
The Live Target Golden Shiner offers a distinct rattling sound that helps drive fish crazy and will often entice them to bite out of sheer instinct instead of hunger. This lure is highly versatile as it can be used vertically for ice fishing, as well as casted out and retrieved in the same way an angler would any other freshwater lure. 
8. Ice Fishing Jigs Kit
It's only fitting that I follow up the most realistic lure option on our list of the best ice fishing lures with one that is mostly plain and seemingly attractive. The Ice Fishing Jig Kit features a dozen lures that are designed to be consistent with some of the most effective ice fishing lure presentations of all time. 
Anglers can order a variety of different metal jig heads and hook designs that range from simple jigs or grub styles to drop-water minnows and other types. These hooks allow anglers to use a variation of natural or artificial trailers and other additions that help enhance their lure's overall appeal.  
What I Like About It
These lures are virtually indestructible and can be used in a variety of different presentations that make it a solid addition to our list of the best ice fishing lures. 
9. VMC Rattle Spoon
Bestseller No. 1
The VMC Rattle Spoon is another option among our top choices for ice fishing that is simply a mainstay in the realm of ice angling. This simple, but highly effective lure setup is one of the most popular styles of ice fishing baits as it thrives when used vertically at different depths. The lure is capable of attracting bites from a wide range of fish species, including crappie, perch, bass, and many other types of freshwater fish. 
What I Like About It
This is a lure that is simply a must-have among the many different choices of lures you could opt for. The VMC Rattle Spoon has its uses and a seasoned angler who has spent enough time on the ice likely knows that value of a spoon-designed lure such as this. The VMC Rattle Spoon's paint is applied in a way that ensures the lure will not easily allow the coating to flake or scratch. 
These lures are best used with a small ultralight rod that will allow anglers to twitch and jerk the spoon in a variety of different directions, while also giving them the ability to feel those subtle bites from smaller fish. 
10. CLAM Dave Genz Drop-Kick
One of the main mistakes ice anglers commonly make is overcomplicating things when it comes to lure presentation. There are a number of classic style lures and setups that anglers have used for many decades with great success. Oftentimes, modern anglers can get too caught up in following the latest trends or looking forward to the newest lure release, which causes them to miss some of the most obvious truths about ice fishing. 
What I Like About It
The CLAM Dave Genz Drop-Kick is one of those classic lures that every ice angler should have in their tackle box. This option is capable of catching any species of freshwater fish if used in the right way. It's incredibly tough and simplistic design make it easily capable of withstanding just about anything you're likely to encounter on the water. 
Conclusion
That's about it. I hope this guide helps you in making the right buying decision for your next batch of ice fishing lures.
Happy fishing!
Last update on 2022-08-30 / Affiliate links / Images from Amazon Product Advertising API