Once the temperatures plummet in the northern portion of the United States, many anglers are undeterred in their quest to fulfil their favorite pastime. Ice fishing is one of the most unique forms of angling and it dates back many hundreds of years when the native inhabitants of North America had to catch fish to survive the harsh winters. 
If you're interested in exploring some of the best ice fishing spots in the U.S. and willing to brave the frigid temperatures, we recommend these 10 locations as our top picks for ice fishing across America.  
1. Brainerd, Minnesota 
The state of Minnesota is known as the "Land of 10,000 Lakes" because it's landscape is literally teeming with lakes. Many anglers consider Brainerd to be the top location in the state for ice fishing because there are nearly 500 lakes within a 25-mile radius. 
Many anglers venture to Gull Lake or Round Lake to catch everything from walleye to largemouth bass and an assortment of different freshwater fish species. If you're willing to test your skill against other ice anglers, the city is home to the Brainerd Jaycees Ice Fishing Extravaganza, which is one of the largest ice fishing competitions in the country. 
Bass Lake is considered to be one of the best destinations for ice fishing in America for catching one specific species—bluegill. The lake is 2,400 acres, and its underwater habitat and depth is the perfect setting for bluegill to grow to gigantic sizes. The lake's average depth is about 10 to 12 feet and it features excellent water clarity, which is a winning combination when it comes to ice fishing for bluegill. 
The lake has a 5-fish limit, but you can usually count on catching 5 monster bluegill if you fish the shallow portions where these fish swarm in large numbers. Anglers will typically use certain jigs that resemble the kind of small aquatic bugs bluegill love to feed on in Bass Lake. 
3. Devil's Lake, North Dakota 
Known as the "Perch Capital of the World," Devil's Lake, North Dakota is another worthy addition to our list of the best ice fishing spots in the U.S. This sprawling lake is more than 44,000 acres, so you won't have to fish shoulder-to-shoulder with other anglers to catch a limit of perch or any other fish species you're after. 
Many ice anglers flock to Devil's Lake in late January to compete in the annual DLVFD Ice Fishing Tournament where those who finish in the top usually receive a slew of prizes. In addition to perch, you can expect to catch walleye, crappie, white bass and northern pike from December to March. 
4. Silver Lake, California 
California is not known as one of the top states for ice fishing, but certain places like Silver Lake are must-visit locations for avid ice anglers. Silver Lake is situated in the El Dorado National Forest and sits more than 7,000 feet in elevation. It's a small lake that's brimming with a variety of trophy-sized brook, mackinaw, and cutthroat trout. Anglers can fish and enjoy the breath-taking mountain landscape that surrounds Silver Lake. 
5. Lake Champlain, Vermont 
Lake Champlain is a massive body of water that stretches more than 125 miles across Vermont's rugged Adirondack Mountains. Anglers come to Lake Champlain to fish for a slew of freshwater species like perch, lake trout, white crappie and even salmon. This is a destination that any serious ice fisherman should have on their bucket-list of places to visit. 
Ice fishing starts around December and usually lasts until mid-March in most cases. This is one of the best ice fishing spots for catching a wide variety of different fish species using different tactics.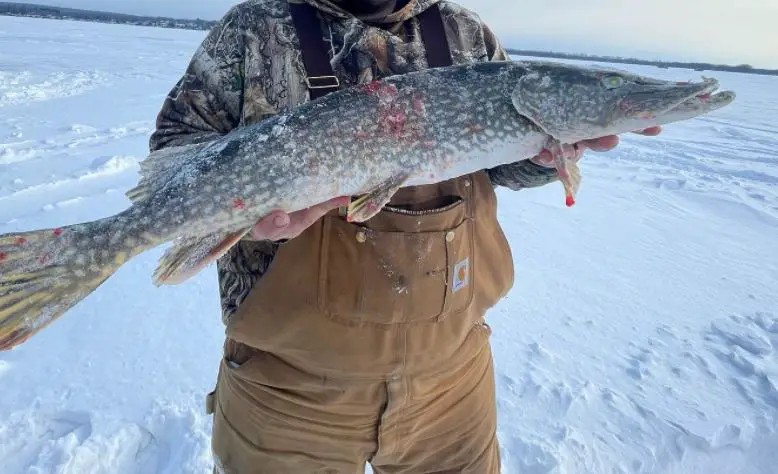 6. Fort Peck Lake, Montana 
If you love to ice fish in remote places where there isn't another angler in sight, Fort Peck Lake, Montana is the perfect destination. This massive reservoir is nearly 250,000 acres in northeastern Montana and is fed by the Missoula River. This far-away location is quite a drive to reach, but it's worth it for anglers who want to catch monster-sized trout, pike, salmon and sauger, which can be found in plentiful numbers. 
Ice fishing usually lasts until March on Fort Peck Lake and the reservoir is home to the Montana state record chinook salmon, which tipped the scales at over 32 pounds in 2020. 
7. Pactola Reservoir, South Dakota 
Many ice anglers consider the Pactola Reservoir to be the top spot for catching lake trout during the winter months. Nestled in the Black Hills of western South Dakota, this lake offers stunning views of the surrounding mountain landscape. Pactola is relatively small compared to most of the other bodies of water on our list, but the 782-acre reservoir features depths of more than 100 feet of water. 
Catching trophy-sized lake trout that are more than 20 pounds is quite common for anglers who are willing to make the trek into the Black Hills to visit Pactola Reservoir. 
8. Little Bay de Noc, Michigan 
Little Bay de Noc is another top location for ice fishing in America and one that is considered to be the best for catching walleye during the cold winter months. This 30,000-acre section of the northwest corner of Lake Michigan is where many fish will move to once the temperature drops and the ice begins to form on the surface. 
The Little Bay de Noc is a staging area for walleye and lots of other fish that will eventually travel into the nearby rivers to spawn after the thaw. Anglers can catch their limit of walleye with the right kind of jigging lures in the bay. 
9. Lake Winnebago, Wisconsin 
Lake Winnebago is the largest body of water in the Badger State and its 137,000 acres are home to the world's largest self-sustaining population of giant lake sturgeon. It's not unusual for these monster fish to grow to more than 100 pounds and the record for Lake Winnebago was a 212-pound whopper that was caught in 2010. 
In addition to the teeming numbers of lake sturgeon, Winnebago is home to healthy numbers of largemouth and smallmouth bass, walleye, catfish and many other species that ice anglers usually target. 
10. Moosehead Lake, Maine 
Maine's Moosehead Lake got its name from the fact that it's sprawling 75,000 acres resembles moose antlers on a map, but this body of water is also known as one of the best locations for ice fishing in America. Anglers usually catch an assortment of lake and brook trout, salmon, as well as smaller panfish throughout the winter months. 
Many anglers will utilize snowmobiles and ATVs to reach the distant coves where trophy-sized fish. The lake is well-known as a popular fishing destination any time of the year, but many anglers visit this one to catch some of the landlocked salmon and brook trout during the frozen winter months.