Catfish fishing is an increasingly popular species among anglers due to their shear size, fight, and taste. They are a fun fish to chase as they are always hungry.
Catfish are fairly simple in their behavior and catching them can be as easy as putting the right bait in the right place at the right time.
I have put together a list of tips that will help even a beginner angler to get their first catfish. Understanding their behavior and habits is key to putting a bait in front of them.
Species of Catfish in North America
The three main species of  catfish targetted by anglers are:
Blue Catfish
Channel Catfish
Flathead Catfish
Channel catfish are the most popular amongst anglers as they are hard fighters and also good eating, but they don't grow as large as the blue or flathead.
Blue catfish are the big fish that can easily exceed 100 lbs.
The flathead catfish is the top river predator and is the most territorial.
What is the best month to catch catfish?
Catfish can be caught all year round, but they are most active in late spring and summer from May to August.
What water temperature do catfish start biting?
Catfish spawn in late spring and summer as the water temperature begins to increase.
Channel catfish spawn at 70-84 degrees.
Bue catfish spawn at 70-84 degrees.
Flathead catfish spawn at 66-75 degrees.
The time of catfish spawning may change depending on the weather and even water temperature within a single body of water.
The spawning peak may only last a few days. When the spawning has passed male catfish will begin feeding actively again.
What time of day do catfish bite the most?
Flathead catchfish are the most nocturnal of the three fish, and is more likely to be caught at night, particularly when among slow-moving water. During the day they often stay in their deep holes which can be difficult o find.
Blue catfish and channel catfish can be caught all day long. Start by targeting any holes or structure that you can find.
Drift fishing during the day is also a succesful method. Try multiple depths until you find the depth that the catfish are travelling in.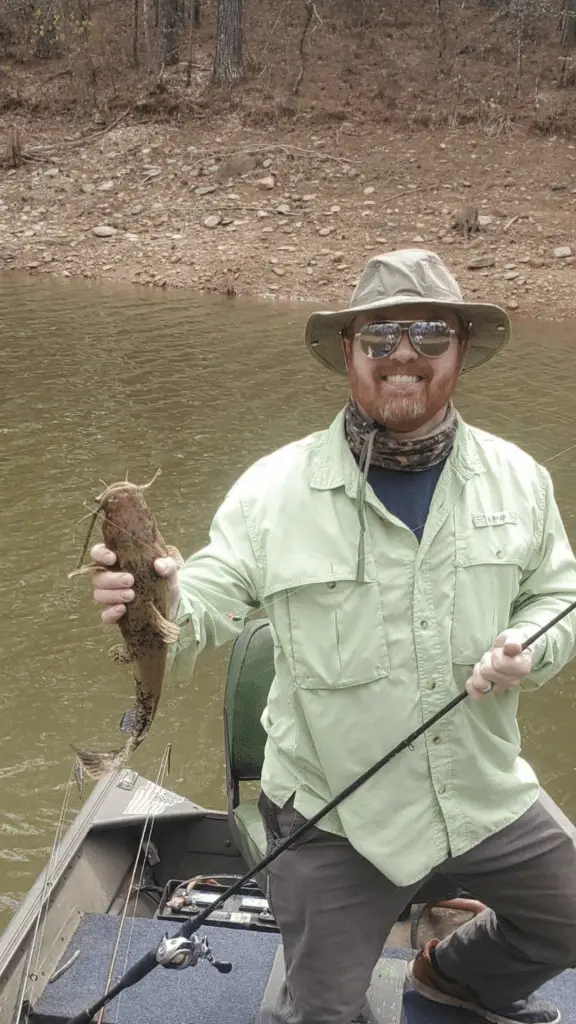 Where to catch catfish?
Catfish are fairly predictable in nature and like to find structure and slow moving water to wait for food. Some good performing catfish spots to target are:
Structure Outside River Bends
Holes and Drops in River Beds
Deep Holes in Ponds
Ledges in Channel Bottoms
Trophy fish often stay near deep water so look for them near ledges and drop offs.
Catfish are migratory, and cruise up and down rivers, so drift fishing is also a good option.
Five of the top locations for targeting catfish in the United States are listed below:
The Red River, Minnesota/North Dakota
Santee Cooper Lakes, South Carolina
Lake Texoma, Texas
Osage and Missouri Rivers, Missouri
Lower Mississippi River, Mississippi/Louisiana
What depth do you fish for catfish?
One of the most important methods for catching more catfish is to identify what depth they are travelling at. 
A common approach is to set three lines – one at 10 feet, one at 10-20 feet, and one at 20-30 feet. When you start geting bites on one depth then move all of your lines to that depth. You will be surprised at how many more catfish you will get if you can narrow down on the depth early.
The difference between catching catfish and not might only be a few feet.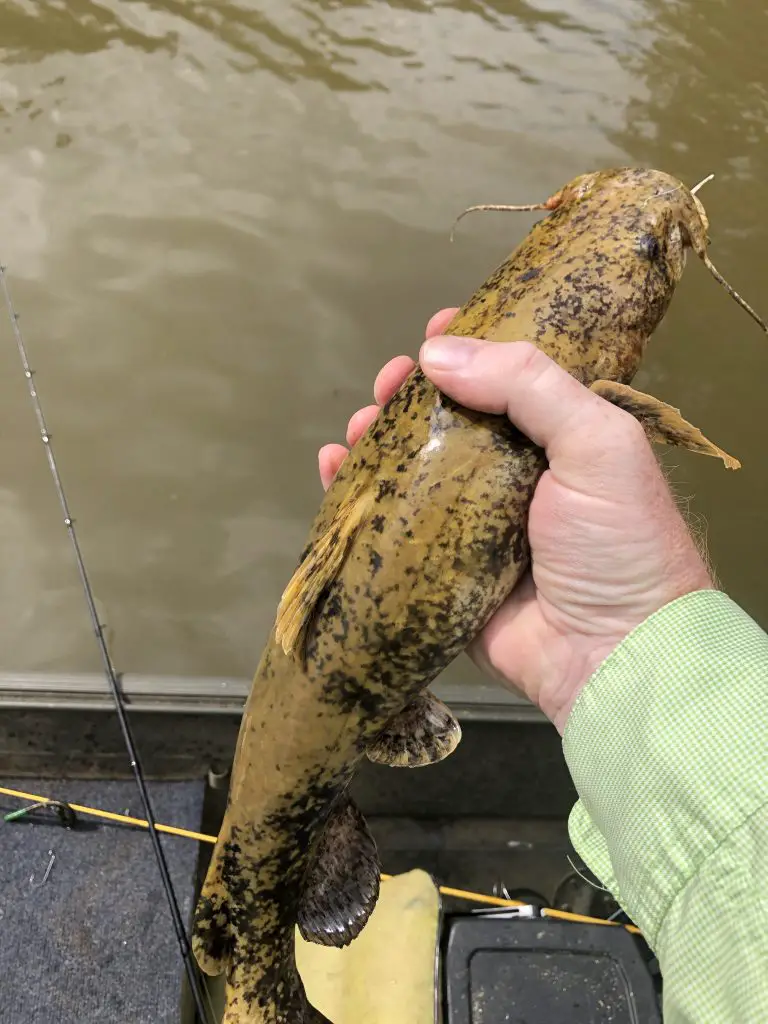 What is the best bait for catfish?
There are plenty of great natural baits available that catfish absolutely love. 
Some of the common natural baits are:
Nightcrawlers
Frogs
Crayfish
Livebait
Match the hatch – if you can find out what baitfish is inhabiting your target lake then mimic it as closely as possible. Match the fish the catfish are feeding on and you will have plenty of success.
Catfish have a sense of smell that is believed to be 10 times greater than that of bass. Using baits that smell is particularly productive and there are plenty of synthetic baits that give off a pungent smell.
This is also one of the best selling catfish baits available on the market at the moment:
What rig do you use for catfish fishing?
There are many different types of rig you can use for catfish depending on where you want to place the bait.
If you want to place the bait on the surface then you could try a slipfloat rig.
If you want to allow the bait to move through the water to find the fish you could try a drift rig.
Some common catfish rigs are:
Slip Rigs
Slipfloat Rigs
Drift Rigs
Poly Ball Rigs
Three-Way Rigs
Paternoster Rigs
What gear do you use for catfish?
While catfish don't require specialist equipment, they certainly need heavier gear than you would generally be using for bass or panfish.
Fishing Rods
For large catfish you will want a 7 foot, medium to medium-heavy power, moderate-fast action spinning or baitcasting rod.
The 7 foot length gives a good combination of strength and control. You generally don't need to cast long distances for catfish, but the extra length gives some more flex and shock absorption when a big catfish strikes.
The medium-heavy power is required for the larger catfish. They can easily grow in excess of 100 lbs, and though you won't be catching these everytime you will want to have the ability to land the big fish when you do find one.
The moderate-fast action gives you enough control to catch smaller catchfish but also enough strength for trophy catfish.
Fishing Reels
The most common type of reel among catfish anglers are either spinning or baitcasting reels.
Most experienced catfish fisherman go for a baitcaster reel as it gives better accuracy in casting and easier to set a known drag resistance.
Some recommended reels for catfish are the Abu Garcia Ambassadeur or the Abu Garcia C3 reels.
Fishing Line
Catfish can grow well over 100 lbs, so having sufficient fishing line strength is crucial, but there is no need to go overboard. The Texas record 121 lb blue catfish was caught on 20 lb line and the Virginia records 143 lb catfish was caught on 30 lb line. 
I would go with 10-12 lb mono fishing line, and up to 20-30 lb mono if you are going after monster size catfish.
I would also add 50-60 lb mono or fluorocarbon leader to your rig for added abrasian resistance and shock absorption.
Fishing Hooks
In terms of fishing hooks, the best size is either a 2/0 or 3/0 bait hook or a 5/0 circle hook. Catfish have thick, hard jaws so make sure your hooks are sharp.
Treble hooks are also commonly used for Channel Catfish in the #2 to #8 size range.
Misc
Most catfish jigs use swivels to keep the line from twisting at the leader, so make sure you have some available in your tackle box.
Catfish are also targeted using trotlines.
Conclusion
That brings us to the end of this list of catfish fishing tips. Hopefully you have gained some understanding of catfish behavior and habits.
If you an an experienced catfish angler then please leave any comments or secrets you have below. This will help share your knowledge with our readers so they can have more success.
Want to know more about popular American fishing species? Have a read through our comprehensive guide.
Happy fishing!