Daiwa is easily one of the top brands in the fishing industry when it comes to making some of the best high-performance spinning reels. Not only do their products offer exceptional levels of quality, but they are also known for being quite durable as well, able to hold up against the rigors that come with being used to catch some of the biggest and strongest fish species in the world. 
One particular Daiwa spinning reel has drawn widespread acclaim from anglers and other experts in the outdoor industry. The Daiwa Ballistic Spinning Reel is said to be one of the top spinning reels you can get right now and in this article I will focus on some of the most talked about features and capabilities this reel offers. 
This review is based solely on my personal insights from over a decade of fishing and hands on testing with this reel.
Quantitative Score
Performance – 4/5 ⭐⭐⭐⭐
Durability – 4/5 ⭐⭐⭐⭐
Value for Money – 3/5 ⭐⭐⭐
Overall – 4/5 ⭐⭐⭐⭐
Daiwa Ballistic Spinning Reel Overview 
The Daiwa Ballistic MQ LT Spinning Reel is made in a variety of different sizes that allows anglers to select the one that's best for their own personal needs depending on the type of fish they are going after, as well as the type of lure they want to use. The reel comes in 5 different sizes that range from the small and lightweight 1000 model all the way up to the bigger 6000 size that is suitable for most types of saltwater fishing. 
Each of the 5 different size reels in the Daiwa Ballistic series are made with corrosion-resistant material, which makes them perfect for anglers who want to use these reels for both saltwater and freshwater fishing. This reel is made with a specialized carbon fiber material that gives the Ballistic reel its lightweight qualities while also making it significantly durable as well. 
The new Ballistic MQ LT Spinning reels look slightly different than their predecessors as Daiwa has added the Monocoque (MQ) frame to help give the reel extra toughness that's built around a more compact and powerful frame. 
Other innovations that come with the Ballistic MQ LT are the upgraded version of the Digigear, which is now fitted with a similar gear known as Tough Digigear. The reel is also fitted with a much lighter and more functional rotor system that Daiwa has named Air Rotor, as well as many other features that make the Ballistic reel series one of the top choices for serious anglers who want a high-performance reel that isn't overly bulky and large. 
Performance 
The Daiwa brand is well-known for producing some of the smoothest-functioning reels in the fishing industry. The Ballistic MQ LT series reels are no different as they are said to be among the smoothest spinning reels in both casting and retrieval. The reel offers a 5.1:1, 5.2:1 and 6.2:1 gear ratio depending on which size reel you go with. 
The reel is all about toughness and durability while also delivering solid performance in both saltwater and freshwater fishing environments. Each of these reel sizes are all made to be part of the more lightweight (LT) models that Daiwa produces. The Ballistic MQ LT series spinning reels all tip the scales at anywhere from 6 to 8.1 ounces in overall weight. 
This lightweight capability is a big selling point for anglers who want to stay away from bigger, heavier reels. While it may not seem like you might become fatigued from doing something as simple as casting a fishing rod and reel for hours on end, it can actually become quite draining for some people. 
Having a high-performance reel like those in the Ballistic series provides you with a lighter reel that is much more suitable for kayak fishing and anyone who wants a lightweight option that doesn't sacrifice performance. 
The overall smoothness of the casting and retrieval you get with the Ballistic MQ LT series spinning reels is said to be comparable to some of the newer Shimano spinning reels. I can also compare this reel and its capabilities to the St. Croix Mojo series spinning reels, which are also designed to function in freshwater or saltwater, especially as an inshore spinning setup. 
Features 
There are a number of impressive features that are responsible for this reel being as popular as it currently is. Each of these features comes into play in some form or another in regards to the reel's functionality, as well as its overall durability and performance. 
ZAION-V Frame 
The Ballistic series draws a considerable amount of attention for its overall durability and incredibly lightweight feel. Daiwa is able to achieve this through using the brand's specialized frame material known as ZAION-V. 
This material is somewhat different from the original ZAION frame as it is said to be more machinable and capable of being molded around the reel's frame better. The ZAION-V material is the main reason why the Daiwa Ballistic Spinning reels are virtually indestructible when it comes to their outer construction. 
Magsealed System 
Another important feature that Daiwa is quite proud of in relation to the Ballistic series is the fact that each reel comes with a Magsealed main shaft that helps to prevent water and debris from seeping into the reel's inner parts and disrupting its operation and performance. This is another reason why the Ballistic MQ LT series is viewed as being ideal for inshore use as they are well-equipped to stand up against the common grime and grit that you get in your reels. 
Tough Digigear 
As we've already mentioned, the Ballistic series is not equipped with an upgraded Digigear that's known as Tough Digigear. It's very similar to its predecessor in both makeup and purpose as the Tough Digigear is a digitally-designed and machine-cut gear system that is made to bring you as much precision as possible in the internal working of the gear system. 
The Tough Digigear system is another factor in how the Daiwa Ballistic series spinning reels are able to achieve such a high level of smoothness and strength in these reels. The engineering process that it takes to build each Daiwa reel is something that true gear gurus and avid anglers greatly appreciate as it brings them exceptionally well-made products. 
Air Rotor 
The newer Ballistic series reels also feature an Air Rotor design that is geared toward being more balanced, as well as lighter and stronger than their previous models that have been equipped with various rotor technology. This factor greatly contributes to the reel's overall rotational balance and also plays a major role in what makes the Ballistic reels so incredibly smooth.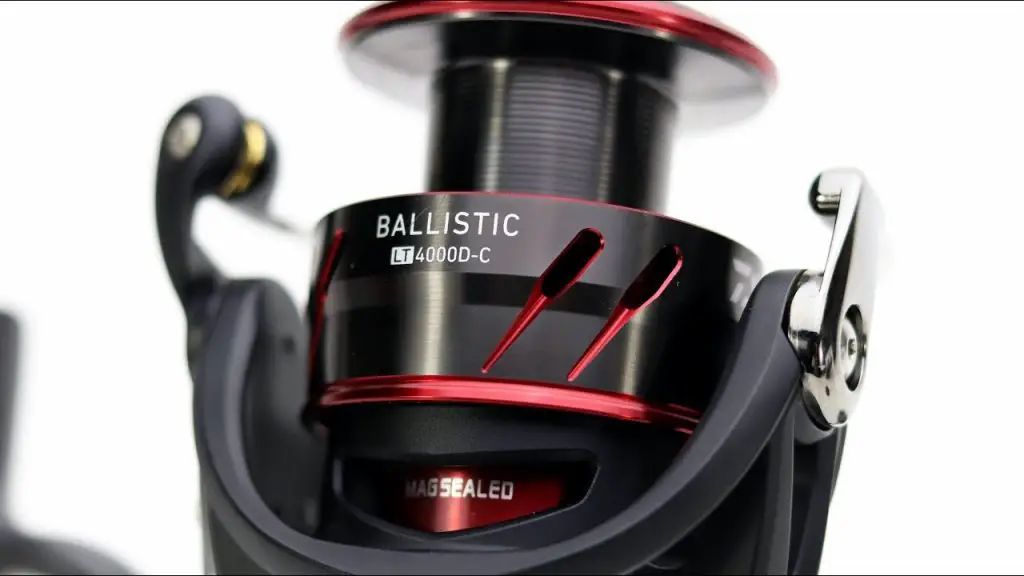 MQ Body 
The main reason why the Daiwa Ballistic reels have such a great reputation in terms of overall construction and durability is the specialized material that the reel's outer layers are made of and how they are installed onto the reel itself. Unlike other reels that simply feature an outer body covering for the reel, the Ballistic series' MQ Body design does not require the same type of body cover. 
This system instead utilizes an engine plate to hold the reel's cover in place as the plate screws directly into the body of the reel itself. This design allows Daiwa to design the Ballistic series reels with a larger diameter drive gear, as well as an overall outer cover that's better-equipped to seal out water and other elements that sometimes find their way inside the inner workings of the reel and disrupt the performance quality. 
Machined-Aluminum Handle 
The handle is another factor that is sometimes overlooked on these Ballistic spinning reels. It's ergonomically-designed and made out of machined aluminum to maximize the overall strength and toughness factor. The handle offers a very tight feel that serious anglers will be able to appreciate as it doesn't have any play as you reel in your line or your catch. The handle is able to be switched very easily from right to left-handed style depending on each angler's needs. 
Saltwater or Freshwater Use 
In most cases, a reel that offers a premium level of performance is usually one that's specially designed for either saltwater or freshwater use, but Daiwa crafted the Ballistic MQ LT spinning series with the ability to handle either one with ease. 
The reel is well-equipped to handle any of the usual concerns you might have when it comes to saltwater fishing and functions exceptionally well as an inshore fishing reel that anglers can use to target a variety of species. While most anglers will likely use it for one or the other, any of the Ballistic reel sizes are capable of functioning as a reel you can feel comfortable using in both scenarios. 
Pros
This is an extremely lightweight spinning reel with its smallest model at under 6 ounces.
Able to handle both freshwater and saltwater fish species and environments – it is very versatile which makes it particularly useful if you aren't looking to have a specialist reel for every different application.
I was very impressed with the performance of this reel – it is packed full of features and the latest technology.
Cons
The max drag of 26 lb for the largest sized option is on the low side for a 6000 model saltwater reel. If I was going to be picking an offshore saltwater reel in this size range I would be looking for a more powerful option, just in case a large pelagic fish struck my bait.
Specifications
| MODEL | RATIO | RETRIEVE RATE | WEIGHT | BALL BEARINGS | LINE CAPACITY | MAX DRAG |
| --- | --- | --- | --- | --- | --- | --- |
| 17BALT1000D | 5.2:1 | 25.2 inches/crank | 5.8 oz | 6+1 | 150m/0.20mm | 11 lb |
| 17BALT2000D | 5.2:1 | 26.7 inches/crank | 5.8 oz | 6+1 | 150m/0.23mm | 11 lb |
| 17BALT2500D | 5.3:1 | 29.5 inches/crank | 6.3 oz | 6+1 | 150m/0.28mm | 22 lb |
| 17BALT3000D-C | 5.3:1 | 31.5 inches/crank | 6.5 oz | 6+1 | 150m/0.33mm | 22 lb |
| 17BALT4000D-C | 5.2:1 | 32.3 inches/crank | 7.9 oz | 6+1 | 150m/0.37mm | 26 lb |
| 17BALT5000D-C | 5.2:1 | 34.2 inches/crank | 8.1 oz | 6+1 | 150m/0.40mm | 26 lb |
| 17BALT6000D | 5.1:1 | 36.2 inches/crank | 11.1 oz | 6+1 | 150m/0.43mm | 26 lb |
Conclusion 
With so many different high-quality features and great performance, it's easy to see why so many anglers find the Daiwa Ballistic MQ LT Spinning reels to be among the best of the best all-purpose fishing reels. Thanks to the Magseal system, as well as other aspects like the body style and design, you're able to confidently fish in saltwater with a fishing reel that feels very much like a premium-quality reel. 
It's tough to find a reel that combines the lightweight nature and functionality of the Ballistic MQ LT series with the exceptional toughness and durability it also has thanks to ZAION-V carbon body material and other factors. 
If you are looking for an alternative then look at Daiwa's BG Reel.
The price is obviously something that might cause some anglers to look elsewhere, but if you're willing to invest a bit more money into getting an overall better product, you'll find that this reel is well worth it. The Daiwa Ballistic MQ LT Spinning reel is one that will last for many, many years if cared for properly. 
Last update on 2022-05-19 / Affiliate links / Images from Amazon Product Advertising API