The Daiwa Saltist Spinning reel is specifically designed for saltwater fishing. It comes in seven different models to cover a wide variety of fishing styles, and lure sizes. With the harsh conditions that anglers sometimes fish in, you need a fishing reel that is both strong and dependable.
The company was established more than 30 years ago and has developed a reputation for quality, innovation and originality. The Daiwa Saltist reel benefits from these values and is made for large game fish in offshore locations. Daiwa has created technologies that enhance the quality of expert and novice anglers' fishing experiences.
This review is based on my own personal experiences and insights.
Quantitative Score
Performance: 5/5 ⭐⭐⭐⭐⭐
Durability: 4/5 ⭐⭐⭐⭐
Value for Money: 3/5 ⭐⭐⭐
Overall Score: 4/5 ⭐⭐⭐⭐
Key Features
Mags Sealed Line Roller and Shaft
Mag sealed technology is the main reason this fishing reel stands out. It protects the fishing reel from the penetration of dirt, dust and saltwater between the rotor and the body. The technology uses a metal oil developed by NASA that makes the reel nearly 100% waterproof, and in that way prevents corrosion too.
"Hardbodyz" body and side cover
To create the Daiwa Saltist Fishing reel, the company made use of their proprietary metal alloy known as Hardbodyz. The alloy makes the fishing reel durable, strong and at the same time keeping its weight at a minimum. A strong but light weight reel makes for a comfortable fishing experience.
8+1 Corrosion-resistant Stainless Steel Ball-bearing
This fishing reel has eight corrosion-resistant ball-bearing made of stainless steel and one anti-reversal ball bearing. Rusty ball-bearings mean that your reel does not turn smoothly and may get stuck and make you lose your catch.
Lightweight Air Rotor Design
The air weight offers 15% weight reduction and distributes pressure on the roller and the line evenly. That makes handling your fishing rod easier and more comfortable. It also dries the line specifically under the spool where saltwater is an issue.
AirBail Tubular Stainless
Many manufacturers today are leaning towards aluminium to create light weight reels, but Daiwa has created a different solution called the Air Bail. Air Bail utilizes the tubular principle to strengthen the reel while reducing its weight. The bail has a conical finish near the roller so that the line drops directly into the roller. Thus prevents an unwanted loop in your fishing line.
Digigear Digital Gear Design
The Digigear design makes use of milled gears machined to precision for durability and high performance. That benefits the cranking power of every handle rotation to the gears and spool.
Dynamic Cut Aluminum ABS Spool
The Aluminium ABS Spool on the Daiwa Saltist is designed to hold a large bit of line, which is very important when you are fishing large prey. When you purchase the Daiwa Saltist, it is braid ready, so there is no need for mono backing.
Waterproof Carbon ATD Drag System
The ATD drag system is smooth from the beginning. The new Daiwa design transmits pressure from the spool to the line more evenly and reduces the pulsing or jerky sensation experienced when the drag begins.
Other Features
The use of light weight materials ensures that you are comfortable when using the Daiwa Saltist. It also means that you can cast for long periods without getting tired, unlike reels made with heavier materials.
Although compared to competitors, the reel is pricy the Daiwa Saltist offers excellent value for money. It is long-lasting because it is made with high-quality materials, and the lifelong warranty means angler does not have to worry about paying for repairs in case the eel is damaged.
The Daiwa brand has supplied top anglers including legends like Takahiro Omori, so it is a good brand for you.
With the popularity of saltwater fishing, reducing water penetration is a significant concern for anglers. The Daiwa Saltist incorporates proprietary technology to create a waterproof solution that is light and corrosion-resistant. With maximum strength and rigidity, the air bail reduces the chances of a loose line snagging after casting.
The Air Rotor offers a hollowed-out design that reduces weight and improves reel sensitivity and rotational balance. It provides anglers with a lightness, balance and strength, enhancing your fishing experience.
The Daiwa Saltist 8+1 stainless steel ball bearings ensure that anglers can make use of the anti-reverse feature. Antir-everse is crucial as it engages drag and prevents the reel from turning backwards.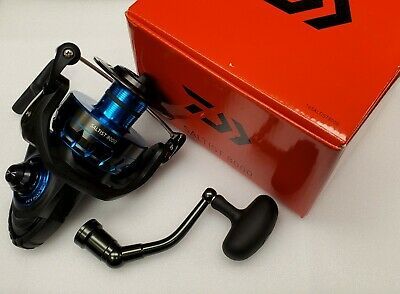 Pros
Water Proof Design – The mag sealed line and the ATD Drag System make the Daiwa Saltist nearly 100% waterproof. These prevent corrosion and help in pressure distribution when fishing large prey.
Lightweight Reel – Daiwa use proprietary technology to reduce the weight while maintaining strength and durability.
Corrosion Resistance – mag seal technology ensure that this reel will perform as good as new after years of use in saltwater.
Durability and Strength – this reel is strong enough to handle large pelagic fish species.
Comes with a lifetime warranty.
Cons
The price tag – the Saltist is more expensive than similar reels from other brands.
I have heard reports of delayed repairs. It does come with a warranty but it can be challenging to reach a technician at Daiwa to get your reel repaired.
Video Review
Ish With Fish has put together this video review of the Daiwa Saltist so you can see it in action:
Specifications
| MODEL | BALL BEARING | DRAG PRESSURE | GEAR RATIO | SPOOL CAPACITY | WEIGHT |
| --- | --- | --- | --- | --- | --- |
| 2000 | 8+1 | 4 lb | 5.6:1 | 125m/6lb; 85m/10lb | 8.8 oz |
| 2500 | 8+1 | 9 lb | 5.6:1 | 190m/6lb; 130m/10lb | 9.5 oz |
| 3000 | 8+1 | 13 lb | 5.6:1 | 220m/8lb; 155m/12lb | 10.7 oz |
| 4000 | 8+1 | 17 lb | 5.7:1 | 270m/10lb; 190m/14lb | 14.8 oz |
| 4500 | 8+1 | 22 lb | 5.7:1 | PE 3/400m; 4/300m | 22.2 oz |
| 5000 | 8+1 | 22 lb | 5.7:1 | PE 4/400m; 5/300m | 22.9 oz |
| 6500 | 8+1 | 33 lb | 5.3:1 | PE 5/500m; 6/400m | 29.9 oz |
| 8000 | 8+1 | 33 lb | 5.3:1 | PE 6/540m; 8/400m | 30.7 oz |
Conclusion
The Daiwa Saltist spinning reel combines excellent combination of performance with cost efficiency. The Saltist fishing reel will serve you for a long time and give you decent value for the money you will pay for it at the store. Whether you are dipping your toes into saltwater fishing or are an expert angler, this is a reel to give serious consideration.
Last update on 2022-05-19 / Affiliate links / Images from Amazon Product Advertising API