The best fishing vacation destination in the United States are the Florida Keys, Kenai Alaska, Texas Bass Lakes, Kona Hawaii, Savanah Georgia, Montana Trout Rivers, St Lawrence River Musky, Chesapeake Bay Stripers, California Shark Fishing, and Lake Guntersville Alabama.
Every angler dreams of going on unforgettable fishing trips in some of the most scenic and majestic destinations in the world. In the years that I've spent as a fisherman, I've gradually built up a bucket list of the places I hope to visit one day which I consider to be among the best fishing vacation locations in the United States. 
If you're looking for a list of places to add to your bucket list, we've compiled this article for you to cover our picks for the best fishing vacation locations in the United States. 
1. Florida Keys
If you've never gotten a taste of saltwater fishing, you're missing out on one of the most exhilarating forms of fishing in the world. The Florida Keys are among one of the top destinations in the world for fishing vacations as it is situated in an area of the ocean where a huge variety of game fish species are found. 
The Florida Keys are located in an area of the North American continent that's very close to deeper water where some of the most sought-after fish species can be caught. Many anglers from all over the world venture to Key West and other parts of the Florida Keys to catch everything from blue marlin to permit and bonefish. 
There are plenty of opportunities for anglers to book one of the many fishing charters throughout the Florida Keys, or to venture out on a DIY-style adventure in which they fish for the species of their choice. With so many fishing opportunities, it's easy to see why famous writer and legendary fisherman Ernest Hemingway chose to live in the Florida Keys for much of his later life. 
The Florida Keys are not just a fishing paradise, the chain of small islands offer some of the most beautiful ocean views and beaches in the world. There are plenty of other activities for the entire family to enjoy, which makes the Florida Keys our number one best fishing vacation location in the United States. 
2. Kenai, Alaska 
There's no denying that Alaska is one of the most beautiful states in the country. It's known for having the most remote, rugged wilderness of nearly anywhere in the world, but there are parts of this massive stretch of territory that are considered to be the best in the world for salmon fishing. The Kenai Peninsula is one of the highest additions on our list as it features a truly unique opportunity for anglers to enjoy some of the best fishing in the world in a place known as the Last Frontier of the Western Hemisphere. 
The state of Alaska is huge, bigger than Texas, California and Montana combined. The fish that reside in the cool, fast-moving rivers of this remote destination are also bigger than you might expect. Anglers from across the globe travel to the Kenai River every year to take part in fishing during the annual salmon run. This is a magical time in which thousands of salmon make their way from the ocean up into the cold rivers to spawn. 
Traveling to Alaska is a bit more expensive than most other fishing vacations, but anglers who have made the trip northward say that it's well worth the time, effort and money spent to experience the wonder and majesty of the Kenai Peninsula. 
3. Texas Bassin' 
There's a saying that "everything is bigger in Texas." This is somewhat true in relation to various parts of the large, expansive state, but the description certainly fits when it comes to bass fishing. The Lone Star state offers some of the most coveted bass fishing lakes in the world. Every year, anglers make their way to Lake Fork, Falcon Lake and other waterways where it's common to catch giant bass. 
Many of the state's lakes offer a near-perfect habitat for largemouth bass to grow and thrive in, but it's the warmer south Texas portion near Mexico where the true monster bass lurk. I've had the pleasure of fishing in some of the state's lakes and can attest that it's one of the top bass fishing destinations I've visited. 
Regardless of what portion of Texas you visit, there's an outstanding bass fishing lake within a few hours drive. If you're looking to catch trophy-sized largemouth, a trip to Texas is a great way to achieve that goal.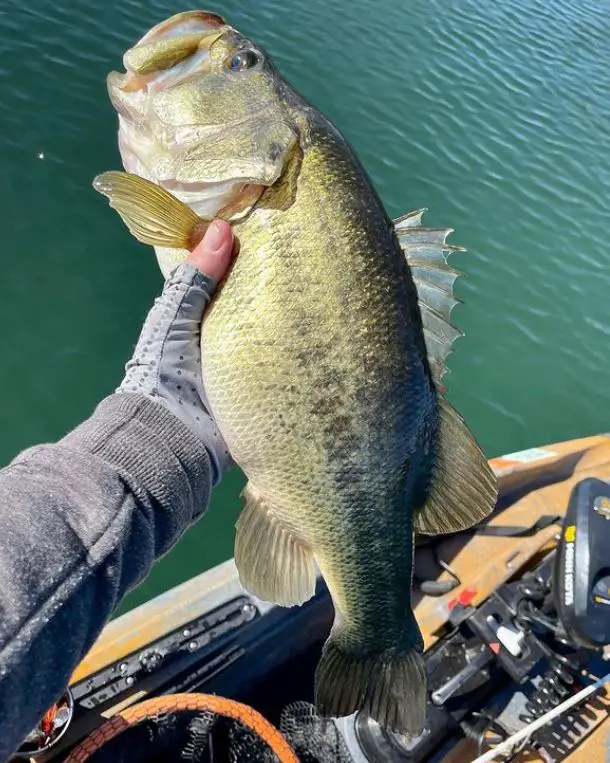 4. Kona, Hawaii 
If you're only considering locations within the mainland United States, skip ahead to our next destination. For those who are dedicated to visiting the absolute best fishing vacation locations in America, the remote getaway of Kona, Hawaii is a must-visit place. This island is teeming with life and colorful culture that can be seen as soon as you land in Kona's international airport. 
The one species of fish that most anglers travel to Kona, Hawaii to fish for are what most anglers consider to be the pinnacle of sportfishing—the blue marlin. These fish are known to grow to well over 1,000 pounds and the deep waters surrounding the Hawaiian Islands are a favorite feeding ground for these exotic fish species. 
Kona is also an incredible destination for anglers who want to catch virtually any other type of game fish species you often hook in offshore waters. The great part about fishing around these islands is that you don't necessarily have to travel very far to reach the massive ledges where the beautiful underwater reefs meet the seriously-deep water of the Pacific. 
5. Savannah, Georgia 
Many people usually visit Savannah, Georgia for the city's rich, historic sites that date back to the time when explorers were first landing along the Atlantic coast of what is now the United States. However, Savannah is also an inshore fishing paradise where you can find everything from redfish to striper and speckled trout in abundance. 
It's likely that you won't have to work hard to convince your family to join you on visiting this location as it features plenty of activities for nature-lovers and just about anyone else. Savannah is only a short drive from some of the other historic islands in the Peach State, but it's fishing is second-to-none compared to others in terms of inshore species. 
Savannah is a place I've visited multiple times and the marshy wetlands and maze of inlets and swamps that surround the city are loaded with sheepshead, flounder and many other fish. However, this place is probably best known for redfishing during the fall when monster bull reds will explode on the surface and strike at just about any topwater lure. 
6. Big Sky Trout, Montana 
There are plenty of rivers and streams across the United States where anglers can catch a variety of trout species, but few states are better than Montana when it comes to the quintessential fly fishing experience. If you've ever dreamed of fishing in waist-deep waters of crystal-clear rivers, there are nearly 170,000 miles of rivers in the Big Sky state for you to enjoy. 
Many of the state's rivers are home to world-class rainbow and cutthroat trout, as well as other species. You can find dozens of free-flowing rivers that are uninterrupted by dams across the western portion of the state and many areas feature the picturesque Rocky Mountains as a backdrop that combine for the perfect Instagram photo opportunity. 
Montana is considered to be a fly fisherman's paradise as it offers tailwaters and spring-fed creeks that are unlike anywhere else in the world. If you plan to visit this location, you'll be putting your fly-knowledge to the test with an opportunity to catch the trout of a lifetime. 
7. Muskies on the St. Lawrence River 
There are few freshwater fish that are more exciting to catch than muskie. These ferocious predators are known to grow to incredible sizes and usually perform a number of acrobatic maneuvers on the end of a line for anglers who are willing to try and catch them. Upstate New York is home to the St. Lawrence River and it's one of the top destinations in the world to catch these majestic creatures. 
Muskies are said to be one of the toughest types of freshwater fish to land with a rod and reel. There are hundreds of miles of water to fish along the St. Lawrence and it's known as the best stretch of water for catching trophy muskies. If you're planning to make the trip north to experience the winter muskie bite, be prepared to have your tackle's quality tested as these giant fish will undoubtedly pull harder than any other species found in this part of the United States.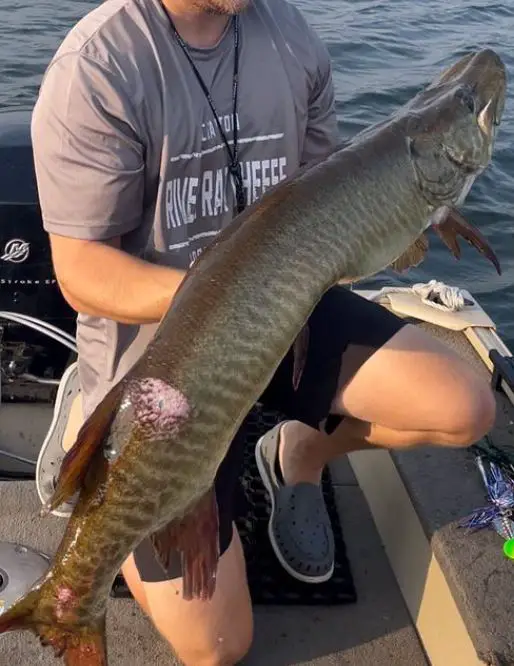 8. Chesapeake Bay Stripers 
The Striped bass that roam the waters surrounding North America are some of the most fascinating species of fish in the world. They live most of their lives in the ocean, yet these large predators venture hundreds, or even thousands of miles inland to spawn. While there are other areas where large striped bass are known to exist, there's no denying that the Chesapeake Bay is one of the best places in the country to catch stripers. 
When the cool air of fall blows in, the striped bass will usually begin making their way along the eastern seaboard of the United States in their annual migration. The rivers that striped bass prefer to swim up into at earlier months form a bottleneck that makes for immaculate fishing opportunities. If you time your trip just right, you'll have a truly unforgettable experience and the opportunity to catch a 50-plus-pound giant striped bass. 
9. California Shark Fishing 
If you're a surf fishing enthusiast, you probably already know that San Diego, California is arguably the top shark fishing location in the United States. Anglers often venture to the southern portion of the Golden State to catch a number of different species of fish that live in the Pacific, but sharks also come to this area to target the same types of fish. 
It's not likely that you'll catch the vaunted great white shark off the coast of San Diego, but you can rest-assured that there are plentiful numbers of mako sharks and other species that will pull harder than nearly any other fish in the ocean against a rod and reel. This is a must-have destination for any angler as sharks usually fight harder than any other type of fish when hooked with a rod and reel. 
If you're one of the few anglers who are daring enough to go into the coastal waters on a kayak and fish with fly fishing gear or other tackle, you will have the opportunity like no other to catch a monster shark in the waters off of the California coast. In addition to catching sharks, the waters off the San Diego coastline are also home to some of the best populations of rock cod, seabass, mahi-mahi and other types of game fish. 
10. Lake Guntersville, Alabama 
The Deep South of the United States is loaded with lakes, rivers and small ponds where you can catch a variety of freshwater fish species. However, the northern portion of the state known as the Heart of Dixie is home to the true bass fisherman's haven Lake Guntersville. This massive labyrinth of 107 square miles of water is deemed one of the best largemouth bass fisheries in the world. 
Having lived in this section of Alabama for a short while, I consider it to be second-to-none when it comes to having a variety of different types of bass habitat to fish, including grass beds. I've caught my fair share of trophy bass with a buzzbait during the late spring and summer months while fishing the legendary grass beds that Guntersville offers. 
There's a good reason why many professional bass anglers point to Lake Guntersville as the top bass lake in the country and it's also one of the best places for competitive fishing if you're a fan of bass fishing tournaments. If you're one of the many dedicated bass anglers in America, you won't find a better fishing vacation location in the country.