Snapper are one of the most commonly targeted saltwater fish in Florida and one of the best tasting. Snapper species inhabit all of Florida's coastal habitats ranging from very shallow mangrove marshes to deep water wrecks miles offshore. In this article, we'll look at some of the various species of snapper in Florida, where they're found, and how to target them effectively.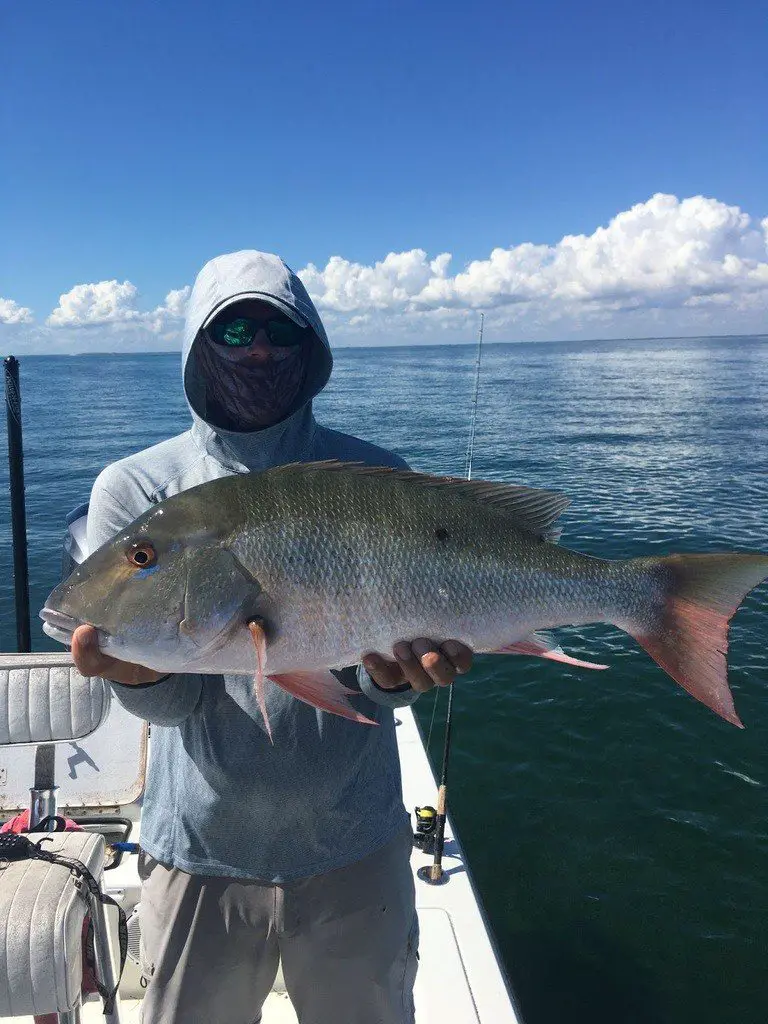 Florida's Snapper Species
Planning a snapper fishing trip can range from leaving a line out on a local dock to venturing 60 miles offshore to fish a wreck in 250 feet of water, so before starting, it's important to know which species of snapper you'll be targeting.
Generally speaking, we'll look at five common species of snapper targeted by recreational fishermen in Florida in this article. There are several less common species, so it's important to know how to identify the species you're fishing for.
Yellowtail snapper
These are a small snapper species usually ranging in size between 12 and 20 inches and 1 to 3 pounds. Yellowtail snapper are popular due to their abundance in South Florida and the Florida Keys along hard coral bottoms in 60 to 100 feet of water.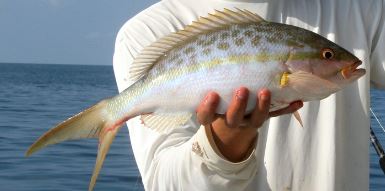 Mangrove snapper
They are perhaps the most abundant snapper species in Florida and one of the easiest to catch. Fishing for mangrove snapper is often as simple as dropping a line in the water with a piece of dead shrimp or squid and waiting. They inhabit virtually all Florida's waters, from mangrove estuaries nearshore to offshore wrecks and reefs in deep water. Usually, mangrove snapper rarely exceeds 20 inches in length on the smaller side.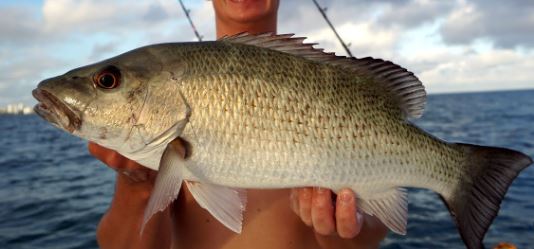 Mutton Snapper
They are too many the best-tasting member of the snapper family. Mutton snapper are common throughout South Florida, the Florida Keys, and much of Florida's east coast. Usually inhabiting reef bottoms and wrecks, they can occasionally be found near shore in high current areas, making them an occasional catch for bridge anglers. A medium-sized snapper is often between 18 and 30 inches and around 10 pounds in weight. Larger individuals up to 30 pounds have been caught.
American Red Snapper
These are more commonly known as red snapper are the most famous member of the Snapper family. Red snapper are common along the Southeast coast of the US from North Carolina around Florida and throughout the Gulf of Mexico. Red snapper are often caught in the 30-inch range weighing 20 pounds, although much larger individuals have been caught.
Cubera Snapper
These are the largest of the snapper species, with catches over 100 pounds not uncommon. Cubera snapper can be found in a wide variety of habitats, from shallow reefs to extremely deep wrecks. While not a common catch, their sheer size and power make them a highly desirable catch for anglers all over Florida.
Targeting Snapper in Florida
If there was ever a family of fish were being in the right spot matters, it is snapper. During the short recreational season for American Red Snapper in the Gulf of Mexico, anglers guard the location of their best fishing spots like national secrets. And even more common species like yellowtail and mutton snapper require anglers to put in the time and effort to find spots that produce. 
Finding the best spot to fish for snapper is often the biggest hurdle facing beginner anglers. It takes time, and other than hiring a knowledgeable boat captain for hire that is willing to show you the ropes, you will need to put in time on the water. The best place to start is your chart plotter, most snapper species – excluding yellowtail – are abundant on artificial reefs. Public artificial reefs can make an excellent starting point for new anglers. However, fishing public reefs can be a challenging experience due to fishing pressure and crowding, leaving anglers looking for more private spots.
Snapper species are almost always found on hard bottom, around rocks or coral. Finding hard bottom takes time, look at your boat's fish finder while underway, and if you see a change in depth, you're likely in the right spot. Using your chart plotter to identify the reef's edge where the reef drops off into deeper water can also be a great place to start.
Presenting your baits on the bottom in the sand on the deep side of a reef or ledge is prime territory for a variety of Florida's most common snapper species. Putting in the time to find natural bottom features or artificial structure that isn't well known will be rewarded, and a good snapper spot can be fished for decades.
Gear preferences vary. While the average snapper encountered by fishermen in Florida is not an extremely large fish, unless you're targeting Cubera snapper, anglers should be prepared with capable bottom rods spooled with braided line. Expect to fish in depths ranging from 50 to 200 feet. I prefer using a long fluorocarbon leader, but other anglers do just fine using monofilament leaders. Choosing a spinning reel or conventional is up to you and what you're comfortable with.
Choosing the Right Bait
While the list of baits that are effective for snapper in Florida is extensive, I've even used a whole live lobster when targeting Cubera snapper, there are some basic choices that just seem to work. Dead shrimp and squid are reliable for beginning anglers who will catch fish. Fished on a jig head both are effective for mangrove snapper and the occasional mutton, yellowtail or American red snapper.
Live bait like pilchards, pinfish and ballyhoo are highly effective. Fished on or near the bottom with a heavy enough weight to keep the baits in the target zone will yield great results. Fresh dead baits, like ballyhoo chunks, goggle eye chunks, and strips of barracuda or bonito are perhaps the most commonly used for snapper. Their scent is irresistible and, when rigged properly, can mimic the action of live bait in the current.
Snapper are not usually "picky" eaters like some other fish species and will hit a wide variety of baits if you're putting them near them. It's best to come prepared with a variety of offerings though, as some days some baits will work better than others.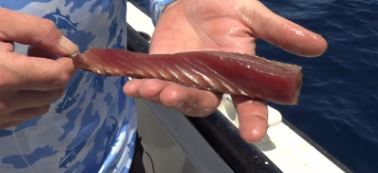 Fishing the Right Spots
Perhaps the most important and difficult aspect of snapper fishing is presenting your bait where the fish are. Spots like artificial structures, ledges, and rock piles are often relatively small in size and putting your baits where the fish require a high degree of skill. While there's no substitute for practice, you can do a few things to maximize your chances of being in the right spot on the first try.
Plan your drift
Drift upcurrent/upwind and use your chartplotter's track feature to create a line that approximates the drift you will take over your intended spot. Whether you plan on anchoring or drifting, having an accurate approximation of how your boat will lay while covering the spot is important.
Have the right anchor
This can't be emphasized enough but if you plan on anchoring to fish for snapper species in deep water, having a large anchor with plenty of chain to hold it to the bottom is important. Consider investing in an anchor ball set up for easy retrieval. You can try to use a drift anchor to slow you down, but these won't keep you in the exact spot well enough.
Fish around the spot
Snapper species tend to congregate in the sandy areas around a piece of structure rather than right above it. Plan your drift so that your baits will come close to but not directly into the structure.
Bring chum
Fishing with a couple boxes of chum available to deploy makes things easy. Especially important for yellowtail snapper where the goal is to bring them up to the surface into a feeding frenzy, chum works to get all snapper species in a feeding mood.
Be willing to reset
Conditions can change quickly however, far too often, fishermen are unwilling to reset a drift or re-anchor their boat to account for new conditions and end up fishing way off their intended spot. Don't hesitate to reposition if it looks like you are off your intended spot.
Conclusion
There are few fish in Florida waters as tasty as those in the snapper family. From fresh mutton snapper to ceviche, to pargo entero – a classic Caribbean preparation of whole fried snapper (pargo), to a fried snapper sandwich made from American Red Snapper, the rewards for fishermen who take the time to learn how to fish for snapper are incredible. 
If you're completely new to fishing, starting out targeting something like mangrove snapper is a great place to begin as they offer an easy opportunity to catch dinner. However, as you get better, you'll want to progress to the larger, more difficult family members and maybe even get the chance to tangle with a truly monstrous Cubera snapper one day. Take your time, keep a log of spots you've fished or found, experiment with different baits and presentations, and talk to other anglers.
This guide is a great starting point, but curious anglers always look for their next great spot or trick.