For the beginner to ice fishing there are a lot of new pieces of equipment you will need. And for the experienced ice fishing angler, there is a lot to remember. I have put together this list of the 13 essential pieces of equipment you need to have a succesful ice fishing adventure.
Most of these individual items also have their own more detailed article showing a buyer's guide to the important criteria and how to use them as well as some of the best products within each category so you don't get swindled on low quality gear.
Let's go!
1. Ice Fishing Rod
An ice fishing rod is very different to a casting rod because you are just dropping a bait down a hole. The length is much shorter and is closer to a short boat rod.
There are a few key criteria to keep in mind, depending on what species you are targeting. This includes the rod material, the action, the length, and the guides/eyes.
There are dedicated fishing reels for ice fishing. These are built for cold conditions. The main differences are the reel grease is suited for cold temperatures.
You may also want to get an oversized handle that can be used easily even when wearing bulky ice fishing gloves.
3. Ice Fishing Auger
Unique to ice fishing is the auger. You need to dig through the ice to create your hole. Augers come in a variety of different styles from manual to motor powered.
You just need to think about how many holes you want to dig, how deep the ice is going to be, and you can get a good idea about the type of auger will suit your own purposes.
There are three types of ice augers available on the market – manual, gas and electric. Each has it's own pro's and con's. Compared to a good quality gas or electric auger, a manual auger with a 6" diameter is an effective and affordable way to get started. However, it won't benefit if the ice is thick or you like to drill many holes this could become a chore.
4. Ice Fishing Tip-Up
A tip-up is a manual lever driven piece of equipment that you place your rod on so that when a fish bites it 'tips up.' This helps in a number of ways – it sets the hook and gives you a visual alarm that you have a fish on your line.
This allows you to fish with multiple rods at different holes. It also allows you to fish in extreme conditions and you can retreat to the comfort of your shelter.
5. Ice Fishing Bibs
If there is one thing you need before you head out onto the ice it is a high quality ice fishing bib. But it can be very hard to find the one that best suits your needs. Many brands refer to how waterproof their bibs are in millimeters and their warmth resistance in grams – it can be very confusing. 
We have put together this buyer's guide to help explain these concepts so you can make an educated decision. We have then found 6 of the best ice fishing bibs or jackets available on the market and explained why we like them.
6. Ice Fishing Jacket
A good fishing jacket should protect you from the harsh weather elements. However, finding the best fishing jacket is not easy since there are several options out there. It would help if you considered some essentials before buying a fishing jacket.
There are various types of fishing jackets in the market including coated, waterproof, quilted, and bodywarmers.
7. Ice Fishing Lures
Ice fishing needs bait just like every other type of fishing, so you will need to have a selection of lures that your target species will like, whether that is walleye or pike.
I always recommend getting a variety of colors, sizes, and styles of lures. This allows you to keep changing lures until you find one that works. The worst thing you can do is trek out into the wilderness without that one lure that would've worked.
8. Ice Fishing Line
Ice fishing lines need to be able to handle cold temperatures, abrasive environments, and light bite sensitivity. Fishing line manufacturers do use a different formula in their process so that the line can survive extended periods in cold water.
The edges of an ice hole can cut weak fishing line for easily, particularly with a fish fighting on the other end.
9. Ice Fishing Shelter
There are now plenty of portable ice fishing shelters available that you can pack up to transport easily, and fish in comfort safe from the cold weather.
These can come in different sizes, materials, and thermal insulating properties. Just select a shelter that will keep you safe and warm in your own location's conditions – the temperature will dictate how expensive and sturdy your shelter needs to be.
10. Ice Fishing Rod Holder
Unless you want to be holding onto your fishing rod all day, you will need to get some rod holders. These can be a variety of different styles and can also be built into tip-ups or bite alarms.
You will need to consider how the rod holders will be mounted – whether they will be drilled into the ice or fitted within your shelter.
11. Ice Fishing Rod Case
The worst case scenario is traveling long distances, setting up your ice fishing shelter, digging your hole, unloading your truck and finding a broken fishing rod. A high quality ice fishing rod case can prevent that, protect your rod, and make sure you have a successful fishing adventure.
One key consideration is how to keep your equipment safe during transport and storage in particular in the form of ice fishing rod cases.
12. Underwater Ice Fishing Camera or Fish Finder
Take your fishing to the next level with an ice fishing camera or fish finder. This will allow you to see exactly what is happening under the ice and give you better insight about whether your target species is interested in your bait or whether they are even there.
Although it can be pretty difficult to tell the difference between all of the brands available. We have gone through all the important factors you need to consider when making a purchase of the best underwater ice fishing camera in our buyer's guide. This will help educate you and assist you in picking the best camera for your own personal requirements.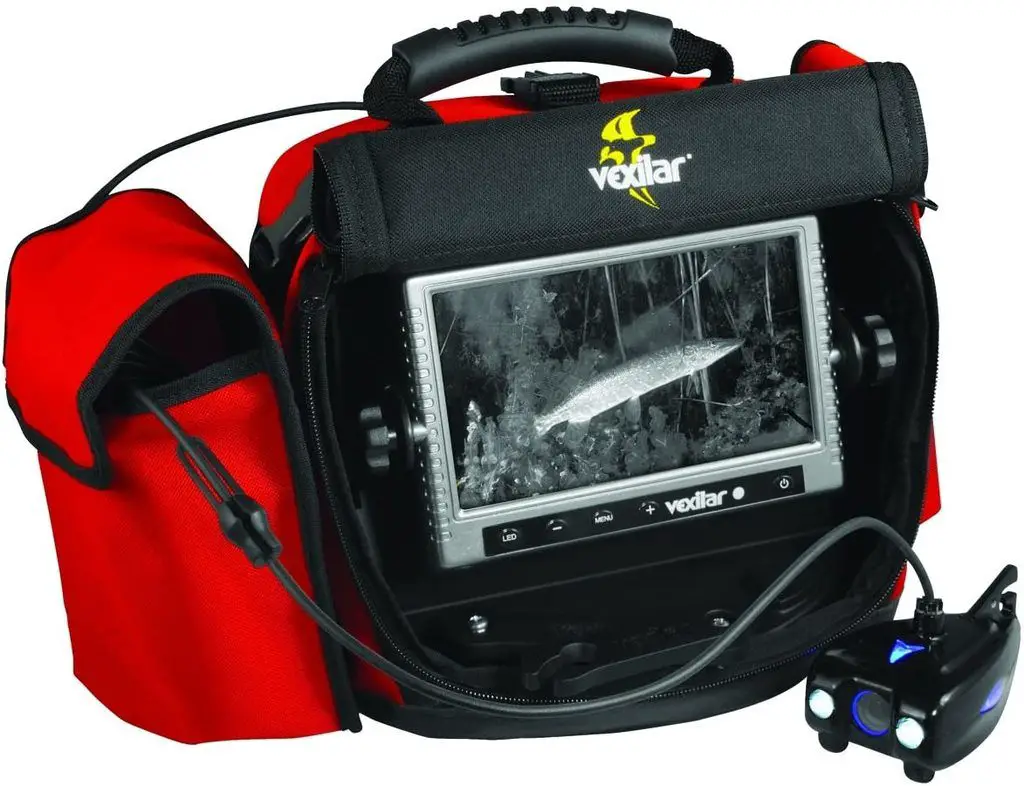 13. Ice Fishing Gloves
Another piece of apparel you will need is a warm set of gloves to keep your warm and dry. There are dozens of different types of gloves you can choose from, but ice fishing gloves are their own category.
Thermal insulation is the key here – there is nothing worse than cold hands, particularly if you are going to be spending an extended period on the ice.
14. Ice Fishing Boots
There is a big difference between a pair of fishing shoes and dedicated ice fishing boots. The last thing you want when you have travelled hours to set up your shelter and start fishing is to have cold feet. There is nothing worse to turn a trip miserable.
Make sure you select thermally insulated boots with snow collars to give yourself the best chance of staying warm.
15. Ice Skimmer
After you finish drill a hole, a sizable portion of slush will fill up the channel. Then you'll need a tool to keep your holes open and clean, and to keep your fishing line free to move. The handle of the ice scoop should be sturdy and long enough so you don't need to make much effort to clean the hole. Some ice skimmer can also help you check the thickness of the ice or measure fish with a tape measure on its handle.
16. Heat Packs
I personally don't like being cold. So if you are just like me, remember to get some heat packs. I used to use those inexpensive, single use, and air-activated heat packs, and they do work. But since they can only be used once, you may need to spend lots money on them. Actually there is another type of heat packs, and that is rechargeable, battery-operated hand warmers. Ice fishing can be fun, and it can be a lot more fun when your hands and feet are warm.
17. Polarized Sunglasses
Sunglasses are one of the most important and often overlooked tools for fishing, summer and winter. It reduces glare, which is high-intensity light reflected off a smooth surface, like ice or snow. Not all sunglasses are polarized and not all polarized glasses block the same amount of light, so check before you buy.
Conclusion
I hope this guide has triggered some ideas about new gear you will need to buy or just used as a checklist when packing your truck. Ice fishing is a brilliant way to experience the beauty of winter and to pack your freezer with fish for the year to come.
Are there any other pieces of gear for ice fishing that you would consider essential that I should add to this list? Please leave a comment below so that I can include your thoughts and wisdom.
Happy fishing!