It's no secret that the spincast reel market has been dominated by a select few brands in the last few decades. Companies like Shimano, Zebco, and others have produced such mechanically-sound spincast reels that it's hard for other brands to get the attention of anglers or anyone else in the fishing industry. However, KastKing is one that recently released one of the more impressive spincast reels we've seen in the last few years. 
The KastKing Brutus Spincast Reel is a performance-driven product that rivals some of the most prominent spincast reels in the industry. It's more smooth than most anglers imagine a push-button reel could be and offers plenty of reasons for spincast lovers to give this one a closer look. 
In this article, I'll examine the KastKing Brutus Spincast Reel in more detail and cover some of the features and capabilities this reel offers and how it compares to some of the more well-established spincast reels that I have tested. 
ON SALE $5.25 OFF
Bestseller No. 1
KastKing Brutus Spincast Reel Overview 
The engineers and design experts at KastKing truly put a lot of effort into the making of the KastKing Brutus Spincast Reel. It features virtually every aspect and characteristic you want to see in a solid spincast model that feels just as smooth as a spinning reel in terms of casting, retrieval and other areas. The reel offers a sleek and innovative look with an elegant black and red color scheme along with a honeycomb pattern around the cover. 
The most important part of any good spincast reel is always the line pickup system. Brands like Zebco have produced some of the most trusted spincast reels in the fishing industry because they make their products with great quality line pickups that keep the line tight while eliminating tangles. The Brutus is also crafted with a stainless steel, Dual Pickup system that ensures the line will be gathered neatly onto the spool, allowing you to quickly reel in your lure and make another cast without any issues. 
Anglers who have used the KastKing Brutus Spincast Reel describe it as being one of the smoothest spincast models they have used in terms of the casting ability, as well as the drag. The reel offers a 4.0:1 gear ratio that might seem slow to anglers who are more used to fishing with a spinning reel or baitcaster, but it happens to be faster than most other spincast models. The reel provides a wide range of other notable features that come together to create one of the best spincast reel experiences you'll get for less than $50.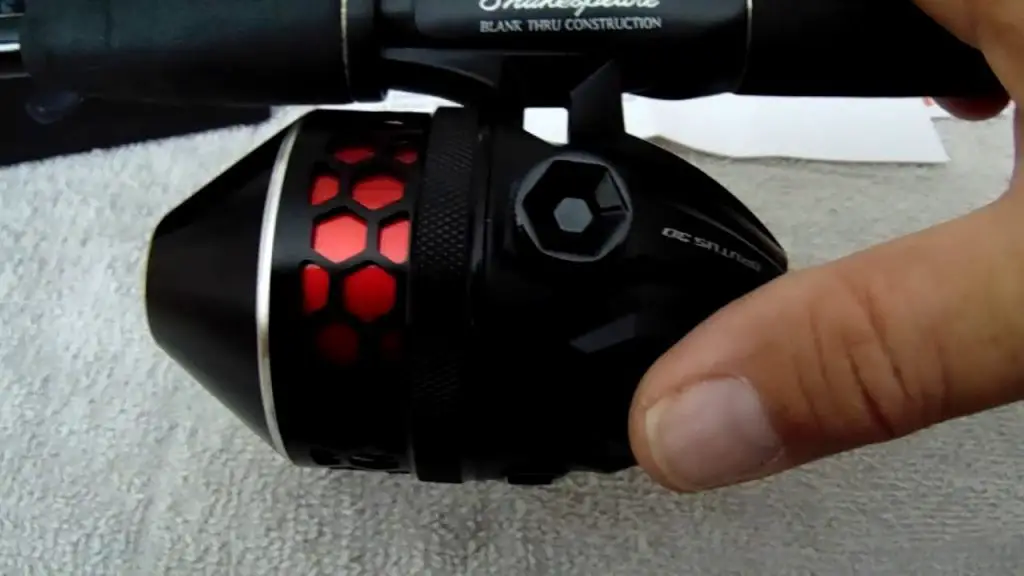 Construction 
The KastKing Brutus Spincast Reel offers an exceptionally durable construction that will hold up against nearly anything you'll encounter on the water. The reel's cover is made of aluminum material that's tough enough to protect the inner workings of the reel while also being light enough to cut down on some of the reel's overall weight. This is an area where most other spincast reels are made with a stainless steel cover, which is quite a bit heavier than the aluminum material used by KastKing. 
The actual frame of the Brutus reel is made of graphite, which also goes a long way in making the reel more lightweight than many of its competitors when it comes to spincast fishing reels. There are other elements that also alleviate some of the weight that other spincast reels have as well. The honeycomb design on the cover is not just included for looks, it's designed to provide plenty of structural integrity while also cutting down on the overall weight of the reel. 
Drag System 
The KastKing Brutus Spincast Reel's drag system is well-made and provides a smooth, reliable performance that is ideal for catching small or medium-sized freshwater or saltwater fish. The max drag weight of the reel is only 11 pounds and is comparable to most other spincast reels in the same class as the Brutus. 
This reel manages to deliver such a smooth drag thanks to the fact that it's built with incredibly tough Teflon drag washers. The drag is about what you'd expect to get from a spincast reel that's priced under $50 and is adequate for catching most freshwater fish species. However, it isn't very well-equipped to handle larger, hard-pulling species that might put a strain on the drag. 
Gear System 
The KastKing Brutus Spincast Reel is designed to have one of the smoothest reeling and casting actions you'll find among some of the newer spincast reels that are currently available in today's fishing industry. The Brutus is made with 5 MaxiDur stainless steel ball bearings that are specifically designed to give you a smoother feel than you might get from most other, lesser-quality spincast models. 
These stainless steel ball bearings are shielded, which means they are made with the ability to withstand the corrosive properties of saltwater and some of the various chemicals that often damage the internal parts of reels. In addition to the MaxiDur gear system, the KastKing Brutus Spincast Reel is also made with an instant anti-reverse bearing that helps anglers get a solid hookset when fishing for game fish species that are quick to snatch a lure and run with it. 
The KastKing Brutus Spincast Reel offers a 4.0:1 gear ratio that allows anglers to use a wide range of different rigs and lure presentations. The Zebco 33, which is largely considered to be the most popular spincast reel in the fishing industry over the last three decades, is made with a 3.6:1 gear ratio. The Brutus' faster speed gives you the ability to fish with lures that require anglers to pick up larger amounts of slack line on their retrieve. 
It's one of the fastest spincast reels on the market and is perfect for anglers who like to throw jigs or inline spinners to catch trout or various panfish species like crappie, bream and others. The smooth retrieval action of the KastKing Brutus Spincast Reel also helps when using these kinds of lures when it comes to catching a wide range of fish species.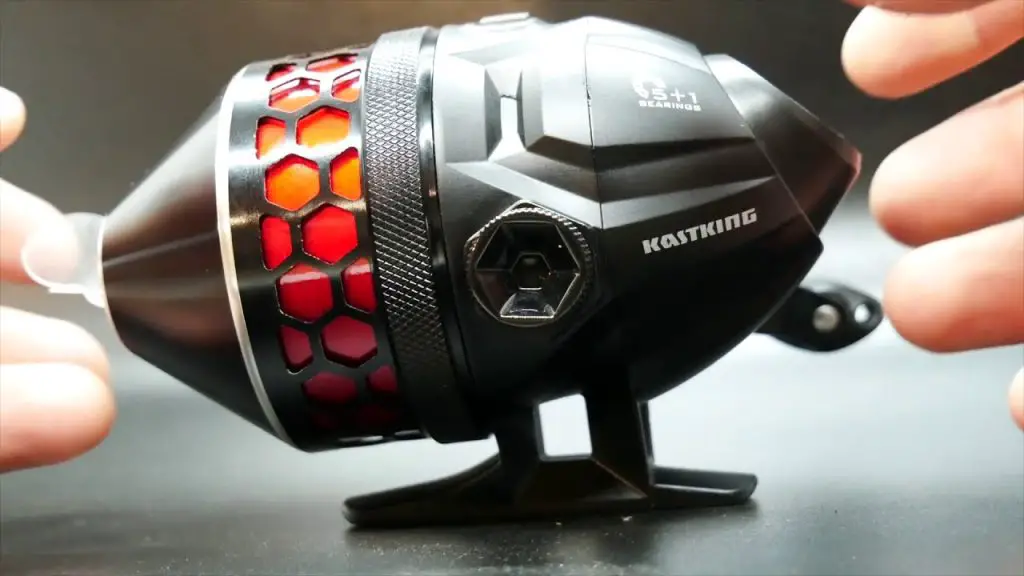 Line Capacity 
The KastKing Brutus Spincast Reel really shines in areas like line capacity. Many of the most prominent spincast brands and models are notorious for offering meager line capacities on their spools and KastKing has apparently taken note of this. The Brutus is designed with at least 33 percent more line capacity than the majority of its competitors' reels. This opens the door for anglers to fish in deeper waters for larger fish species that are sure to tear off many dozens of feet at a time while you're trying to reel them in. 
The reel is capable of being spooled with anything from about 4 pound test monofilament line to 12 pound test if you're fishing for larger species. KastKing recommends using the reel with a 10 pound test monofilament line and this is what the reel will function best with in most cases. It's capable of holding up to 160 yards of 10 pound mono and can pack on as much as 130 yards of 12 pound line. 
Most spincast reels won't function well when using braided line and you can expect the KastKing Brutus Spincast Reel to be the same. Monofilament line is what the reel is designed to be used with as the line pickup operates best with this type of line. 
Dual Pickup System 
Most anglers are aware that the most important part of any spincast reel is the line pickup system. This small, but very important part is key to making sure the reel collects line onto the spool in an orderly fashion so that you're not forced to deal with pesky tangles that will stall your ability to cast and potentially ruin your trip. 
The KastKing Brutus Spincast Reel is made with a Dual Pickup system that is engineered to pick the line up as soon as it's taken into the line opening on the front cover. This pickup system is capable of spooling line back onto the reel so that anglers can quickly and effortlessly stop their retrieve once the lure is reeled in and immediately make another cast—something you can't always do with a lot of spincast reel models. 
Other Notable Features 
The vast majority of spincast reels are made to be used by right-handed anglers and don't have the ability to swap the handle into a left-handed position. The KastKing Brutus Spincast Reel is one of the few spincast models you'll find in the fishing industry that offers this capability. The reel can be switched over to a left or right handed position with relative ease, which means the KastKing Brutus is truly a one-size-fits-all model that can be used by virtually any angler. 
The reel comes with a stainless steel rotor that's highly durable and ensures that the zinc alloy spool is kept in place as it should be, even when dealing with a larger, hard-pulling fish that will put the reel to the test in terms of overall toughness. 
Pros
One of the few spincast reels with interchangeable left and right handle positions.
One of the highest line capacities in a spincast reel.
Fast gear system allows you to bring in lures and excess line more quickly.
Suitable for freshwater and saltwater.
Cons
The drag is on the low side when you get into the larger sized models.
I have noticed some workmanship quality issues so give yours a full inspection.
ON SALE $5.25 OFF
Bestseller No. 1
Specifications
| SKU | Size | Gear Ratio | Weight (oz) | Max Drag (lb) | Retrieve Rate (Inch/Turn) | Mono Line Capacity (Lbs/Yds) | Braid Line Capacity (Lbs/Yds) |
| --- | --- | --- | --- | --- | --- | --- | --- |
| KRLSPNBR-S20BK | 2000 | 5.0:1 | 7.6 oz | 12 | 21.3 | 6/400, 8/300 | 20/320, 30/170 |
| KRLSPNBR-S30BK | 3000 | 5.0:1 | 9.2 oz | 13 | 22.4 | 8/370, 10/300 | 30/215, 40/175 |
| KRLSPNBR-S40BK | 4000 | 5.0:1 | 9.5 oz | 17.5 | 23.6 | 10/350, 12/290 | 40/205, 50/180 |
| KRLSPNBR-S50BK | 5000 | 4.4:1 | 13.1 oz | 18.6 | 24.8 | 12/460, 16/350 | 50/300, 65/200 |
This table shows the key specifications for a KastKing Brutus Spincast Reel
Conclusion 
The KastKing Brutus Spincast Reel has virtually everything you might want or need when it comes to a quality spincast reel that can be used in both freshwater and saltwater fishing environments. The fact that the price tag on this reel is typically below the $50 mark means it's ideal for beginner and novice anglers since anglers of all skill levels can afford this one. 
It's one of the smoothest spincast reels you'll find in today's fishing industry and is very well-designed. The KastKing Brutus Spincast Reel is one that could last for many years if used and cared for properly. 
Last update on 2022-05-19 / Affiliate links / Images from Amazon Product Advertising API