When choosing a digital fishing scale, you should consider the maximum weight, corrosion-resistant hooks, long battery life, waterproof rating, and a clear digital display.
There are some of the most important characteristics and other things you should look for when shopping for a set of scales. You'll want to keep in mind just how much you intend to budget for your digital fish scales. 
If you plan to use your digital fish scales for weighing fish that you catch in a tournament, you'll want to have a set of scales that will allow you to store the weights of your fish and cull the ones you don't need to keep without having to weigh them all over again. Here are some of the most important things you should look for when buying a set of digital fishing scales.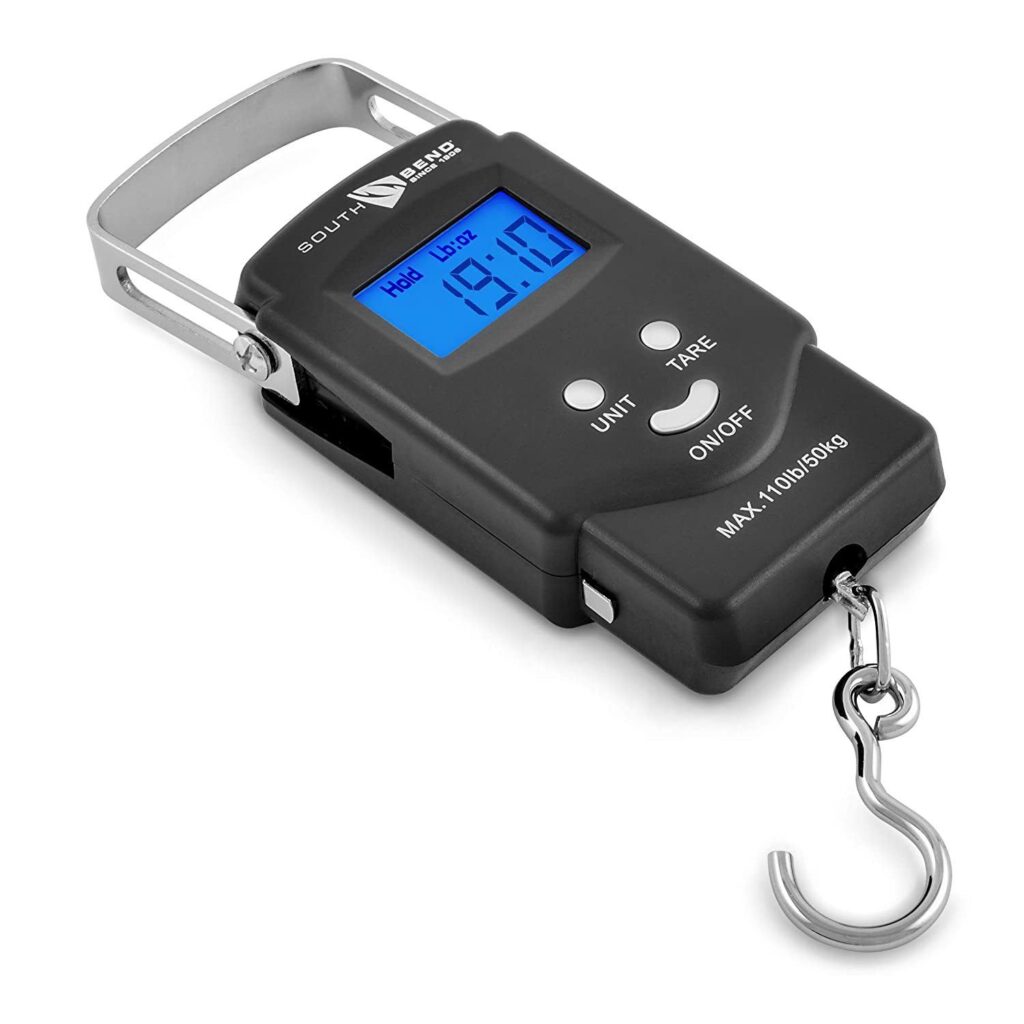 Weight Limit 
One of the most obvious things you'll want to pay attention to when searching for a set of digital fish scales is how much poundage they can weigh. You'll want to select a set of digital fish scales that are enough to weigh the fish that you intend to catch. In some cases, scales that are mainly designed for use with freshwater fish will only weigh up to about 15 pounds. 
There's also no need to purchase a very heavy scale if you intend to fish for smaller freshwater species. These scales are much more expensive as they can weigh fish heavier than 20 pounds in most cases. If you plan to go after large-sized fish, a scale capable of weighing fish up to 50 pounds is likely to be a good investment. You can find scales weighing up to about 100 pounds, but these digital fish scales will be much more expensive than most others currently available in the fishing industry. 
Waterproofing and Durability 
One of the biggest concerns anglers faced years ago when digital fish scales first began to be developed was the lack of durability. Some more budget-friendly models of digital fish scales today are still made in a way that makes them less capable of standing up to any damage that might happen on the water. 
Newer models of digital fish scales are made with much better capability when it comes to waterproofing and overall durability. One of the most obvious advantages mechanical fish scales have over their digital counterparts is their overall durability and waterproof design. These scales can be fully submerged and not suffer any damage, unlike digital fish scales, which can only tolerate minimal water. 
If you're looking for a scale that offers more durability than most other types of digital fish scales, you're going to be looking at spending a more sizable sum. Like most gear and equipment in the fishing industry, digital fish scales that are made to higher standards and are better in overall quality than their competitors are going to be more expensive than other brands and models. If you're willing to invest in a better product, you can expect to have a set of scales that will last many years. 
On-Screen Display 
One of the more common concerns anglers used to have with digital fish scales was that it was hard to read the on-screen display at times. This was especially true when it came to reading the numbers on the digital scale's screen when the sun was very bright, or if it was very early or late in the day when sunlight is minimal. 
Now, companies known for producing good quality digital fish scales are using LED screens that clearly show the weight of your fish at any time of the day. Some scales even have brighter screens that are specialized for fishing at night. 
Solid Hanging Hooks or Clips 
Another important factor that many anglers often overlook when it comes to buying a set of digital fish scales is how durable and strong the hanging hooks or clips are. This is obviously more of a concern if you're fishing for larger fish species as their weight can sometimes cause poorly-made hanging hooks or clips to malfunction and even break. You must weigh the fish once it has been out of the water long enough to have stopped thrashing around. 
Most heavyweight digital fish scales will feature stainless steel hooks or clips that won't easily be broken or loosened. The scales that come with a larger hook or clipper will generally be more suitable for bigger fish that might easily break undersized models. 
Choosing whether or not you'll need a set of scales with a clipper or hook is often a matter of personal preference. If you're going to be fishing for saltwater fish species that usually have many very sharp teeth, it's a good idea to opt for scales that feature a durable clip that will keep the fish hooked and prevent it from thrashing around. 
The scales that feature clippers or grippers are obviously going to be more expensive than other kinds that only have a simple hook. These grips are what tournament anglers generally prefer as well since they are less likely to damage the fish's gills and cause unnecessary harm to your catch. 
If you regularly practice catch and release fishing, you'll probably want to spend a bit extra and buy a set of scales that offer a gripper that will latch onto your fish's lip instead of hooking it in the gills. Some anglers who are very concerned about not harming the fish's gills with a hook have started using a lightweight pair of grippers which they can easily slide over the scale's hook. 
Battery Life 
When shopping for your next set of digital fish scales, be sure to pay attention to the battery life rating of the product. Some will have greater battery life than others, but this might be a more crucial factor for competitive anglers since you can't afford to have your digital scales run out of batteries while you're on the water. 
Some anglers have found that scales with low battery life often produce inaccurate weights on their fish compared to those with fresh batteries. Most scales will take standard AA or AAA size batteries, so it's a good idea to keep an extra pack of batteries in your boat or tackle box in case your batteries do start to run low. 
Accuracy
One last aspect you'll want to consider when buying a digital fish scale is just how accurate they are. As we've mentioned already, you can expect to 'get what you pay for' when it comes to digital scales. If you opt for a more affordable set of scales, you can bet that this scale will not provide a very accurate weight compared to the more expensive options that are made to higher standards by better companies. 
One good way to test your scale is to attach a weight to it that you can measure multiple times. If the scales prove to show a slightly different reading each time, you might want to return them, or be aware that the digital reading isn't quite accurate.