Lake Allatoona is one of the most popular freshwater fisheries in the southeast, and it's less than an hour's drive from Atlanta, Georgia. This sprawling body of water offers outstanding bass fishing opportunities and other species, along with picturesque backdrops, thanks to the lake being situated in the north Georgia mountains. 
If you're interested in planning a fishing trip to Lake Allatoona, I've compiled this article to serve as a brief fishing guide to teach you how to fish Lake Allatoona – it will highlight the best fishing spots, as well as the top lures or bait for bass fishing. 
Lake Allatoona Overview 
Lake Allatoona is widely recognized as one of the best fishing lakes in the state of Georgia and the greater southeast. As a native of north Georgia myself, I've visited and fished Lake Allatoona many times over the years. I've also grown to appreciate the spectacular angling opportunities and beautiful surroundings. The lake is frequently visited by anyone who finds themselves in Atlanta as it's only half an hour away from the Peach State's capitol. 
The lake is in superb condition as it is continually managed by the United States Army Corps of Engineers. They maintain the lake by regulating the water level using the large dam. The state of Georgia seems to do a decent job keeping the lake well-stocked with various types of fish from largemouth bass, striped bass, spotted bass, crappie, bluegill, sunfish, and catfish. The Etowah River runs into the lake from the historic gold mining city of Dahlonega. 
Lake Allatoona is no small body of water by any stretch and its 12,010 acres of water surface have been the site for many professional fishing tournaments over the years. There are numerous campsites dotting the shoreline along with many lake houses, but for the most part, Allatoona is lined with forested hills and large boulders along the 270 miles of shoreline. 
It's one of my favorite Georgia lakes to fish and has some of the largest spotted bass of any lake in the country. Specific lures and bait presentations work exceptionally well at various seasons throughout the year, and I'll provide a brief description of some of the most productive techniques. 
Top Lake Allatoona Fishing Charters
If you don't want to explore on your own, I would certainly recommend hiring a fishing charter. These experienced Captains can put you on the fish in minutes rather than spend hours fishing in poor locations yourself. This certainly saves you big in terms of time and is a whole lot of fun.
Three main fishing guides on Lake Allatoona would be happy to take you fishing:
Best Fishing Spots 
Bass will be feeding in transitional locations where deep water joins shallow sections throughout most of the year. These particular spots are what I refer to as 'transitional locations' because they are moderately deep shelves where bass will come up out of deep water and feed on shad and small bait fish like bluegill and sunfish at various times of day. These transitional locations are great for spring and fall when bass are in the 'in-between' stage of moving from shallow water to deep or vice versa. 
Lake Allatoona is loaded with spotted bass, which is a close relative of the largemouth bass. Spotted bass, also known as 'spots,' are much more aggressive than largemouth and will usually feed in schools. You can catch plenty of spotted bass if you use smaller lures around the points and along the banks of Allatoona, but you'll mostly need to focus on deeper water if you want to catch largemouth. 
The western side of Lake Allatoona is home to the Allatoona Wildlife Management Area, which is a 6,818-acre swath of woodlands where there are no homes or docks bordering the shorelines. This western shoreline is very rugged and has lots of large rocks and boulders where spotted bass love to hide and ambush bait fish from the shadows. 
On the eastern shoreline of the lower section of the lake is Red Top Mountain State Park which has great campgrounds and various amenities where anglers can camp in tents or RVs. One of my favorite sections of the lake to fish is in Stamp Creek, on the southwestern side of Lake Allatoona. This creek is relatively narrow and stretches far back into various coves, while it is also entirely bordered by the Allatoona Wildlife Management Area. 
During the late spring and early summer, I like to seek out places where creeks run into the lake as these are usually locations where bass like to hang out during the spawn. Once the spawn is over, spotted bass and largemouth will stick around these creeks and feed on shad and bait fish until the water temperature climbs well past 70 degrees. As the summer heat pushes the bass into deeper sections, it's often better to fish at night in these shallow creeks and coves. 
Best Bait/Lures for Lake Allatoona 
Lake Allatoona has been extremely difficult for anglers who aren't willing to adapt to the rocky terrain and clear water. Those who do manage to improvise solutions and adapt to the conditions of Allatoona will find that you can catch vast numbers of fish with the right strategy and the right lures. 
Ned Rig 
One of my all-time favorite lures and rigs is the Ned rig. This simple presentation is meant to look like a small minnow or bait fish feeding along the bottom of the lake, which is very similar to how an actual bait fish will feed on the bottom. I like to use a tungsten Ned rig head along with a 3″ Roboworm with the tail dipped into chartreuse garlic-scented J.J.'s Magic. 
Be sure to use a fluorocarbon leader with this presentation because the lake is usually very clear compared to many other bodies of water throughout the southeast. Fish the Ned rig using a spinning rod and reel since this rig is fairly lightweight. The spinning rod makes it much easier to detect bites and you should work the lure by dragging it along the bottom before pausing it for intervals of at least 5 to 10 seconds. 
It's important to note that when using the Ned rig, you won't feel a bass strike the lure as you would other soft plastic rigs. You will likely feel the weight on the line when you begin to drag the lure along after pausing it. Once you feel this weight, pull up and you should feel the fish start to move a bit as the hook is set without much effort on your part. The Ned rig will usually work best on areas with a gravel bottom. 
Spinnerbaits 
I like to use a spinnerbait throughout the summer months to find schools of spotted bass and pick up strikes from big largemouth around the points and coves near creeks. Spinnerbaits are most effective during the early morning hours, or at night if you want to avoid the heat. A white/chartreuse spinnerbait is usually my go-to when fishing in the early morning, but at night I'll use a solid black spinnerbait with various blades. 
Use the spinnerbait in a search-and-destroy style to seek out and find where fish are staging in the water column. I usually start by keeping the lure running in the upper portion of the water column before gradually making lower retrieves until I begin to get strikes. Open water around points is usually the best locations to throw a spinnerbait – you might catch bass in shallow coves in the darkness. 
A-Rig 
Another one of my absolute favorites for Lake Allatoona when it comes to catching monster bass is the A-rig, which is also sometimes called an umbrella rig. The bigger bass in Allatoona feed heavily on shad throughout the year, and an A-rig is the lures that always entices them to strike. 
I like to use a Picasso Umbrella rig with various paddletail swim jigs on the outer hooks, but be sure to use a larger swim jig of a different color on the middle jig that should tail behind a few inches. This distinct color swim jig behind the other 4 to 6 smaller swim jigs will appear to bass like a small fish chasing a school of other bait fish. In roughly nine times out of 10 strikes, bass will strike at the last swim jig. 
I always use the A-rig with at least a 50-pound braided line because this is an expensive rig that will tend to get snagged on small limbs and vegetation in the water. You want to have the ability to pull the A-rig free from any debris that it might get hooked on. 
Buzzbaits 
One of my all-time favorite lures to use in any large reservoir is a buzzbait, especially during the summer when the topwater bite is in full-swing. I will use a buzzbait when fishing in the morning or at night as this quickly grabs the attention of bass and entices them to strike out of sheer instinct in many cases. 
The best buzzbait for me in Allatoona is a Molix Lover Buzz SS Junior in White Shad color for early morning or solid black when night fishing for bass. The key to fishing a buzzbait on this lake is to cast it parallel to the bank. Be sure to reel it in slowly if you're not getting strikes using a normal retrieve. 
During May, June and July, buzzbaits are an excellent lure choice on Lake Allatoona because the clear water allows fish to see the lure moving across the bottom from several feet away. In contrast, other very stained lakes have limited water visibility and won't produce the same effect. 
Best Jig for Lake Allatoona 
Jigs are my go-to lure on Allatoona throughout the entire year. I like to use a variety of different jigs, depending on the conditions and the season, but there are a select few that I've come to trust over the years. My favorite jig on Allatoona is a Z-Man CrossEyeZ Football Jig ½ ounce in Green Pumpkin color with a Zoom Super Chunk Jr. in Green Pumpkin with the tips dipped in JJ's Magic Chartreuse dipping dye. 
I use this particular type of jig because it very closely resembles the natural variety of crawfish that make their home in Lake Allatoona's ecosystem, but it also sometimes resembles a small bait fish working its way along the bottom at times when the water visibility is stained. I always throw this jig setup on a 7′ medium heavy baitcaster rod with 10 pound Sunline FC Sniper Fluorocarbon.
Use this jig to thoroughly fish along the rocks and boulders around much of the lake, and points or virtually anywhere else you want to throw it. It will be your best lure for catching big largemouth when fish are sluggish in the winter and summer in deep water. Using tungsten jigs in this lake is important because this dense metal will transmit the fish's bite to your rod more efficiently than lead jigs.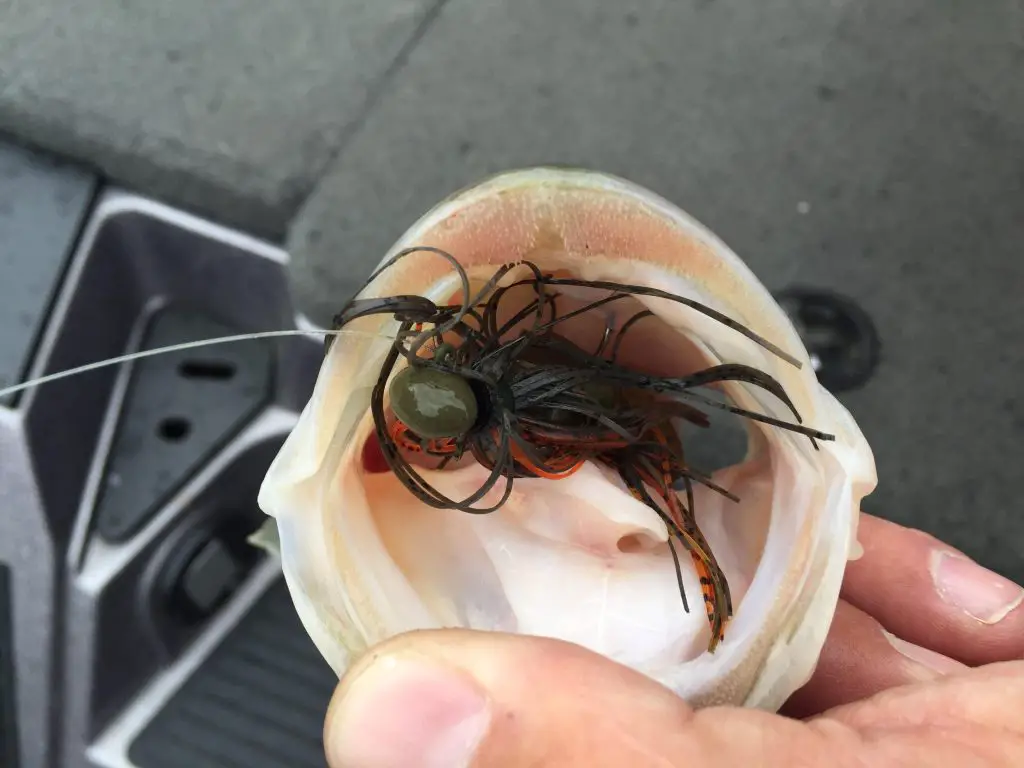 Best Time of Day for Lake Allatoona
The best time of day to fish on Lake Allatoona is during the early morning hours. During my experience fishing this lake, I've always caught the most fish and the biggest fish during the morning hours before the sun starts to beat down on the lake. Bass will be more active in the shallow sections of the lake during the early morning, especially during the warm months during spring through summer and into the fall. 
You can use virtually any of the lures covered in the sections above for early morning fishing in Allatoona. In the spring, a Ned rig seems to have a remarkable effect on bass since you can fish along the bottom around points and secondary points as bass are moving up from deep water into the shallow regions. A jig will also work exceptionally well in the morning, and you should focus on points when fishing a jig at dawn for most of the spring and summer. 
During the middle of the day, a jig is often a great choice, but I like to cast the A-rig around points and across coves to try and pick up a strike from a lone largemouth bass, as many of the lunkers in this lake like to spend the mid-day hours in 10 to 15 feet of water around creek channels or sections of the middle where you find boulders. 
Conclusion 
Lake Allatoona really is a hidden gem for many anglers who love to catch largemouth and spotted bass, striped bass, and crappie. The clear water and serene mountain surroundings make this an excellent destination for camping at one of the many parks around the lake. 
Using lures and colors that are more realistic in appearance and a fluorocarbon leader for specific bait presentations, anglers can adapt to the clear water conditions at Allatoona and catch loads of fish using the lures we've mentioned in this article. 
This is a lake that should be on every avid bass angler's bucket list as there are few other reservoirs like it that are tucked away in the peaceful Appalachian mountains around wildlife management areas and so close to the big city of Atlanta.