Penn has been around longer than the majority of other companies in the fishing industry and anglers are well-aware that the brand is aimed toward producing top-notch products that are great for saltwater or freshwater fishing. The Penn Passion is a spinning reel that's made specifically for women and features just about everything you might look for in a reel model that isn't too heavy and can be capable of catching saltwater or freshwater game fish species. 
The black and pink coloration indicates that this reel is specially made for women and offers certain qualities that help ladies land the fish they're after on the water. It's a moderately priced reel that features plenty of corrosion-resistant technology and capabilities inside the reel that makes this a great option for inshore fishing. 
In this article, I will take a closer look at the Penn Passion and explain why it's the ideal choice of spinning reel for ladies of any skill level. 
Penn Passion Overview 
The Penn Passion is made of a full metal body material that gives it a much greater amount of durability than reels that are crafted out of composite material. This means the reel is able to handle the larger fish that you're likely to catch when fishing along coastal inlets, flats or other areas for saltwater species. The reel does, however, feature a RR30 rotor that is much lighter than most other rotor models, which helps to offset the overall weight of the reel and make it a bit more comfortable for ladies to use. 
The Passion features Penn's famous HT-100 drag system that is more than capable of reeling in almost any kind of fish you happen to catch along the shoreline of most coastal areas. This drag system is designed to let you fight the largest fish without losing ground when your catch takes a hard dive back out to sea. 
It also comes with a 5+1 ball bearing system that is designed to give you a smooth casting and reeling experience. One of the most convenient factors about the Penn Passion is that you won't be required to use any backing line in order to spool your main line onto the reel itself. This is thanks to the Superline Spool system that is capable of handling any kind of fishing line 
Construction 
The Penn Passion is a bit heavier than most other reels of its size due to the fact that it's made for saltwater fishing. As most anglers know, saltwater fishing involves catching species of fish that are generally much larger than freshwater species, which means you'll have to use a more heavy duty reel that will be capable of withstanding the extreme pressure and strain these fish are going to put on the reel's body. 
Composite materials are more likely to crack or even break under the same high amounts of pressure you'll get from fighting a larger fish. The Penn Passion's all metal body is both corrosion-resistant and highly durable, meaning you'll have no problem fighting and reeling in almost any kind of fish you happen to catch—including the occasional shark. 
Rigid Resin RR30 Techno-Balanced™ Rotor
While the weight of the all metal body on the Penn Passion will likely be a detriment for most anglers who are looking for a more lightweight option they can use for inshore fishing, there are a few things Penn has done to offset this extra weight. The Passion is equipped with a much more lightweight Rigid Resin RR30 Techno-Balanced™ rotor. 
This might not seem like much of a decrease in weight, but it actually is said to reduce the overall weight of the reel itself by as much as 20 percent. This light rotor helps to make the Penn Passion one of the lightest all metal body reels on the market today that are aimed toward being used on inshore environments. 
Ball Bearing and Gear System 
The Penn Passion comes in four different size options that include the 2500, 3000, 4000, and 5000. Each one of these reel models are equipped with a 5.2:1 gear ratio except the 5000 which is made with a 4.6:1 gear ratio, which will give you much greater amounts of power when fighting larger fish. 
The Passion's internal system features a 5+1 ball bearing system that is designed to give you a very smooth casting and retrieving experience. These ball bearings are made of stainless steel material and are capable of lessening the amount of friction the reel will experience as you're reeling in your catch or retrieving a heavier rig from the water.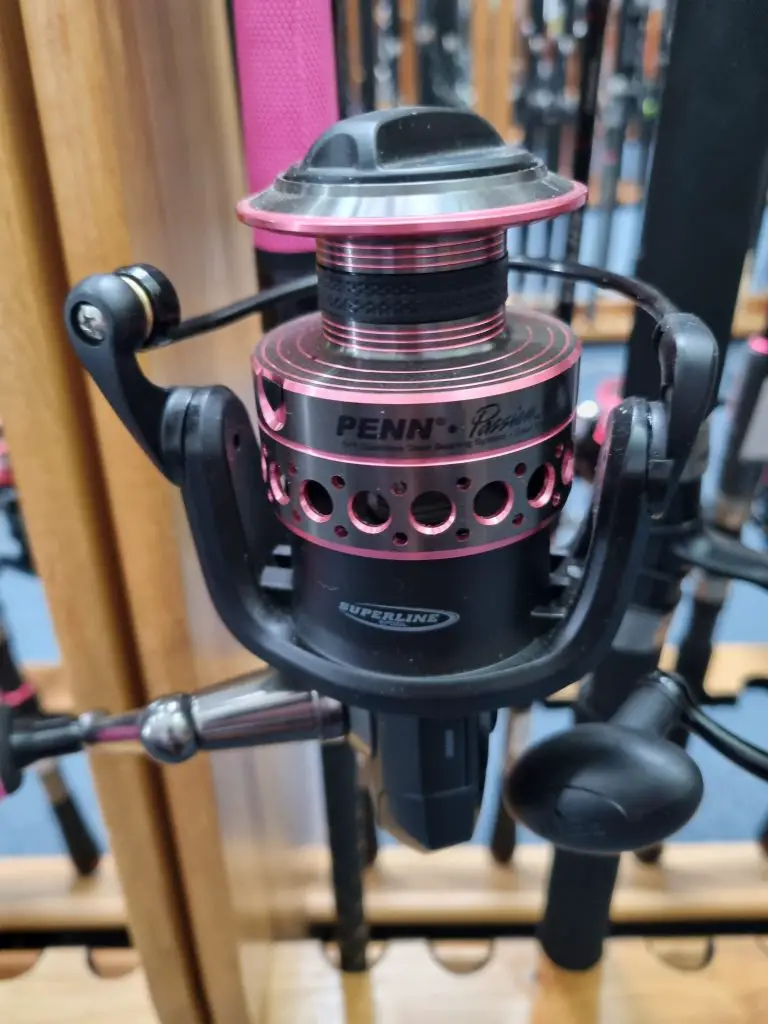 Drag System 
One of the most important aspects of any inshore reel is the drag system, which is aimed at delivering plenty of power and allowing you to maintain control over your catch without letting it get away from you. The Penn Passion is fitted with the brand's famous HT-100 drag system, which is among one of the best features the rod has. This drag system is known to be incredibly smooth when reeling in larger fish that might put much more strain on your reel. 
The drag washers also feature a special coating of Penn's proprietary grease that will lengthen the life of your reel if it's properly taken care of. You can easily adjust the drag using a large knob on the right side of the reel, which can be manipulated at any time, even when you're reeling in a sizable catch. The smallest reel model features a maximum drag weight of 12 pounds while the larger models offer 15 and 25 pounds of total drag weight. 
Other Features 
The Penn Passion offers anglers the opportunity to go after larger fish since it offers a heavy duty aluminum bail wire. This bail wire is made to withstand the higher amount of pressure that is likely to occur when fighting bigger fish. As we've mentioned before, the Penn Passion is made with a Superline Spool, which helps to greatly decrease the overall weight of the reel and make it much more comfortable for women to use on all-day fishing trips where you might be casting repeatedly. 
Final Verdict 
The Penn Passion is a solid reel for anglers of all skill levels and ladies will find it to be both stylish and highly functional with a better performance than most other inshore reels that are similar in size.
This reel is one of the toughest and most durable I have tried and features an extremely smooth action in casting and retrieval. If you're looking to spend a bit more money to get a better inshore rod, this is an ideal option to consider. 
Last update on 2022-09-29 / Affiliate links / Images from Amazon Product Advertising API