Penn has long been one of the most respected brands in the fishing industry. They commonly specialize in producing top quality gear and equipment that are mostly designed for saltwater fishing. The Penn Torque is one of the brand's premier reel models that's designed for catching the largest game fish species that can be found in the ocean. 
Aside from its elegant and powerful look, the Penn Torque is a high-end spinning reel that features a tough, all-metal body. The Torque's HT-100 drag system is made for reeling in giant ocean fish like sharks or blue marlin that can grow to over 1,000 pounds. 
In this article, I will examine this premium fishing reel and take a closer look at why so many anglers consider the Penn Torque to be among the best of the best saltwater spinning reels on the market today. This is based on my own first hand insights and experience.
Quantitative Score
Performance – 5/5 ⭐⭐⭐⭐⭐
Durability – 5/5 ⭐⭐⭐⭐⭐
Value for Money – 3/5 ⭐⭐⭐
Overall Score – 4/5 ⭐⭐⭐⭐
Penn Torque Spinning Reel Overview 
There is no denying that the Penn Torque is a reel that's made for toughness and performance. The reel's all-metal body is both eye-catching and practical as it is made to stand up to the largest fish species in the world. This reel comes in 3 different sizes that allow you to select the one that's just right for the specific type of pound test line you're looking for, as well as the amount of line you need on your spool. This reel features some of the most thorough efforts to keep the internal components free from saltwater corrosion of any reel on the market. 
The Penn Torque is made to deliver outstanding performance on the water that makes it possible to fight and land some of the biggest species of saltwater fish. As you might expect, the reel is quite a bit heavier than most other types of spinning reels used for saltwater fishing, but this extra weight is offset by the importance of the reel having as much durability as possible. 
The Torque is also capable of holding an exceptional amount of fishing line since most avid offshore anglers typically fish in deeper water that's more than 200 feet. The Torque's lightest model is capable of holding 340 yards of 12 pound mono, but the heaviest is able to pack on as much as 490 yards of 20 lb mono or 575 yards of 65 lb braid. 
Anglers will be pleased to find that the Penn Torque is packed with plenty of features that make this a clear-cut favorite among saltwater fishing enthusiasts.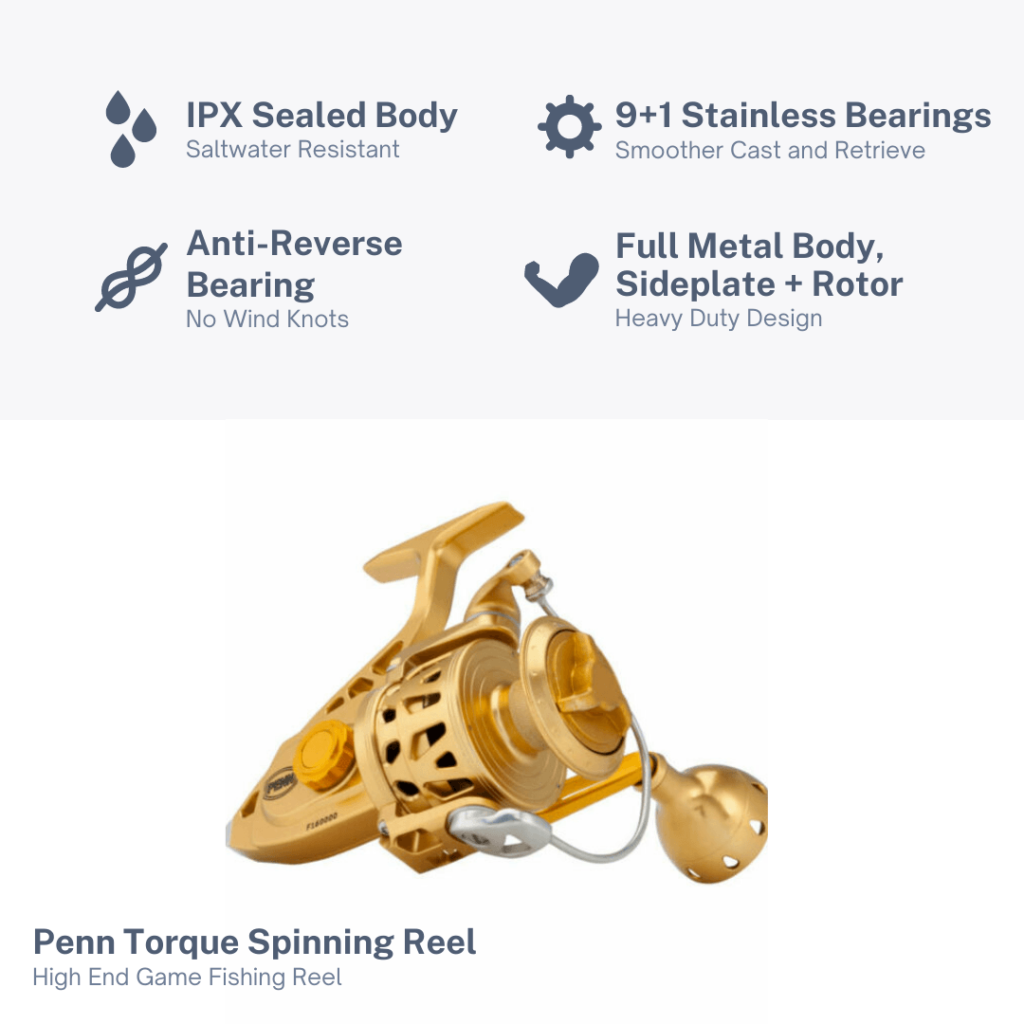 Precision CNC Gears 
The gear system is made to allow anglers to handle the largest fish species in the ocean that include mako sharks and marlin. It's very important for the reel to maintain its ability to hold these fish on the line without letting the gears skip or buckle under a heavy amount of pressure. The gears are machined with Precision CNC parts that align perfectly inside the reel's housing to make sure you don't lose any ground when a fish happens to take a hard dive and rip off several yards of line. 
Construction Material 
As we've already noted, the Penn Torque features a very tough, all-metal construction that ensures you won't have to rely on material that isn't known to hold up when you're facing a fish that's more than 500 pounds. The reel's body is made of aluminum, as well as the side plates and the spool. All of these components are made to withstand extreme amounts of pressure from heavy game fish. 
The reel's bearings and pinion gear are machined from stainless steel. The Penn Torque's main gear is made out of marine grade bronze for added toughness while the handle itself is crafted from an aluminum shaft. 
Corrosion-Resistant Design 
The Penn Torque is made with extra measures that help seal out any saltwater that might seep into the internal compartments and compromise the reel's integrity. The design makes the reel fully sealed to lock out saltwater, as well as any other elements that are known to find their way into a saltwater fishing reel from time to time. It's not uncommon to find sand, grit, and other things inside the internal components of an offshore or inshore reel and knowing that you don't have to worry about this with the Penn Torque means you can fully trust the reel to hold up when you need it to.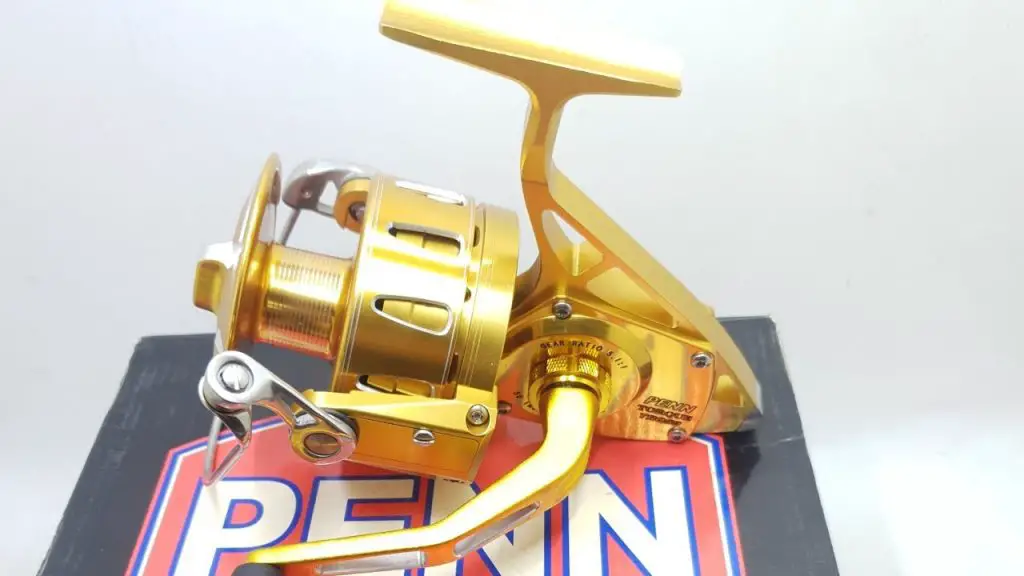 HT-100 Drag System 
One of the most talked-about features of the Penn Torque is the HT-100 drag system that is made to stack up against the largest types of game fish you'll find in the ocean. This drag system is built by hand by engineers and machinists at the Penn manufacturing facility in Philadelphia, Pennsylvania. The oversized front drag system is capable of letting the fish pull the line off the reel in a smooth and controlled manner, which means you'll be able to better maintain control over your fish. 
Appearance 
There is much to be said of the reel's all-metal design that gives it the distinctive look and makes it stand out among your other rods and reels. The Penn Torque can be ordered in either gold colored metal, or black depending on your own personal preference. There have been some slight changes over the last few years by Penn as it relates to the overall look or design of the aluminum body. One of these designs is a very sleek, futuristic appearance while the older version is one that looks very much like your average spinning reel. 
Some anglers have complained that Penn didn't put as much emphasis on the features of this reel as they should have and instead chose to focus too much on the appearance of the reel. 
Pros
The all metal body is extremely tough and durable even when fighting large saltwater fish.
It also has a very high max drag for battling deep sea monsters.
I also think it has a very high line capacity that is well suited for its purpose.
The internals are fully sealed which gives it my top score for durability as you will not be getting any saltwater into the gearing.
Cons
The material of construction means that this is a heavy reel. This is not something you will be using to cast all day. This is a reel that you will use to fight a large fish and then you will be tired by the end of the day.
This is an expensive reel – you may want to consider using a conventional reel for similarly sized saltwater fish species.
Specifications
| | | |
| --- | --- | --- |
| Key Specification | TRQS5-G | TRQS9-BBLS |
| Gear Ratio | 5.9:1 | 5.1:1 |
| Mono Line Capacity | 340yd/12lb | 490yd/20lb |
| Braid Line Capacity | 550yd/20lb | 575yd/65lb |
| Max Drag | 38 lb | 50 lb |
| Ball Bearings | 7+1 | 7+1 |
| Weight | 19.9 oz | 28.9 oz |
Conclusion 
There are plenty of reasons why this reel is among one of the best spinning models that Penn has put out in recent years with the focus being on catching larger fish species. The Penn Torque's drag system, housing, and internal components are all made to stand up against almost anything you hook while offshore or inshore fishing.
This reel is made to compare to some of the ultra-premium models that typically cost upwards of $2,000 and meets most of the expectations and requirements that serious offshore anglers have in regards to their tackle. 
Last update on 2022-04-17 / Affiliate links / Images from Amazon Product Advertising API