When it comes to deep-sea fishing for reef fish or pelagics, then you will want to get yourself a high quality heavy conventional reel that can handle the size of these saltwater monsters – this means a high max drag, high line capacity, and a lot of torque through a low gear ratio. These kind of reels are often some of the most expensive pieces of gear in your fishing arsenal – this is where the Piscifun Salis X changes the equation.
The Piscifun Salis X is a great option as a budget price overhead reel without missing out on the features and specifications of the bigger brands. I have found the quality of these reels to be outstanding and some of the best value for money I have seen.
In this post, I am going to present a Piscifun Salis X Reel Review so that you can learn about its features, benefits, uniqueness, and utility. I will also examine the downsides of the product so that you can understand its weaknesses and whether they are relevant for your personal needs. This will help you prepare yourself for situations when your gear might disappoint you.
Piscifun Salis X Trolling Reel
Overall Score – 4/5 ⭐⭐⭐⭐
Best budget conventional reel
Over 500 yards of 50 lb braid capacity
Max drag of 37 lbs
6.2:1 gear ratio
Quantitative Score
Features
Material: Stainless Steel, Graphite
Color: Golden Black
Handle: Stainless Steel
Weight: 25.7 ounces
Type: Conventional Trolling Reel
Ratio: 6.2:1
Water: Suitable for Inshore Saltwater
Overview
Piscifun Salis X is a budget conscious trolling reel designed for catching big gamefish without breaking your budget. It also comes with surprisingly good performance and build quality. The frame and side plates of these high-quality reels are made of lightweight but extremely durable graphite while the handle features stainless steel. These reels can perform in all kinds of saltwater conditions without the risk of corrosion or degradation over time.
Although these reels are meant for inshore saltwater fishing, they can be used in freshwater as well.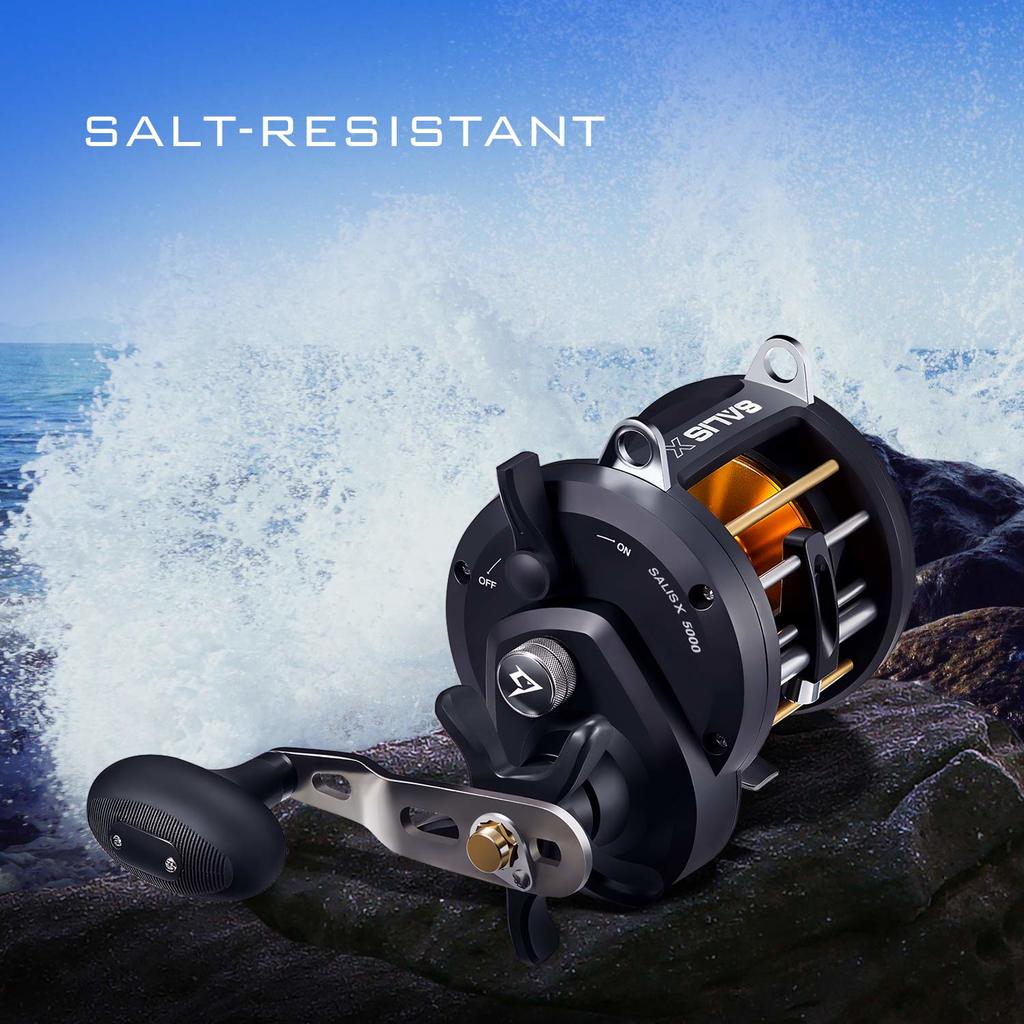 Strong and Powerful
The Piscifun Salis X reels are strong and powerful pieces of fishing gear. It uses washers made of high-grade carbon fiber that can deliver close to 40 lbs drag power. This allows you to fight against the biggest fish with extreme ease (or at least without watching them scream off into the distance as they spool off line uncontrollably).
The gearing system comes from Japanese ultra-precision machinery manufacturing Hamai that has been in operation since 1921. Hamai has used its expertise in ultra-precision machining to make its highly-efficient gear system. This ensures consistency and high-quality performances.
Braid-Ready Spools
These are conventional reels that feature aluminum spools made by forging and machining. The spools are braid-ready that eliminates the need for mono backing when you choose to fish with a braided line. While you can use any kind of line with these fishing reels, the braid is considered more appropriate for big game fishing.
This makes it much faster if you ever need to change lines without needing to muck around with mono backing.
High Gear Ratio
The Piscifun Salis X has a gear ratio of 6.2:1. This means your reel is one of the fastest retrievers of fishing lines among the reels used for troll-fishing. Features like this allow you to retrieve empty hooks from the depths easily. It also helps when fighting smaller pelagic species or reef fish. This gives a retrieve rate of 39 inches per turn which is significantly higher than other overhead reels in this size bracket.
If you want a high retrieve rate for changing trolling lures or replacing baits quickly, then I would recommend the Salis X over some of the bigger Shimano options.
Unique Features
This saltwater fishing reel boasts many features that may not be found in other reels in its price range. For example, the crank handle is made of stainless steel, a convenient power knob, line winding supported by three bushings that are stable and durable, and an engage-bait clicker. These unique features make this product surprisingly good and explains why I gave it a 5 out of 5 score for value for money.
The clicker in this reel is loud and you can safely say goodbye to old pesky alarms. Once you have one of these reels in your hand, you can't wait to use it. You will be impressed by its overall build, looks, and performance.
You get over 3-ft of the line from every turn of the crank. That's amazing for a trolling reel, and can help you bring your fish in faster. This normally comes at the expense of the drag power which is not the case here – it is the best of both worlds. These reels are smooth, quiet, well-built, and sturdy.
Two Different Models
Piscifun Salis X Reels are available in two models – the 3000 Model and the 5000 Model. Gear ratios and the number of ball bearings in both models are the same at 6.2:1 and 6+1 respectively.
The 3000 model has a maximum drag of 26 lbs, retrieval per turn of 39 inches, braid capacity of 80lb/290 yd, and reel weight of 25.7 ounces.
In contrast, the 5000 model has a maximum drag of 37 lb, retrieval per turn of 49 inches, braid capacity of 80lb/520 yd, and weight of 35.6 ounces.  
Superior Design
The Piscifun Salis X has a superior design that optimizes its performance. The reel foot features stainless steel riveting for greater stability during your fight against big fish. The 5000 model also features earplugs for connecting straps to a fighting belt. This reel empowers you to send engage and disengage signals by pressing the ON and OFF buttons.
Downside
The gears that control the line guild are made of plastic and they tend to strip out. However, you may try to find a brass replacement to upgrade them.
I also found that threading the line from the spool through the level wind eye gets difficult. Some reviewers claimed they had to thread the mono and tie a braid to it and pull from the other end.
Pros
High-speed trolling conventional reels
Offers even, smooth, and fuss-free line release
Gives instant feedback when there is an activity at the hook
Made with high-quality and durable material
Lends power to you in a fight with saltwater species
Very affordable for a similarly sized overhead reel – great value for money.
Cons
The reel is too big for many fishing situations such as freshwater.
There is no line counter in this reel which can be very handy for deep water fishing.
Slightly on the heavier side for a similar-sized option.
Alternate Competitor Comparison
I also prefer to look at a reel in comparison to an alternative. In this case I have picked the Shimano Triton Conventional Reel. I am a big fan of Shimano's products primarily because of their technology and engineering so this will be a good matchup. The Triton's largest model is a 2000 size and the Salis X's smallest is a 3000 size, so I have compared these two options:
| | | |
| --- | --- | --- |
| Features | Shimano Triton 2000 | Piscifun Salis X 3000 |
| Weight | 13.2 oz | 25.7 oz |
| Max Drag | 14 lb | 26 lb |
| Bearings | 1 | 6+1 |
| Gear Ratio | 4.3:1 | 6.2:1 |
| Line Capacity | 300 yards of 20 lb mono | 330 yards of 24 lb mono |
| Retrieve Rate | 25 inches | 39 inches |
| Price | $$ | $$ |
The Shimano Triton is a significantly smaller and lighter reel than the Piscifun Salis X. This is due to the gearing system. It is lighter but offers significantly less drag and a lower retrieve rate. Depending on what size saltwater fish species you are targeting, you may want to consider a more powerful conventional reel.
PISCIFUN Salis X Video Review
Specifications
| Model | Gear Ratio | Bearings | Max Drag | Reel Weight | Retrieve Per Crank | Braid Capacity | Mono Capacity |
| --- | --- | --- | --- | --- | --- | --- | --- |
| 3000 | 6.2:1 | 6+1 | 26 lb | 25.7 oz | 39in | 80lb/290yds | 24lb/330yd |
| 5000 | 6.2:1 | 6+1 | 37 lb | 35.6 oz | 49in | 80lb/520yds | 30lb/490yd |
Piscifun Salis X Specifications
Final Thoughts
The Piscifun is a high-quality saltwater level wind, overhead fishing reel. It is an example of top-class engineering and designing. The product has come recently in the market.
Based on its specifications and my own first-hand experience, it appears to be a high-quality reel that's going to last as well as perform. But not much is known yet about its long-term durability in real fishing situations. Although available reviews don't give any negative feedback about the product, it will take a few years for more mature reviews to come.
But on the basis of available information and our tests, I feel this is a good product that can enhance your fishing experience and productivity.