The traditional tackle box has long been considered outdated by many avid anglers who fish in saltwater or freshwater fishing environments. Brands have moved on from the hard-shelled box that was once a staple of any fisherman in favor of soft-sided bags and backpacks that are able to hold gear and tackle more efficiently. 
One of the most popular fishing backpacks in the fishing industry today is the Piscifun Tackle Backpack. In this article, I'll be doing a review on this product and highlighting some of its best features, as well as examining some of the pros and cons that come with it. 
Piscifun Tackle Backpack Overview 
The Piscifun Tackle Backpack is fairly similar in many respects to most other products that are in the same price range. Piscifun is a relatively new brand that was founded in 2013 and has since exploded in popularity as they have developed a reputation for providing anglers with quality products at a reasonable price. This backpack is one of their latest releases and many anglers are finding that it is comparable to some of the other products on the market that are priced at more than double the cost of the Piscifun Tackle Backpack. 
It's made to function as an all-purpose tackle backpack for anglers of all kinds. Based on the features and characteristics of the backpack, it appears that it can be used when fishing in saltwater locations, both on boats, from a pier or along the surf. It's also well-suited to be used by freshwater anglers that like to stalk the banks of lakes and rivers for various species of fish. It's made of quality material and feels comfortable, even when wearing it for hours at a time. 
The dimensions of the backpack's length, width and height are 17.72 x 13.66 x 8.35 inches, respectively. The inside of the backpack consists of a main compartment on the top portion and a more expansive lower section that's used to store the four tackle boxes that come with the Piscifun Tackle Backpack. These two sections are separated by a soft divider wall that can be moved or taken out by detaching it from the velcro that holds it in place. 
Features 
Starting from the top of the bag and going towards the bottom, we'll examine the main features that the Piscifun Tackle Backpack offers in the following sections. 
Built-In Sunglasses Case
Every angler knows the importance of having a good pair of polarized sunglasses, as well as the need to protect these shades from being broken or lost. Carrying a solid sunglasses case around in your tackle box takes up valuable space and is simply not convenient for most fishermen. The Piscifun Tackle Backpack comes with a built-in sunglasses case right on the top of the bag. 
This case is sizable enough to store any type of sunglasses and comes with an easy-to-open zipper along with a hard-shell case that's molded in the shape of a pair of folded sunglasses. I can actually fit two pairs of sunglasses inside this case without having to bend or put pressure on the sunglasses inside.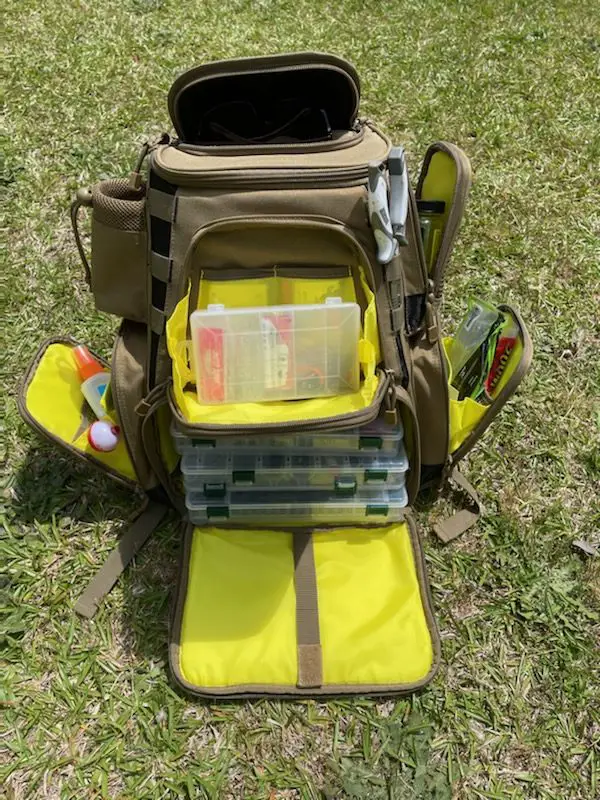 Adjustable Drink Holder 
On the left side of the backpack, you'll find an adjustable drink holder that can be easily adjusted to fit large or small containers. I actually use this holder to store a small canister of insect repellant as many of the areas I fish are thick with mosquitos and other pesky bugs. You might also consider storing sunscreen in this holder if you're going to be offshore fishing or surf fishing. 
Side Storage Compartments 
On the top right section, as well as the bottom sections on both sides, you'll find storage compartments that are sealed with a zipper. These compartments have soft-sided padding on the outer covering to provide added protection to anything you want to store inside. This allows you to store a wide range of gear and tackle items without the concern that it might be easily broken or crushed. 
I prefer to store a multi-tool in the upper right compartment along with a few bobbers and other items that I want quick access to on the water. The lower compartments on the left side is made with two partitions that create three different sections of this pocket. This allows me to conveniently store my fishing line and a few other items without having everything mixed up and jumbled together. The time and consideration that Piscifun took to ensure everything can be neatly organized is evident and appreciated. 
In the lower right side compartment, you'll find the same two partitions as the left side compartment, with one divider being solid and the other netted. I have other fishing line stored in this compartment, but it could serve as storage for any number of items you might want to keep in this section. These side compartments are actually larger than they appear and allow you to store a good amount of gear inside them.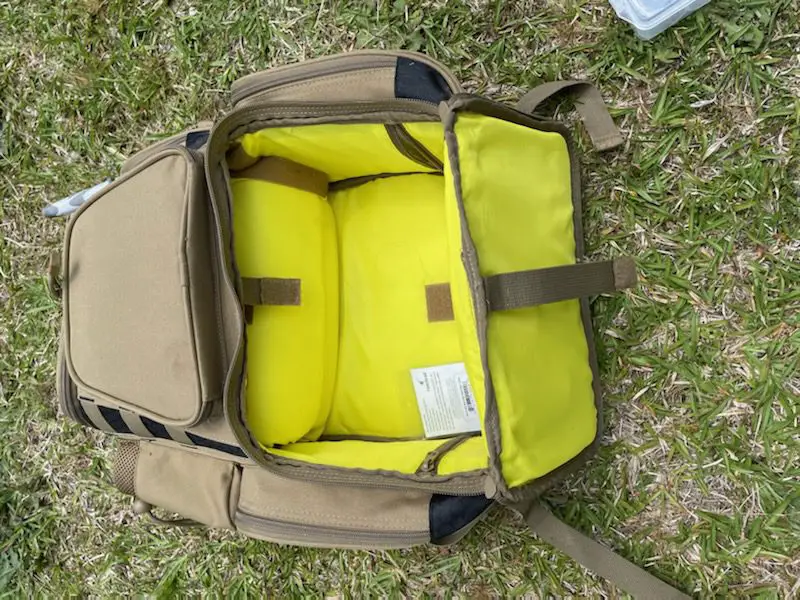 Upper Back Compartment 
The upper back opens to form a tackle tray that conveniently allows anglers to place their lures, hooks, sinkers and other tackle on this tray while they are tying on their next rig or preparing their lures and baits. This compartment is large enough to store a wide range of items and also contains two small pockets that I use to store small bags of hooks that consist of various sizes. 
I like to store my smaller trout fishing tackle box inside this compartment as it fits nicely and is protected by a padded outer layer. There are many possibilities that one might use this compartment for and the tackle tray is a serious bonus to anglers that are fishing in areas where they can't easily place tackle items on the ground. 
On the interior side of the top opening flap is a waterproof, zippered pouch that is perfect for storing your cellphone, maps or other items you don't want to get wet. On either side of this upper back compartment opening are loops that allow you to store pliers and hook removers for quick access while you're fishing. 
Upper Main Compartment 
The upper main compartment of the Piscifun Tackle Backpack can be accessed using a zipper that opens around the edge of the sunglasses case on top of the tackle backpack. This top-facing opening allows you to open the backpack while it's sitting on the ground or boat without having to lay the pack on its sides. 
I was actually surprised at how much space is available in this upper portion and it is large enough to store a wide range of different gear or tackle items. I use this compartment for various purposes depending on the type of fishing I'm doing. If I'm bass or crappie fishing, I like to use this upper section to store a number of soft plastic lures in their original bags, which helps to preserve the plastics longer and in any scented oils that come with them. 
If I'm trout fishing, I will store different tackle items inside this section such as various boxes that contain inline spinners, small hooks and sinkers, or other tackle. You might also choose to store extra rain gear, clothing, snacks or other items in this compartment. 
Lower Main Compartment
The lower compartment comes supplied with four tackle boxes that are different styles. One box is made to store long plugs like jerkbaits and is double-sided, which allows for storing lots of lures inside this small box. The other boxes have adjustable partitions that allow you to customize their storage compartments to fit lures of various sizes. Each of the boxes also come with their own handles, too. 
Each box measures 10.8 x 7.0 x 1.9 inches, which is much smaller than the 3600 size that I've been used to. These boxes have ample room for most of the lures I use, but one downside to them is that they are not capable of fitting larger lures like big spinnerbaits, buzzbaits and others. For a bass angler, this is a serious concern as these lures are essential for catching fish at various times of the year. 
The tackle boxes' storage compartments do allow you to adjust the length of each compartment, but not the width as some tackle box models do. It would be nice to see Piscifun add some better tackle boxes that allow anglers to customize their tackle boxes to a greater degree and accommodate larger lures. These tackle boxes are well made and sturdy and the latches are also tough. 
I've actually taken an unorthodox approach for tackle storage as a solution and added one 3600 size tackle box into the box, which rests on the back and fits in with the four additional tackle boxes that the bag comes with. This 3600 size box allows me to fit my larger spinnerbaits, buzzbaits, frogs and crankbaits and other lures inside with the rest of my gear. 
Other Features 
The Piscifun Tackle Backpack is made with 1200D high density nylon fabric which is extremely tough and resilient against the elements. It's capable of holding up against anything you might encounter and does not scratch or tear easily while adding a padded layer to secure all the internal contents of the backpack. 
The backpack is not fully waterproof, but it does offer a waterproof rain cover that can be tucked away on the bottom in a zippered compartment. This waterproof rain cover works exceptionally well when you're caught in a rainstorm, or if you want to ensure that your backpack won't get too wet as you're riding on a boat or kayak. This cover is tethered to prevent losing it and dries fairly quickly as well. 
The padded shoulder straps are made of very tough material and are also well-designed for comfort. I've worn this backpack for more than 3 hours at a time hiking into a few fishing spots deep in the Appalachian mountains and not felt the usual sensation of the straps digging into my shoulders as other tackle backpacks do. 
There is also an adjustable sternum strap that buckles the shoulder straps together, holding them in place. This allows you to move freely, cast and crouch down without having the backpack slip and slide around. 
Conclusion 
The Piscifun Tackle Backpack turned out to be a welcome surprise in quality and performance. It does have a few small drawbacks that I would like to see altered in the future, but overall, this product is actually very similar to some of the other fishing backpacks I've used that cost well over $100. I was impressed with nearly every aspect of this backpack as it certainly feels like quality material and every zipper and partition is also well-designed and made of solid fabrics. 
The Piscifun Tackle Backpack is said to be one of the better products in its class this year and it certainly lives up to the hype. Considering the cost, I would highly recommend this product to any angler that's in search of a good tackle storage system that allows them mobility and comfort. 
Last update on 2022-08-12 / Affiliate links / Images from Amazon Product Advertising API