Quantum is a brand that is one of the more popular companies in the fishing industry for their lower and mid-tier reels. Many anglers have said that the brand is a bit overlooked when it comes to the larger tackle and gear shows that hand out awards to certain brands and models. Quantum is certainly a brand that's made significant strides in recent years when it comes to producing blazing fast spinning reels. 
The Quantum Smoke S3 Inshore Spinning Reel is easily one of the better premium inshore spinning reels you'll find on the market today, but it sometimes takes a backseat to the more well-known brands and their products. It's a reel that's packed with premium features and an overall impressive performance to match. 
In this article, I will be taking a closer look at the Quantum Smoke S3 Inshore Spinning Reel and why I think it might just be one of the better speed oriented reels currently on the market. 
ON SALE $20.00 OFF
Bestseller No. 1
Quantitative Score
Performance – 5/5 ⭐⭐⭐⭐⭐
Durability – 4/5 ⭐⭐⭐⭐
Value for Money – 3/5 ⭐⭐⭐
Overall – 4/5 ⭐⭐⭐⭐
Quantum is a fishing reel brand that's been in the business for a few decades now and is based in Tulsa, Oklahoma. While the company doesn't have the massive advertising expenditures that you see with Shimano and other major brands, Quantum still manages to catch the attention of serious anglers with their elegantly-made products that manage to match or beat the performance of the bigger companies. 
The Quantum S3 Inshore Smoke Spinning Reel is one that certainly lives up to its name. This reel offers incredibly smooth action and blazing speed while also being capable of handling the challenges that comes with fishing in saltwater environments. In fact, many anglers who fish the flats or inlets with this reel say that it has a better feel than some of the more prominent Penn fishing reels that are generally thought to be the best when it comes to coastal saltwater fishing. 
It's obvious that the Quantum S3 Inshore Smoke Spinning Reel is not a cheap reel and will likely not appeal to beginner or novice anglers who are not willing to spend much money on better-performing products. This one is a lighter reel than most other inshore models and is great for finesse rigs and going after smaller species. It also possesses enough power to allow anglers to handle bigger fish as well and does so seamlessly. 
The Quantum S3 Inshore Smoke Spinning Reel is made in four distinct sizes which includes a smaller and more lightweight 25 size model, as well as a 30, 40 and 50 size. Each of these reel sizes translates to a 2500, 3000, 4000, and a 5000 model for those who are used to such a numeric system. Each of these reels weighs between 6 and 10.3 ounces, which certainly puts them into the lightweight reel category. These reels have a reputation for being tough and fast and can be the ideal inshore fishing setup for those looking for these qualities.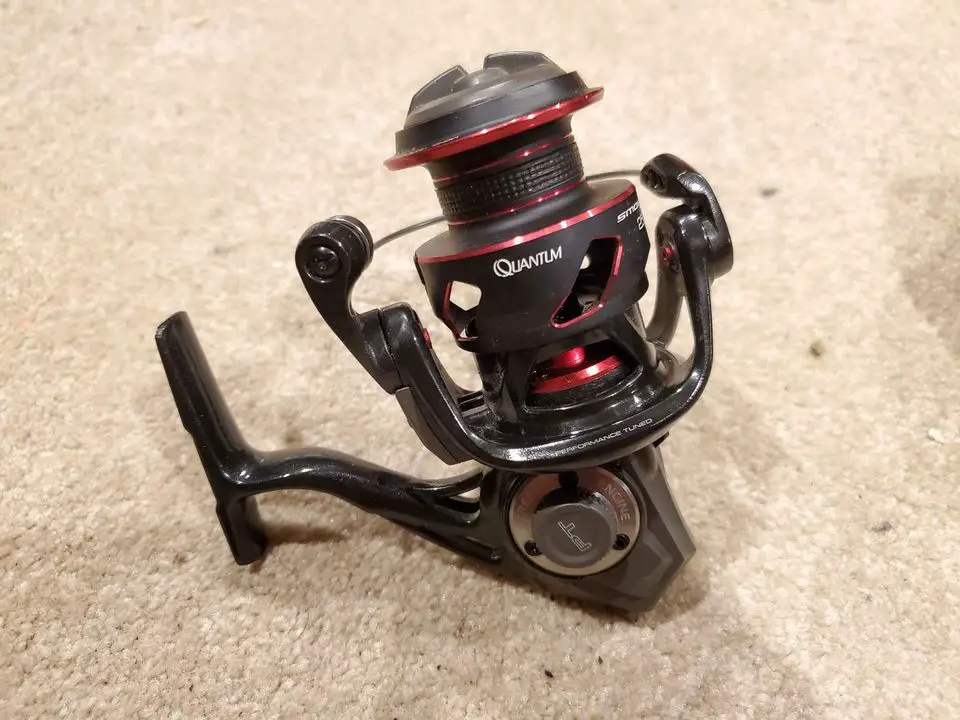 Construction 
One thing that stands out about the Quantum S3 Inshore Smoke Spinning Reel is the fact that this reel is made of extremely tough metal alloy material that's specially designed to handle the rigors of saltwater fishing along the shoreline. The reel's body is made with a SCR alloy and side plates material that's the same type used in most marine engine equipment. 
This material is much tougher than other reels that are billed as an inshore fishing model. The SCR alloy is capable of ensuring the saltwater doesn't easily seep into the interior of the Quantum S3 Inshore Smoke Spinning Reel and do any damage to its internal workings. This is usually the most vulnerable part of an inshore fishing reel as both the saltwater and sand can do quite a bit of damage to the exterior of the reel, as well as its moving parts. 
Salt-Guard 2.0 Multi-Layer Corrosion Protection 
Quantum set out to make the Quantum S3 Inshore Smoke Spinning Reel the ideal inshore fishing option for avid anglers who spend a considerable amount of time on the water each year. The specialized Salt-Guard 2.0 Multi-Layer Corrosion Protection was added to ensure that the reel would be capable of handling just about any situation, including being fully submerged in saltwater. 
One of the major problems saltwater anglers have with their gear and tackle is the fact that it quickly degrades over the course of a few years in most cases due to the corrosive properties of saltwater. The Quantum S3 Inshore Smoke Spinning Reel is a reel that's been made with just about every possible measure a brand could take to prevent this. 
Titanium Bail-Wire 
The Quantum S3 Inshore Smoke Spinning Reel is also equipped with a fail-proof titanium bail-wire, which is designed to provide outstanding durability to this one single part that is usually susceptible to being broken at some point while being subjected to the rigors of saltwater fishing along the coast. This specialized titanium material is made so that it is capable of snapping back into place if it does happen to get bent out of proportion or have extreme pressure applied to it. 
This one seemingly small item on an inshore fishing reel can sometimes turn out to be one of the most easily-damaged parts that some anglers don't always pay attention to. Quantum claims this material is indestructible and it's not capable of breaking, even under the most immense pressure. 
This type of strong material can give you the confidence and peace of mind when fighting larger fish that put a considerable strain on your gear that your reel won't break or malfunction and result in being unable to cast. It's made of a thicker material that also produces a satisfying 'click' sound once it's fully-engaged and open so an angler can make their cast. 
Stainless Steel Ball Bearing System 
One of the most overlooked aspects of the Quantum S3 Inshore Smoke Spinning Reel is the silky smooth reeling action anglers get from it's bearing system. The reel is equipped with a 9+1 stainless steel ball bearing system that is comparable in smoothness to some of the best in the business. These 9 ball bearings are part of what make the reel's casting and retrieval action so smooth, but there are a few other parts that also help limit the overall amount of friction you might produce when using the reel. 
The reel features a main rotor, as well as a line rotor and other components that help eliminate much of the friction that's caused by the internal parts rubbing and working together. This rotor is made of a lightweight and tough material that's composed of dense carbon fiber. This material is often described as being better overall in terms of saltwater corrosion resistance, as well as overall functionality and smoothness. 
The fact that the reel is fully-sealed and capable of locking out saltwater also goes a long way to ensuring that it will likely be silky-smooth for a number of years and allow anglers to utilize a wide variety of lures and rig presentations for inshore saltwater fishing. 
MaxCast II Spool System 
Another part of any saltwater fishing reel setup that must be tough and durable is the spool. The Quantum S3 Inshore Smoke Spinning Reel is equipped with a machined aluminum spool that's well-engineered to hold any type of line you want to spool onto it. It doesn't require backing for braided line and is fully capable of being fished with mono or fluoro fishing line up to about 12 pound test in most cases. 
Gear Ratio 
Part of why the Quantum S3 Inshore Smoke Spinning Reel is so impressive to saltwater anglers is the reel's ability to provide a fast and smooth reeling and casting action. It certainly lives up to its 'smoke' moniker and is a great reel that can be used to burn different types of lures through the water to catch various species of saltwater game fish along the shoreline. 
The smallest model is equipped with a 5.7:1 gear ratio while the other three size Quantum S3 Inshore Smoke Spinning Reels are all made with a 6.0:1 gear ratio. This faster gear ratio also doesn't take away from the reel's overall cranking power. 
The Quantum S3 Inshore Smoke Spinning Reel's internal gear system is just as tough as its exterior. The brand poured numerous hours into designing and perfecting the internal workings of this reel as it was intended to be the smoothest and toughest lighweight inshore fishing reel on the market. Thanks to the fact that Quantum makes the Quantum S3 Inshore Smoke Spinning Reel with a brass pinion gear and a main gear that's made of zinc, the reel comes very close to hitting that mark. 
Sealed CSC Drag System 
One of the other parts of the Quantum S3 Inshore Smoke Spinning Reel that anglers also underestimate is the Sealed CSC Drag System. This drag is capable of giving anglers a max drag weight of 20 pounds, which is more than enough to tackle just about any type of fish species roaming the coastal waters you might be fishing in. 
This drag is much more than what you'll find in any other lightweight saltwater reel and is perfectly capable of allowing anglers to target a wide range of fish species. The drag system is made up of 6 sealed drag washers that combine to give you a very smooth drag that will stack up to the hardest-pulling fish quite well. 
These washers include two carbon fiber washers that are butted up to two metal washers, as well as one Teflon and one ceramic washer. All of these combine to give the angler a load of power to conquer nearly any type of fish you'll find along coastal shorelines. 
Pros
High performing reel packed full of features.
Lightweight at only 8.3 ounces for a 3000 sized model.
Fully sealed and suitable for saltwater.
Cons
This is a premium reel that won't appeal to beginner anglers.
Lightweight might struggle in rigidity when fighting larger saltwater species.
Specifications
| Model | Ball Bearings | Line Capacity Mono | Line Capacity Braid | Max Drag | Gear Ratio | Weight | Retrieve Rate |
| --- | --- | --- | --- | --- | --- | --- | --- |
| Smoke Inshore S3 25 SSM25XPT | 11+1 | 8lb/150yd | 20lb/160yd | 18lb | 6.0:1 | 8.0 oz | 32 inches per crank |
| Smoke Inshore S3 30 SSM30XPT | 11+1 | 10lb/150yd | 20lb/220yd | 20lb | 6.0:1 | 8.3 oz | 35 inches per crank |
| Smoke Inshore S3 40 SSM40XPT | 11+1 | 10lb/230yd | 30lb/200yd | 22lb | 6.0:1 | 10.3 oz | 38 inches per crank |
| Smoke Inshore S3 50 SSM50XPT | 11+1 | 12lb/225yd | 30lb/240yd | 22lb | 6.0:1 | 10.0 oz | 38 inches per crank |
ON SALE $20.00 OFF
Bestseller No. 1
Conclusion
The Quantum S3 Inshore Smoke Spinning Reel is a reel with many impressive features and capabilities. It's sometimes hard to understand why the brand doesn't get more praise when it comes to making solid spinning and baitcasting reels for certain target markets, but this one certainly hits its mark. It's a great lightweight inshore reel that has all of the bells and whistles you might expect on a premium-quality option. 
Last update on 2022-09-27 / Affiliate links / Images from Amazon Product Advertising API