One of the best known brands in fishing gear is Shimano. This Shimano Baitrunner D spinning reel has all the features anglers look for in regards to casting, dragging, and every other aspect of a fishing reel. Well configured with high-level crafting it is suitable for both experts as well as by beginners.
A baitrunner reel is designed to be used when fishing with live bait. It has two drag systems – the first is when you have your bait in the water (free spool), which is extremely low. This allows your predatory fish to take the bait and swim off under slight tension before they swallow it. The second is your max drag which is when you are ready to fight the fish and bring it on board.
Baitrunner D is Shimano's premier reel of the baitrunner series.
Quantitative Score
Performance – 3/5 ⭐⭐⭐
Durability – 4/5 ⭐⭐⭐⭐
Value for Money – 3/5 ⭐⭐⭐
Overall – 3/5 ⭐⭐⭐
Read more about how our scoring system works.
Shimano Baitrunner D Reel Overview
Graphite Frame
Graphite Sideplate
Propulsion Line Management System
Varispeed Oscillation
S-Concept
Free Spooling Drag Features
The main feature of this reel is its 'free spooling' secondary drag system. This allows the main drag to be switched off with the flick of a lever. Then when a fish takes your bait you can just move the handle and the main drag will engage.
This is designed specifically for predatory fish species that hold your bait in their mouth for a few seconds before they swallow, so it gives you more flexibility. You can do this manually yourself by leaving the drag disengaged on a normal spinning reel but it does mean you are messing around with your bail arm during the heat of battle.
The most popular fishing species that you would want this baitrunner 'free spooling' function with are  Striper Bass, Bluefish, Kings, Jewfish, and Snapper.
Propulsion Line Management
The Propulsion Line Management is one of Shimano's latest technologies. This is a lip design that makes the line remove from the spool more smoothly when you are casting. This has proven in field tests to increase the casting distance of the reel.
I have also heard that it helps to reduce air knots because the spool can't outrun the line as easily.
Having a long casting distance is a big advantage because it allows you to get your bait exactly where you want it, especially if you are casting over structure or surf fishing.
Durability and Corrosion Resistance
The Baitrunner D comes with A-RB (anti-rust bearings) that are shielded to keep theme free from saltwater corrosion. I personally prefer sealed bearings to shielded, but this reel is certainly suitable for saltwater environments.
It has a highly durable construction and comes with all of Shimano's new materials of construction, quality engineering, and tight tolerances. This includes Shimano's Hypergear, a Waterproof Drag, Cold Forged Spool and Shimano's Varispeed.
S Concept
Shimano have a new philosophy they call the S Concept, which stands for Smooth, Silent, and Strong. This seems to me to be vaguely similar to Daiwa's LT (Light, Tough) philosophy. The S Concept has been applied to the Baitrunner series.
These reels have a separate technology to the previous evolution with new dimensions, new spools, and upgraded features.
Smooth
The smoothness in operation can be applied to casting, retrieving, and dragging. This is done by an increased drag surface area and new ball bearing coatings called A-RB (anti-rust bearings).
Silent
To make these reels even quieter than the previous models Shimano have improved the materials they use and used tighter tolerances through the design and quality of construction. This includes a floating shaft to physically reduce the friction with the pinion gear.
Strong
Some new technologies have also been applied to improve the strength and durability of these reels. This has been done with hardened pinion gears and a reinforced body.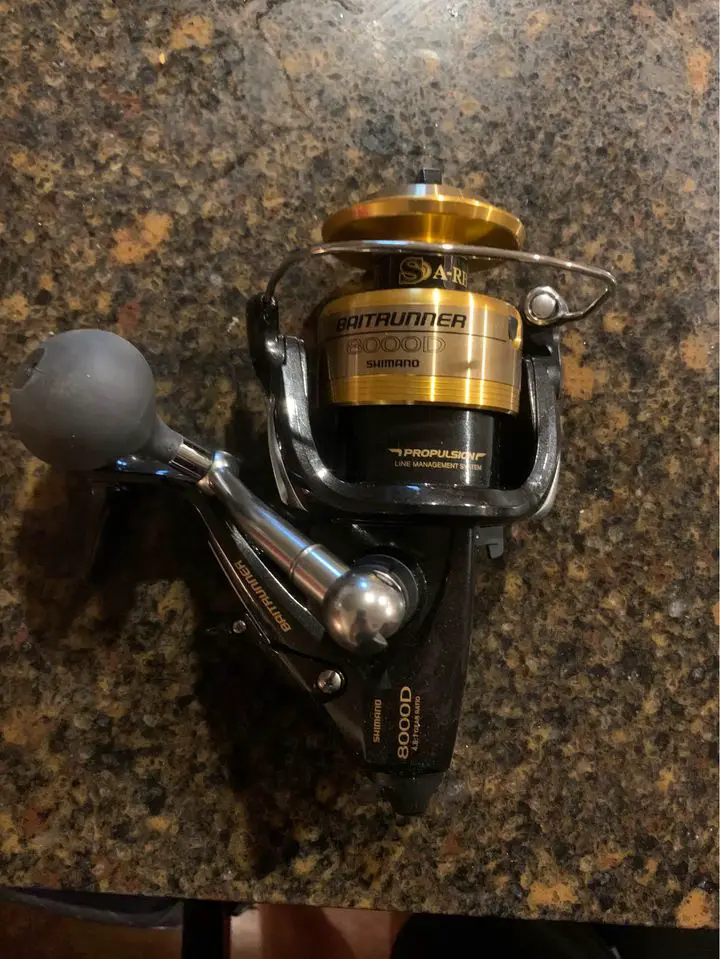 Pros
The free spooling drag function make this a live bait specialist.
This is Shimano's most premium reel in the baitrunner series.
Available in up to 12000 size reel for large saltwater gamefish
Cons
The max drag is on the low side for a saltwater fishing reel.
The price tag is higher than the OC version, and doesn't seem justified based on its features and specifications.
Not suitable for smaller fish species – not available in sizes less than 4000.
Shimano Baitrunner OC vs Baitrunner D
The Baitrunner D is the premium version of the Baitrunner OC. It has very similar specifications but a few additional features that are not present on the OC models such as One Piece Bail. The Baitrunner OC is more expensive, and it can be difficult to justify the extra expensive for the more expensive option.
This comparison table is based on 4000 sized models.
| | | |
| --- | --- | --- |
| Key Specifications | Baitrunner OC | Baitrunner D |
| Weight | 13.4 oz | 13.5 oz |
| Ball Bearings | 3+1 | 3+1 |
| Max Drag | 15 lb | 15 lb |
| Retrieve Rate | 28 inches/crank | 28 inches/crank |
| Gear Ratio | 4.8:1 | 4.8:1 |
| Braid Line Capacity | 265 yards of 15 lb | 265 yards of 15 lb |
| One Piece Bail | No | Yes |
| Price | $$ | $$$ |
Specifications
| MODEL | BEARINGS | MAX DRAG (KG) | GEAR RATIO | RETRIEVE PER CRANK (INCHES) | BRAID CAPACITY (LB/YDS) | WEIGHT (OZ) |
| --- | --- | --- | --- | --- | --- | --- |
| BTR4000D | 3+1 | 15 | 4.8:1 | 28 | 15/265 | 13.5 |
| BTR6000D | 3+1 | 20 | 4.8:1 | 35 | 30/245 | 20.1 |
| BTR8000D | 3+1 | 20 | 4.8:1 | 36 | 40/270 | 21.7 |
| BTR12000D | 3+1 | 26 | 4.4:1 | 37 | 50/505 | 30.0 |
Conclusion
This reel has excellent engineered qualities. It is a specialist baitrunner design that you would only get if you are targeting particular saltwater species like snapper, stripers, or bluefish. If you are fishing for these species are have a low hook up percentage, then you should certainly consider switching to a baitrunner – this will certainly help you to strike at the right time after the fish has swallowed your live bait.
The Baitrunner D is the premier design in the series with a lot of Shimano's latest technologies and specifications. You can get models up to 12000 sizes which is suited for large saltwater fish. This reel is not suitable for small fish and doesn't come in a size less than 4000 size.