There are few reels that can legitimately compare with the Shimano Calcutta in terms of quality and sheer power. Shimano is arguably the top brand in the fishing industry when it comes to producing high-quality, premium reels and their Calcutta line is one of the best in many areas. With such quality comes a much higher price tag than some other models of rounded style conventional reels. However, there's no denying that Shimano put a great deal of effort in designing this reel with exceptional detail and precision. 
Most anglers will automatically write off the Shimano Calcutta reel simply for the price. While some of the most expensive versions of this reel series can cost as much as $500 retail, there are a few smaller versions that are priced around the $200 to $300 mark. If you're considering buying one of these reels to add to your angling arsenal, I hope to provide some clarity on whether or not the added expense will truly be worth it. 
Shimano Calcutta Overview 
One of the first things that stands out to users who try the Shimano Calcutta baitcasting reel for the first time is just how smooth it operates. It is clear that Shimano has gone to great lengths to manufacture these parts and components with extreme precision in order to produce such a mechanically sound baitcasting reel. The reel itself is made from one-piece Hagane aluminum and is incredibly durable compared to other round reels that feature more lightweight plastic components. 
This reel's parts are all made of such high quality that you should be able to get decades—not years—of use out of the Calcutta. Despite being made of an all aluminum body, the Calcutta is extremely lightweight compared to other all-metal body round reels. Taking into account the high level of quality of each and every part of this reel makes it easy to see the value compared to other brands that will cut corners by using cheap materials.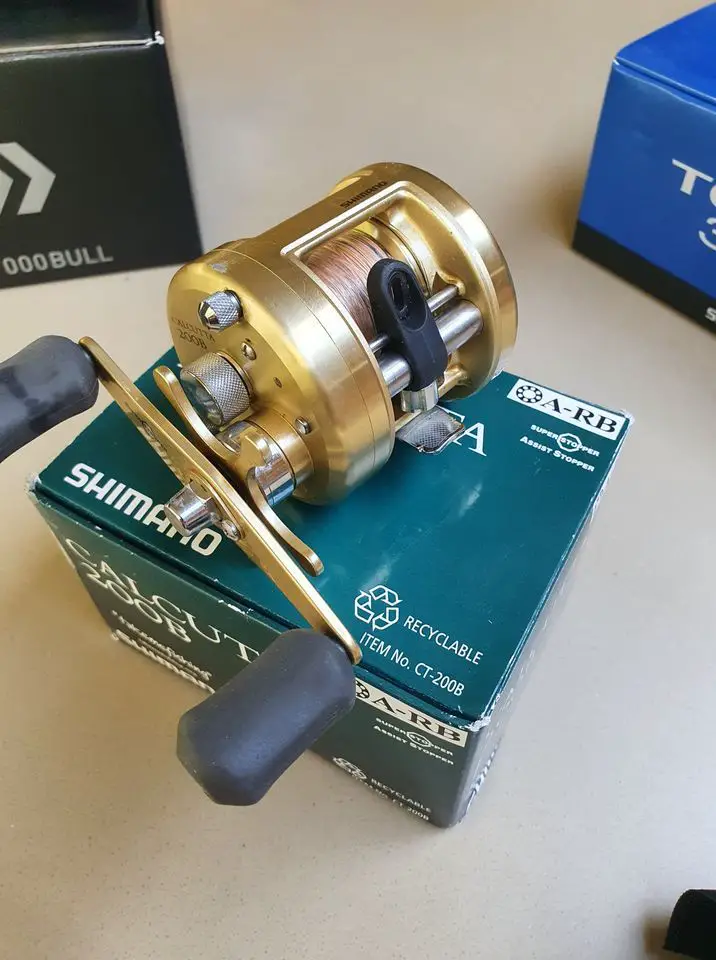 Aluminum Construction 
The reel has a distinctive golden coloration that makes it stand out from the competition both visually and from a mechanical standpoint. The Shimano Calcutta is made with a Hagane aluminum body that is as rigid as any other style on the market. This reel's all-metal body is made to hold up against the heaviest species of fish in either freshwater or saltwater. It's very common for extremely large tuna, sharks, or other species of fish to bend or warp a round reel that's made of lesser quality material, but Shimano has specially designed this reel to withstand such pressure. 
The 1000 model of the Calcutta only weighs about 7.5 ounces while the larger 4000 models are no heavier than 12 ounces. This is quite an achievement for a brand that is typically associated with producing the most lightweight reels that are somehow capable of outperforming their competition in terms of smoothness and overall durability. 
SVS Infinity Braking System 
One of the most important aspects of a baitcasting reel in modern terms is the braking system, which is designed to slow the speed of the spool when casting to help prevent the dreaded backlash that so often happens with these reels. The SVS Infinity Braking system is specially designed to use a series of brake weights in each cast to dampen the speed of the spool as it reaches the water. 
This braking system can also be adjusted to compensate for your own personal preference in terms of sensitivity and how much you intend for the brakes to pressure the spool and slow it down. This system works to help adequately prevent backlash without causing you to prematurely shorten your cast. 
S3D: Stable Spool Design
Another one of the most sought-after features of the Shimano Calcutta is the S3D: Stable Spool Design, which is made to create a much more smooth casting ability, as well as retrieval. The S3D: Stable Spool Design system does this by limiting the amount of vibration in the spool and its smaller components. It also helps to increase the amount of balance on the spool, which in turn creates a much better and longer cast than other round baitcasting reels are capable of delivering. 
X-Ship Pinion System 
One of the most important parts of any baitcasting reel is its pinion gear system. Shimano design experts have placed the pinion gear closer to the centerline of the large diameter drive gear, which in turn helps to greatly increase the amount of power you're able to get in one single turn of the reel's handle. This wouldn't be possible without the extremely well-machined precision gear system that Shimano engineers have designed. 
The pinion gear is also flanked by two Anti-Rust Bearing roller bearings. These roller bearings help to increase the overall function of the pinion gear and prolong the life of the reel exponentially. 
Micro Module Gear System 
Another thing that truly separates the Shimano Calcutta from its competition is the level with which the brand has gone to create precision gears within the reel. The Micro Module Gear system is comprised of a smaller set of teeth that are actually better aligned than any other you'll find when it comes to a round baitcasting reel. 
The constant contact between the teeth and the gear system helps to increase the overall sensitivity of the reel itself, which allows you to better feel the most subtle bites that are on the other end of the line. 
Other Notable Features 
One of the biggest differences in the Shimano Calcutta and other reel designs is the Torque Limiting Levelwind, which is made to prevent getting your fingers caught in the levelwind as you're reeling. This often happens when you're fighting a heavy fish and not paying attention to the position of your hand. Shimano's answer to this problem is a levelwind that actually moves against pressure. 
The Super Stopper II system has been implemented by Shimano to eliminate any possibility that there will be any looseness in the reel when you have to immediately set the hook on a monster fish. The one-way roller bearing helps to give you the added strength to pull through the hook-set and ensure that the hook doesn't pull out of the fish's mouth. 
Specifications
| MODE | MONO LINE CAPACITY (LB/YD) | WEIGHT (OZ) | BEARINGS | GEAR RATIO | RETRIEVE RATE (IN/CRANK) | BRAID CAPACITY (LB/YDS) | MAX DRAG (LB) |
| --- | --- | --- | --- | --- | --- | --- | --- |
| CT100B | 10/170,14/110 | 9 | – | 5.8:1 | 23 | 40/110,50/105 | 9 |
| CT200B | 10/190, 14/120 | 10.1 | 3+1 | 6.0:1 | 27 | 40/135, 50/130 | 11 |
| CT200GTB | 10/190, 14/120 | 9.9 | 3+1 | 6.0:1 | 27 | 40/135, 50/130 | 11 |
| CT201B | 10/190, 14/120 | 10.1 | 3+1 | 6.0:1 | 27 | 40/135, 50/130 | 11 |
| CT400B | 12/330, 14/260, 20/160 | 11.7 | 3+1 | 5.0:1 | 24 | 50/305, 80/160 | 17 |
| CT700B | 20/310, 30/200 | 18.2 | 3+1 | 4.7:1 | 28 | 50/620, 80/330 | 16 |
This table shows the key specifications for different Shimano Calcutta reel models
Conclusion 
It's clear that the Shimano Calcutta is among the best round reels ever produced and you're really going to be hard-pressed to find one that's as well-made as this reel. There is virtually no downside to the Calcutta and the only thing that might prevent anglers from purchasing it is the price. However, those who are willing to invest an extra bit of money into this product will be glad they did as it will last many years. 
Last update on 2022-09-28 / Affiliate links / Images from Amazon Product Advertising API