The Shimano Tekota Conventional reel series has quickly become one of the most popular in the entire fishing industry in recent years. It's no secret that the Shimano brand has mostly dominated the fishing scene in the last few decades with some of the best overall products that seem to be perfectly-targeted for their customers. The Tekota Conventional reels are another solid product line by Shimano that present offshore anglers and serious fishermen with a wide array of likeable features and exceptional performance. 
The possibilities are almost endless with the Shimano Tekota Conventional reel series as it can function in both fresh or saltwater with outstanding precision and sensitivity. This reel performs and feels a lot like a premium-quality conventional fishing reel that might cost many hundreds of dollars, but the price is much lower than some of the competitors for this one. 
I've done the research and combed through as much of the details as I can when it comes to this reel and compiled this article to adequately review everything you need to know about the Shimano Tekota Conventional Reel series. 
Quantitative Score
Performance – 4/5 ⭐⭐⭐⭐
Durability – 4/5 ⭐⭐⭐⭐
Value for Money – 4/5 ⭐⭐⭐⭐
Overall – 4/5 ⭐⭐⭐⭐
Shimano Tekota Conventional Reel Overview 
When it comes to producing reels that are exceptionally smooth in both casting and reeling, it's really hard to beat Shimano when you consider the fact that most of their reels are sold at a somewhat reasonable price that many anglers can afford. The Shimano Tekota Conventional Reel is no exception to the typical expectations you might place on Shimano reels as it also offers outstanding smoothness along with a slew of other characteristics that make it a top choice for anglers. 
Most anglers who go after large-sized fish in freshwater lakes or on offshore saltwater fishing trips typically like to use a conventional reel as it allows them a wide array of advantages when it comes to handling giant fish. However, it's sometimes hard to find a conventional reel that also fits into the compact and lightweight role many anglers are looking for today. 
The Shimano Tekota Conventional Reel series is one of the few exceptions here as it comes in much lighter in weight than most other conventional reels, as well as offering a smaller profile that can be quite handy in a number of different fishing styles from trolling to bottom fishing. 
This reel series comes with about 12 different models that range in weight and other factors such as gear ratio. Some of the most popular models tip the scales at just 12 ounces while the largest Tekota Conventional reel model comes in at just over 17 ounces. Many of the Shimano Tekota Conventional Reel offer a gear ratio of 6.3:1, but a few of their lighter versions of this reel come in with a 6.6:1 ratio that gives you a bit more speed when reeling. 
Shimano somehow crafted the Tekota series so that these reels are compact and lightweight, but they also don't sacrifice much in the way of durability and power. When you take a good, long look at the Shimano Tekota Conventional Reel, it's quite easy to see why this particular model was the Showcase Winner at the 2018 ICAST event.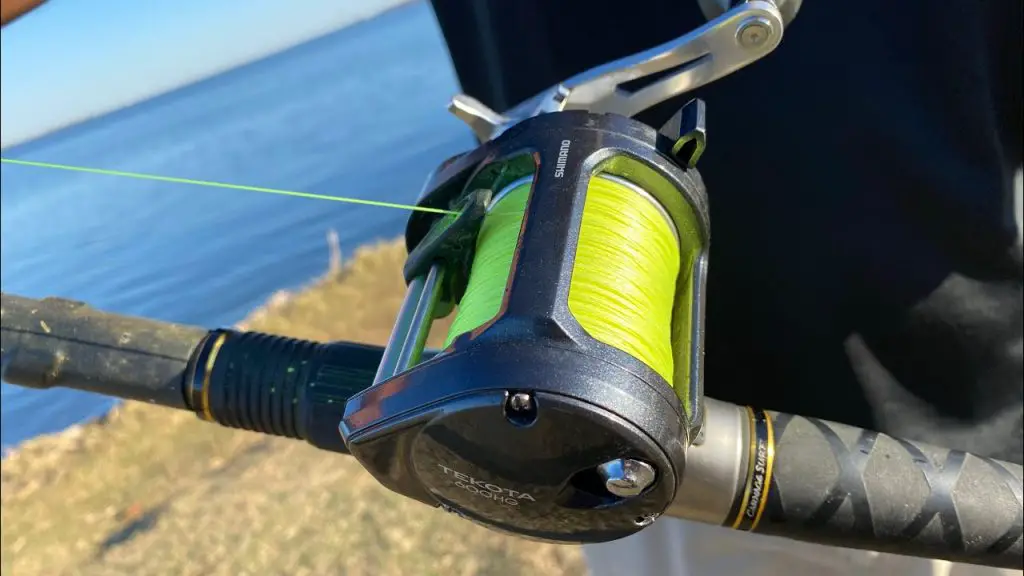 Features 
We could list a plethora of features that Shimano has packed into the Shimano Tekota Conventional Reel series. These reels offer much of the same features and characteristics you typically find in some of the brand's other conventional reel models, but Shimano somehow crafted these reels to include such features despite being considerably lighter than other models. Here are some of the most prominent features you'll find in the Shimano Tekota Conventional Reel series. 
Anodized Aluminum Frame 
One of the main concerns Shimano had when engineering the Shimano Tekota Conventional Reel was making sure it was still as durable as they wanted it to be while also being a lightweight reel. It's often difficult to consider how they managed to make such a reel with the capabilities that it has, but the Tekota series models are all machined and crafted with an anodized aluminum frame that helps provide plenty of durability. 
This frame is easy to manage in terms of cleaning and maintenance, but it also gives you protection in the form of side plates that protect the internal gears as well. The reel's overall design and lightweight feel are two things most anglers immediately notice when they handle any particular model in the Shimano Tekota Conventional Reel series. 
Corrosion-Resistant Design 
We also want to emphasize the fact that Shimano went to great lengths to ensure that this reel series was very sound in terms of saltwater corrosion resistant properties. The Tekota Conventional series includes a number of additions that make sure you don't have to worry about saltwater or even dirt and grime somehow seeping into the reel's inner workings and spoiling its performance over the years. This is a lightweight and compact reel you can use in virtually any fishing environment, including surf fishing and offshore angling. 
S-Compact Body 
The body design of this conventional reel is much more compact than many other reels that are sometimes considered to be in the 'compact' class. Shimano certainly managed to create a reel that you can easily fit in the palm of your hand in the Tekota Conventional series, but it's also one that won't easily break or malfunction in terms of durability. 
The Shimano Tekota Conventional Reel series' body is also made with Hagane metal material, which adds even more toughness in terms of impact resistance and overall flexibility. The Hagane metal that makes up the outer body of the Tekota series is very rigid, but at the same time able to stand up to extreme amounts of pressure without bending or flexing. You can rest assured that this reel is going to hold up against monster-sized fish that sometimes can tear other reels apart. 
Super Stopper Anti-Reverse 
Having a reel with anti-reverse capability is crucial for going after massive fish and the Shimano Tekota Conventional Reel series offers just that. The Super Stopper Anti-Reverse helps prevent your line from spooling out if the reel's handle happens to turn backwards. 
If you've ever fought a monster-sized fish in either freshwater or saltwater, you know full well that you sometimes have to grab your rod with two hands and hang on for dear life as the fish takes you—and sometimes the boat—for a ride across the water. This anti-reverse capability is made with coreprotect seals, which helps provide even more protection from saltwater corrosion. 
Cross Caron Drag System 
Another feature or characteristic that's absolutely essential when it comes to a fishing reel that's going to be used for catching big fish is a capable drag system that won't cause you to lose too much ground in terms of line control. The Shimano Tekota Conventional Reel series is equipped with a Cross Carbon Drag system that's designed to be incredibly smooth. 
This drag system offers a huge variety of settings that can be manipulated at any time to help you maintain control over the fish in a way that lets you stay in control. This reel is also crafted with a drag disk that's made of carbon fiber material on either side of the reel's master gear. The purpose of the drag disk is to enhance the amount of pressure you can put on the line and stop the fish from tearing off too much at one time. 
Aluminum Spool 
Another item that makes the Shimano Tekota Conventional Reel series one of the toughest compact conventional reels on the market today is the fact that it is equipped with an aluminum spool. If you're planning to go after giant fish like tuna, grouper and other huge offshore species, as well as freshwater catfish and others, the forged aluminum spool goes a long way in overall durability and toughness. 
This aluminum spool is also made with a non-disengaging level wind, which helps to collect the line onto the spool in an orderly fashion so you don't have to be concerned with line twists or tangles that might occur inside the reel that might result in a huge mess. Thanks to this level wind, there's no need to use your fingers to ensure that your line stays in the right spot when reeling your bait in. 
ARB Bearings 
Anglers who value toughness in their conventional reels will also be pleased to know that Shimano has taken extra care to fit this reel with everything you need to stand up against corrosion. The Shimano Tekota Conventional Reel series is made with shielded ARB bearings that help lock out dirt and grime, as well as anything else that might find its way in and cause damage to the reel's inner workings. 
Performance 
It's expected that most anglers are going to be more concerned about the reel's overall performance as much as anything else. Shimano is well-known for making reels that absolutely out-perform their competition on a regular basis and the Shimano Tekota Conventional Reel is yet another one that manages to be smoother and more powerful than other brands' products. 
Many anglers typically comment on the smoothness of the reel as soon as they get it in their hands and actually feel for themselves what a premium Shimano conventional reel feels like. The reason for this smooth feel is all of the high-quality inner parts that Shimano uses in their reels. Unlike other brands that might cut corners by using more affordable parts, Shimano sticks to certain items that might be a bit more expensive, but will certainly pay off in the long run in terms of durability and sheer performance. 
Pros
This is a much lighter and smaller overhead reel than most on the market – it is specifically designed for a certain type of angler and species target. As long as this matches your type of fishing then it will be a good choice.
This is a very durable, compact conventional reel that won't break down any time soon.
Cons
This reel is design to be compact – but if I was going fishing offshore and there was even a small chance of hooking a large pelagic species then I would certainly prefer to have something larger.
The max drag of only 24 lb is a little light for an overhead reel, especially for larger saltwater species. Although this is a trade-off for the very high retrieve rate and light weight.
Specifications
| MODEL | MONO LINE CAPACITY (#TEST/YD) | WEIGHT (OZ) | BEARINGS | GEAR RATIO | RETRIEVE PER CRANK (IN) | POWERPRO BRAID (LB/YDS) | MAX DRAG (LB) |
| --- | --- | --- | --- | --- | --- | --- | --- |
| TEK500HGA | 12/440, 14/340, 16/285 | 15.5 | 3+1 | 6.3:1 | 38 | 40/390, 50/330, 65/240 | 24 |
| TEK500HGLCA | 12/440, 14/340, 16/285 | 16.4 | 3+1 | 6.3:1 | 38 | 40/390, 50/330, 65/240 | 24 |
| TEK501HGA | 12/440, 14/340, 16/285 | 15.5 | 3+1 | 6.3:1 | 38 | 40/390, 50/330, 65/240 | 24 |
| TEK501HGLCA | 12/440, 14/340, 16/285 | 16.2 | 3+1 | 6.3:1 | 38 | 40/390, 50/330, 65/240 | 24 |
| TEK600HGA | 16/390, 20/300, 25/240 | 16.4 | 3+1 | 6.3:1 | 38 | 40/540, 50/460, 65/330 | 24 |
| TEK600HGLCA | 16/390, 20/300, 25/240 | 17.1 | 3+1 | 6.3:1 | 38 | 40/540, 50/460, 65/330 | 24 |
| TEK601HGA | 16/390, 20/300, 25/240 | 16.4 | 3+1 | 6.3:1 | 38 | 40/540, 50/460, 65/330 | 24 |
| TEK601HGLCA | 16/390, 20/300, 25/240 | 17.1 | 3+1 | 6.3:1 | 38 | 40/540, 50/460, 65/330 | 24 |
Conclusion 
If you're looking for a compact, lightweight conventional reel that you can trust will be capable of going after monster-sized fish, the Shimano Tekota Conventional Reel is one that certainly deserves a closer look. With so many high-quality features and the fact that Shimano has taken extra steps to reinforce the reel's durability, as well as its saltwater corrosion resistance capabilities, it's easy to see why this reel won one of the top awards at the 2018 ICAST. 
This is a reel that's both smooth and comfortable, but is also one that won't give an inch in terms of toughness on the water. The Shimano Tekota Conventional Reel is exceptionally well-made and will likely outperform most other reels in its class when it comes to handling large fish with grace and poise. 
Last update on 2022-05-22 / Affiliate links / Images from Amazon Product Advertising API