The Shimano Tiagra is known as an indestructible big game specialist conventional fishing reel. If you are looking to target some monster tuna, kingfish, or even marlin then you will want to seriously consider a Tiagra.
When you have hooked a big game fish then you want to be 100% certain that you will not lose it due to poor quality gear. You might only get a few bites in a lifetime of that trophy marlin, so make sure you have every chance of reeling it in. That starts with a suitable reel.
The largest 130A model has a drag of 88 pounds with a 2.1:1 gear ratio – so you know it is built for big fish.
Quantitative Score
Performance – 5/5 ⭐⭐⭐⭐⭐
Durability – 5/5 ⭐⭐⭐⭐⭐
Value for Money – 4/5 ⭐⭐⭐⭐
Overall – 5/5 ⭐⭐⭐⭐⭐
Click here to learn more about how we score.
Shimano Tiagra Key Features
Big Game Specialist
Most reels are designed for versatility – so you can take them fishing at the beach, the river, or the lake. The Tiagra is not versatile – it is perfectly suited for one thing – big fish!
It does not matter whether you are going after a swordfish, a marlin, or a tuna, the Tiagra will be able to handle it.
The two speed gearing allows you to control the action more closely even when under intense pressure.
The 9 models give you the ability to pick a size perfect for your own requirements and allow thousands of yards of braid or mono line to be spooled on. The largest model, the 130A, will hold 3315 yards of 150 lb braid fishing line! 
That is enough to catch the biggest and fastest swimming fish on the planet!
I personally own a Shimano Tyrnos as my personal big gamefish reel which is very comparable to the Tiagra and I cannot express enough how much I enjoy using it – particularly when there is a big tuna attached.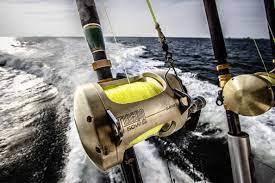 Indestructible
The Tiagra's body is machined in a one-piece frame from aircraft aluminum. It is designed for strength to handle the pressure a shark can apply when the reel is attached to a game fishing chair.
The materials also mean it is corrosion resistant and won't get damaged from the salt and sand that will inevitably come into contact with it during a long fight.
The stainless steel ball bearings are coated with an anti-rust coating that claims to last 10 times longer than standard stainless steel bearings.
Lever Drag
The lever drag is easy to apply with an easy action and the maximum drag is enormous, even with the smallest sized models available. This is a big reel designed for big fish.
You can preset the drag before hand so that you apply the correct amount of drag every time. Or you can adjust it on the fly. 
And with up to 88 lbs of drag in the largest model, you will never be underpowered when fighting the fish of a lifetime.
Other Features
The 6 stainless steel ball bearings will give this reel a smooth retrieve. It has a reasonably low gear ratio but this is able to deliver a decent retrieve rate, depending on the model. I suggest having a look at the specifications below.
The ratchet makes 89 decibels of noise, so you will never miss out when a mahi mahi or swordfish takes you line – it will wake the entire crew.
The handle is offset for improved ergonomics and comfort and is made from a non-slip material.
The 10-year manufacturer's warranty says a lot – Shimano are standing behind the quality of this reel. And if you have any problems they will be available to help out.
Shimano Technologies
Hagane Body
ARB Bearings
Cross Carbon Drag
Read through this guide to understand exactly what these Shimano Technologies do.
Pros
Pre-lubricated drag washers
Single piece aircraft aluminium frame
Heavy duty stainless steel two speed gears
10 year warranty
Cons
Very heavy – upwards of 37 ounces for the smallest model
Not versatile – specialized for big game fishing
Shimano Tiagra Specifications
For those of us who want to see the numbers, here are the key specifications for all the available models including the number of bearings, gear ratio, retrieve rate, and maximum drag.
| | | | | | |
| --- | --- | --- | --- | --- | --- |
| MODEL | WEIGHT (OZ) | BEARINGS | GEAR RATIO | RETRIEVE RATE (IN/TURN) | MAX DRAG (LB) |
| TI16 | 37.4 | 6 | 3.9:1 | 36 | 31 |
| TI20A | 49.7 | 4 | 3.9:1 | 41 | 26 |
| TI30A | 52.4 | 4 | 3.9:1 | 41 | 35 |
| TI30WLRSA | 55.6 | 4 | 3.9:1 | 41 | 35 |
| TI50A | 83.4 | 4 | 3.1:1 | 37 | 26 |
| TI50WA | 86.2 | 4 | 3.1:1 | 37 | 26 |
| TI50WLRSA | 86.2 | 4 | 3.1:1 | 37 | 40 |
| TI80WA | 115.2 | 4 | 2.5:1 | 37 | 40 |
| TI130A | 174.1 | 6 | 2.1:1 | 39 | 88 |
Shimano Tiagra Video Review
For the visual learners please have a look at this video review. It showcases some of the key features of the Tiagra.
Frequently Asked Questions
What makes the Tiagra so indestructible?
It is the heavy-duty aircraft-grade aluminum materials of construction mainly. This gives it incredible durability. The ball bearings and drag washers are also coated in a rust-resistant coating. All in all, this makes the Tiagra almost indestructible. 
Is the Tiagra suitable for saltwater?
Absolutely, in fact it is specifically designed for saltwater. As mentioned above, the internals are all coated in a corrosion resistant material to make sure they last. And with the 10 year warranty you can be confident that it is tough even in salt water conditions.
Is the Tiagra worth the money?
The Shimano Tiagra is certainly a high end, high quality overhead reel. It is a big gamefish specialist – so if you intend on targeting a big gamefish then I would certainly recommend it. The worst possible scenario is spending a fortune on boating, travelling hours into the deep sea, find your target fish, fighting with it for over an hour, and then losing it when your reel overheats. 
I am a big fan of buying quality gear that suits your requirements – and for these extreme requirements, you will need an extreme reel. 
Conclusion
In conclusion – if you are looking for an indestructible, big game specialist reel, then I would add the Shimano Tiagra to the top of your list. It is extremely durable in its construction and is made from the strongest materials available. The aircraft-grade aluminum body is both strong and light for its size (although it is still heavy due to its size!).
This is not a reel for bass or trout. This is a reel if your boat has a big gamefish chair.
The Tiagra is certainly top of its class in this category of big game saltwater fishing reels and gets our highest recommendation and endorsement.
If you own a Tiagra and have some words of wisdom of your own to share then we would love to hear it in the comments below.
Happy fishing!