Trout fishing is quite different than almost any other kind of angling. Instead of being on large reservoirs or the vast ocean, most trout fishing is done on narrow rivers and creeks that wind their way through hills or mountains. 
If you're new to trout fishing and you're interested in knowing the most essential gear you'll need for your first trip, we've compiled this article to serve as a handy guide. 
Trout Fishing Rods
Trout fishing doesn't always have to be done with a fly fishing rod. Many anglers often shy away from getting their feet wet in trout fishing because they assume that they must learn to use and cast a fly rod, something that comes with a serious learning curve and requires a great deal of practice. I typically fish with an ultralight spinning rod and reel, which allows me to have a number of advantages over anglers who might be using a fly rod. 
When it comes to trout fishing, you won't need a heavy rod unless you're planning to go after the monster steelhead of Alaska and Canada. I generally prefer to use an ultralight rod that's no longer than about 6' in length, mostly because some of my best trout fishing spots are a decent hike into some of the Chattahoochee National Forest or the surrounding mountain wilderness areas. Generally, a 5' or 6' reel is best for most trout fishing areas in the United States and across much of the world. 
It's best to use a shorter rod if you're going to be fishing in tight spaces, but you can go with a longer rod when fishing more expansive rivers. You can also forget the baitcasting rods that you might use for other freshwater fish species. Always use a light or ultralight spinning rod since this will give you the flexibility you need for casting small lures and baits and handling smaller trout instead of more weighty fish.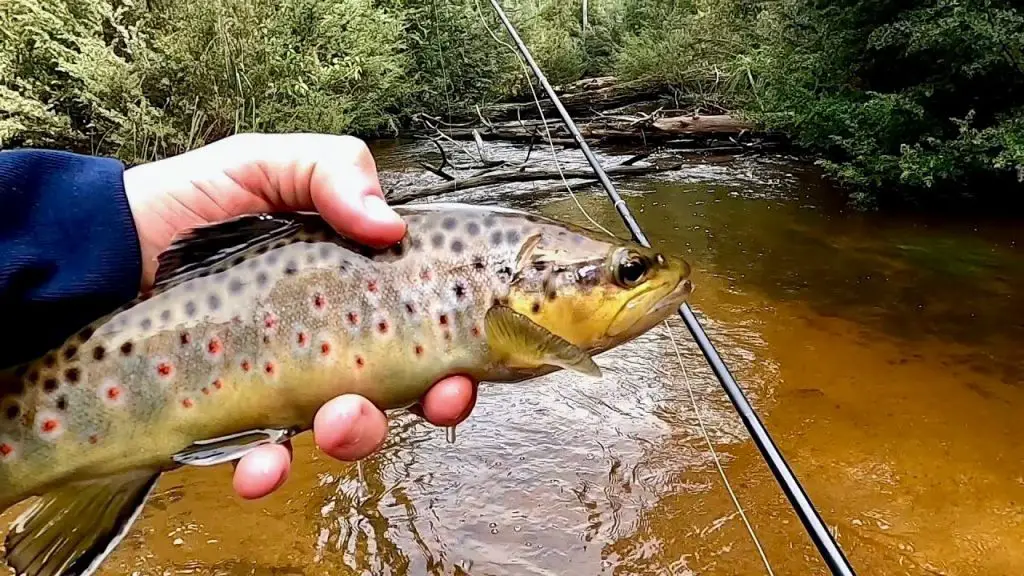 Trout Fishing Reels
A light spinning reel can be an exceptionally useful tool in the hands of a skilled trout angler. You can usually purchase a decent spinning reel that will be small enough to handle trout for less than $50. Some of the best ones I've used in recent years include the Lew's Laser Light Spinning Reel and the Daiwa QC750, both of which can be acquired for less than $30 in some online retail stores. 
It's better to have a light or small reel as you're going to be using a light fishing line when trout fishing. A smaller reel often handles this light line much better than a bigger 2500 or 3000 size reel. I like to use a small 1000-size reel for trout fishing, but some anglers will use one that might be as large as 2000 size. 
We recommend purchasing an ultralight rod and reel combo if you're new to trout fishing as this will ensure that you have a rod and reel that's well suited to be used together and will work more efficiently. 
Waders
It is true that there are some larger rivers where you can trout fish in a boat, but most trout fishing is actually done on foot and in the water. Trout fishing anglers will wade into the water up to their waist to have access to some of the best fishing spots in a river or creek. Trout typically live in waters that have a swift current, which is usually very cold compared to any lake or the ocean. 
Wading into this cool water without a pair of good waders might be refreshing in the sweltering heat of summer, but it's often uncomfortable if you're going to be fishing all day, it's best to have a good set of chest waders that will ensure you stay dry. If you're planning to fish in a more shallow section of water, you might get by using waist waders or even hip waders to keep your feet from being soaked. 
Some waders can cost more than $500, but if you're just getting started, you can go with a more affordable pair. There are a few chest waders found online that can be purchased for around $50. This extra investment will go a long way in allowing you to fish comfortably in the cold waters. 
Fishing Vest 
As we've already noted, trout fishing is typically done on foot, which means you'll be standing in the water as you're casting. Sometimes, it's not conducive to retreat to the banks to tie on another lure or to bait your hook and wearing a fishing vest is often a major convenience in this area. 
A good fishing vest will allow you to carry most of the items you need on your person without having to bring a tackle box along and attempt to open it while standing in the water. I've seen novice trout anglers attempt to do this only to spill the contents of their tackle box into the water and watch their newly-purchased lures and tackle be swept downstream, never to be seen again. 
You can usually buy a good fishing vest for as little as $20 in some cases from the right online retailers. Some will have extra sealed pockets and even waterproof compartments that allow you to carry your cellphone and wallet inside without the possibility that they will get wet. 
Landing Net 
Since you're likely to be fishing in the water, you will need to plan to land your fish using a landing net. This will allow you to quickly and easily land your trout without overhandling it or trying to grab it and risk having your catch slip back into the water once you've unhooked it. Most landing nets can be purchased for less than $30 and are usually compact and designed to fit on your person either hanging from your fishing vest or from a long lanyard. 
It's important to use a landing net if you're trout fishing as trout actually have a protective layer of slime on their bodies which protects them from some of the fungi and bacteria that are found in the water. If you grab a trout or handle it too much, you're going to rub away much of this slime and harm the fish by taking away its natural protection if you plan to release it. Having a good landing net will ensure that you can release your catch without harm back into its habitat. 
Fishing Pliers 
Trout are quite different from crappie or bass in that their mouths are equipped with a set of sharp teeth that will discourage even the most avid anglers from attempting to 'lip' the fish or grab it by the mouth. By using a landing net and a good pair of fishing pliers, you will be able to land your fish, remove the hook and potentially release it without ever having touched it or risked removing the protective layer of slime from its body. 
Many times, trout will swallow a hook or lure deep into their mouth, which makes it nearly impossible to remove using your hands without causing great harm to the fish. By using a good set of needle-nose fishing pliers, you can easily grab the hook and remove it while causing virtually no harm at all to your fish. 
A good pair of fishing pliers will also let you accomplish a number of tasks related to fishing and will serve as a useful tool for any angler. You can use them to bend or straighten any bent hooks or other tackle, as well as crimp on sinkers and repair inline spinners. Many fishing plier brands come with a handy pouch that can be worn on your belt or stored in your vest for quick and easy access. 
Trout Fishing Tackle Box/Bag
You'll need to have a container to store all your trout fishing tackle in and it's simply out of the question to bring along a standard tackle box as you'll have no place to set it when you're in the water. A tackle backpack is often a very useful item as it will allow you to carry a load of gear and tackle along as you wade into the water. 
If you're going to be using only a select handful of lures or even natural baits and hooks, you can store most of your tackle in a small box that will usually fit inside a pocket on your fishing vest or inside your waders (if there is a sizable pocket for storage). I prefer to use a tackle backpack and the Piscifun Tackle Backpack is exceptionally useful and made of great quality material. Having a tackle backpack like this allows me to store a large amount of gear and virtually anything else like snacks and valuables inside as well. 
Conclusion 
If you're planning to get started in trout fishing, these 7 items that we've mentioned in this article will get you off to a great start. Some of these items are not absolutely essential, but they do go a long way in helping you have a safe, fun, and comfortable experience on the water.