Everything is bigger in Texas, and this includes largemouth bass! I have put together some TX Bass Fishing hot spots to filter down from all of the trophy bass fishing lakes into the top 10 of the very best.
Remember – just being in the best lake doesn't mean you will have success. You still need to get a good understanding of how bass behaves, particularly in different seasons and at different water temperatures. Bass behave very differently in the spawning season compared with the middle of winter. They also move to different water depths, so make sure you have a good understanding of where they are most likely to be so you can put some bait in front of them.
You also need to have the best tackle for your target species – this includes bass fishing rods, reels, fishing line, lures, and hooks. The last thing you want to do is hook a monster bass and lose it when your dodgy line snaps.
The 10 lakes below are famous for their bass fishing – they are full of lunkers. So get off your computer and go check them out.
1. Sam Rayburn Reservoir, Texas
Sam Rayburn Reservoir is in Deep East Texas and is filled with largemouth bass, crappie, bluegill, and channel catfish.
More than 300 tournaments a year are held here and it was ranked number one by Bassmaster magazine for being the best bass lake in the nation.
It has a depth of up to 80 feet and consists of underwater vegetation, standing timber, and flooded terrestrial vegetation.
2. Lake Fork, Texas
Number two on the list is Lake Fork, in Wood, Rains, and Hopkins county.
It holds 15 of the top 20 Texas State Record Largemouth Bass ever caught.
It also holds  Catfish, Sand Bass, Yellow Bass, Black and White crappie, Sunfish, Bowfin, Gar, and Bluegill.
Lake Fork has a limit of 5 bass per day and no bass between 16 and 24 inches can be kept.
3. Toledo Bend, Texas
Toledo Bend is on the Sabine River and is the largest man-made reservoir in the South. It has a max depth of 110 feet.
The lake is best suited to shallow draft boats because of the large number of trees that are still in the body of the lake.
Teledo Bend is full of largemouth bass, crappie, and catfish.
Poppers, propeller baits, stickbaits, buzzbaits, and flukes are good topwater choices.
4. Lake Falcon, Texas
Lake Falcon is on the Rio Grande River, located 40 miles east of Laredo. It has a max depth of 110 feet. Falcon is a relatively shallow lake with slow-sloping banks.
The predominant species are largemouth bass and channel catfish. 
Summer fishing at Lake Falcon can be tough because of the Texas heat.
5. Lake Conroe, Texas
Lake Conroe is a water source for Houston and has a maximum depth of 75 feet. 
It is home to largemouth bass, channel catfish, and bluegill. Bass of over 14 pounds has been recorded to have been caught here. Bluegill here also grows up to 12 inches.
Recommended lures for Lake Conroe are shad imitation lures or soft plastic baits. Trolling in open water is your best chance.
6. Caddo Lake, Texas
Caddo Lake is on the border between Texas and Louisiana. It includes one of the largest flooded cypress forests in the United States.
It is popular with largemouth bass, crappie, chain pickerel, catfish, and sunfish. There is plenty of trophy-size bass here (over 8 pounds).
The best time to fish for trophy bass is throughout Spring, in particular the month of March.
7. Lake Lyndon B. Johnson, Texas
On the Colorado River, Lake Lyndon B. Johnson, has a max depth of 90 feet. It is stocked with largemouth bass, crappie, catfish, and white bass.
Largemouth bass has been observed to stay in shallow waters all year round.
Some recommended baits include topwater lures, metal spinnerbaits, and shallow-medium depth crankbaits.
The many boat docks, particularly in deeper water, can be a good place to target.
8. Lake Ray Roberts, Texas
Lake Ray Roberts in an hour north of Dallas-Fort Worth. 
The lake record for largemouth bass is 14 pounds – most trophy-sized bass are caught in February or March. Big bass can often be found at the bass of flooded trees that provide shelter.
Recommended lures are jerk baits, crankbaits, and spinners.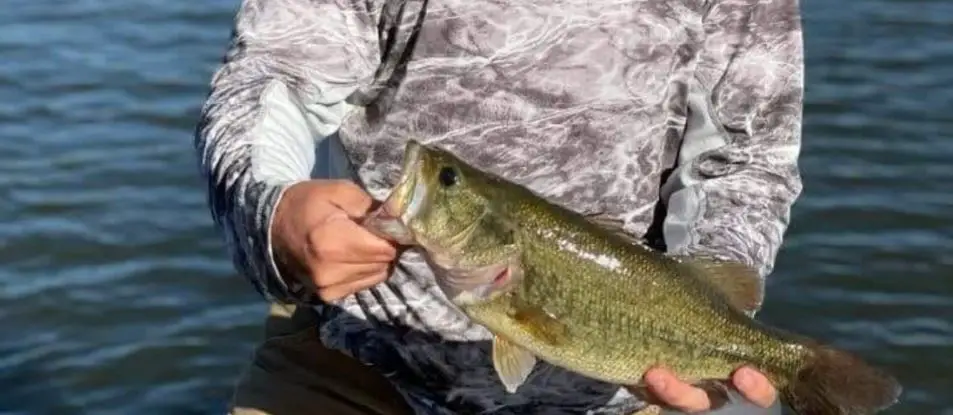 9. Lake Texoma, Texas
Lake Texoma is on the Texas Oklahoma border. It has a maximum depth of 100 feet.
This lake is one of the few freshwater lakes in the USA with a population of striped bass. Bass are often caught close to the shore and around structures. 
A good method to try is morning fishing with rigged worms, deep diving crankbaits, and surface baits.
Lake Texoma also has the Texas record for Blue Catfish at 121.5 pounds.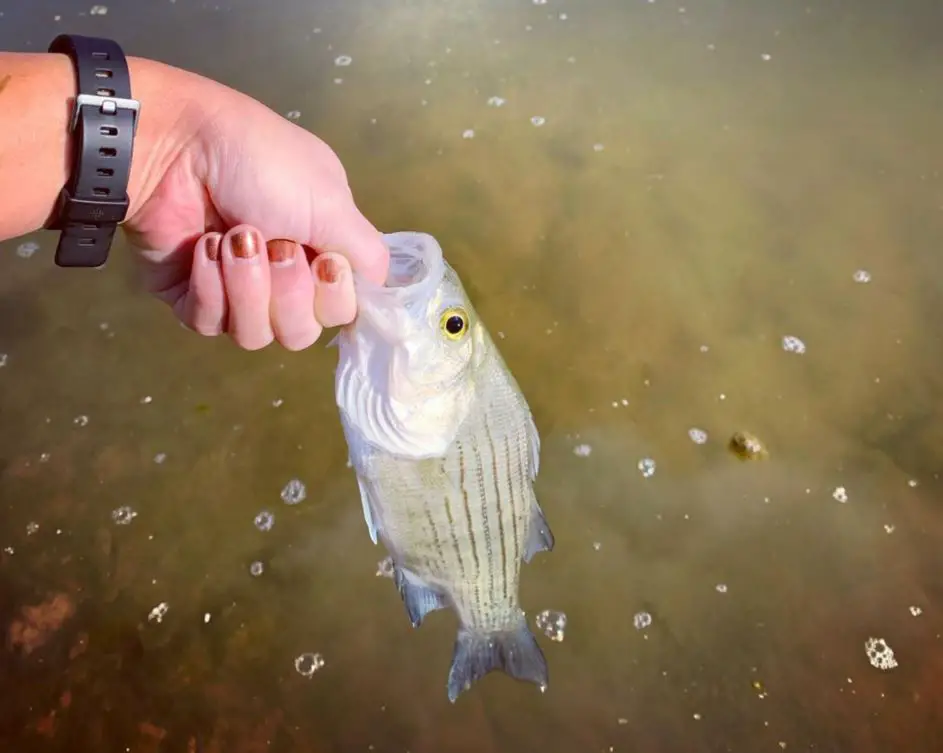 10. Lake O' the Pines, Texas
Lake O' the Pines has a maximum depth of only 50 feet on the Big Cypress Creek. It is west of Jefferson.
It has a very diverse fishing population including largemouth, spotted, and white bass.
It is also famous for being home to some monster catfish.
Conclusion
Texas is one of the top states for bass fishing, but you still need to know where to go and what to do. Hopefully, this list has given you a starting point to go out this weekend.
If you have had success at any of these 10 lakes then please let us know in the comments below. We would also like to know whether you think there is a good TX bass fishing location that we haven't included in this list that should be there. The more information we have the more fish we can catch.
Happy fishing!