The Walleye is a popular fish to target in the United States and Canada, and we have put together these walleye fishing tips to help you be more successful in your search.
Walleye are a cold water predatory fish with a long body and sleek frame, they can grow to a maximum of around 20 pounds and 30 inches.
Walleyes have great vision and are well adapted to low light and murky waters. This impacts all walleye behavior – they are often targeted in low light conditions like dawn or dusk, high wind, or cloudy days. Their good eyesight gives them an advantage over their prey in poor visibility, which often causes them to feed during these conditions.
Read through these walleye fishing tips below to better understand how the fish feeds and behaves so that you can put bait in front of a hungry fish more often. There are also great resources available to learn about walleye, such as OutdoorLife.
What is the best month to catch walleye?
The best month for walleye is April. In spring, walleye spawn, and during and post the spawn is the best time to target walleye. During this time, the fish become very aggressive and bite most lures you put in front of them.
Walleye can be caught all year round, whether that is ice fishing or during the spring spawn.
In the summer, walleye head deeper into the water column. This means you will have more luck trolling with deep-diving lures and crankbaits. Although they live in the deep water during the day, they will still head to the shallower waters at dawn and dusk to feed.
In the fall, the walleye feeding and activity slows down. While you can still catch fish, you must be more clever about figuring out exactly what the walleye are looking for.
Winter walleye fishing generally means ice fishing. The same principles apply when ice fishing for walleye in the winter.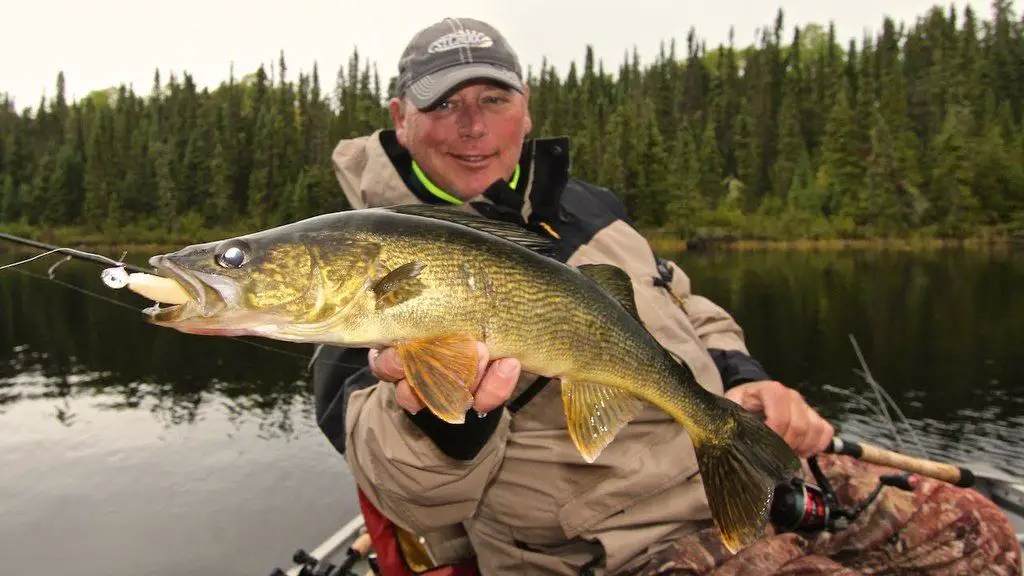 What time of the day is best to catch walleye?
The best time to catch walleye is at dawn or dusk. They often feed during low light conditions due to their excellent eyesight.
Walleye are notoriously photosensitive, so consider fishing at night using a light source to attract the fish.
The low light conditions 30 mins before and after sunrise and 30 mins before and after sunset are the best times to fish for trophy-sized walleye.
One of the best times to catch walleye is during overcast or choppy water. Anglers often refer to 'walleye chop' when talking about windy days. They use their better vision to hunt for baitfish in low-light conditions.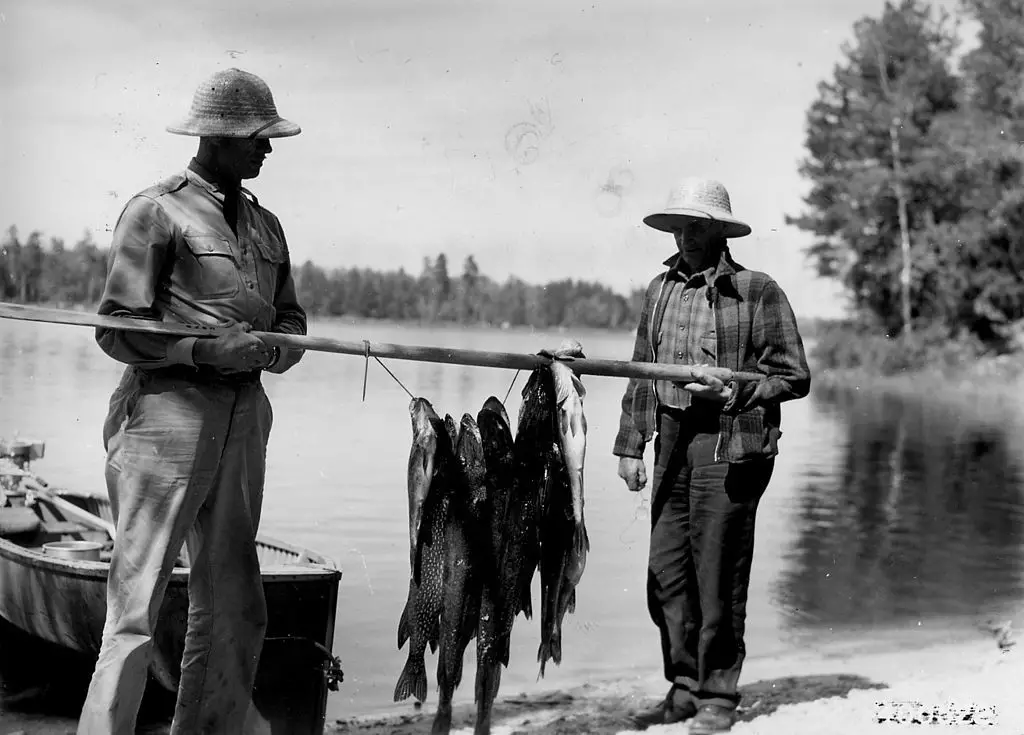 How deep do walleye feed?
During the day, walleye can be found in 15 to 30 feet of water. They generally stay close to the bottom and only move towards the surface and shallow flats when feeding on schools of baitfish.
At dawn or dusk, walleye move to the shallower waters, following the baitfish.
If you are ice fishing for walleye then you should target 10 to 20 feet.
Where do you catch walleye?
Walleye are a coldwater-loving fish found in clear lakes and rivers with a sandy or gravel bottom. Their habitat extends throughout the Northern United States and Canada, east of the Rocky Mountains. 
The time of day and weather conditions impacts the best locations and depths for walleye. Unlike most other fish, walleye prefer low light and murky conditions to hunt.
Where you find bait fish, you will find walleye.
Best Walleye Fishing Spots in North America
Some of the best walleye spots in the United States and Canada include:
Lake Erie, Pennsylvania
Devil's Lake, North Dakota
Lake Sakakawea, North Dakota
Lake McConaughy, Nebraska
Bay Of Quinte, Ontario, Canada
Upper Mississippi River, Minnesota
Bay de Noc, Michigan
Columbia River, Washington
Lake of the Woods, Minnesota
Saginaw Bay, Michegan
What is the best bait for walleye?
The most popular bait for walleye fishing is minnows, leeches, and night-crawlers.
A general rule of thumb is in cold water to use minnows and in warm water to use leaches, night-crawlers, and soft plastics.
A common phrase is 'match the hatch.' Pick a minnow native to the lake or river you are fishing in. This means that the walleye is already interested in feeding on that exact bait species.
What is the best lure to catch Walleye?
My favorite walleye lure is the Rapala Husky Jerbait. There is a large range of colors and sizes that you can change depending on your lake and the amount of sun light.
Give them options. Walleye feed on various baitfish and insects, so make sure you have different shapes, sizes, and colors of lure in your tackle box. The color preference of walleye will change as the light changes. Their keen eyesight allows them to pick up light differently than other species. I have successfully used a lure that contrasts with the surroundings – if the surroundings are dark, try a light lure.
You can also catch walleye by using a glow-in-the-dark lure at night.
What fishing gear do I need to catch Walleye?
Walleye don't need specialist gear like you would need for saltwater big game fish like tuna or tarpon. You can generally use your standard bass fishing equipment.
The list below gives you an example of what kind of gear you might want to have available:
– Fishing rod: Medium action spinning rod between 6 and 7 feet long
– Fishing reel: Light freshwater spinning reel, like a Pflueger President
– Fishing line: 8 pound monofilament line
– Leader: 2-3 feet of fluorocarbon leader
Hopefully, you have learnt some more about the behavior of the walleye and how you can catch them more frequently and in larger sizes. 
There are plenty of other sources of walleye fishing tips available elsewhere.
If you have experience catching walleye, please share your tips in the comments below so that more anglers can learn from your wisdom.
If you want to catch more than Walleye, have a read through our guide on popular American fish species for anglers.
Happy fishing!