Finding a solid baitfeeder reel that doesn't cost upwards of $100 is sometimes difficult in today's fishing industry. The Yoshikawa Baitfeeder Reel is said to be one of the better budget-friendly baitfeeder reels available this season. The Yoshikawa brand is not very well known in the fishing industry and it's understandable for many anglers to have questions about whether or not this reel is worth the money. 
I've done the testing and compiled as many results as I could to put together this review on the Yoshikawa Baitfeeder Reel's features and capabilities, as well as what kind of performance you might expect to get from this reel. 
Yoshikawa Baitfeeder Reel Overview 
The concept of having a baitfeeder or baitrunner reel is that the reel is meant to be fished with live bait and it's supposed to allow fish to take your bait and run before the hook is set more firmly. These types of reels typically operate using a primary and secondary drag system. The Yoshikawa Baitfeeder Reel is one of these baitrunner options and is considerably more affordable than most premium models you might find in today's fishing industry. 
Many anglers consider the Yoshikawa Baitfeeder Reel to be among the best budget-friendly baitfeeder reels on the market right now. It might have a few undesirable aspects compared to other brands like Shimano or Penn that produce popular baitrunner reels, but the Yoshikawa Baitfeeder gets the job done relatively well when I take into account the quality of all the gears and other parts of the reel. 
The reel is made with a lightweight graphite construction frame that is strong enough to hold up against just about any medium to large-sized fish you want to target. The graphite frame also functions well in saltwater fishing environments because it helps to provide good resistance to the corrosive properties of saltwater. The Yoshikawa Baitfeeder Reel also features an anodized aluminum spool that also provides solid durability against those hard-pulling fish you tend to find in coastal waters. 
One of the best aspects of the Yoshikawa Baitfeeder Reel is the smooth casting and reeling experience you get thanks to the reel's 10+1 ball bearing system. It's described as being exceptionally smooth compared to other baitrunner reels that are considered to be in the budget-friendly range. These stainless steel ball bearings are also specially designed to resist saltwater corrosion that often greatly damages lesser-quality reels. 
This reel is made in four distinct size options that include the CY3000, CY4000, CY5000, and CY6000. Each of these sizes are made with the same 5.1:1 gear ratio and features a good amount of line capacity. The smaller CY3000 weighs just 11.9 ounces while the largest CY6000 tips the scales at 18.6 ounces, which is still considered to be relatively lightweight compared to other saltwater baitfeeder reels. 
When I look at the Yoshikawa Baitfeeder Reel as a whole, it's easy to see why so many anglers consider this model to be one of the better values in terms of a solid budget reel. In the next sections, I'll go into more detail about how each of the Yoshikawa Baitfeeder Reel's individual parts and components works and how they compare to the competition.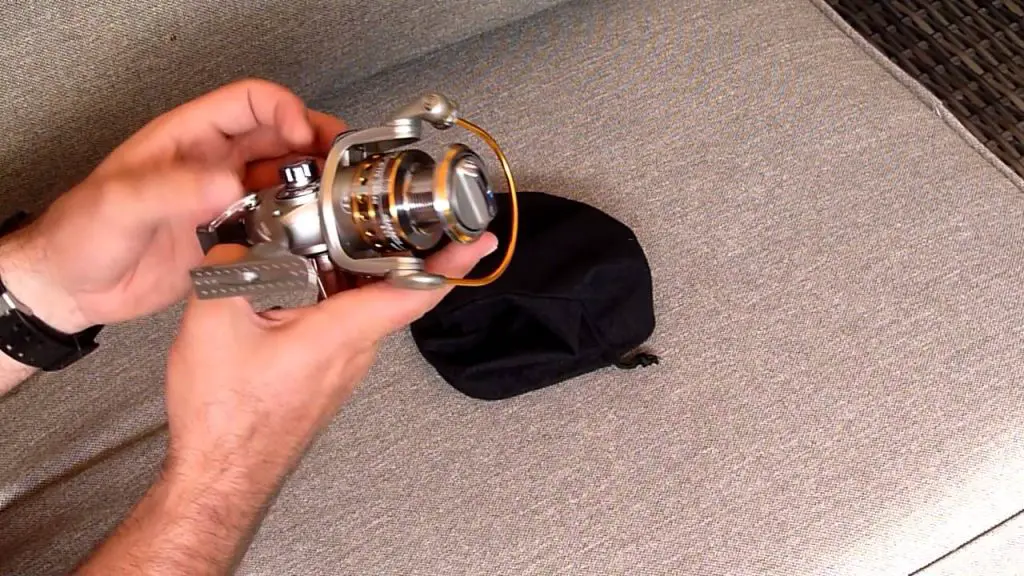 The Yoshikawa Baitfeeder Reel is built with a graphite frame that is aimed at providing a solid, lightweight frame. It will also hold up against the usual corrosion that renders poor-quality reels useless after a short period of fishing in saltwater environments. Yoshikawa's Baitfeeder reel also features the same Titan graphite material on the sideplate as well. 
The CNC aluminum spool is another reason why the reel is tougher than many anglers might expect it to be. This spool is made to help give you greater casting distance but is not designed to allow anglers to spool braided line without the need for any backing material. 
Baitfeeder Drag System 
The best aspect of the Yoshikawa Baitfeeder Reel is its Baitfeeder Drag System. The reel is made with a Baitfeeder lever, which controls the Baitfeeder feature. The angler can turn on the rear drag by clicking the lever to the up position. Once you crank the handle, however, the lever will flip back down and the front drag will engage. 
This system works very efficiently when it comes to catching larger-sized fish that you want to allow them time to take the bait properly. Most anglers who fish with live bait understand that, when fishing for most saltwater species, you need to allow them to have the bait in their mouth for at least 5 seconds before ever setting the hook. Many saltwater fish species will need to 'chew' on the bait for a few seconds and get the hook fully inside their mouth. 
The front drag system is well-made and functions the same as any other type of reel that's built with a front drag system. The rear drag is what combines to make the Yoshikawa Baitfeeder Reel special in terms of letting the fish take the bait and helping you get a better hookset in the process. You can set the rear drag to a more free-spool position to allow a fish to take the bait, but to also protect against fish that might hammer the bait and tear some of the gears up with a very heavy, sudden strike. 
Saltwater-Grade Ball Bearing System 
The Yoshikawa Baitfeeder Reel is exceptionally smooth when I consider the price range it's typically sold at. Many anglers agree that it's one of the smoother baitfeeder reels available for less than $100. This is because the brand makes the Yoshikawa Baitfeeder Reel with a 10+1 stainless steel ball bearing system. 
In addition to being manufactured to give you the smoothest feel possible, these ball bearings are also specially designed to resist the usual saltwater corrosion that often permanently damages so many other reels after a few uses. 
Gear System 
Another reason why the Yoshikawa Baitfeeder Reel has such a smooth reeling and casting action is the way the gears are made. These gears inside the reel are cut using precise digital cutting that's done by machines. This means the gears fit together very tightly and there's very little play in the overall feel of the reel when you're retrieving your line. 
I noticed that this reel does often develop a bit of 'play' shortly after reeling in any trophy-sized fish that put a heavy strain on the reel and its gears and drag system. This is somewhat common in most reels that are more budget-friendly, but it should be something to consider if you regularly target larger-sized saltwater species. 
Drag System 
The Yoshikawa Baitfeeder Reel is equipped with a solid drag system that's capable of allowing you to tackle larger-sized fish. The smaller CY3000 model is made with an 18-pound max drag weight, but the three larger reel sizes are each made with a heavier 28-pound max drag. The drag is very smooth and capable of letting you reel in decent-sized fish in both saltwater and freshwater environments. 
The drag system is also sealed to prevent any water from seeping into the internal workings of the reel and also damaging any of the inner parts. There are some reports that this system is not actually 'fully' sealed and sometimes lets in some water, however, I did not note any issues personally. If you do happen to get a reel that is not properly sealed, you can expect to experience some saltwater damage inside and the reel will likely be permanently damaged and inoperable. 
Other Notable Features 
The Yoshikawa Baitfeeder Reel is made with a quick-set anti-reverse roller bearing, as well as a selective silent anti-reverse system. You'll also find that the reel is made with a brass pinion gear and other internal parts that are relatively well-made. The handle is interchangeable and allows you to easily switch from being right-handed to a left-handed reel. 
The Yoshikawa Baitfeeder Reel's overall look is very sleek and elegant thanks to the cool gray and silver finish, as well as the gold trim around the spool and bail wire. The oversized handle is made to help anglers maintain control when fighting larger-sized fish. 
Pros
The precision-cut gearing gives a high-end feel when casting and retrieving under load.
The baitfeeder drag system is specifically designed to be used with live bait so you can quickly adjust the drag during the action when you want to set the hook.
The max drag is fairly high and gives plenty of power for fighting the large predatory species that you will catch when using live bait.
Cons
There was some play in the gearing after it was used under heavy load, so you will need to keep an eye on the large-sized fish you can fight with this reel. I wouldn't have expected any issues with the high 28 lb max drag.
This is a heavy reel with the 3000-sized model at almost 12 ounces. This will give you more fatigue than other reels in similar sizes.
Specifications
| | | | | |
| --- | --- | --- | --- | --- |
| Model | Gear Ratio | Weight | Max Drag | Line Capacity |
| CY3000 | 5.1:1 | 11.9 oz | 18 lb | 120 yards of 12 lb |
| CY4000 | 5.5:1 | 15.0 oz | 28 lb | 130 yards of 12 lb |
| CY5000 | 5.5:1 | 16.5 oz | 28 lb | 220 yards of 12 lb |
| CY6000 | 5.5:1 | 18.6 oz | 28 lb | 140 yards of 24 lb |
This table explains the key specifications for a Yoshikawa Baitfeeder Reel
Conclusion
The Yoshikawa Baitfeeder Reel is a reel that's overall very well-made. It will perform as well as most of the best baitfeeder models out there in terms of front and rear drag capability. It does have a few shortfalls in terms of the reel developing a slight amount of play after fighting hard-pulling fish that might put a strain on the gears and drag. However, the reel is very durable and capable of serving as a solid baitfeeder reel for nearly any type of fish you find in coastal waters, as well as freshwater species. 
It's truly hard to find a baitfeeder reel that offers better performance than the Yoshikawa Baitfeeder Reel when it comes to budget-friendly options. 
Last update on 2022-08-29 / Affiliate links / Images from Amazon Product Advertising API