The best jerkbait lures for bass feature realistic designs, enticing action, and proven effectiveness in attracting bass in various water conditions and seasons.
The Strike King KVD is my top choice because of its lifelike underwater action. It features a weight transfer system that allows it to be cast further than similar sized lures. It is ideal for any bass anglers looking for the best of the best jerkbait lure.
Jerkbait are a popular lure type throughout North America. They can be used with dozens of fish species, but I have focused on their ability to attract bass.
Jerkbait lures offer a different option for attracting fish when other techniques aren't working. I personally think that all anglers should carry a few different sizes and colors with them as a lure variation whenever possible.
I have compiled this article to help you skip through all the marketing and make wise purchasing decisions. There are plenty of things to consider, such as the shape, size, color, and movement.
Lifelike Patterns
Cast Further
Unique Underwater Action.
3-8 ft Depth
Reflective Underside
Dip and Dive Action.
3.5 in Length
Suspends at Depth
Black Nickel Treble Hooks.
1. Strike King KVD Jerkbait 3 Hook – Best Jerkbait Lure for Bass
Bestseller No. 1
Strike King's famous KVD line of lures is known for its uncanny ability to catch fish when other baits can't measure up. The Strike King KVD Jerkbait 3 Hook is widely considered to be the best jerkbait lure on the market as it offers exceptional action underwater, as well as a striking resemblance to actual bait fish like bream and other species. 
This lure is known for having incredibly lifelike color patterns and design elements that stand out to the eye of largemouth bass and other fish species. The Strike King KVD Jerkbait 3 Hook has a specialized weight transfer system that allows anglers to cast the bait farther than most models of similar size and weight. 
What I Like About It
Strike King's lure experts design the body to deliver the characteristic wiggle and flashing motions that a wounded or struggling baitfish typically displays. This lure's unique underwater action is made to entice bass on an instinctual level that appeals to their predatory nature. If used properly, the Strike King KVD Jerkbait 3 Hook will usually produce strikes when the bait is stationary, leaving the angler to feel the weight of the fish upon their next 'jerk' of the rod tip.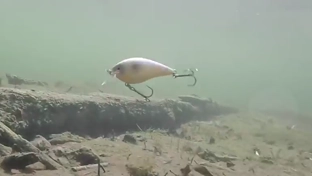 2. Rapala X-Rap Jerkbait XR10
Bestseller No. 1
Rapala is a brand name in the fishing industry that established its reputation for exceptional lures nearly a century ago. Now, the lure company continues to produce some of the most dynamic options in the world, with their Rapala X-Rap Jerkbait XR10 being no exception. This lure is made to dip and dive through the water in a way that catches the eye of nearby fish and provokes reactionary strikes when used in the right way. 
The X-Rap is known as one of the hardest-cutting jerkbaits on the market, and many anglers tend to develop unique styles of use that each have their strengths when it comes to appealing to the predatory nature of bass. This lure is designed to run about 3 to 8 feet below the surface, typically where pre-spawn bass are cruising near points and other lakes looking to ambush potential prey. 
What I Like About It
The lure's coloration and reflective underside help to further emphasize the flashing sensation that is so commonly associated with what causes bass to strike at a properly-used jerkbait.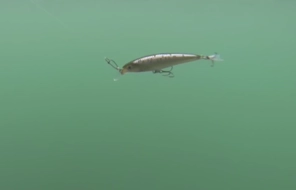 3. Yo-Zuri 3DB Jerkbait Suspending Lure
Bestseller No. 1
One of the smaller, yet more agile jerkbaits on the market today is the popular Yo-Zuri 3DB Jerkbait Suspending Lure. This lure is just 3.5 inches in length, but is still quite capable of producing strikes from large, mature bass that anglers might typically not expect to expend the energy needed to chase down a smaller-sized minnow such as this. 
This jerkbait's color pattern and profile come in six distinct color combinations aimed at mimicking a much more vast variation of bait fish species using subtle color changes and reflective qualities. The Yo-Zuri 3DB Jerkbait Suspending Lure is a special type of lure that will 'suspend' at a certain depth when an angler stops or pauses their retrieve. This is sometimes highly effective since bass expects bait fish to remain at a certain depth as they dart in open water instead of floating upward like some lures do when paused.
What I Like About It 
The small, sloping lip helps to give the Yo-Zuri 3DB Jerkbait Suspending Lure its unique ability to maintain a specific depth while being retrieved. The smaller black nickel treble hooks are made to help allow this lure to dart and dive in a way that appears natural to most types of bait fish.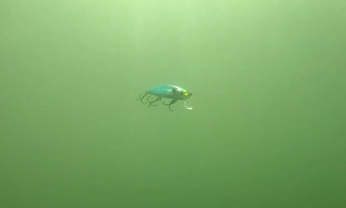 4. PROBEROS Minnow Bass Fishing Lures – Jerkbait Sinking Lure Set
Sometimes deciding on a specific color pattern or lure appearance regarding jerkbaits can be tough. There are so many types of minnows and small bait fish that these lures are designed to appear similar to that it takes a truly seasoned angler to understand what color combination to use at certain times of the year or locations. The PROBEROS Sinking Lure Set presents anglers with six of the most commonly-used jerkbait color patterns for an affordable price compared to most premium-quality options. 
What I Like About It
These jerkbaits are a bit larger than some on our list, as they come in at 4.7 inches in length. The hooks and rings allow the bait to create a subtle vibration as it runs through the water. This often triggers the instincts of certain predatory fish, including bass, and will provoke a strike as the fish seem to sense that the minnow is in distress. 
5. Strike King KVD Jerkbait 2 Hook
ON SALE $2.00 OFF
Bestseller No. 1
Our list of the best jerkbait lures wouldn't quite be complete without mentioning the Strike King KVD Jerkbait 2 Hook. This is one of the most popular versions of the legendary KVD Series lures as it closely mimics bait fish that are just the right size for hungry bass to be attracted to. Featuring the Strike King Lure Company's weight transfer system, anglers can cast this lure out well past what other baits of similar size and weight will allow. 
In most cases, the Strike King KVD Jerkbait 2 Hook is made to dive down to a medium depth of about 4 to 7 feet and will target suspended bass that sometimes comes up from the depths to investigate the unique action of this lure. 
What I Like About It
When used correctly, the Strike King KVD Jerkbait 2 Hook will wiggle and slightly roll to either side as it quickly darts through the water, in the same way a wounded, struggling baitfish might do as they are desperately trying to make it to the safety of the shoreline or other points of cover. 
6. 6th Sense Provoke 106X Jerkbait
Bestseller No. 1
Anglers are quickly beginning to take notice of the 6th Sense Lure Company as this brand has been establishing a reputation among professional and amateur anglers alike for its incredibly lifelike reactions. The 6th Sense Provoke 106X Jerkbait is a worthy addition to our list, but some beginner and novice anglers might shy away from this option as it is slightly more expensive than some of our other options. 
This 4.2-inch shad-like lure is made to give off a unique action that closely mimics that of a fleeing baitfish through open water or around cover. Anglers often quickly work this lure along a stretch of water before pausing it for a few seconds. During this pause, most predatory fish, like bass will take the opportunity to strike the lure and try to make an easy meal out of an unsuspecting minnow species.
What I Like About It 
This lure has a slower, more deliberate roll than a Rapala. However, it is highly effective in the hands of anglers who are patient enough to let the bait pause for a few seconds every so often to allow fish to take an interest in striking at it. 
7. Megabass Vision 110
Bestseller No. 1
Megabass has become a household name among dedicated anglers who regularly fish tournament trails nationwide in recent years. The Megabass Vision 110 is arguably the best jerkbait currently available. Still, most beginners and novice anglers will likely look elsewhere as this is a bit more expensive than others. 
The added cost is worth it to many of the world's top anglers as they typically use this jerkbait in either the +1 or +2 version to target fish suspended at a certain depth. No other jerkbait can maintain a specific level of depth as it is retrieved through the water, like the Megabass Vision 110. 
What I Like About It
Whether you prefer to quickly work the lure through areas near structure to entice fish to come out for a closer look or use a more slow and methodical retrieve through open water across points, the Megabass Vision 110 is a lure that will deliver more strikes than most other types of jerkbaits in the fishing industry.
The lure's Advanced tungsten Multi-Way Moving Balance System works to help anglers cast this bait out to considerable distances using quality baitcasting setups, allowing them to retrieve it in several different styles that works best for their own fishing methods. 
8. Rapala Husky Jerk 14
Bestseller No. 1
A list of the best jerkbait lures wouldn't be complete without classic options like Rapala's Husky Jerk 14 jerkbait. This large-sized lure was introduced many years ago as a means to target bigger fish that are typically not going to expend the energy needed to chase after small bait fish—no matter how effective you might believe your retrieve to be. 
Designed to be a suspending jerkbait, the Rapala Husky Jerk 14 is perfect for anglers who prefer a larger bait that makes more noise and flashes as it makes its way through the water. Rapala designed this lure to offer a greater amount of rattling while running on a more straightforward course than other, smaller jerkbaits that tend to dart to the left and right with relative ease. 
What I Like About It
Anglers have used this lure for years to target shallow bass with either a steady retrieve or a sporadic method of reeling the lure in, which both produce a considerable amount of strikes once an angler has mastered the art of using the Rapala Husky Jerk 14. 
9. OROOTL Minnow Fishing Lures Crankbait Set
There's nothing wrong with setting out to learn a new type of lure using a less expensive version of the bait. The OROOTL Minnow Fishing Lures Crankbait Set is an ideal option for beginner anglers who have rarely experimented with a jerkbait as this set features several different options of varying colors, shapes and sizes that work perfectly as a 'testing kit' for the angler who is looking to learn how to use a jerkbait. 
Like most other types of jerkbait lures, the OROOTL Minnow Fishing Lures Crankbait Set comes in colors and patterns that are typically more effective at certain locations during specific times of the year. The high gloss level on each minnow helps to enhance the lure's flashing effect underwater which is so often recognized as the most effective means of attracting bass and other types of game fish species. 
What I Like About It
Despite being priced lower than other jerkbaits, these lures will run quite well when used correctly. The outer body of each lure is made with hardened ABS material that helps the bait to maintain its shape and color pattern, even after being attacked by hungry fish. 
10. Bomber Lures Long A Slender Minnow Jerkbait
Some classic names and designs have lasted for decades in the fishing industry. Few have lasted as long or been as effective as the Bomber Lures Long A Slender Minnow Jerkbait. This lure has been a mainstay of tournament anglers for many years as it can be reliably used to produce strikes when bass and other fish prowl for unsuspecting bait fish. 
Bomber make their Long A Slender Minnow Jerkbait to function best when retrieved with a slight series of twitching motions followed by a short pause. By repeating this sequence, fish usually time their strike and attack when the bait takes a short pause. This lure has been used to target everything from walleye to salmon and many other fish, including largemouth bass. 
What I Like About It
These lures can be purchased in either 6.5 or 7-inch long versions intended to target larger predatory fish that commonly thrive by feeding on various minnows and bait fish. Like most other jerkbaits, many anglers have developed their unique style of retrieving the Bomber Lures Long A Slender Minnow Jerkbait that seems to work in whatever situation they use it. 
Jerkbait Lure Buying Guide
Jerkbait vs Crankbait
Jerkbaits and crankbaits are similar in that they are both hard body lures with a nose bib and normally treble hooks. The difference comes in the way they attract fish and the way they are used.
Crankbaits produce an attractive movement or shake in their body as they are retrieved. This means they should be retrieved constantly to give them as much time making this motion as possible.
Jerkbaits move more like a shrimp in a stop/go motion. This mimics local baitfish and bugs and moves up and down through the water column, allowing you to cover more ground.
They also spend time motionless, giving lazy fish ample opportunity to bite.
Jerkbaits and crankbaits are two sides of the same coin – they can be used together for many similar fish species. When one starts getting strikes, you can focus on them for the rest of your days fishing.
Color Variations
I am a big fan of carrying multiple color variations of the same lure. Fish can be hiding at different depths, and be tempted by different movements and colors – you want to be able to change out identical lures with different colors to determine what is the missing ingredient.
Most popular jerkbaits come in 9-12 common colors – and you can look at these to see which colors you are interested in.
There are a few philosophies which boil down to mimicking the local food source as closely as possible with browns and silvers or contrast against local food sources as much as possible with brightly colored lures.
Target Depths
A key consideration is the target depth. Jerkbaits can get to their target depth using a short nose bib. This pulls the lure down as you begin to retrieve it. The amount of line your retrieve then determines how deep the lure goes.
You can also keep your rod tip down to pull the lure deeper into the water due to the direction of the line.
Different fish species live and hunt at different depths. This is also different in the four seasons. For example, bass are caught at different depths in winter than in summer.
Understanding your target fish species depth for this season is an easy way to select jerkbaits that can achieve that depth and catch you more fish.
Frequently Asked Questions
We get plenty of questions about how to use and select different lures for different fish species, so let's dive into the most common jerkbait questions.
Where do you cast a jerkbait?
This depends on the species of fish you are targeting. Most of the time you will want to cast your jerkbait further past your prime fishing area and retrieve your lure in a stop/go jerking motion.
What line do you use for a jerkbait?
Most anglers prefer using a fluorocarbon leader for a jerkbait as this is almost invisible underwater to wary fish and will increase your likelihood of getting a strike.
How do you retrieve a jerkbait?
As the name implies, you should retrieve the lure in a jerking motion – let the jerkbait sink 2-3 feet down, then retrieve 2-3 feet of line and repeat. This will cause the lure to jerk up and down through your target depth and attract nearby hungry fish.
What is the best jerkbait color?
I am a big fan over carrying multiple color variations of the same lure. Fish can be hiding at different depths, be tempted by different movements and colors – you want to be able to change out identical lures with different colors to determine what is the missing ingredient.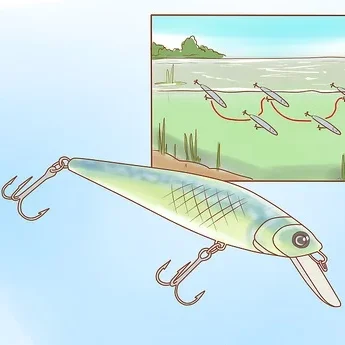 Conclusion
That brings us to the end of our jerkbait article – I hope you have enjoyed it. New lures are introduced to the market every month, but not all will be big winners. Use your new knowledge to assess every lure you see and whether it will help you catch more fish.
There are plenty of other online resources if you are still looking for more info before buying.
Last update on 2023-11-30 / Affiliate links / Images from Amazon Product Advertising API