A good rod and reel combo is essential to being a successful angler, no matter the type of fish you target. The right type of rod and reel will give you the best possible advantage for using the best possible lures, as well as landing any fish you do catch. If you're looking for a new rod and reel combo, you should consider several factors before making a purchase. 
The Penn Battle III Spinning Combo is my top choice because it is extremely durable while maintaining high performance. It features saltwater resistant materials and is available in a wide range of sizes to suit any fishing situations. It is ideal for anglers who value longevity and want a rod and reel combo that will last for many years to come.
With so many different brands, makes and models to choose from, it's easy to be somewhat overwhelmed by the immense number of options currently on the market. When it comes to finding the overall best rod and reel combos for any fishing trip, there are several factors you'll want to consider. 
I've researched most of the best brands in the fishing industry and compared their products with other top competitors to compile this article and list my picks for the 7 best rod and reel combos available this season. 
Penn Battle III Spinning Combo
Saltwater Ready
HT-100 Drag Washers
Extremely Durable Material
Wide Range of Sizes Available
High Speed Options for Fast Moving Lures
1. Penn Battle III Spinning Combo
Saltwater Ready

HT-100 Drag Washers

Extremely Durable Material

Wide Range of Sizes Available

High Speed Options for Fast Moving Lures
Penn has been at the top of the fishing industry for many decades and their products are known to be top notch. The Penn Battle III Spinning Combo is truly hard to beat when it comes to finding a solid rod and reel combo that you can use to fish in virtually any environment. This rod and reel combo is designed with corrosion-resistant material that helps ensure you won't damage the rod and reel by fishing in saltwater environments. 
The Battle III is also versatile enough to serve as a great rod and reel for freshwater fishing as well. You can purchase this combo with rod options that include a 6'6" length model up to a 10' version, which is more suitable for surf fishing and making extremely long casts. Penn also offers the Battle III rods in a one, two or three-piece model so you can select the one that's right for you.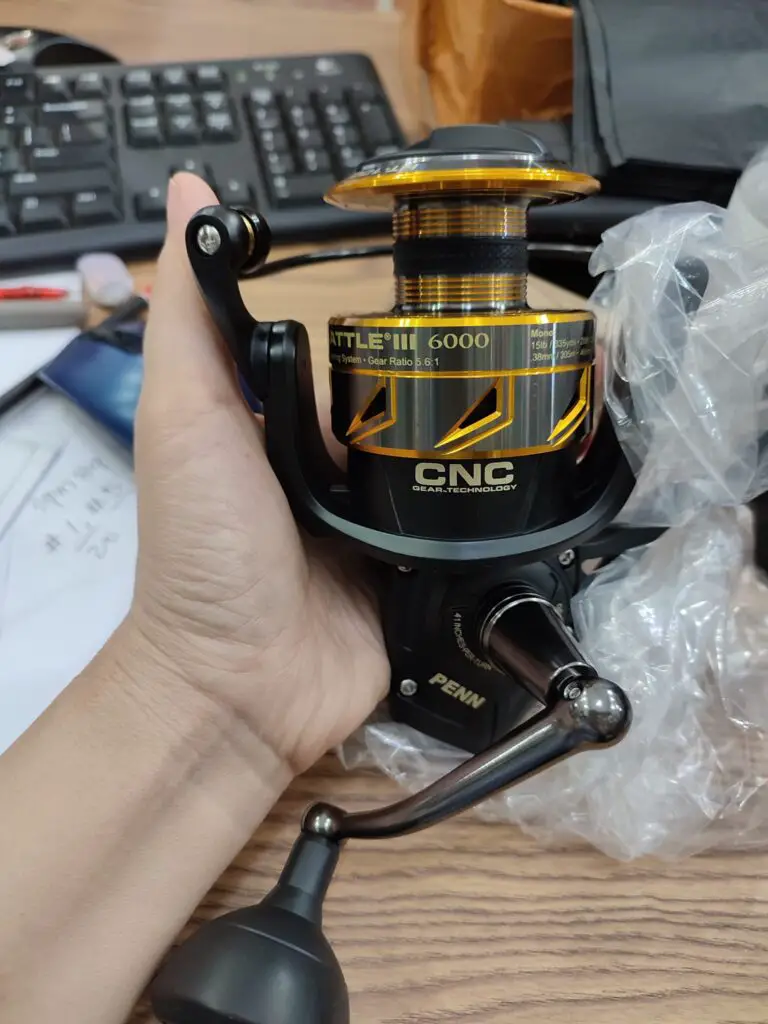 What I Like About It
The reel is just as flexible as it comes in various sizes. These include a small 1000 size spinning reel and larger sizes in increments all the way up to a large 8000 size version that is ideal for going after bigger fish. In addition to these options, you also can select the exact rod power. 
The Penn Battle III rods are either moderate, fast, or moderate-fast action rods, making them even more appealing as a good all-around fishing rod and reel combo for whatever species you want to catch. This combo is also priced at a level that most anglers can afford, making it a clear-cut favorite for anglers of all skill levels. 
Pros
Suitable for Saltwater – corrosion resistant material of construction
Flexible model sizes – 1000 to 8000
Flexible rod power and action
Made in USA
Cons
2. Shimano Caius Baitcasting Combo
6 Pin Variable Braking System

Super Free Spool

7.2:1 High Speed Gear Ratio
There's little argument among anglers that Shimano is one of the business's best rod and reel manufacturers. This is because the brand has been producing exceptional products for decades now and their customer service is also good. If you're looking for a great baitcasting rod and reel combo that will function well in freshwater fishing environments, finding one better than the Shimano Caius Baitcasting Combo is tough. 
The Caius rods come in a 6'10" or 7' version, ideal for bass fishing and after virtually any other medium-sized species you might find in any freshwater lake or river. These rods are medium-heavy power, making them a good choice for using a wide assortment of spinnerbaits, jigs, topwater lures, crankbaits and many more. 
What I Like About It
The reel is just what you should expect from Shimano as it offers outstanding smoothness with a compact, lightweight low profile feel. The Caius baitcaster is built with a Super Free Spool, allowing you to cast farther and retrieve your lure with a buttery-smooth feel. The reel is also designed with a 6-pin Variable Braking System that helps cut down on the potential that you might backlash your reel when using a variety of weights and lures. 
This one doesn't have as much line capacity as others, but it's certainly not a disappointment for the price. The Shimano Caius is an outstanding baitcasting rod and reel combo that is lightweight and easy to use. 
Pros
6 pin variable braking system eliminates backlash
Features Shimano's superior technology
Cons
Lower line capacity than other options
3. Pflueger President Freshwater Spinning Combo
Smooth Retrieve from 10 Ball Bearings

Braid Ready Spool

Sealed Drag System

Cork Handle Design
Pflueger is a brand that's been around for nearly 150 years. They're well-known among avid anglers as a company that designs and makes smooth reels that are more than durable enough to go after any freshwater fish you want to catch. Pflueger prides itself on making highly dependable products and the brand is constantly working to develop superior fishing rods and reels using new technology and proven methods. 
The Pflueger President Spinning Combo is an obvious choice for the best freshwater combo as it is reasonably-priced and offers nearly anything you could want in a good spinning reel setup. It's incredibly versatile and made to target fish, giving you a high sensitivity level.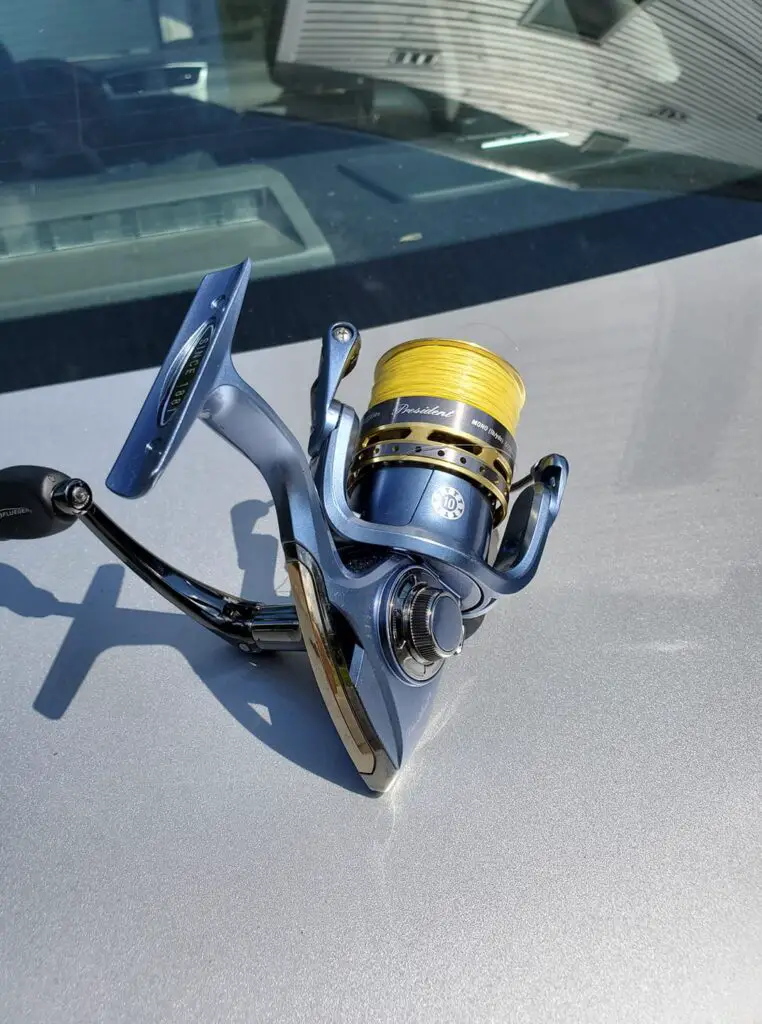 What I Like About It
The President's rod can be purchased in various lengths, including sizes as short as 4'8" up to 7' long. Depending on what type of fish you typically like to catch, you can select a rod that's just the right length. 
You'll also be able to choose between light, medium, and ultralight power, which is ideal for freshwater fishing for small to medium-sized fish. These rods are also one or two-piece models made of IM-8 material, which delivers exceptional sensitivity and strength.  
The Pflueger President Spinning Combo's reel is likely its greatest asset. The reel sizes range from a 20, 25, 30 and 40 size model, which equates to these sizes being between 2000 and 4000. These reels feature a corrosion-resistant stainless steel ball bearing system with 10 bearings for added smoothness in both casting and retrieval. 
Pros
Proven model with years of historic performance
Extremely high performance with 10 ball bearings
Available in sizes from 2000 to 4000
Cons
Largest size reel is 4000 which might not be sufficient for some large saltwater species
4. Penn Conflict II Inshore Combo
Penn is known for making rod and reel combos perfect for saltwater fishing. The Penn Conflict II Combo is our top choice for inshore fishing. These combos offer many features that are all made to give you an extremely durable and functional surf combo that will allow you to catch anything from a flounder or even a bull redfish. 
The Conflict II Combo's rod is 8' long, ideal for inshore fishing. If you're looking for a longer or shorter rod, you'll have to find a different option as Penn only makes these with an 8' version. You can choose between a light, medium and medium-light power with these rods, which is great for catching flounder, mackerel, redfish and anything else you find in the inlets and along the coast. 
What I Like About It
The Conflict II's reel comes in a 2500, 3000, 4000 and 5000 model. These reels are designed with a front drag with a maximum drag weight of 12 to 20 pounds. The CNC Gear technology and 7+1 sealed stainless steel ball bearing system give this one plenty of smoothness. The reels are also made with HT-100 Carbon Fiber drag washers to give you plenty of strength while still offering a smooth drag. 
The one thing about the Penn Conflict II that some anglers might be turned away by is the price. This one is a bit more expensive than others that are also popular. Still, if you're a serious saltwater angler who spends quite a bit of time pounding the banks and fishing around the coast, the Penn Conflict II Combo is a worthy investment that will perform better than most other options. 
Pros
Extremely durable surf rod and reel combo for inshore fishing
Smooth retrieve with 7+1 stainless ball bearings
Cons
More expensive than alternatives
5. Penn Squall Lever Drag Offshore Combo
Dura Drag Washers

Lightweight Graphite Frame

Stainless Steel Gears and Guides
It's certainly not my intention to load this list with so many Penn products, but we would be remiss if we chose another option as our best offshore rod and reel combo. The Penn Squall Lever Drag Combo is a solid rod and reel that's tough as nails and smooth as any other on the market. 
The Squall combo's rods are available in lengths that include 6', 6'6, and 7' options. You can also select the right power ideal for the type of offshore fish you're looking to catch as the options include medium, medium-heavy, and heavy power rods. As you might expect, these rods are all tubular fiberglass for optimal durability.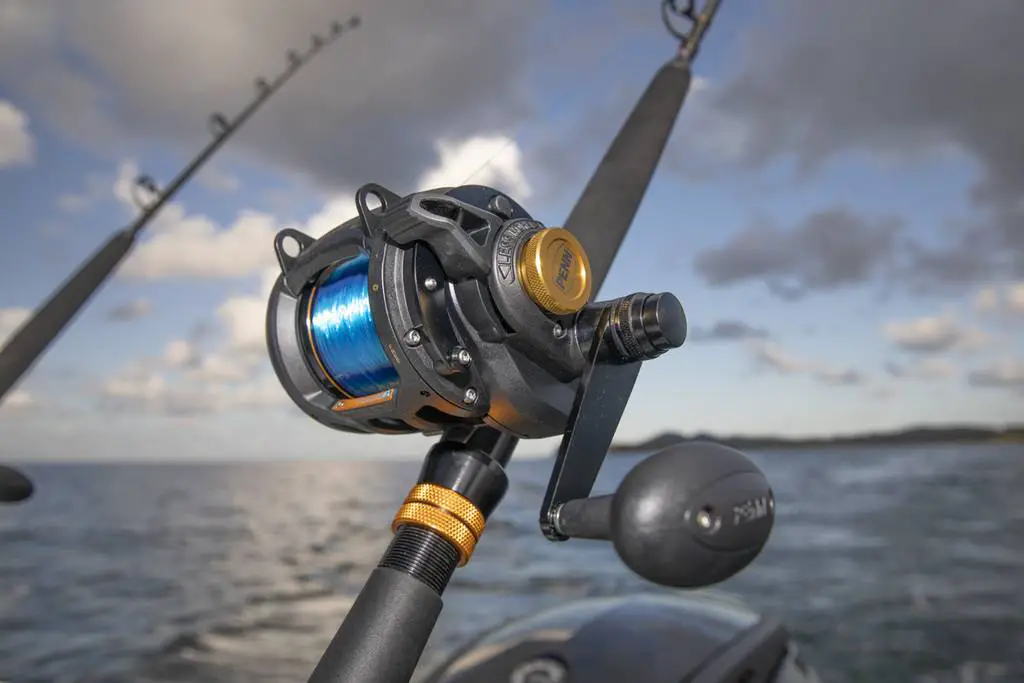 What I Like About It
The Squall's reel options include a 30, 40, 50 and 60 size reels that are all made to be both lightweight and perfectly capable of dealing with powerful, hard-pulling fish. These reels are designed with Dura-Drag washers, which eliminate drag hesitation, making them ideal for tackling monster offshore species like tuna, grouper, cobia and others known for making the drag scream on most reels. 
The price is affordable compared to most of the premium quality conventional rod and reel combos in today's fishing industry. The Penn Squall Lever Drag Combo is a do-it-all workhorse that you can use for trolling or bottom fishing. 
Pros
Workhouse design for trolling or bottom fishing
Can handle larger offshore fish species
Cons
Fiberglass rods can be relatively heavy
6. Daiwa BG Surf Combo
Smooth Digigear technology

1-piece, 100% graphite rod blank

Traditional cork handles
Daiwa is a favorite brand for many saltwater anglers because they produce rods and reels that are reasonably-priced and made for certain experience and performance levels. The BG Surf Combo is affordable enough for any serious surf fishing angler, but it offers a performance you might expect to find in a more expensive option. 
Daiwa makes these rod and reel combos with a rod ranging from 7' up to 10' long. If you're looking for a one-piece rod longer than 7', you'll have to find another option since Daiwa's 8', 9', and 10' version of the BG Surf Combo are all two-piece models. The rods are made with a carbon graphite blank material that gives you plenty of flexibility and power in your casts.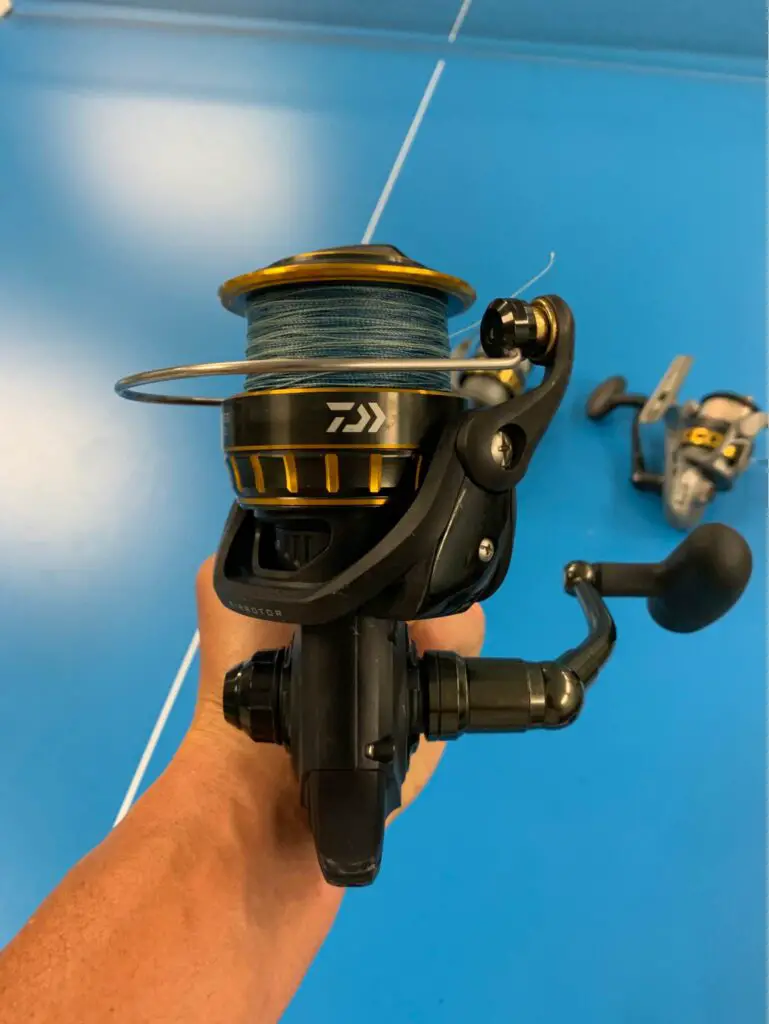 What I Like About It
The BG Surf reel is made with a 6+1 shielded ball bearing system and a Digigear Ultra-Smooth retrieve for easy casting and reeling in your bait. The reel is made with an aircraft aluminum body durable enough to land the largest saltwater species found along most shorelines. This reel also offers an aluminum spool and Twist Buster II line management system to ensure that you won't have to deal with twists in the line as you reel in. 
The Daiwa BG Surf Combo has a comfortable EVA handle and more than enough line capacity depending on whether you want to use mono or braid. This combo is great for beginners, but can also function well for experienced surf anglers. 
Pros
Large range of rod lengths up to 10 feet long
Suitable for surf and saltwater with an aircraft aluminum body
Comfortable EVA handle
Cons
7. Lew's Laser Lite Speed Spin Combo
High-strength solid brass Speed Gears

Premium HM30 high-modulus graphite blank

Premium full-cork and split-grip cork handles
Lew's is one of the top rod and reel manufacturers in the fishing industry when it comes to freshwater fishing products. They are mostly known for producing exceptional baitcasting reels, but many anglers are thoroughly impressed with the company's ultralight rod and reel combo. 
The Lew's Laser Lite Speed Spin Combo is our top choice for ultralight combos as it offers unprecedented smoothness in both casting and retrieval that lets you get great distance with even the smallest lures. 
What I Like About It
The Laser Lite rod is sold in 5', 5'5", 6', 6'6", and 7' options, all light or ultralight power. These rods are made using a super sensitive IM-6 light action graphite material ideal for trout fishing, panfish and any other small species you want to target in freshwater lakes and rivers. 
The reel is the best part of this package as it is made to the same exceptional standards that Lew's products are known for. The reel is designed based on a lightweight graphite skeletal body and 4-bearing graphite rotor that eliminates much of the excess weight you normally get with premium-quality reels. 
The rod and reel are visually appealing with their sleek silver finish and blue accents. This rod is not only one that will out-perform many competing brands' products. It's also sold at a very reasonable price and is incredibly fun to fish with. 
Pros
Ultralight specs suited for trout and panfish
High standard of construction
Appealing visual design
Cons
Not suitable for larger fish species
Not available in heavy rod options
Designed for freshwater
Rod and Reel Combo Buyer's Guide 
When it comes to purchasing a new rod and reel combo, there are a few factors you want to consider before you get started. Consider these points and you'll be able to select the rod and reel combo that best suits your needs. 
Getting the Right Length
Choosing rod length is more than buying the one that's easier to transport or cast. You should consider the type of fish you want to catch and whether the rod will offer enough durability to accomplish the task at hand. When looking at one, two, or three-piece rods, you should understand that a rod will be easier to carry from point A to B if you can break it down into pieces, but this also will limit its overall strength when fighting large fish. 
Understanding Rod Power and Action 
The difference between a rod's power and action confuses nearly every beginner or novice angler.
A rod's power refers to how much pressure it takes to bend the rod. A heavy rod is much harder to bend while a light rod is easier to flex. A good rule of thumb regarding rod power is to remember that a heavier rod is best for heavier fish. 
A rod's action is much different, as it refers to the specific section of the blank where the rod will bend the most. A slow action rod will bend throughout the entire blank while a fast action rod will bend more toward the upper third of the rod. 
Slow action rods are better for short casts and smaller fish while a fast action rod is better for getting the most casting distance. These fast action rods are also well-suited for catching larger-sized fish as you have greater ability to control the fish when it's in deep water. 
Which Rod Material is Best?
Regarding the different types of rod materials you can choose from, each one offers its advantages and disadvantages. For beginners, it's usually best to stick with a fiberglass rod because they are more affordable and easier to control vs graphite. The downside to a fiberglass rod is the decreased sensitivity and the fact that they typically outweigh the much lighter graphite rods. 
Avid anglers usually opt for a graphite rod because it gives them much more sensitivity, which allows you to feel a fish bite more easily. They are not quite as strong and are more expensive, so be aware of your limitations with a graphite blank. 
The ideal choice for most anglers is a rod made with a graphite and fiberglass blend. This obviously provides you with the best of both worlds as you'll have plenty of sensitivity while also getting enough durability to handle any species of fish you want to catch.