The secret to a good catch is organization. You will have a successful day regardless of your skills and experience if you have all your lures, terminal tackles, and baits in an easily accessible location.
Tackle boxes will provide the organization you need to make a good catch. Anglers have to make tough choices because they come in various sizes and shapes. When purchasing a tackle box for your fishing adventure, you must ensure it is the right fit.
The following guide will help you find the best fishing tackle box.
1. Plano Angled Tackle System
Plano has been at or near the top of the fishing industry for many years for producing the best tackle boxes in the game. Their Plano Angled Tackle System is one of the best values on the market today that offers anglers everything they need to get the job done on the water and focus on catching fish. 
The hard-shell outer case of the Plano Angled Tackle System makes it one of our list's most durable tackle boxes. The top section features clear utility compartments that are perfect for storing certain tools you might need at a moment's notice. 
This tackle box contains three of the 3600 size tackle trays, which is enough for most anglers to fit their most important gear and tackle items inside for a day's fishing trip. These three trays are protected by a clear plastic cover that helps lock out moisture and any other elements that might damage your tackle items. 
One of the most common problems associated with modern tackle boxes is finding a decent location to store plastic bait bags, which are known to take up considerable amounts of space. The Plano Angled Tackle System has two specialized side compartments which are perfect locations for storing plastic bait bags of all shapes and sizes. 
2. Ugly Stik Fishing Bag
Bestseller No. 1
Ugly Stik is one of the top brands in the fishing industry when it comes to making rods that are virtually indestructible. The company has gone to great lengths to satisfy customers in recent years by producing some new items, including fishing bags and tackle boxes. The Ugly Stik Fishing Bag is among the best tackle bags for the money and features everything you need in a compact, easy-to-carry bag. 
This tackle bag is made of soft-sided polyester material that is able to safely and securely hold a large amount of gear and tackle items inside. While some anglers prefer the durability and security of a hard-shell tackle box, there are plenty of advantages associated with soft tackle bags like the Ugly Stik Fishing Bag. 
Kayak anglers should find this bag to be especially appealing as it will allow them to access their tackle items without making too much noise in the same way a hard-shell box would. This tackle bag offers zippered compartments that ensure your gear and tackle items stay dry and protected from the elements. You can also rest assured that you won't lose any gear if your bag happens to fall into the water or is knocked over (as long as the zippers are closed). 
The Ugly Stik Fishing Bag comes with four large tackle trays that can be customized to fit each angler's specific needs. The waterproof bottom portion means you'll be able to set your tackle bag down on the wet ground or in a boat or canoe without worrying about water damage to it or what's inside. 
3. Flambeau Outdoors Classic Tackle Box
ON SALE $1.42 OFF
Bestseller No. 1
While so many top brands are working to out-do one another in developing new tackle box or bag models, sometimes anglers just want to keep things simple. The Flambeau Outdoors Classic Tackle Box is perfect for beginners and young anglers who don't need all of the extra compartments and added features that some high-end tackle boxes offer today. 
This tackle box features the classic look and feel that most experienced anglers will likely remember from their early days on the water. The box folds out upon opening to reveal the classic cantilever, two-layer tray design that has proved to be more than adequate for anglers of all kinds. 
The Flambeau Outdoors Classic Tackle Box offers 15 different compartments and 6 removable dividers with an oversized bottom section for storing larger tackle and gear items like fishing line, pliers, plastic bait bags and anything else. The box itself is made of durable plastic that's coated with specialized resin material that is made to be oil resistant, which helps guard against the damage that can result from simply storing a plastic worm in one of the trays. 
This product is one of the most affordable options on our list and is perfect for anglers of all skill levels. 
4. Flambeau Outdoors 3 Tray
ON SALE $12.26 OFF
Bestseller No. 1
The Flambeau Outdoors 3 Tray is one step above the previous model on our list. It offers anglers with the same classic cantilever design with three fold-out trays for greater amounts of storage. 
Anglers will find that the Flambeau Outdoors 3 Tray provides them with plenty of options for storing their most important tackle items, both large and small. The top tray features eight separate compartments with a large open tray section in the front. The second layer offers another eight large compartments, but provides eight partitioned smaller storage spaces that are perfect for keeping individual size weights and sinkers of all kinds. 
You can rest assured that there's little chance of losing the Flambeau Outdoors 3 Tray along any overgrown bank or shoreline as it is made with a neon-green and black color that is stylish, yet hard-to-miss. 
5. Flambeau Outdoors IKE 400 Tackle Bag
You're almost certain to have a solid product on your hands if it bears the name of a professional angler like Mike Iaconelli. The Flambeau Outdoors IKE 400 Tackle Bag is another great option from Flambeau Outdoors, which has been in the fishing industry since 1947. 
This particular tackle bag is designed for highly-skilled or professional anglers who require well-made tackle bags and offer plenty of storage space packed into a tight, compact format. The bag can be carried with an oversized duffle-bag strap or suitcase-style handle for convenience. 
The  Flambeau Outdoors IKE 400 Tackle Bag offers a durable, water-resistant exterior layer that is capable of protecting your tackle from the outside elements. The interior consists of four separate 4007 Tuff Trainer tackle trays that offer plenty of customizable storage space for a variety of lures and tackle items. 
This tackle bag features two large zippered compartments on either side and an oversized front pouch with multiple zippered spaces. The top of the tackle bag can be quickly closed thanks to two quick-snap latches that protect the tackle trays and prevent them from falling out if the bag is knocked over. 
6. Litebee Terminal Fishing Accessories Set 
ON SALE $9.00 OFF
Bestseller No. 1
Sometimes the best tackle box for the job isn't necessarily the largest or one that offers flashy aesthetics. The Litebee Terminal Fishing Accessories Set is a tackle box that might not look like much on the outside, but it's filled with essential tackle items that are neatly organized and compacted in a way that any angler will find useful. 
The Litebee comes with a whopping 263 tackle items that range from everything including hooks, bobbers, sinkers, pliers, swivels, and just about anything else you might need on the water. Everything included in this kit is quite small compared to most other lures and tackle items used by highly-skilled or professional anglers. 
The Litebee Terminal Fishing Accessories Set is ideal for young anglers or beginners who can use the many different tackle items neatly-compacted inside this small box. This is an excellent item to keep inside your other, larger tackle box as a means to easily organize some of your most important tackle items that sometimes take up large amounts of space. 
7. Wakeman Outdoors Tackle Box 
The Wakeman Outdoors Tackle Box is another classic design by a reputable company that's been in the fishing industry for a while. This tackle box is nothing fancy as it features just what an angler needs to get down to business and focus on catching fish. 
The tackle box resembles a common toolbox and offers anglers with enough space to store their most important tackle and gear items inside or on the top portion that's guarded by a clear lid. The Wakeman Outdoors Tackle Box comes in multiple color options and is perfect for catfish anglers and those who regularly utilize natural baits since the interior is large and more suitable for basic tackle items instead of individual artificial lures. 
This design is made from highly durable plastic material and comes with many tackle items that any anglers will find useful. In addition to jigs and hooks, the Wakeman Outdoors Tackle Box also includes bobbers, pliers, and a few artificial lures that are capable of functioning as a multi-purpose item that can catch almost any kind of fish. 
8. Catchmeister Fishing Lures Baits Tackle Box and Lure Kit
Big things sometimes come in small packages. Such is the case with the Catchmeister Fishing Lures Baits Tackle Box and Lure Kit, which includes a surprising amount of artificial lures that are perfect for catching a wide variety of freshwater game fish species. This small, compact tackle box is perfect for beginners, or kayak anglers who are often fishing from a confined cockpit with free space at a premium. 
The tackle box is made of ABS plastic material that can lock out moisture and keep water from seeping in thanks to a waterproof rubber belt that encompasses the box's exterior. The top and bottom portion of the Catchmeister Fishing Lures Baits Tackle Box and Lure Kit opens to reveal two neatly-packed inset trays filled with various baits and tackle items. 
This model is an excellent value and comes with artificial plugs, jerkbaits, frogs, poppers, and many other lures that would normally cost anglers much more than the tackle box itself is priced at. This heavy-duty product is well-protected and will serve as the perfect gift to a young or beginner fishing enthusiast. 
9. Sougayilang Fishing Tackle Bag
ON SALE $14.01 OFF
Bestseller No. 1
Sougayilang is among the most popular worldwide fishing tackle and equipment companies in the industry for good reason. They've worked for years to establish a reputation for producing high-quality products for affordable prices that appeal to a wide range of anglers. The Sougayilang Fishing Tackle Bag is no different as it offers anglers with everything they need to have a successful day on the water. 
This tackle bag is made with a soft-sided polyester material that is quiet and easy to carry just about anywhere. The exterior features a number of side and front pockets that are perfect for storing all kinds of gear and tackle items. The Sougayilang Fishing Tackle Bag also offers a specialized velcro rod holder section that is perfect for latching your two or three-piece fishing rod on when you have to hike in to get to your favorite fishing spot. 
While this tackle bag is a bit more pricey than some on our list, it offers some premium features that skilled anglers certainly should look for in a tackle bag. The bottom is fitted with a waterproof cover to help prevent moisture and water from seeping in when you sit the bag down on the shoreline or in any vessel. 
The Sougayilang Fishing Tackle Bag comes with a comfortable duffle bag style strap and high-quality water-resistant material. Best of all, it can store up to seven 3600 size tackle trays. 
10. Plano Guide Series Tackle Bag
Our list of the best fishing tackle boxes wouldn't be complete without mentioning Plano's Guide Series Tackle Bag. This tackle bag is a bit more expensive than others on our list, but it is made for serious anglers who require the very best for their fishing equipment and tackle items. 
The exterior is made of soft, waterproof Nylon material that is a stylish, classic tan color which gives the Plano Guide Series Tackle Bag a very professional overall look. This tackle bag includes five of Plano's 3500 size tackle trays, which should be plenty of storage for most anglers. 
This tackle bag offers a Dropzone Magnetic top which makes it possible for anglers to safely place metal items on the top of their bag without the risk of them sliding off into the water or banging on the bottom of their boat or kayak. The bag exterior is made with rugged 1680 Denierfabric, one of the industry's toughest materials. 
The bottom is made with a rubberized foot pad material to help prevent the Plano Guide Series Tackle Bag from sliding around, which helps to also prevent you from losing any lures if the bag slides and flips over like so many tackle bags are prone to doing. The bag also features a waterproof section that's perfect for holding all kinds of valuables and any other items you want to store and keep safe and sound from the elements. 
Tackle Box Buying Guide
Anglers have two available options when it comes to tackle boxes. You can choose to go with a rigid or a soft tackle box. Here is everything you need to know about different types.
Types of Tackle Boxes
Hard Tackle Boxes
Hard tackle boxes have been in the market for quite some time now. They are the go-to option for any angler who needs a stable and robust alternative. These types of boxes guarantee durability because of these properties.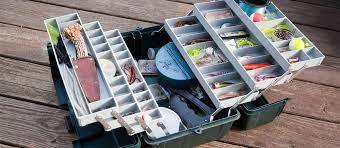 Soft Tackle Boxes
Soft tackle boxes have become a great option for anglers who prefer flexibility and a water-resistant option. They have several waterproof shells that will accommodate all your fishing equipment. The good thing is that you only need to carry what you need.
Things to Keep in Mind
You will have to look at some essentials to purchase the right fishing tackle box for your needs. Below are some of the crucial things to look at when choosing a fishing tackle box.
Look at the Guarantee
It is essential to look at the manufacturer's statement of guarantee before you purchase a fishing tackle box. A manufacturer that offers a long-term guarantee trusts the quality of the product they sell.
Consider the Size
The size of the fishing tackle box is the other essential thing you should have in mind. It would be best to make sure that you can fit all your fishing gear. At the same time, it is vital to think about flexibility while looking at the size.
Check the Organization Options
Another critical factor you need to look at when choosing a fishing tackle box is the organization options. Ensure that you select the ideal levels of trays that will help you store all your fishing gear. Other organization options you need to look at is the secure latches and slots that can be adjusted.
Look at the Durability
It is also essential to make sure that you look at the durability of the fishing tackle box. Picking a durable product will save you money since you do not have to purchase a new one anytime soon.
Make Sure Its Waterproof
When choosing a fishing tackle box, make sure that you choose one that is waterproof. This will help you prevent your hooks and swivels from rusting. It will also protect your fishing gear from rusting.
Features to Look For
The features of the fishing tackle box that you will purchase will determine its efficiency. Here are the top features to look for:
Size
When it comes to size, you should think about your current and future needs. The best thing to do is purchase a fishing tackle box that will fit your gear now and in the future. You also need to know that you will be carrying the fishing tackle box with you always.
Gear Storage
Another crucial feature that you should look for in a fishing tackle box is gear storage. The ideal tackle box to purchase is one that will accommodate all your fishing gear. Apart from storing your hooks and reels, it should also store your lunch, hot coffee, and flask.
Several Compartments
It is advisable to purchase a fishing tackle box with several compartments to store your lures, hooks, and sinkers. This will keep your delicate stuff safe while offering additional accessibility.
Materials
A wide range of materials is used to make fishing tackle boxes. It would be best if you settled for a material that will offer what you need. For example, you should go for a durable fabric if longevity is your primary consideration. Lightweight materials will work for you if you do not want to carry heavy fishing tackle boxes.
Waterproof Quality
Keeping dry while fishing is impossible. Therefore, you should purchase a fishing tackle box that will keep your fishing gear dry. Moreover, it should be resistant to rust.
Why You Need a Fishing Tackle Box
The primary purpose of a fishing tackle box is to store your fishing gear. Here are some of the fishing gear you can keep:
Extra Line
It is always wise to carry an extra pair of fishing lines with you. A fishing tackle box will provide you with the convenience of having additional lines.
Extra Hooks
You can also take additional hooks with you on your fishing trip when you use a fishing tackle box. Remember to carry different sized-hooks for all your fishing needs.
Floats
Floats, floaters, or bobbers – They help keep the line and hooks on the surface of the water.
Sinkers
You will need sinkers to get to the fish. Always pack sinkers before you go out on your fishing adventure.
Sunscreen
Every savvy angler knows that carrying sunscreen is essential. Sunscreen will help protect your skin from deadly ultraviolet radiation and burns.
Additional Tools
Carrying additional tools like pliers, nail clippers, first aid kit, and pliers with you is always a good idea. The knife will enable you to gut your catch while the pliers will bend your fishing gear's metal components. You will need a first aid kit to treat a small injury or cut.
How We Rate Products
Russ Egan and Donny Karr have over 40 years of combined fishing experience. They know the difference between a high-quality reel and a poor alternative.
We thoroughly review all products to measure their performance, durability, and value for money. This is done through bench and field testing to check how the product performs. Each reel is tested at least 8 hours, with a full test taking 2 full weeks. This testing results in an overall score that I give to all products. All metrics are scored out of 5.
Performance
The performance score is how well this product fulfills its primary purpose. Does it have all the features and optional extras you need to catch the target species? We also interview expert anglers on their experience to build a broader and more comprehensive view on the performance under multiple conditions.
Test 1: Confirm that the max drag meets the manufacturer's specifications.
Test 2: Test the maximum casting distance using a 1.0-ounce lure.
Test 3: Test the accuracy by casting 10 times into a 3 ft diameter circle at 30 yards.
Test 4: Check the versatility and the ability to handle multiple uses by field testing with 3 different lures and baits.
Durability
Durability refers to how long the product will continue functioning. I twist, bend, and break all the products to check their longevity. This score is for the materials of construction, the quality of the workmanship, and the servicing requirements. There are also bonus points for manufacturers' warranty.
For products that we can't test for long enough, we also consult with experts who have been using them for multiple decades to judge their longevity.
Test 5: Pull it apart to check the grease and oil levels, how difficult it is to maintain, and whether any sand or salt has deposited after use in saltwater.
Value for Money
The final aspect of the scoring system is the price or, more specifically, the value for money. Value for money is a comparison against the closest alternative products, both by the same manufacturer and other brands.
Overall Score
Finally, I average the three scores of performance, durability, and value for money to give the overall score of each product reviewed.
To see more details, please read the complete guide on how we test and evaluate fishing products.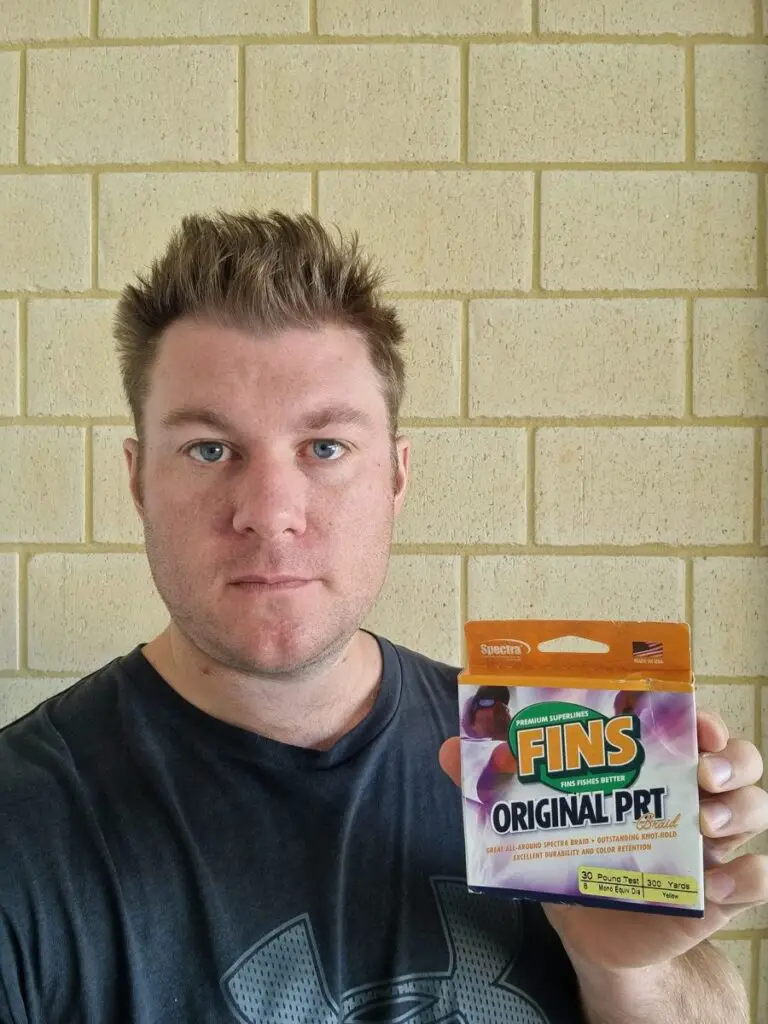 Conclusion
Once you have selected your product, managing all of your tools is an entirely different topic.
The best way to ensure value for money is to look for durability. A tackle box is something that you will want to last for years to come, so selecting one made from high-quality materials is always advantageous.
If you have any experiences with tackle boxes that you can share with our readers, please leave a comment below so everyone can learn from your wisdom.
Happy fishing!
Last update on 2022-11-29 / Affiliate links / Images from Amazon Product Advertising API