The best backpack tackle boxes have adjustable waist and shoulder straps for comfort, a chest strap, 3-4 plastic trays for all your tackle, and are made from durable Kevlar material.
The Osage River Fishing Backpack is my top choice because it is comfortable, durable, and adjustable. It features a sternum strap and hip belt, rod loops, external webbing, and padded shoulder straps. It is ideal for anglers who have to travel long distances from your truck to your fishing spot.
Certain items are critical for any experienced angler – a rod, a reel, a fishing fillet knife, a cooler, and a tackle box. A modern take on the tackle box is the backpack tackle bag – everything you need for an extended fishing trip with the straps to comfortably hike to those hard-to-reach locations.
Adjustable and comfortable shoulder straps
Easily accessible external webbing
2 external pockets
Store rods through side loops
I purchased my first backpack tackle bag a few years ago, which changed everything. It allows you to carry a lot more equipment and still gives two hands-free for carrying your rods. If you are hiking to an inaccessible location, I recommend upgrading your tackle bag. This is essential gear to own for any dedicated fisherman.
When you are walking for miles to get to a distant river filled with salmon the last thing you want is to have both hands full of rods and tackle boxes. Switching over to a backpack-style tackle bag is a fantastic way to travel further comfortably.
I have put together a review of the top 10 bags on the market available at the moment. I have also listed some key features you should know before deciding in a simple buyer's guide. I have used tackle backpacks for over a decade and have a lot of strong opinions about the features that matter and those that don't.
1. Osage River Fishing Backpack 
Side Loops for Fishing Rods
Outside Webbing for Quick Access
Adjustable Shoulder Straps
Hip Belt
Features
Adjustable and comfortable shoulder straps with padding and mesh to breath
Sternum strap and hip belt to distribute the weight evenly
Rod storage through the side loops
Webbing to store pliers and tools for easy access
Main storage compartment for tackle boxes and 2 external pockets for tools
My Impressions
The first tackle bag on our list is the Osage River. As you can see from the photo it is highly adjustable with straps and storage loops everywhere. There are multiple internal and external compartments, as well as webbed storage for easy access to essential tools.
The bag is slightly smaller than other options depending on how much tackle you want to carry with you. It is also bright orange which may scare off particularly skittish fish.
The combination of the hip belt and sternum strap means that you can get a really comfortable fit and evenly distribute the weight.
I also like the rod storage that you can slip through the loops, however, I generally don't use them.
Pros
The hip belt secures the bag to your center of gravity
Fishing rods can be secured through side straps
Cons
Smaller than some of the other options
Bright orange can be very visible if you want to travel quietly
2. Wild River Tackle Tek Nomad Lighted Backpack
Features
Lighted LED system to help you change your tackle even at night
Dedicated sunglasses holder on the top
Removable pliers holder for easy access
Inbuilt rain cover to protect your gear from the elements
The front pocket provides a workbench
My Impressions
The Wild River bag design is one of the best available. They are also available in various colors and designs, even camouflage. The dedicated sunglasses storage on top is a good addition to protect them from scratches on other equipment.
They also have a fantastic LED system to help you fish at night – tying knots or swapping lures is impossible in the dark.
The straps are also extremely wide and comfortable, particularly if you hike miles from your truck to the river.
There are some reports of poor-quality zippers and seams, but I don't think you will find better quality in other manufacturers.
Pros
LED system to help fishing at night
Separate sunglasses case so they don't get scratched
External storage for miscellaneous items
Cons
Can have some zipper and seam quality problems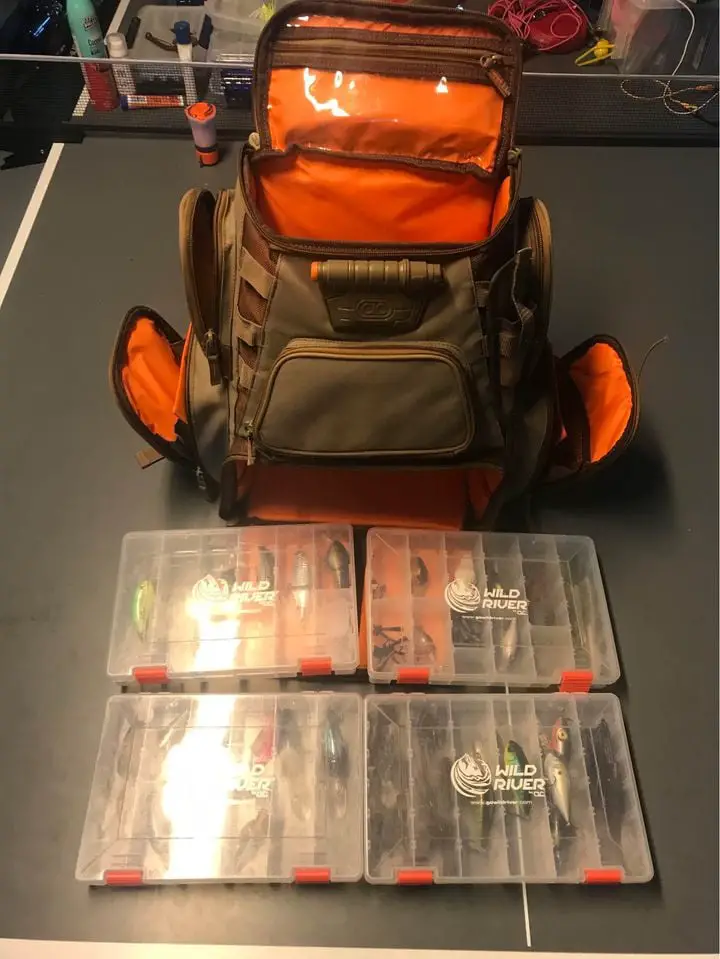 3. SeaKnight Waterproof Outdoor Tackle Bag
Features
Large storage area with a removable divider for better organization
Four side zippered pockets
Two mesh pouches for easy access
Made from 1000D nylon polyester fabric that is water-resistant
Rugged anti-scratch base
Comfortable straps
My Impressions
The SeaKnight tackle bag offers more rugged and durable options. The anti-scratch base can happily be left on the river bank or the sand without concern about damage.
It can also be highly customized with removable internal walls. This allows you to fit different-sized equipment and plastic tackle boxes. It is water-resistant to protect your gear from splashing or even kayak fishing capsizing.
The downside is that it is not as stylish as some other models with its boxy design. 
Pros
Water-resistant to protect your gear from saltwater
Comfortable straps
Cons
Not as stylish as some of the other options
4. Lixada Fishing Tackle Backpack
Adjustable Removable Divider
Adjustable Shoulder Straps
Rugged Base Pad
Two Mesh Pouches
Features
Large internal storage area with a removable divider for better organization
Four zipped side pockets and two mesh pouches
Adjustable and padded shoulder straps for comfort and fit
Rugged anti-scratch base
Padded mesh back
My Impressions
The fourth backpack tackle bag on my list is the Lixada model. 
Like the previous option, this bag has a removable divider to fit different sizes of plastic tackle boxes inside. It has plenty of small pockets to put your pliers and other essential tools within easy reach.
It is also more heavy-duty with a rugged base, so you don't need to be concerned about using it on a riverbank or rock face.
Personally, I'm not too fond of the bright green internals, but this is purely an aesthetic issue. But I do love the camouflage external design.
Pros
Lots of external storage options
Padded mesh back for extra comfort
Cons
5. Kingdom Multifunctional Fishing Backpack
Heavy Duty YKK Zippers
Thicker padded back panel
1000D water-resistant nylon
Breathable adjustable shoulder strap
Features
Made from 1000D waterproof nylon fabric
Heavy-duty zippers and finished seams
Adjustable straps for any length and size
Multiple pockets of various sizes so that everything has its place
External water bottle holder
Rod holster on the side
My Impressions
The Kingdom fishing bag is certainly one of a kind – with a unique brown fishing lure design. You will never lose it or mistake it for someone else's bag.
It also has many external pockets, all of different sizes – so you can find a suitable storage place for all of your essential tools and tackle.
It has a rod holster on the side, although I rarely use them (I prefer to carry my rods), and an external water bottle holder, which certainly comes in handy.
Kingdom has also focused on the quality of their seams and zippers, which has proved to be a failure in the other options.
Pros
Water bottle storage location
Fish styled design
Waterproof nylon design
Cons
A striking style that might not suit everyone
6. Shimano Blackmoon Fishing Backpack
600D Polyester
Heavy Duty Zips with easy grab tags
Strong enough to handle the heavy loads
Features
Thick padded shoulder straps for comfort
Heavy-duty fabric material
Mesh rod holder on both sides
Includes 2 Plano plastic tackle boxes but can fit more inside
Zippered front compartment and side pockets
My Impressions
As far as I am concerned, Shimano are the masters of fishing equipment, and this tackle bag is no exception. This is a no-nonsense bag that can fit 4 plastic tackle trays (although it only comes with 2).
It has two side rod holders and side pockets for easy access to knives and other tools. The bag is made from a heavy-duty fabric to prevent rips, tears, and damage.
It does not have as many individual pockets as other options, so you may need to place multiple tools in the same storage location.
It is also styled in classic Shimano black and white design.
Pros
Shimano are the premier fishing manufacturer
Built-in rod holders
Cons
Not as many external storage compartments as other options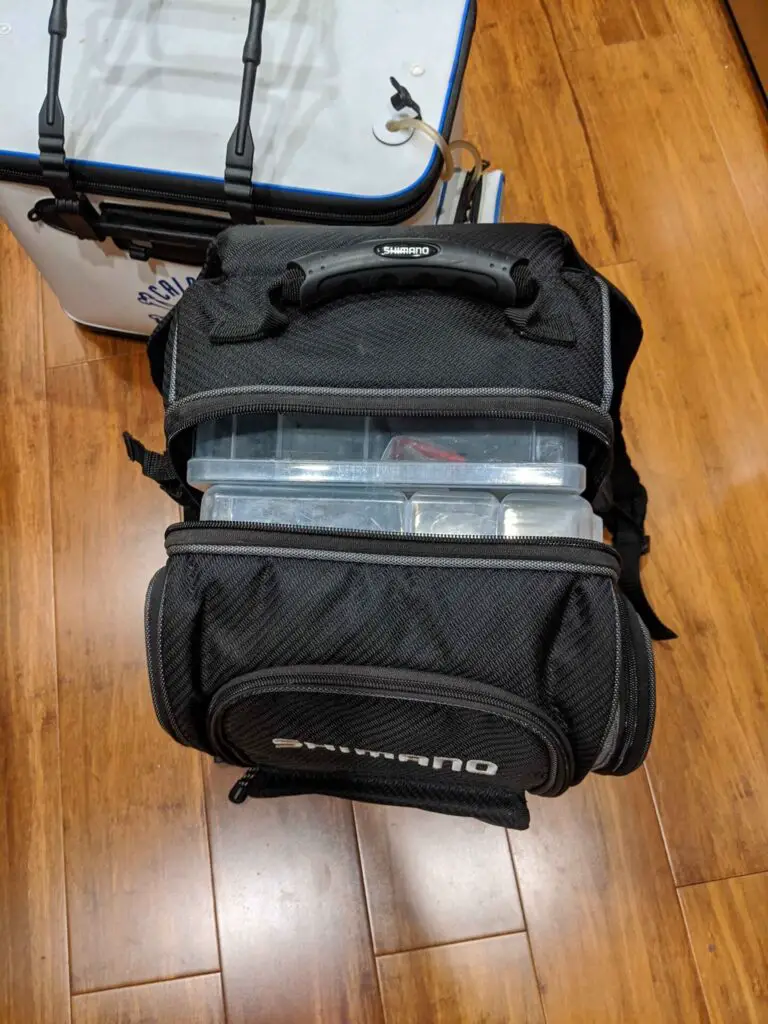 7. Wild River by CLC 503 Tackle Tek Recon
Clear internal pocket
Integrated LED light system
Protective rain cover
Removable self-retracting steel cable lanyard
Features
Integrated LED light system to tie knots at night
Web loops to secure tools
Mesh pockets to view tackle easily from the outside
Large padded and adjustable shoulder straps
Includes 4 x PT3500 tackle trays
My Impressions
Another Wild River tackle backpack, this Tackle Tek Recon is a good option. It is comfortable, adjustable, and stylish. I particularly like the forest design, especially compared to boring, boxy alternatives.
It comes with 4 tackle trays so you don't need to purchase anything else to go with it.
The shoulder straps are wide and have good padding for extra comfort.
It has multiple external pockets for individual tools and mesh exteriors to see exactly what you want. Some criticism has been that this bag is not entirely waterproof, so consider that.
Pros
LED light system to help fishing in the dark
It comes with tackle trays so you don't need to purchase extras
Cons
Not completely waterproof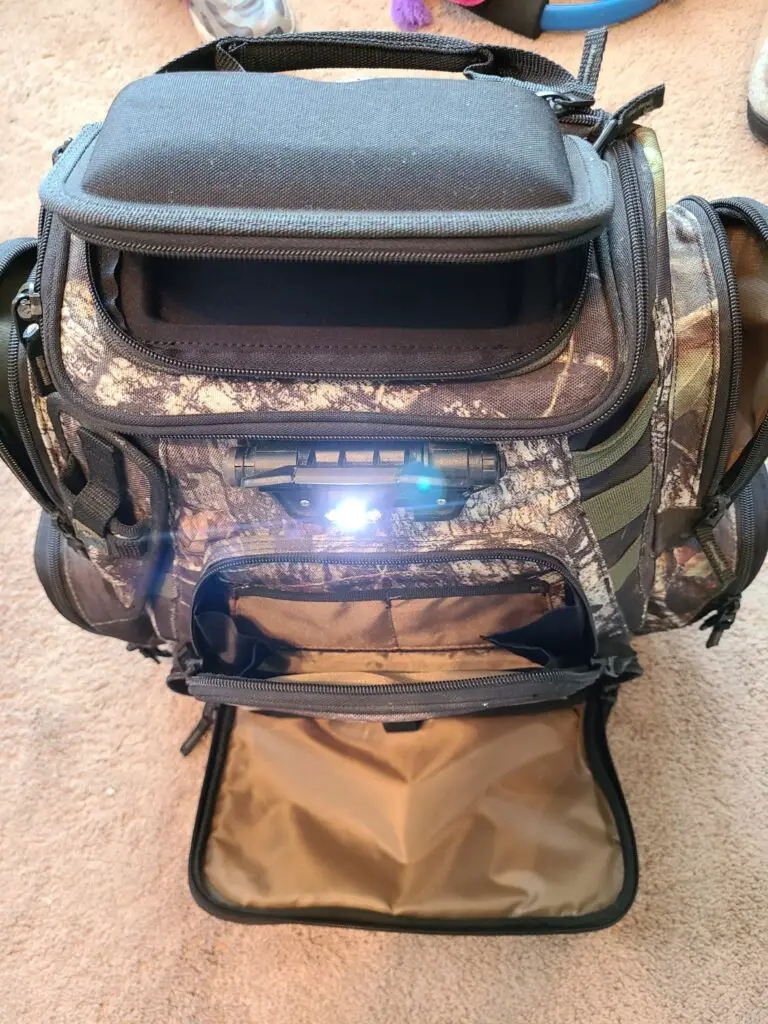 8. Daiwa D-Vec Tactical Travel Reel Case
Nine Polycarbonate and Honeycomb Divider
Built for the needs of the traveling angler
Several Outside Compartments
Features
Multi-purpose fishing tackle backpack – can be used at the river bed, in the boat, or at home
Multiple external zippered pockets
Wide, padded straps for comfort
Large internal compartment
My Impressions
For that reason, I have included this Daiwa backpack – it is more like a normal backpack than a tackle bag. If you want something that is multi-purpose without spending a fortune then this is it. It could just as easily be seen in the schoolyard as on the boat.
It has multiple external pockets, good quality zippers, and a large internal compartment where plastic tackle boxes can be stored.
The straps are also wide and padded, so they are comfortable carrying, regardless of the scenario or cargo.
It has been highlighted as not waterproof, so you may want to keep it undercover when there is bad weather to protect your equipment.
Pros
More like a normal backpack than other options – can be used for other applications.
Cons
Not highlighted as particularly waterproof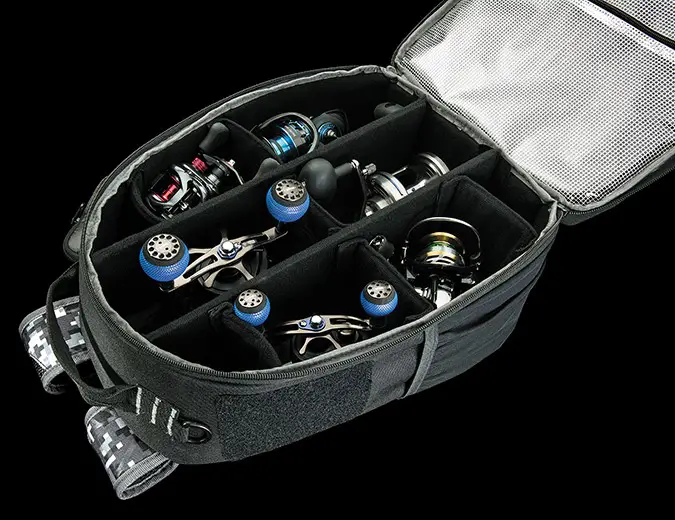 9. Wild River Nomad LeatherCraft Tackle Tek
Integrated LED light system
Storage of up to 4 medium trays
Permanently mounted molded sunglass holder
Front pocket cover folds down
Features
3 level LED light system to allow you to fish at knight
5000 mAh rechargeable USB power supply
Includes 4 medium tackle trays and 2 small tackle trays
Additional Accessories – solar panel sold separately
My Impressions
This is the 3rd Wild River backpack on the list because they make incredible designs. This Nomad Leathercraft is built for modern fishermen who rely on technology. It comes with a 3-level LED light system to allow you to fish at night.
It also comes with a 5000mAh rechargeable USB power supply with multiple ports available to charge your phone, other lights, or anything else you might need at your campsite.
Incredibly it also has a solar panel accessory available so you can remain in remote locations and fully charged indefinitely.
This is a premium product at a premium price.
Pros
It comes with tackle trays to store your hooks and sinkers
LED system to fish at night
Optional solar panels allow you to fish for weeks fully charged
Cons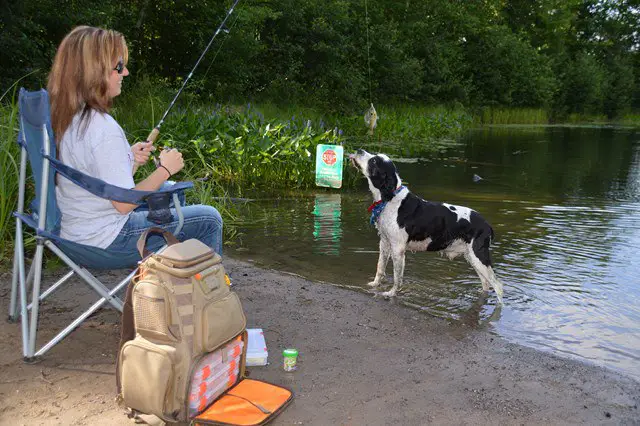 10. Lunkerhunt LTS Tackle Backpack
Splashproof fast-entry openings
Comes with 2 adjustable rod holders
Adjustable, padded straps
Features
Zipperless construction
2 adjustable rod holders
Splashproof fast-entry openings
TPW-coated waterproof fabric
My Impressions
The final tackle bag on our list is the Lunkerhunt LTS. It has gone in a different direction and has a zipperless design. The material is waterproof, which is a problem with some other options.
The boxy design is not particularly aesthetic or stylish. However, it does mean that the large internal compartment can fit a lot of tackle and tackle trays.
It has adjustable rod holders on the side.
Pros
Waterproof fabric design
Adjustable rod holders
Cons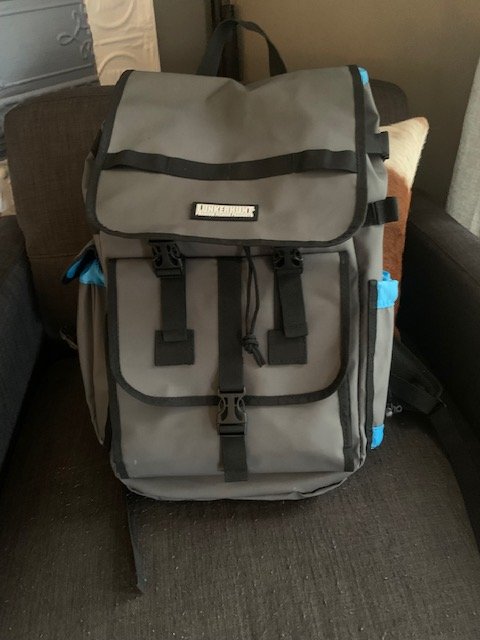 Backpack Tackle Bag Buyer's Guide
There are dozens of good options for backpack tackle bags on the market – and picking the right one for your needs can be difficult. We have compiled a few key features for you to consider before purchasing.
These design features and materials can be the difference between a bag that will last for years and one that will fail during your first trip.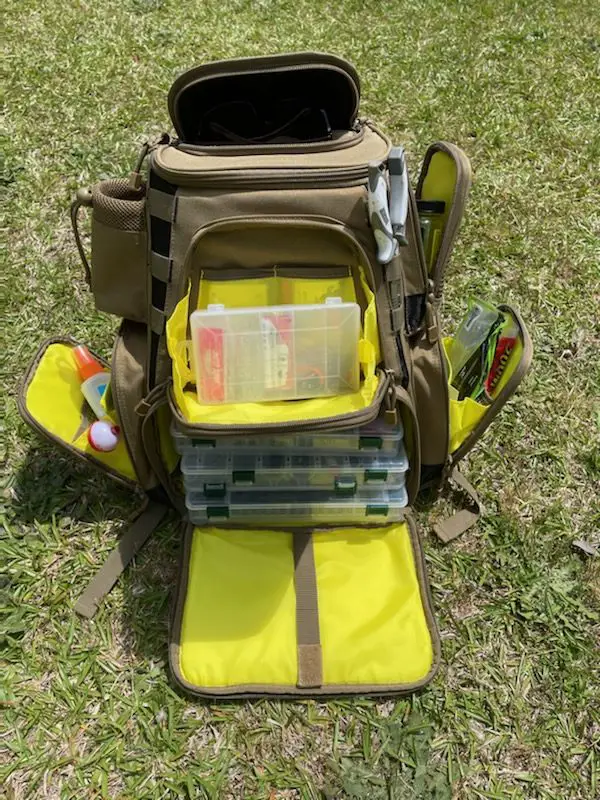 Bag Size
How much tackle do you need to carry with you? The answer is always less than you think. But the last thing you want is to need that particular lure you didn't pack because your bag was too small.
Pick a bag that is large enough to carry everything you need.
Also, consider the tackle size and tools you want to carry. If you want additional hooks and sinkers, you will want extra space for tackle trays. But if you want extra knives or pliers, you may want an option with extra external compartments.
Some bags also have a dedicated place for sunglasses to protect them from scratches and damage.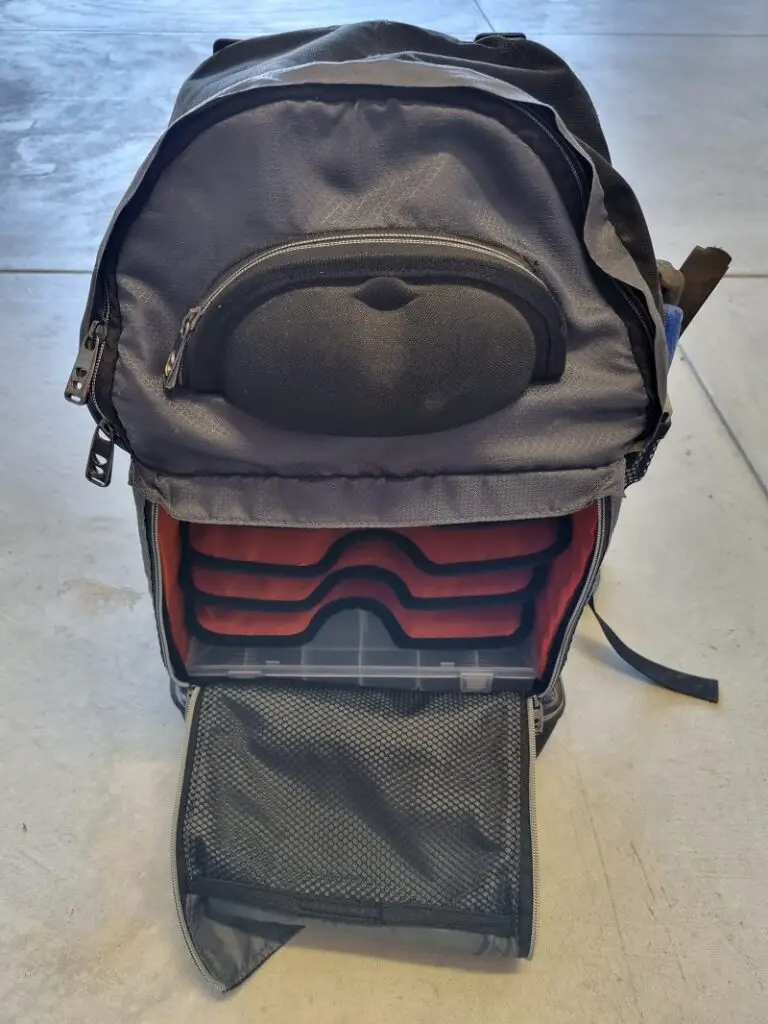 Straps
The backpack strap design and material are crucial to comfort. Your tackle bag can get very heavy when filled with knives, pliers, tackle, and braided line. Getting comfortable straps is important to carry your bag for miles from your truck to the river.
Our recommendation is to get a strap that has wide padding attached. Like a school backpack, you can get a pretty good idea of how comfortable it is by looking at the photos and reviewing the reviews.
Durability
Wear and tear on a bag like this can be high. Either from accidental knife strikes or tree branches when hiking to your fishing destination. So making sure you select a bag made from a durable material is important to get a long life.
Getting a long life out of your bag is the best way to get good value for money. Kevlar or nylon are strong fabrics that will last a long term.
Tackle Storage
Most bags have multiple storage trays for keeping your tackle in individual compartments. The number of trays you need depends on your own personal fishing style and requirements.
If you want more then I would suggest going for 3-4 trays, but if you only use the same few items every time then maybe 1-2 trays are sufficient.
Conclusion
There are also some great comparison sites and guides available on the internet.
Please let us know which bag you selected and why in the comments below. This helps us provide more information on our fishing gear reviews.