The best fish bags are large enough to handle your catch, sturdy enough so a spine doesn't pierce them, insulated enough to keep your catch cold, and easy to clean out blood, such as the Canyon Insulated Fish Cooler.
If you're fishing in freshwater or saltwater, one of the most prominent concerns anglers have is keeping their catch fresh. This applies to anglers who are simply fishing for fun along the coast, or for tournament fishing anglers who need to keep their fish in a suitable container so they can transport their limit to the weigh station. 
In either case, a fish bag comes in extremely useful and is often the difference-maker in whether your fish remain alive after weighing in, or whether they stay fresh until you can get them cleaned and on the grill or in your freezer. Thankfully, there are a plethora of different fish bags out there that you can choose from that will keep your catch in good condition. 
We've done the research on some of the top brands in the fishing industry and combed through the reviews and other information related to each product to compile this article that designates the best fish bags on the market right now. 
1. Elkton Outdoors – Best Insulated Fish Bag
A close second on our list of the best fish bags is the Elkton Outdoors Insulated Fish Bag. This one has many similarities to the Canyon models, but is priced at a more reasonable rate that most anglers can afford. It comes in two different sizes, a 60-inch version and a 40-inch version that can both be used for nearly any type of fish species, including saltwater and freshwater. 
The Elkton Outdoors Insulated Fish Bag is made of closed-cell insulation material that ensures the contents inside won't be affected by the outside temperature or weather. The exterior of these fish bags are made of heavy-duty material that's puncture-proof, so you won't have to worry about a hook or knife accidentally tearing a hole in them. 
The interior of the Elkton Outdoors Insulated bag is made with non-stick material, which is much easier to clean as you won't have to worry about fish guts, scales, or filets sticking to the interior and being harder to clean. This one offers reinforced stitching on the seams and four heavy-duty carry handles for anglers who like to go after trophy-sized fish. 
I was particularly impressed with the handles for this bag, which the Canyon bag lacked.
Pros:
Made of heavy-duty material
Reinforced seams
Puncture-proof exterior
Non-stick interior
Cons:
More expensive than most brands
Only comes in two sizes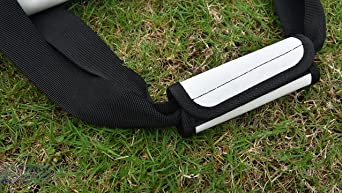 2. Canyon Insulated Cooler – Best Value for Money Fish Bag
If you're looking for the absolute best fishing bag money can buy, the Canyon Insulated Fish Cooler is truly hard to beat in terms of overall quality, versatility, durability and nearly any feature you could want in a fish bag. It's products like the Canyon Insulated Fish Cooler that are truly revolutionizing the fishing industry as this fish bag can really work as a replacement for a large, bulky cooler in a lot of settings. 
Voted as the 2016 "Gear of the Year" item by Florida Sportfishing Magazine, the Canyon Insulated Fish Cooler comes in a variety of different sizes that let each angler select the one that's just right for their own personal needs. These bags come in 15 different sizes that let you store anything from a large wahoo, swordfish, tuna, and other saltwater species to 20 x 12 size bags that are ideal for trout fishing. 
Obviously, the price of these fish bags are going to be more than the average angler wants to spend, but serious fishermen should see these well-made products as a worthy investment that will last a long time. The bags are made of heavy-duty material that's heat-sealed to ensure that nothing leaks out—including cold air or water. 
These bags even come with a small drain plug that a hose can be attached to for easy cleaning. The largest size can hold up to a whopping 300 pounds of weight inside, making these bags perfect for trophy anglers. Best of all, they come with a Lifetime Warranty from Canyon. 
When I tested this bag I could put 2 large striped bass inside along with a few smaller fish and plenty of ice, but I'm sure it could've fit more inside.
Pros:
Come in 15 different sizes 
Made of heavy-duty material 
Leak-proof interior
Drain plug/hose hookup
Lifetime Warranty
Cons:
Expensive 
It doesn't have good handles to carry a heavy bag comfortably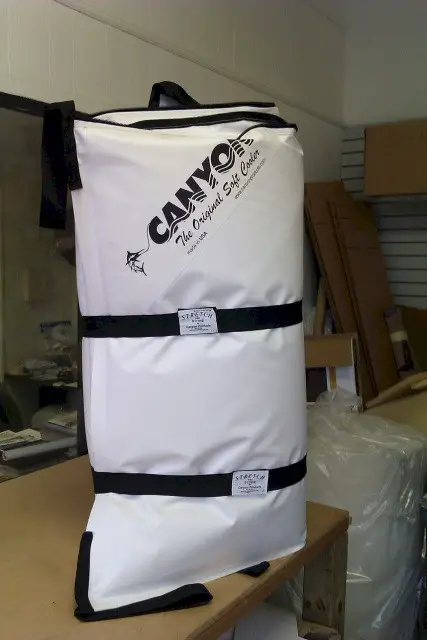 3. Silver Horde Katchkooler II – Best Insulated Fish Bag
The Silver Horde Katchkooler II Insulated Fish Bag is easily one of the best fish bags you'll find on the market today and it's on our list for a few good reasons. This bag is ideal for saltwater anglers and those who like to catch Northwest steelhead and salmon because it has the length needed to comfortably hold these fish. 
The Silver Horde Katchkooler II is made with insulated foam that helps protect your fish, as well as any ice or cooling packs you keep inside. The outside of the bag is made with waterproof fabric that helps ensure that the interior's contents won't be compromised if it gets wet. The seams, reinforced handles and twill straps are also very well-made and capable of holding dozens of pounds of fish without tearing or incurring damage. 
The Silver Horde Katchcooler II is priced at a reasonable level that virtually any angler can afford and it's 40 x 16 dimensions make it possible to hold just about any fish you want to carry inside. 
Pros:
Outstanding value
Made of heavy-duty material 
Leakproof 
Reinforced handles and straps
Cons: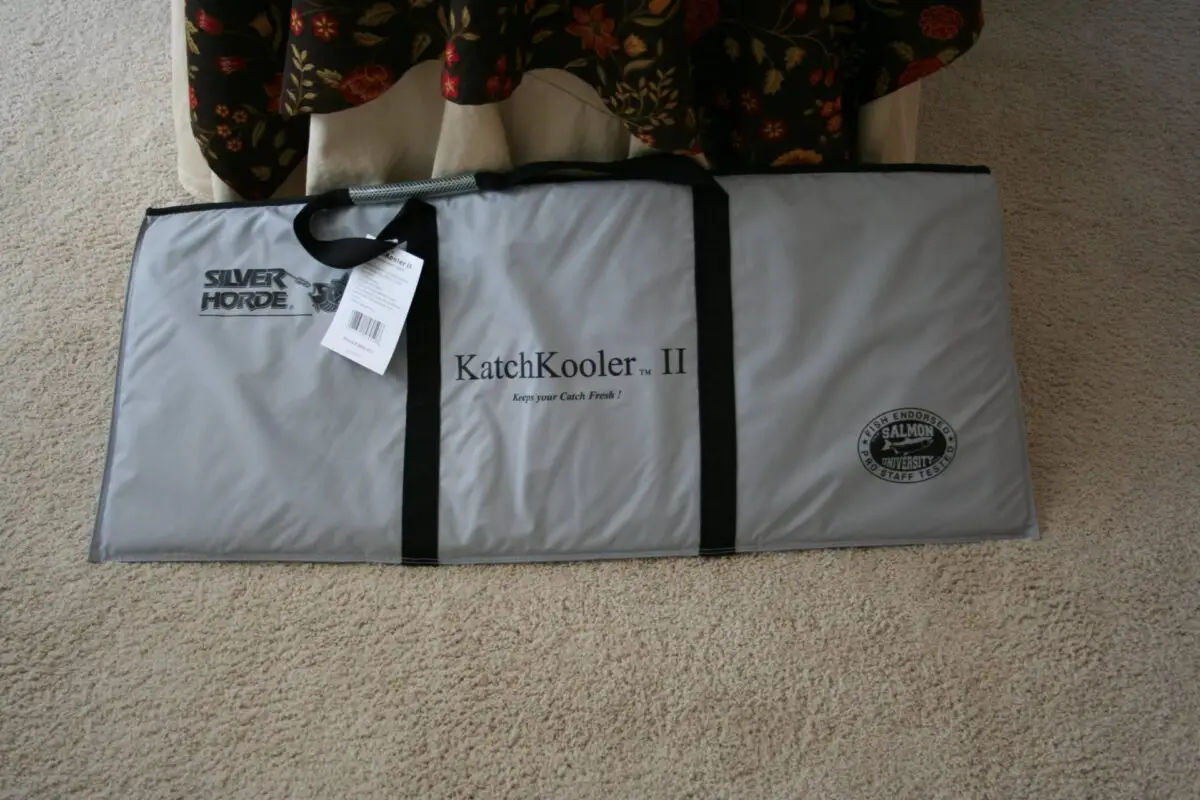 4. Buffalo Gear Insulated Fish Cooler Bag
The Buffalo Gear Insulated Fish Cooler Bag is another outstanding product that's very popular with saltwater and freshwater anglers worldwide. It comes in three different sizes and is moderately expensive so that serious anglers should be able to afford it without spending a small fortune as they would in purchasing one of the other top brands on our list. 
Each bag size measures 17 inches in width and varies in length between a small 40-inch, a 60-inch, and a massive 120-inch version that's well-suited for catching monster-sized saltwater fish species. It's made of heavy-duty, puncture-proof fiber interlaced material on the outside and the inside is designed with 22-ounce polyester tarpaulin material that is capable of keeping ice for up to 24 hours. 
The Buffalo Gear Insulated Fish Cooler Bag is perfect for keeping your ice from melting on any outdoor adventure, or for holding your catch in both freshwater and saltwater fishing environments, no matter what the weather outside is like. 
Pros:
Durable and lightweight 
Capable of holding ice for up to 24 hours
Puncture-proof exterior
22-ounce polyester tarpaulin interior
Drain plug/hose connector
Cons:
Some leakage reported
Zippers sometimes break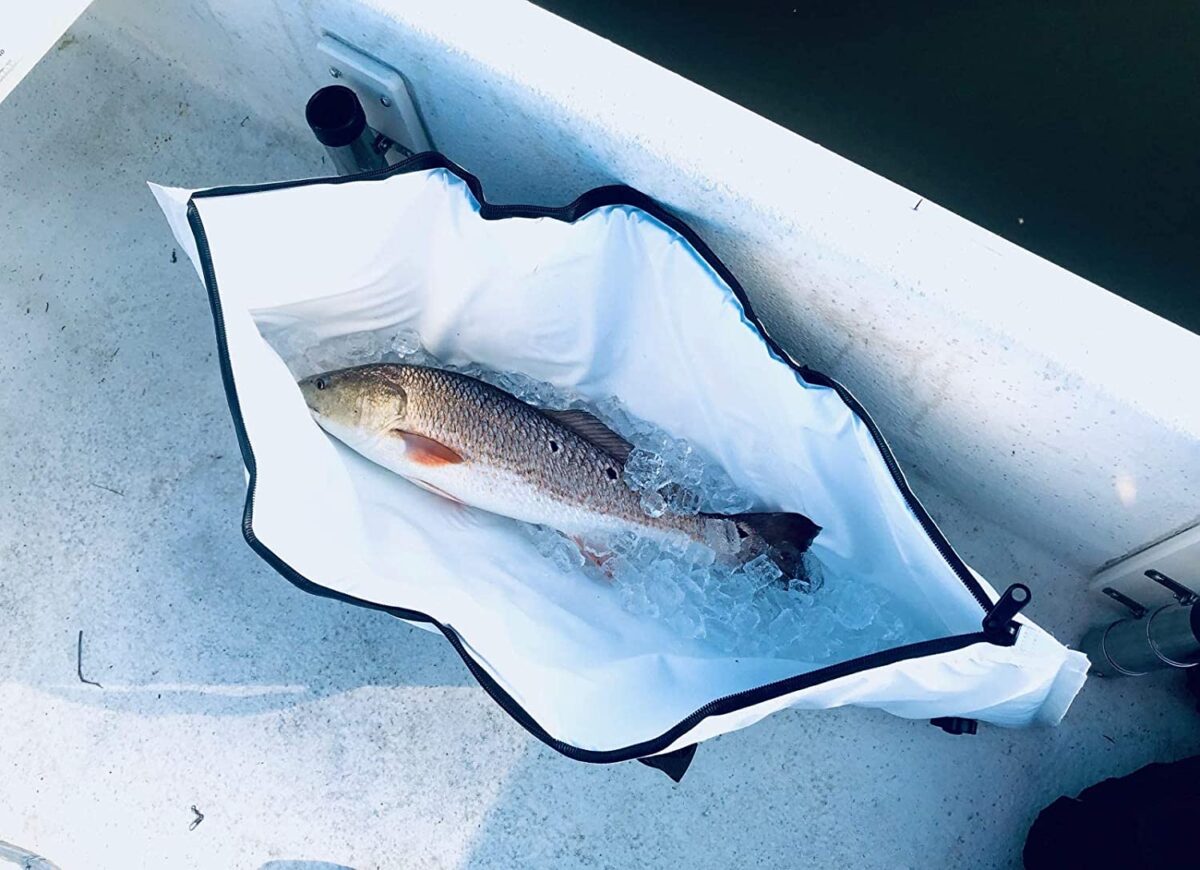 5. Reliable Fishing Kill Bag 
Another worthy-addition to our list of the best fish bags is the Reliable Fishing Kill Bag. As the name entails, this one is mainly intended to serve as a fish cooler/kill bag that anglers can keep their catch in until they make it to the grill or freezer. This one is incredibly well-designed and has all the right features you might look for in a solid fish bag, but it comes at a price that most anglers will probably not spend. 
It comes in a 24 x 60 inch size, as well as a larger 30 x 60 model, which are both well-suited for bigger saltwater fish species. One of our favorite features on the Reliable Fishing Kill Bag is that it comes with a gusseted bottom, which ensures that it will sit upright and not tip over on your boat, or on the ground while you're fishing or trying to put your catch inside. 
The Reliable Fishing Kill Bag is made with super-insulated ½-inch closed cell foam, which is capable of keeping your catch well-preserved for many hours at a time. The bag's exterior is made of heavy-duty marine grade vinyl that's nearly impossible to tear or puncture. If you're willing to spend a few hundred dollars to get one of the undisputed best fishing bags on the market, the Reliable Fishing Kill Bag is a great choice. 
Pros:
Large sizes
½-inch closed cell foam interior lining 
Heavy-duty marine grade vinyl exterior 
Reinforced handles 
Gusseted bottom (sits upright when placed on the ground)
Cons: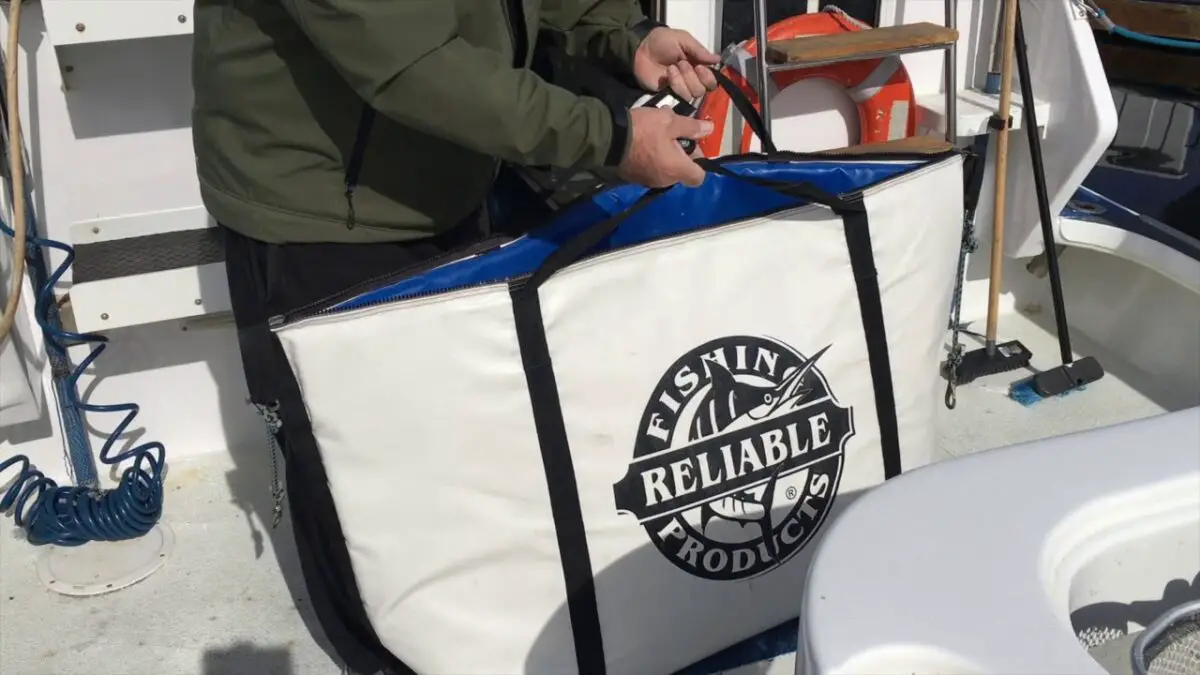 6. Fitzgerald Fishing Insulated Fish Bag
Fitzgerald Fishing is well-known in the industry for producing rods and other gear that are among the best quality items you'll find. The Fitzgerald Fishing Insulated Fish Bag is no exception and this one is arguably the best value for anglers who like to commonly target smaller fish species. It only comes in one size that measures 23 x 26 inches, but the overall quality is exceptional for the price of the bag. 
The Fitzgerald Fishing Insulated Fish Bag is made with heavy-duty material on the exterior that's advertised as being leak-proof, as well as rip and tear-resistant so you won't have to worry about hooks or anything else damaging the bag. It's made with tough welded seams and a removable shoulder strap that makes it easy to tote your catch to the freezer or the weigh-in station if you're a tournament angler. 
This one is priced at a rate that any angler can afford and will keep any live fish inside at a stable water temperature as you anxiously await your turn on the weigh-in stage. 
Pros:
Well-made, leak-proof and puncture-proof material 
Removable shoulder strap 
Insulated interior keeps water or ice at stable temperature
Holds up to 40 pounds of fish and ice
Cons:
7. Berkley Classics Insulated Fish Bag
If you're a budget-minded angler who's just looking for a simple, well-made fish bag that can be used when you need it, the Berkley Classics Insulated Fish Bag is probably the best product for you. This one is made for tournament anglers and is one you've probably noticed if you fish bass tournaments anywhere in the United States as Berkley is a favorite brand among many fishermen. 
It's made of heavy-duty PVC material that's capable of holding up to just about anything you encounter on the water. The bag comes with an 18-inch ruler that makes it easy to measure your catch, which is crucial in a tournament setting where fish need to be a certain length to be deemed a "keeper." It's made with sturdy nylon handles and is usually priced at less than $20, which means virtually any angler can afford this one. 
Pros:
Affordable
Heavy-duty material 
Comes with 18-inch ruler
Capable of holding up to 16 gallons 
Cons:
Not quite as leak-proof as other models
Not insulated enough to hold fish for hours at a time
Only one size
Fish Bag Buyer's Guide 
When it comes to selecting the right fish bag for your trips, there are a few things you should consider before you start your search. When looking at certain fish bag models, be sure to keep in mind the following points in order to make sure you get the bag that's right for you. 
Why Do I Need a Fish Bag?
Fish bags actually have a few different uses depending on what type of fishing you're doing. For saltwater anglers, they can be a massive convenience that allows you to keep your catch fresh and in a stable, cool temperature while you're on the water or as you fish along the shoreline. If you don't have a boat that's equipped with a cooler or livewell, a fish bag can be the one gear item that means the difference between your catch being spoiled by the heat and elements or being able to keep the fish fresh and insulated from the outside temperatures. 
It's often not very convenient to lug a cooler full of ice along the docks and onto your boat when you're going out for a day on the water. If you're forced to keep your fish inside a cooler, this means you'll need to have another cooler for any food and drinks you bring along. If you're one of the few anglers who are not bothered by keeping your fish and food in the same cooler, it's better to have another solution instead of having to drag two coolers onto your boat. 
For anglers who like to fish along the shoreline or surf, it's obviously very tough to bring a cooler along as they often weigh a significant amount when full of ice and fish. A fish bag offers an easy and lightweight option for you to place your fish inside and keep them protected from the outside weather, birds and flies for many hours at a time. 
Tournament anglers are likely well-aware of the benefits of having a quality fish bag to carry their fish in. Every competitive angler wants to be able to keep their fish in the best possible condition while they go through the weigh-in process. The last thing you want to see is the trophy fish you've just caught and weighed in being released only to go belly-up in the water near the docks. 
Having the best fish bags can double as one that allows you to keep your catch fresh if you intend to cook it or store it later, as well as working like a safe container for you to transport your fish from the live well to the weigh in stage. Here are our top picks for the best fish bags in the industry today. 
Purpose
Are you looking for a large, heavy-duty fish bag that you can store your catch in for several hours at a time while you're out on the water? Or are you more concerned with a simple fish bag that you just want to use to transport your fish from the live-well to the weigh-in station in tournament settings? In either case, the specifications you'll want for each type of fish bag will differ greatly, as will the price. 
Material 
One of the first things to look for is the material that the fish bag is made out of. In many cases, a fish bag that's manufactured to be used on saltwater fishing trips is usually made of very heavy-duty material that will guard against sharp objects, as well as the fish's pointy fins and teeth. 
The fish bag's interior and exterior material are both important. If you're going to be placing large, live fish inside, you'll want to have a bag that's tough enough to withstand the inevitable thrashing around that the fish will do once it's sealed inside. 
Size
If you're going to target larger-sized fish like wahoo, tuna, mackerel and others, it's best to select a fish bag that will match the common dimensions of the fish and won't be limited on space. If you're searching for a solid fish bag that will hold these monster fish while also providing good amounts of insulation, you're going to be spending at least $75 or more in most cases. 
It's a good idea to determine the fish bag's overall capacity and make sure this capacity is enough to hold both your fish, as well as any ice, ice packs or other material that's going to be kept inside. 
| | | |
| --- | --- | --- |
| Fish Bag Size | Dimensions | Fish Species |
| Small | 20″ x 20″ | Trout, Steelhead, Redfish, Bass, Panfish |
| Medium | 30″ x 50″ | Striped Bass, Salmon, Blackfish |
| Large | 30″ x 70″ | Saltwater Species, Wahoo |
| Giant | 40″ x 90″ | Game Fish, Swordfish, Tuna |
Insulation 
If you're just going to be using the bag as a means to transport your tournament catch from the boat's live-well to the weigh-in station, you obviously won't need to have exceptional amounts of insulation. However, if you're going to be out on the water for several hours at a time and need to keep your fish fresh and cool in the sweltering sunlight and heat, it's crucial that you go with a fish bag that offers plenty of quality insulation material. 
Portability 
One of the most overlooked aspects of a good fish bag are the handles and carrying straps. Many anglers find out too late that the fish bag they've purchased isn't what they originally thought it was and it's never good to realize that the manufacturer cut some corners when it comes to things like the handles or zippers. 
Be sure to look through the reviews of any fish bag models you're not very familiar with or those that are relatively new and try to determine if the smaller parts like handles, zippers, and other items are capable of holding up against the strain of being weighed down with a hefty load of fish and ice.