A fish lip gripper is a crucial tool that is used to grip the lip of a fish so that removing the hook is safer. Many people prefer to use a gripper because they help them avoid sharp teeth as well as the hook. This Fish Lip Grips Buying Guide will help you pick the best gripper when you are at the store.
The Rapala Floating Fish Gripper is my top choice because of its high quiality construction and tight grip. It features both 6 and 9-inch sizes, and a floating design so you don't lose it overboard. It is ideal for anglers who want a one-handed fish gripper that can hold even the largest species.
Single Hand Use
Floating Design
Heavy Duty Molded Plastic
30 Pound Weight Capacity
Non-Slip EVA Handle
Heavy-Duty Construction
1. Rapala Floating Fish Gripper
ON SALE $4.87 OFF
Bestseller No. 1
Rapala is known as one of the most prominent brands in the fishing industry thanks to decades of producing high-quality products that deliver exactly what anglers want and need in many cases. The company has expanded in recent years to offering anglers with more fishing gear and equipment instead of their popular lure selection. 
The Rapala Floating Fish Gripper is arguably the best fish gripper on the market today as it offers plenty of advantages to anglers and is made to function when you need to focus on making sure your catch is secure. This floating fish gripper is made of exceptional quality and can be purchased in two models that are either 6" or 9" in length. 
In addition to having the capability to float if it is dropped into the water, the Rapala Floating Fish Gripper comes with a lanyard that anglers can wear around their neck for quick and easy clamping when they finally get their fish to the boat. This gripper is made with a special toe section that helps anglers get a better overall grip with just one hand while the other hand is free to remove hooks or take care of any other task that's needed.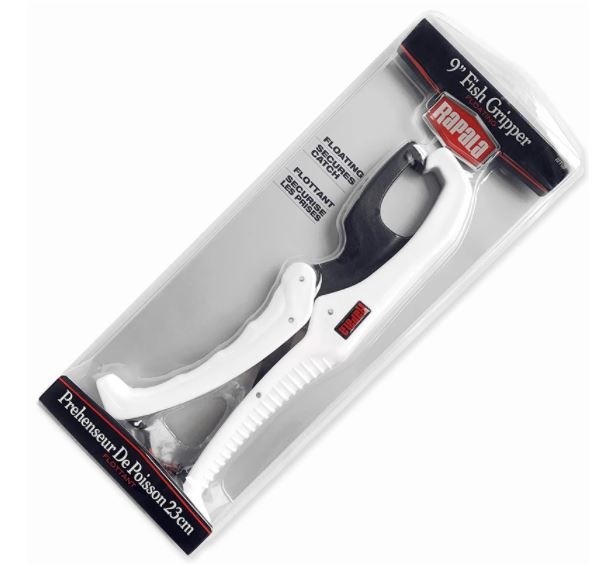 2. Entsport Lip Gripper
The Entsport Fish Lip Gripper is a heavy-duty fish gripper that is made to function at the highest levels of the sport, which is why this particular model is exceptionally popular with professional anglers all over the world. The gripper is made of high-quality stainless steel material that is designed to guard against saltwater corrosion and hold up to any potential damage that might occur while fishing. 
The rubberized handle portion and other components make it easy for anglers to hold onto the Entsport Fish Lip Gripper with just one hand and quickly and easily release their fish when they choose to with no problem. This gripper also comes with an adjustable wrist strap that anglers can use to ensure that this tool isn't dropped into the water as they are struggling to get a monster fish into the boat. 
The Entsport Fish Lip Gripper features a retractable tape measure at the jaw section that anglers can use to easily measure their catch. With an overall weight capacity of 30 lb, the Entsport Fish Lip Gripper is among the best fish grippers you'll find on the market today.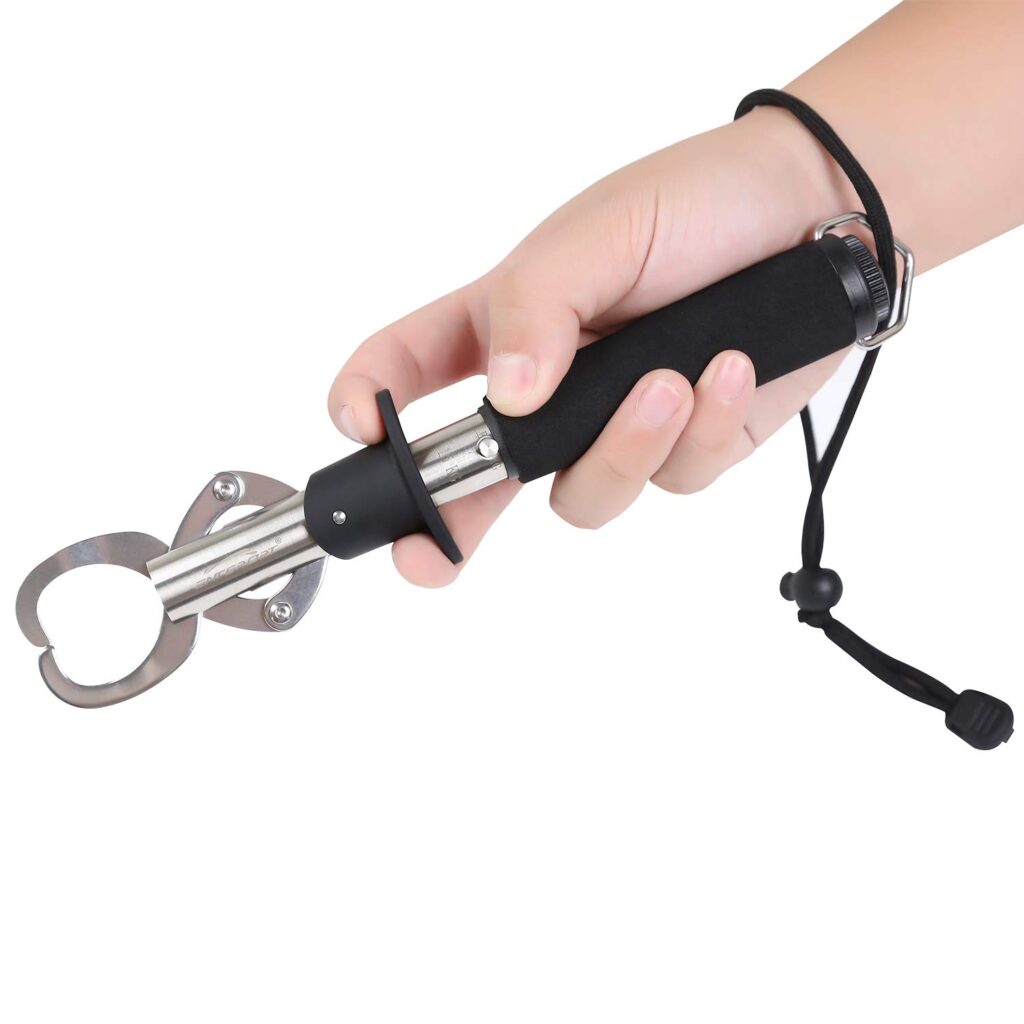 3. ZACX Stainless Steel Lip Gripper
ON SALE $8.00 OFF
Bestseller No. 1
The ZACX Fish Lip Gripper is similar in its overall design to the model listed in our No. 2 spot, but this particular fish lip gripper offers anglers some high-quality, easy-to-use components that allow them to keep their focus on the fish once they've landed their catch. 
The ZACX Fish Lip Gripper is made of tough and durable stainless steel material that won't rust or break easily. This model is also designed to guard against the highly corrosive nature of saltwater, so it's perfect for using when you're deep sea fishing or anywhere that saltwater fish species thrive. 
The handle is made with a specialized EVA material that makes it especially easy to grip and maintain a grasp on when your hands are wet or dry. The ZACX Fish Lip Gripper is made with a hollow body design that makes this gripper model a bit lighter than some other heavy-duty style grippers that are typically used to wrangle large saltwater species. 
It features the classic T-hand 'grip-n-release mechanism, which means anglers can easily clamp down on the fish's lip quickly and without too much trouble. The release mechanism is also very easy to operate and allows you to safely return your catch to the water, or into the cooler if you choose.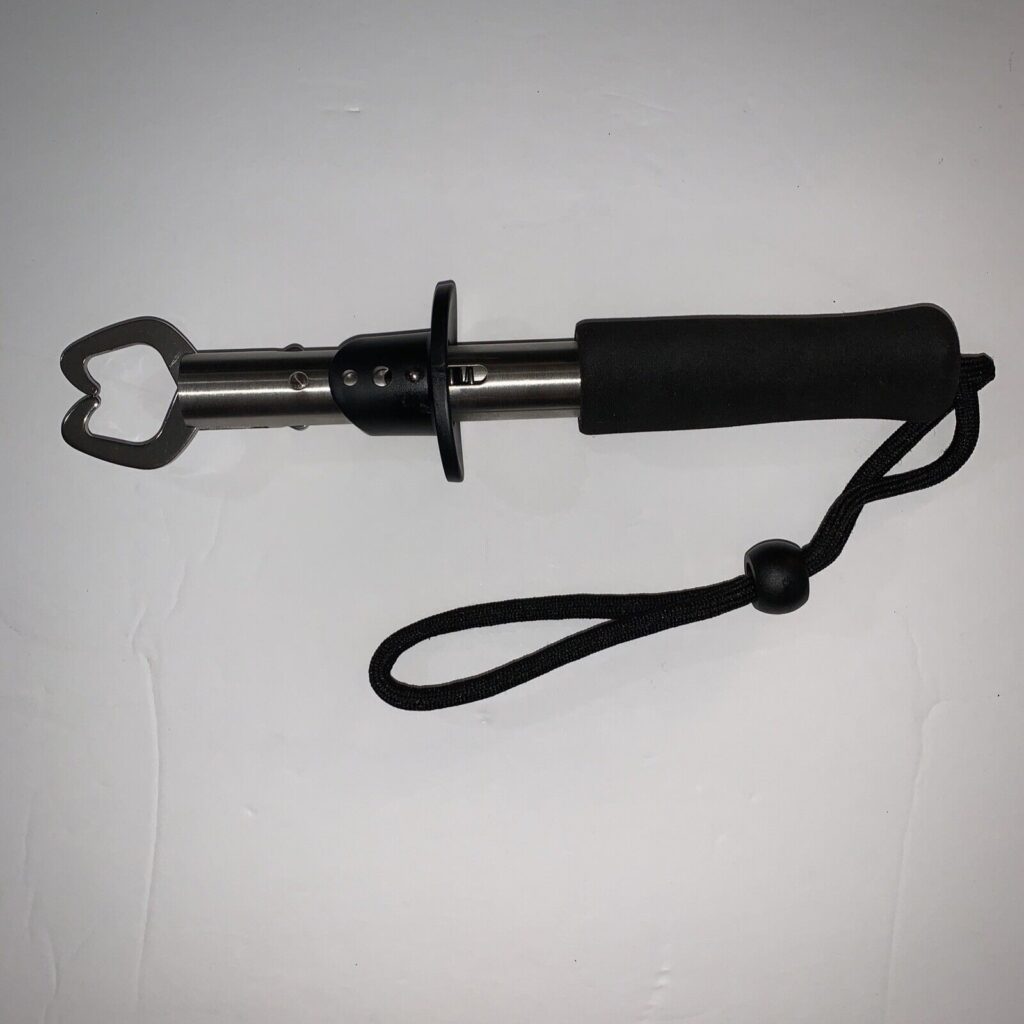 4. TQONEP Fish Lip Gripper Floating Fish Gripper Combo Kit
Having the right tools you need to handle the specific fish species you're after is very important and must not be taken lightly by skilled anglers. The TQONEP Fish Lip Gripper Floating Fish Gripper Combo Kit offers anglers with a high-quality fish lip gripper, as well as a hook remover that can be used in conjunction with one another to quickly and easily dispatch your catch without any trouble. 
This kit is available for an exceptional price and comes with a retractable lanyard that allows anglers to ensure that they won't accidentally drop their fish gripper into the water. The TQONEP Fish Lip Gripper Floating Fish Gripper Combo Kit comes in four different colors and is made of solid, high-quality stainless steel that is capable of guarding against saltwater corrosion and other potential damaging factors. 
The fish gripper provides anglers with a ribbed handle section that lets them get a solid grip when working to secure their catch and remove the hook from its mouth. The gripper is relatively lightweight and offers users with a wrist-strap that lets them secure the gripper to their hand. 
5. LBZE Plastic Lipgrip Floating Fishing Pliers
For beginner anglers and novice level fishing enthusiasts, it may not be practical to spend a sizable amount of money on a simple pair of fishing grippers. The LBZE Plastic Lipgrip Floating Fishing Pliers is a product that is relatively affordable for any angler and provides just what you need to secure your fish and keep it from thrashing around too much so that you can safely remove the hook without causing unnecessary damage to the fish. 
This model is made of quality ABS plastic material that is strong enough to handle most freshwater or small to medium-sized saltwater fish species. It is especially lightweight and lets an angler secure this gripper to their wrist without impeding the use of their hands for any other task that's needed. 
The LBZE Plastic Lipgrip Floating Fishing Pliers offers anglers a locking mechanism that helps to clamp down on their fish's jaw with ease while they quickly remove the hook. This particular gripper comes with a retractable lanyard that anglers can keep on their belt to further ensure that it won't be lost in the water. 
6. Grandbuy Fish Hook Remover Combo Kit
When it comes to purchasing a good set of fish grippers that you'll be able to use on any body of water you fish, it's nice to get a good deal that often includes a few extra equipment items as well. The Grandbuy Fish Hook Remover Combo Kit is an exceptional deal for any angler as it offers a range of tools and accessories for a surprisingly-low price. 
This kit features a quality set of fish grippers that any angler will find to be useful, but also includes a well-made hook remover, coil lanyard, and digital scale that all combines for quite possibly the best overall deal of any item on our list of the best fish grippers. 
The gripper in this kit is made with durable and lightweight ABS plastic material that is capable of handling just about any game fish species, as well as an adjustable wrist strap. The portable digital scale works using two AAA-sized batteries and is capable of accurately providing the weight of your catch up to 99 pounds. 
Anglers who are looking to take advantage of a good overall deal should not pass up this combo kit as it offers a variety of the most essential tools for fishing all in one well-priced package. 
7. INFILM Floating Fish Gripper
Bestseller No. 1
The only thing better than having a solid pair of fish grippers in your tackle box or fishing equipment is having two of them. This is the same thing the INFILM company was thinking when they decided that they would include an extra pair of grippers in their latest model package. 
This fish gripper is made of high-quality plastic material that's capable of floating and offers anglers with a simple, easy-to-use adjustable wrist strap. Each kit comes with one brightly-colored yellow gripper and another that's more of a neon red color. Each gripper is made to be durable enough to stand up to just about any type of freshwater or saltwater fish species. 
Anglers will find that the INFILM Floating Fish Gripper is especially easy to use and can typically be operated with just one hand while you use your other to either remove the hook or take care of anything else when it comes to securing your catch in a safe manner. The gripper's handle features finger ridges that help provide a better overall hold for users, especially when their hands are wet. 
8. KastKing Digital Fishing Scale with Lip Gripper
Another exceptional combo kit on our list of the best fish grippers on the market today is made by KastKing. This brand has become quite popular in recent years with anglers all over the world as they are known for producing some of the best products on the market for an overall great price. 
The KastKing Digital Fishing Scale with Lip Gripper is a kit that features an outstanding fish gripper that is specially designed to guard against puncturing the fish's lips, which is crucial if you're competing in a no-puncture rules competitive fishing tournament or competition. These grippers are made of tough ABS plastic material that is also designed to float in case you happen to drop them into the water. 
This combo kit features a quality set of digital scales that anglers off all skill levels will find useful. The scales are capable of weighing fish up to a maximum weight of 50 pounds and can function in both lbs or kg weights. Both of these items combined together are offered by KastKing for a surprisingly-affordable price when compared to other items of similar nature. 
9. Night Cat Fish Lip Gripper
The Night Cat Fish Lip Gripper is a bit more expensive than most of the other items listed on our top 10 best fish grippers. After reviewing the features and capabilities of this pair of grippers, anglers should easily recognize that this model is a much higher quality than what they might normally find on the market. The Night Cat Fish Lip Gripper is made of highly-durable and lightweight aluminum alloy material. 
This aircraft-grade aluminum material is certain to hold up against the largest-sized fish, making the Night Cat Fish Lip Gripper one of the top options for anglers who regularly plan to catch monster fish that would easily break other fish grippers that are made of lesser-quality material. The ergonomic handle features specialized ridges that allow you to get a better grip on the tool when time is of the essence. 
The Night Cat Fish Lip Gripper is designed to rotate a full 360 degrees very smoothly in order to prevent a fish twisting and working the jaws loose after you've secured your catch. This fish gripper tool is made with anti-corrosion capabilities, meaning it can be safely used for both saltwater or freshwater fishing. 
10. CRAZY SHARK Stainless Steel Fish Lip Grabber
One thing is certain when it comes to fish gripper tools, it is absolutely essential that an angler purchase a tool that is highly durable if they intend to wrangle fish that are especially heavy or lively when removed from the water. The CRAZY SHARK Stainless Steel Fish Lip Grabber is one type of fish gripper that you can rest assured will be tough enough to handle just about any type of fish you happen to catch. 
This gripper is made from tough and durable aircraft-grade aluminum material and a stainless steel housing that is meant to protect the interior components of the tool. With spring-loaded clamping action, anglers will have no problem quickly gripping any fish's lip with this tool using only one hand. 
The jaws are designed with a large, flattened tip that is made to prevent puncturing the fish's mouth. Anglers will also find that the large handle features multiple finger grooves that make it quite easy to grip and maintain a hold on this tool so you can work on safely removing the hook from the fish's mouth and getting it back into the water. 
Fish Gripper Buying Guide
Types of Fish Lip Grippers
Gripping fish with your hands to remove the hook or to get them out of the water to weigh can be challenging, especially when dealing with aggressive species. The advent of the gripper made the process easier and safer for you and the fish. Here are three types of fish lip grippers in the market today.
Traditional Fish Grippers
Traditional fish grippers are those gripper made from aluminum and stainless steel. They feature clamps that you use to hold the fish lips, a mechanism to open and close clamps and a T-shaped handle. The more expensive grippers come with a scale you can use to weigh the fish.
Pistol Grip Fish Grippers
The pistol grip fish grippers, as the name suggests, is built like a handgun. The handle has a trigger that opens and closes the clamps. The grip is built this way for your comfort and to maximize hand strength.
Plastic Floating Fish Grippers
When using metal fish grippers you need a lanyard or a float so that they do not accidentally sink to the ocean floor. They are great when you are entering no puncture tournaments and are safer for the fish. The fish gripper is just as strong as metal grippers and can handle up to 100 pounds.
Characteristics Of A Good Fish Gripper
Here are some crucial qualities to look for in a fish gripper.
Easy to Operate
A Fish gripper should easy to use. That is because you could lose your catch while struggling to make sense of a complicated operation. An excellent gripper will have a few buttons to press to operate it.
Safe
Your safety and that of the fish are crucial. The correct gripper will not harm the fish and will keep you safe from your prey's sharp teeth.
High-Quality Material
A high-quality fish gripper should be made of good-quality materials. These can handle the weight of a large fish without breaking or getting damaged. Take time to ask about the type of materials used in making the gripper at the shop.
Comfortable Size and Weight
A good fish gripper should not be too big for your hand or too small. You should be able to comfortably use it, especially with a fish that's moving about in the water. It should also be lightweight, as a heavy one will add to the weight of the fish and tire your hand too quickly.
Strong Sturdy Grip
An excellent gripper has a strong sturdy grip so that it does not slip off your hand. One with grooves for your fingers is a perfect choice.
Scale
Special features will mean an increase in the pricing, but they also add efficiency. Having a digital scale on your gripper will make it easier for you to weigh your fish and release it quickly, which is better for the fish.
Factors to Consider
There are a variety of things you need to think about when buying a fish gripper. Make sure you take your time to ensure you get a gripper that is perfect for you and the type of fishing you do. Here are essential factors to consider when buying a fish gripper
Cost
It is vital to think about the amount of money you have and how much of it you are willing to spend on a fish gripper. Most stores have a variety to choose from, and their prices are different. Take your time looking through the items available and pick one that is within your price range.
Safety
Choose a gripper that makes it easier for you to grip, weigh and release the fish safely. Make sure the one you pick is safe to use even with aggressive fish.
The Handle
The handle is crucial to your safety and keeping your catch. Fish are notoriously slippery, and so are your hands when they come into contact with water. Make sure you pick a gripper made with high-quality rubber that will not slip even when wet.
Durability
Buying a new fish lip gripper every few months is not good for your wallet. Make sure that you buy a gripper made with high-quality materials to ensure that it lasts a long time. That way, you will save the money you would use replacing the broken ones.
Material
The longevity of your gripper is determined by the material its made of. If you are looking for a no-puncture option, make sure that the material is high-quality plastic. The better the material, the longer it will last.
Conclusion
Buying the right fish lip grabber will secure your catch and ensure that you are safe when fishing. The tips in this Fish Lip Grips Buying Guide should help you pick a gripper that will suit you perfectly.
Happy fishing!
Last update on 2023-09-27 / Affiliate links / Images from Amazon Product Advertising API