The best fluorocarbon fishing lines are abrasion resistant, invisible underwater, low memory, and are more affordable than braid, such as Berkley Vanish.
If you are starting fishing, you should consider using a fluorocarbon fishing line leader. A fluorocarbon line is made of fluoropolymer PVDF and has the same refractive index as water and, therefore, less visible to fish. Unlike monofilament, fluorocarbon is denser and hence less buoyant in the water.
A fluorocarbon line sinks quickly, so you can use it with precise bottom fishing tactics such as drop shots and jigs. It is a great line to use in clear water. Here is a comprehensive guide to using fluorocarbon fishing lines.
Visibility
Invisible in Fresh and Saltwater
Visibility
Invisible in Fresh and Saltwater
How We Rate Products
I thoroughly review all products to measure their performance, durability, and value for money. This is done through bench and field testing to check how the product performs. This testing results in an overall score that I give to all products. All metrics are scored out of 5.
Performance
The performance score is how well this product fulfills its primary purpose. Does it have all the features and optional extras you need to catch the target species? We also interview expert anglers on their experience to build a broader and more comprehensive view on the performance under multiple conditions.
Test 1: Confirm that the max drag meets the manufacturer's specifications.
Test 2: Test the maximum casting distance using a 1.0-ounce lure.
Test 3: Test the accuracy by casting 10 times into a 3 ft diameter circle at 30 yards.
Test 4: Check the versatility and the ability to handle multiple uses by field testing with 3 different lures and baits.
Durability
Durability refers to how long the product will continue functioning. I twist, bend, and break all the products to check their longevity. This score is for the materials of construction, the quality of the workmanship, and the servicing requirements. There are also bonus points for manufacturers' warranty.
For products that we can't test for long enough, we also consult with experts who have been using them for multiple decades to judge their longevity.
Test 5: Pull it apart to check the grease and oil levels, how difficult it is to maintain, and whether any sand or salt has deposited after use in saltwater.
Value for Money
The final aspect of the scoring system is the price or, more specifically, the value for money. Value for money is a comparison against the closest alternative products, both by the same manufacturer and other brands.
Overall Score
Finally, I average the three scores of performance, durability, and value for money to give the overall score of each product reviewed.
To see more details, please read the complete guide on how we test and evaluate fishing products.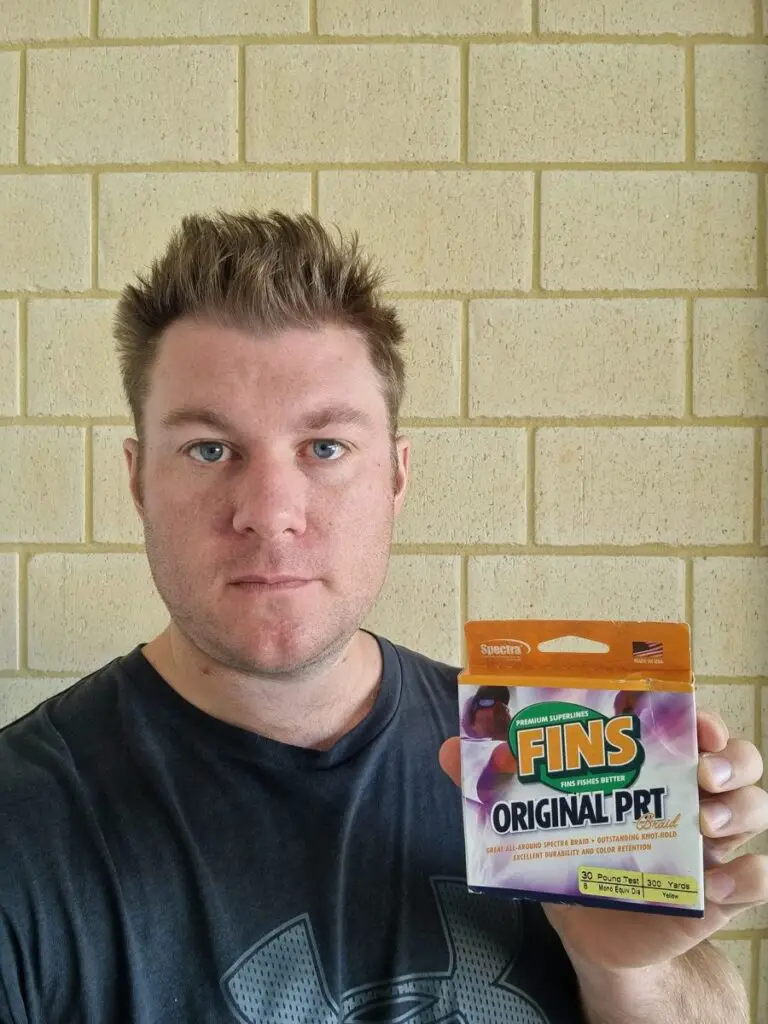 1. Berkley Vanish Fluorocarbon
One of the most important characteristics of fluorocarbon lines that anglers look for is the ability to remain nearly invisible underwater. This quality is especially important when it comes to fishing for certain game fish species that have very keen eyesight and can be easily spooked by the sight of the line itself. Berkley developed its Vanish Fluorocarbon line to be virtually indistinguishable from the water around it. 
This line has been one of the most popular fluorocarbon fishing lines in recent years as it is available for a price that most anglers can afford. One of the main problems with early styles of fluorocarbon line was that it didn't cast as smoothly as monofilament or braid, especially on baitcasting reels. Berkley experts have designed the company's Vanish Fluorocarbon line to be one of the smoothest casting of any fluoro line while remaining reasonably priced. 
The Vanish line series is designed to refract the same type of light that reflects underwater, which means fish are much less likely to catch a glimpse of this version than the standard monofilament line. It maintains a good amount of strength and abrasion resistance whether dry or wet, making it an easy addition to our list of the best fluorocarbon lines. 
Pros
I found this to be the smoothest casting fluoro line on this list.
Very affordable price tag considering its features.
Highly invisible underwater – virtually indistinguishable.
Available in 2 to 80 lbs – extremely versatile options available.
Cons
I did find it to have too much memory, but this is relatively common with fluorocarbon line, compared to braid.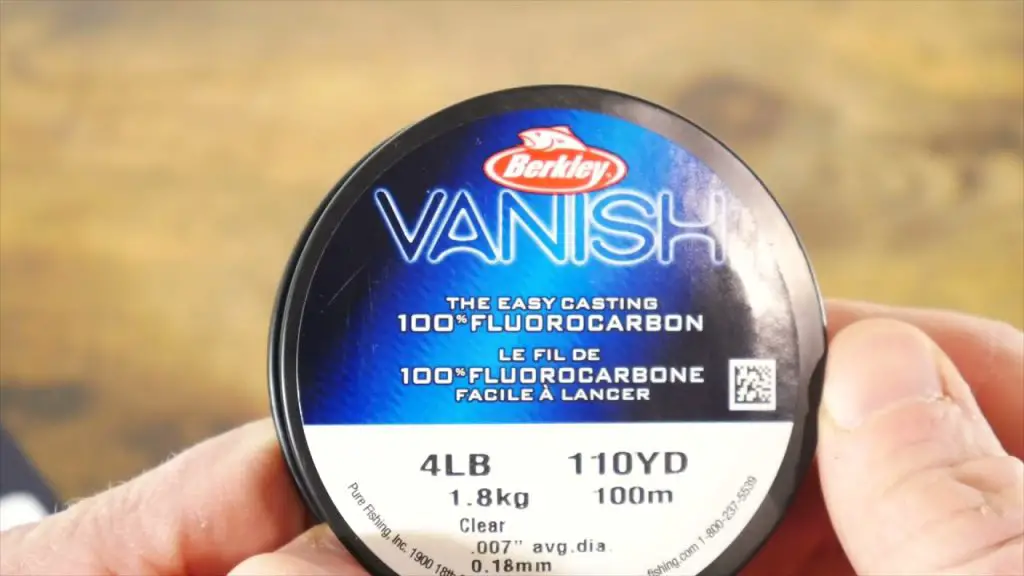 2. KastKing FluoroKote Fishing Line
KastKing's FluoroKote Fishing Line is made of 100 percent fluorocarbon material and is among one of the best brands of fluorocarbon fishing line currently on the market. This line combines the KastKing Copolymer fishing line and high-grade fluorocarbon line. KastKing's engineers have worked tirelessly to produce this high-grade fluorocarbon line that seems to almost vanish once it is submerged in water. 
This combination helps to increase the overall strength of the KastKing FluoroKote Fishing Line as it has much of the same strength and castability of the Copolymer line, but with the invisibility of fluorocarbon. What makes this combination of materials so attractive to anglers is that it costs much less to produce, which is why KastKing can offer this particular product at such an affordable rate. 
The KastKing FluoroKote Fishing Line is made so that it won't stretch or be as abrasion-prone as other types of fishing line. This gives anglers a much better advantage when using certain types of line that typically run better underwater when the line stays firm. 
Pros
High abrasion resistance is good for preventing line damage around sharp teeth or structure.
Very difficult to see underwater is especially good for avoiding bass eyesight.
Very affordable fluoro line has pushed this up towards the top of the list.
Cons
Not available in a size above 30 lbs can limit its versatility.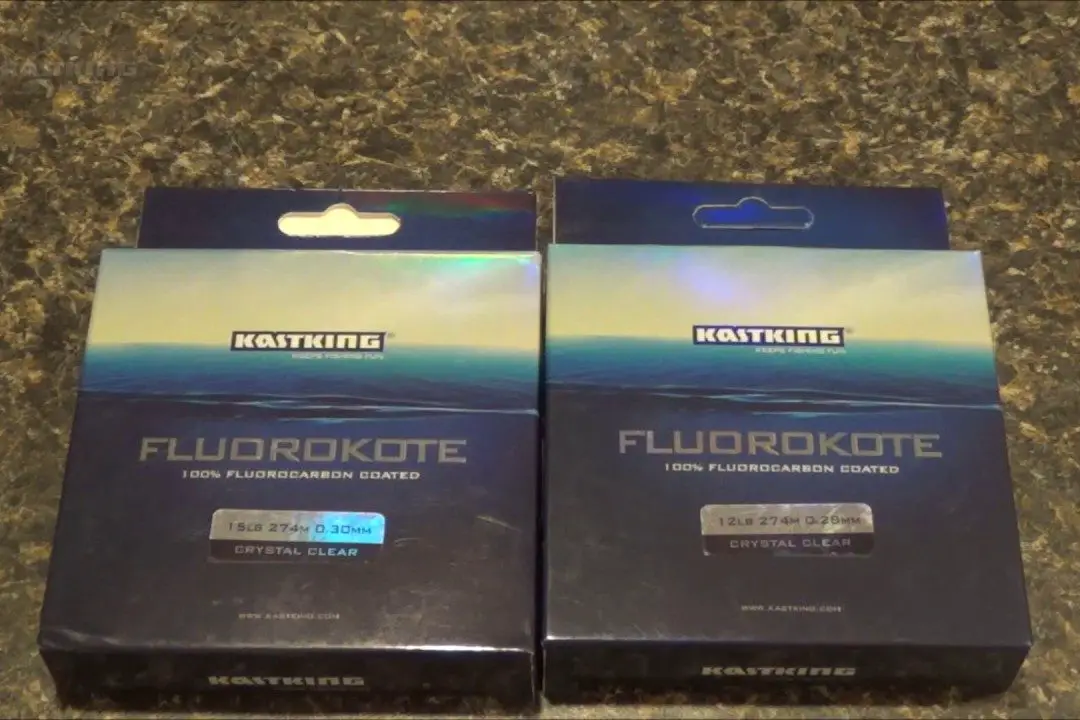 3. Seaguar Red Label 100% Fluorocarbon
Seaguar is a brand that's been manufacturing top-quality fishing lines for decades. They have carved their path toward the top of the fishing industry as it relates to fishing line by producing a solid product anglers want. Their Seaguar Red Label 100% Fluorocarbon is another great addition to our list as it offers a high level of invisibility underwater. 
Many anglers prefer to use this line with a leader as it is prone to having higher amounts of memory compared to some premium brands of fluorocarbon fishing line. The line is made to be cast from any type of reel with relative ease, but anglers should be aware that keeping this line tightly spooled on a reel for more than a year might result in kinking or curling. 
Part of the reason why so many anglers prefer Seaguar Red Label 100% Fluorocarbon is that it is made to be highly abrasion-resistant. This means it isn't as likely to break when used around heavy cover and other underwater structures. This fishing line can be ordered in various sizes depending on each angler's preference. 
Pros
Seaguar are one of my favorite fluoro line manufacturers – there are three in my list.
Highly abrasion resistant is well suited for fishing around structure like underwater trees or piers.
Cons
I found this line to have higher memory and over time can result in twisting or curling.
4. Spiderwire EZ Fishing Line
Most anglers have difficulty finding a spool of fluorocarbon fishing line that's strong enough to be comparable to monofilament or braid—despite its ability to be invisible when submerged underwater. The Spiderwire EZ Fishing Line is arguably the best fluorocarbon fishing line as it offers a very high level of strength and durability compared with other types of fluoro lines in the fishing industry. 
Spiderwire has a stellar reputation in the fishing industry as one of the strongest fishing lines on the market. Their EZ Fishing Line is no different as it offers much of the same abrasion resistance that you might find in monofilament fishing line without the stretching or dampening that so often occurs. 
One of the most prominent features of the Spiderwire EZ Fishing Line is its ability to maintain its shape and form without any water absorption. It also has an impressive vanishing ability underwater compared to other brands of fluoro line, despite being a 15 pound test fishing line. This spool offers 200 yards of line for anglers, which is enough to fill just about any size reel for a serious angler. 
Pros
Increased abrasion resistance without line stretching of mono line.
Very low memory prevents twists and knots over time.
Good combination of value for money, strength, and durability.
Cons
This is a very versatile line with many positives.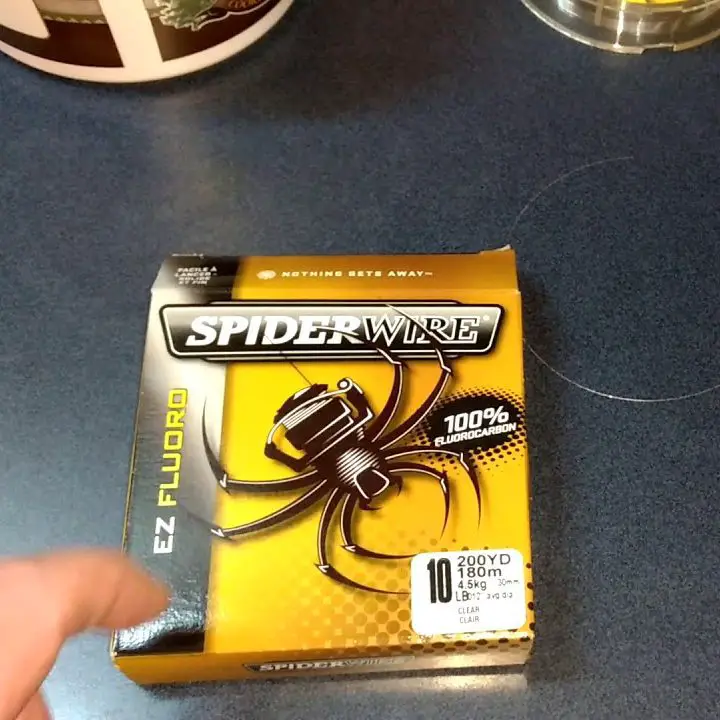 5. Seaguar Blue Label Fluorocarbon Leader Line
Bestseller No. 1
One of the most important parts of a fishing rig is often the leader section that will be most visible to the fish. This portion of the line must be strong enough to handle the rigors of fishing for large-sized game fish like bass and other species while also having the unique ability to vanish underwater. The Seaguar Blue Label Fluorocarbon Leader Line is one of the most popular fishing lines on the market used for leaders by professional anglers worldwide. 
This line is 60-pound test rated and allows anglers to tie their favorite lures on to the leader line without worrying that the heavy line might spook fish that could bite. Seaguar is a brand that's known for producing fishing lines that are stronger than the average brand and their Blue Label Fluorocarbon Leader Line is no exception. 
One of the greatest advantages that fluorocarbon leaders have over other types of fishing line is the ability to use heavier lines without the risk of it being visible to the fish. The Seaguar Blue Label Fluorocarbon Leader Line does this flawlessly and should be an addition to any skilled angler's tackle box. 
Pros
Rated up to 60 lbs can handle almost any fish without the risk of spooking them due to the invisible nature of the fluoro line.
This is my pick for a high-thickness fluoro.
Cons
I don't think it warrants the extra expense for smaller fish species.
6. Seaguar Invizx 100% Fluorocarbon
ON SALE $4.59 OFF
Bestseller No. 1
It's often difficult for anglers to find fluorocarbon fishing line capable of matching the strength of braid or monofilament line when it comes to being used with a large variety of lures and rigs. Seaguar has gone to great lengths to manufacture some of their highest-quality fishing lines in their Invizx 100% Fluorocarbon Fishing Line. 
The brand boasts that this specific fishing line offers knots that are up to 42 percent stronger than the typical fluorocarbon line that the company produces. If you're a seasoned angler, you will likely have used Seaguar fluorocarbon fishing line at some point. The Seaguar Invizx 100% Fluorocarbon is a newly-developed product much stronger than the brand's typical fluorocarbon lines. 
Most beginner and novice anglers might shy away from a product like the Seaguar Invizx 100% Fluorocarbon as it is priced a bit higher than most other popular fluorocarbon fishing lines. However, this line is a worthy investment for anglers as it provides all of the qualities you look for in a fluorocarbon line without the usual concerns for line breakage. 
Pros
Seaguar claims that knots done on their Invizx 100% line are 42% stronger than a standard fluoro line. I don't know how they prove that, but if you have concerns about your knot-tying ability, keep this in mind.
Cons
This comes at a higher price tag than some of the other options. I would only use this line if you truly need the additional breakage resistance, such as fishing around structure.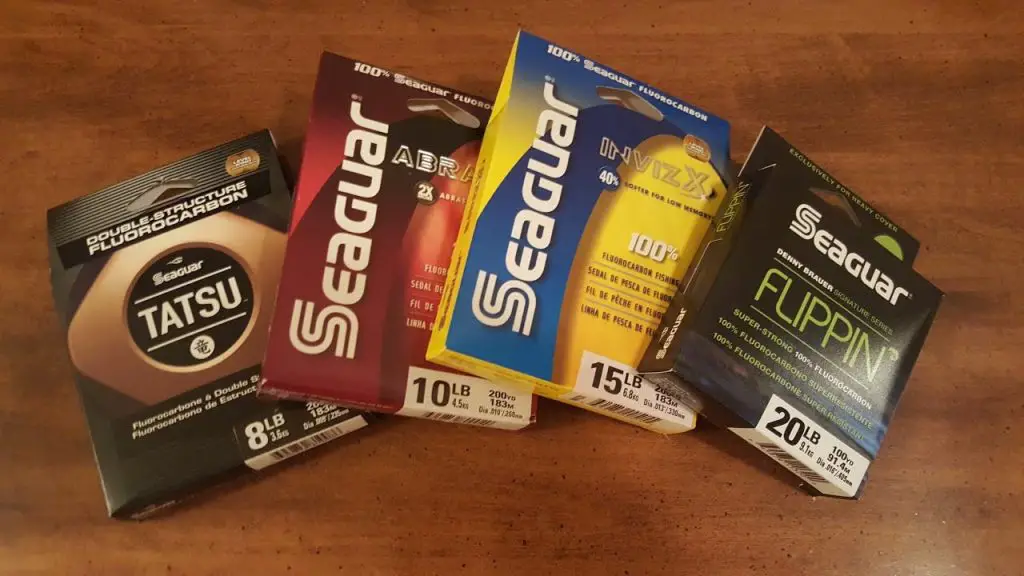 7. Stren FluoroCast Fluorocarbon Fishing Line
ON SALE $0.50 OFF
Bestseller No. 1
There's no denying that Stren is one of the most popular brands in the fishing industry when it comes to producing quality lines that most anglers can afford. The Stren FluoroCast Fluorocarbon Fishing Line is an excellent choice for anglers who want to have all of the typical advantages that fluoro line offers without the usual hefty price tag that is so common when it comes to fluorocarbon fishing lines. 
The line has a very smooth casting ability and is great for lighter rods that might be used for crappie or trout fishing as these species tend to have excellent eyesight and can spot fishing lines better than catfish and other species. The Stren company has been producing fishing lines since 1958 and thoroughly understands what their customers want in a fishing line—especially regarding fluorocarbon lines. 
This is an excellent starter line for those who are exploring the different advantages of each type of fishing line as they can test what many consider to be a decent fluorocarbon line without investing too much money upfront. One of the main advantages of the Stren FluoroCast Fluorocarbon Fishing Line is its ability to let deep-diving lures run more smoothly, thanks to its increased density. 
Pros
I found the Stren Fluorocast to be particularly suited for crappie or trout.
Its higher density gives it a faster sink rate than mono or braid.
Cons
It doesn't come with all of the features of a more premium fluoro line.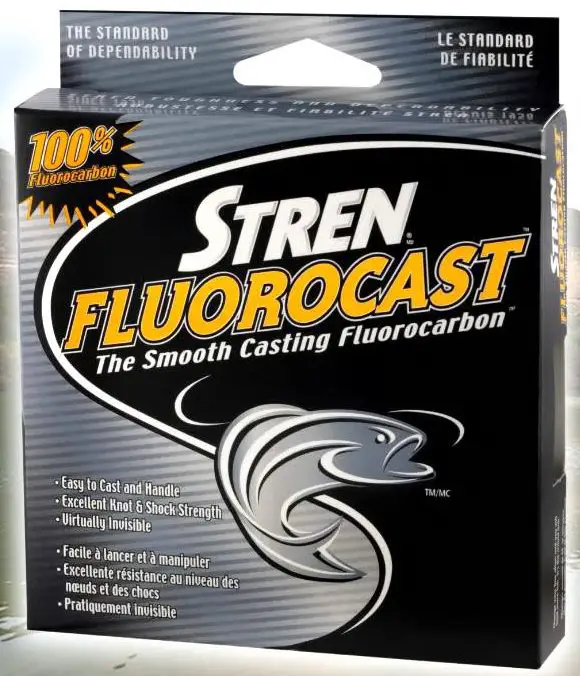 8. Yo-Zuri H.D. Fluorocarbon Wrist Spool
ON SALE $6.71 OFF
Bestseller No. 1
When finding the best fluorocarbon leader line on the market, it's hard to overlook Yo-Zuri H.D. Fluorocarbon Wrist Spool leader line. This is another type of line that fledgling anglers might quickly dismiss due to the higher price, but Yo-Zuri is widely known as one of the best fishing line producers in the fishing industry. 
The line has a unique pinkish hue that disappears underwater and is designed to blend in with the water and other surroundings once submerged. The Yo-Zuri H.D. Fluorocarbon Wrist Spool coloration might seem like a strange disadvantage to the untrained angler. Still, this product is designed to help anglers determine when to change their leader line before it breaks and they could lose an expensive lure. 
The pink line is designed to show nicks and breaks more easily to the human eye, letting them quickly scan their line before casting to ensure that it will maintain the same high level of strength that Yo-Zuri fishing lines are known for. 
Pros
The pink color helps to identify abrasions so you are less likely to keep using a damaged line.
I found it to be very difficult to see underwater when in use.
Cons
Comes at a higher price tag than some of the other options.
9. KastKing Kovert Fluorocarbon Fishing Line
Bestseller No. 1
For anglers looking to get a high-performance fluorocarbon fishing line for a more affordable price, the KastKing Kovert Fluorocarbon Fishing Line is easily one of the best choices on the market. This line is designed to have the same ability to vanish underwater as premium brands of fluorocarbon fishing lines without the hefty price tag. 
KastKing has employed its design experts in the field to develop some of its latest lines of products and the company's Kovert Fluorocarbon Fishing Line is designed to give anglers the density they want when using deep-diving lures and other types of bait that they don't want to float upward while running through the water. 
This fishing line certainly earns its Kovert namesake as the line itself is just barely visible underwater, even in the clearest water conditions—both fresh or saltwater. Some anglers might opt to use this as their leader line, but it also functions beautifully as a main line on any type of baitcasting, or spinning reel. 
The Kovert line is especially useful for anglers who like to use certain types of soft plastic rigs that they want to sink to the bottom more quickly than monofilament or braided line is expected to. 
Pros
This reel is incredibly difficult to see underwater. Its ability to vanish is second to none.
Well suited to deep diving lures because of its fast sinking rate.
Available in 4 to 50 lb strength sizes.
Very affordable price tag.
Cons
Personally I found that this line had more memory than I would like and would twist over time.
10. Sunline Super FC Sniper Fluorocarbon Fishing Line
ON SALE $6.40 OFF
Bestseller No. 1
For anglers who commonly fish in clear water, it's very important to use the best quality fluorocarbon fishing line to remain undetected by some of the larger trophy fish lurking deep below the water's surface. Sunline Super FC Sniper Fluorocarbon Fishing Line is another outstanding selection and a worthy addition to my list of the best fluorocarbon fishing lines. 
This fishing line is made exceptionally invisible underwater and maintains a high level of abrasion resistance when used around heavy cover or rocks. It's considered one of the toughest fluorocarbon fishing lines on the market. It has established a reputation in the fishing industry for durability compared to other fluoro lines of similar pricing. 
Here is a list of the test pound sizes available:
3 lb
4 lb
6 lb
8 lb
10 lb
12 lb
30 lb
The Sunline Super FC Sniper Fluorocarbon Fishing Line is another very heavy fishing line that sinks more rapidly underwater, helping anglers' lures reach the bottom before being detected as they are sinking by nearby fish. 
This fishing line is designed to maintain its underwater density and invisible qualities. It's also designed with triple resin coating for softer handling, which makes the Sunline Super FC Sniper Fluorocarbon Fishing Line an excellent choice for either main line or leader line. 
Pros
I consider this to be one of the toughest fluorocarbon lines.
I found that it sinks quickly and is well suited for deep-diving lures.
Cons
I noticed some strange line twisting on the spool that resulted in knots.
Not available in anything stronger than 30 lb.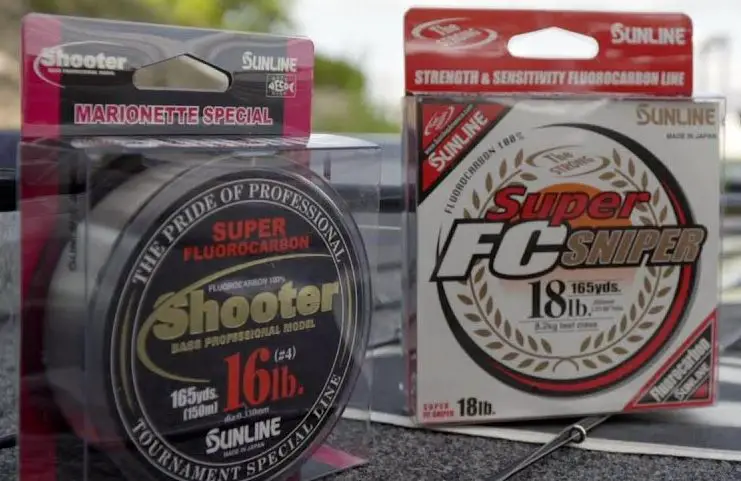 Fluorocarbon Fishing Line Buying Guide
Characteristics Of Fishing Lines
Here are the key characteristics of fishing lines.
Memory
Lines that curl when you pull them off your spool have more memory. While low memory lines are easier to cast over long distances, low memory lines are trickier. Low memory lines are also likely to knot when reeling them in.
Stretch
Various lines have different stretchability. Very stretchy lines can handle the tension that a wiggling fish generates and are less likely to break. They, however, are not sensitive and are low precision.
Shock Strength
Shock strength refers to a line's ability to absorb large amounts of energy without breaking. When fishing for large prey, it is advisable to use a fishing line with a high shock strength.
Flexibility
Part of fishing includes tying knots. A line with high flexibility makes it easy to make a wide variety of knots.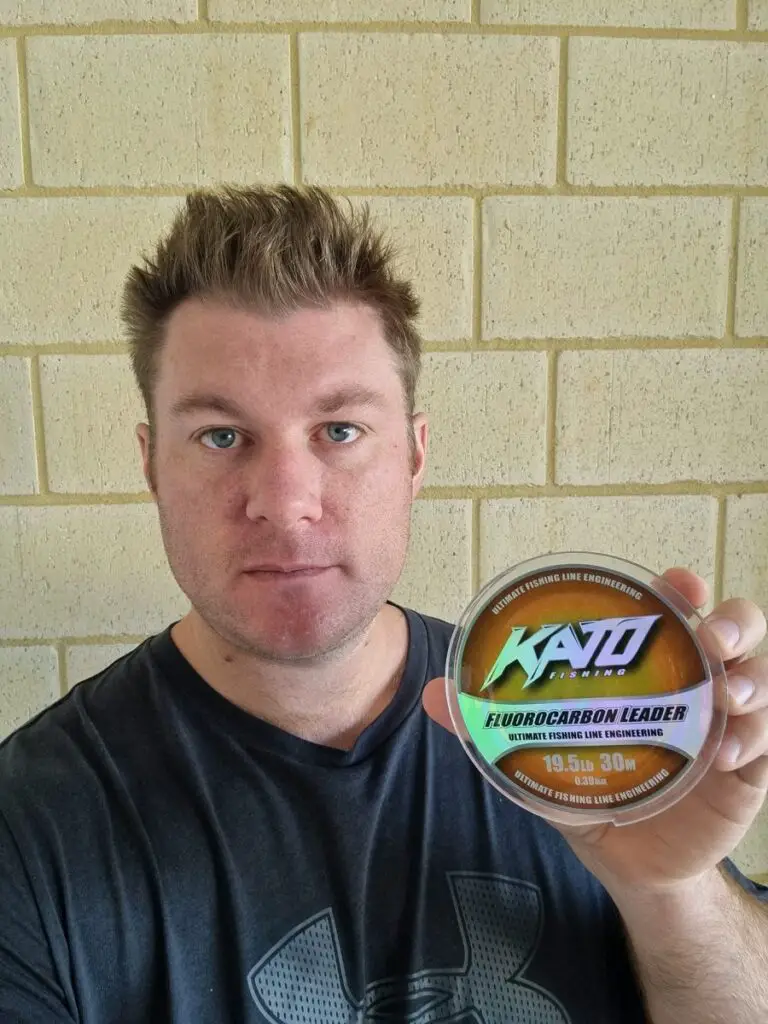 Factors To Consider When Buying A Fishing Line
Here are crucial factors to consider when purchasing a fishing line.
Diameter
That is a crucial consideration to make when buying fluorocarbon fishing lines. Make sure you buy a thin line as it will be sensitive to nibbles when.
Abrasion Resistance
Consider the abrasion resistance of the line that you are planning to buy. Fluorocarbon lines are highly abrasion-resistant, which means they can handle large fish without breaking.
Strength
Consider the strength of the fishing line. Fluorocarbon lines are strong, and because they are non-permeable to water and, therefore, will not weaken in the water.
Visibility
It is advisable to pick low visibility fishing lines when fishing in clear water. You need to consider the colour of the line too. Pick the colour based on the type of water you will fish in; a clear line has the lowest visibility in different waters.
Location
Consider the water in which you are going to be fishing. Choose fluorocarbon fishing lines for fishing in clear water because they are highly invisible.
Fish Species
Consider the kind of fish you are going after. Whether it is large prey or sight-based prey, you will need the right type of fishing line. If you are fishing for sight-based prey, like pike, consider using a fluorocarbon line because it is invisible in water.
Benefits Of Fluorocarbon Fishing Lines
Fluorocarbon fishing lines have the following benefits.
Low Visibility
When fishing in muddy water with skittish fish, a fluorocarbon fishing line is an excellent choice because the fish is not likely to see it. It has a refractive index that is the same as that of water; therefore, it does not distort light. Light is a huge factor when fishing in clear water.
Abrasion Resistance
If you are worried about your line being broken by rocks in the water, you need an abrasion-resistant line. When your line comes into contact with debris, it will not break, and you will not lose your fish. Fluorocarbon fishing lines have high abrasion resistance and will survive contact with rocks.
Sensitivity
Fluorocarbon fishing lines are highly sensitive. They transmit energy better than other types of fishing lines such that you will be able to detect your lure ticking bottom or light bites. A denser fluorocarbon line means it sick faster, contributing to its sensitivity.
Toughness
When you start fishing, you want a line you can use many times, even when river fishing. You should also be comfortable snagging larger fish without fear your line will break. Fluorocarbon is the line for you because it is both UV resistant and abrasion resistant which makes it a great fishing line for you.
Waterproof
Lines that absorb water are likely to weaken over time. Fluorocarbon lines are waterproof and therefore maintain their strength for a long time. They also allow you to cast your line far out when you start fishing, unlike fishing lines that absorb water.
Hooking power
Fluorocarbon lines provide solid hooksets compared to nylon lines with low-end stretch. That is crucial if you plan to drive the hook home at the end of a long cast.
Strong Knots
Fluorocarbon Lines make stronger knots than other lines. Even with a long cast, you are unlikely to lose your line because the knots did not work.
Low Memory
Memory refers to the likelihood of a line to curl or kink after it is unspooled. High memory lines are harder to cast over long distances. Fluorocarbon lines are low memory and, therefore, will be easier to cast for people starting fishing.
Fishing is an enjoyable way to spend time and also catch dinner. Using the best fluorocarbon fishing line guide will ensure you achieve your fishing goals every time you go fishing.
Conclusion
If you are looking for some more information on fluorocarbon fishing line then there are some other guides available online that you might find interesting like this one.
Happy fishing!
Last update on 2022-11-29 / Affiliate links / Images from Amazon Product Advertising API