Fishing rods socks, aka rod covers or rod sleeves, work in ensuring that the fishing rods are tightly and safely held. They are mostly made of woven sheaths and they enhance the fishing line's functionality from scratches when baits are fitted on them. This makes them an extremely valuable tool in any anglers tackle box.
The Kilkooll Rod Sock is my top choice because of its combination of high-quality construction and affordable price tag. It features 12 different colors in durable PET mesh. It is ideal for anglers who want to protect their valuable fishing rods from scratches and damage.
Rod socks come in different sizes, and colors giving you a variety to choose from to your suitability. There are only two types, the spinning and casting socks which you can pick depending on your needs. Whether you call them socks and sleeves, we have tested them out.
Pack of 12
Suitable for Spinning and Casting Rods
Fits Rods up to 7' Long
Braided Mesh Made of PET
The article below extensively explains a rod sock buying guide for a beginner.
Fishing Rod Sock Buying Guide
Rod socks are indispensable in safely storing your fishing rods. They are mostly made from nylon hose and cable covering. With one side closed and the other flared, you can put your rod through and protect it from damage. The rod sock has breathable material and is resistant to damage by fishing hooks.
In addition to this, it helps your rods stay in great shape and easily accessible when you need them. You do not worry about tangled rods, snags, or broken rod tips.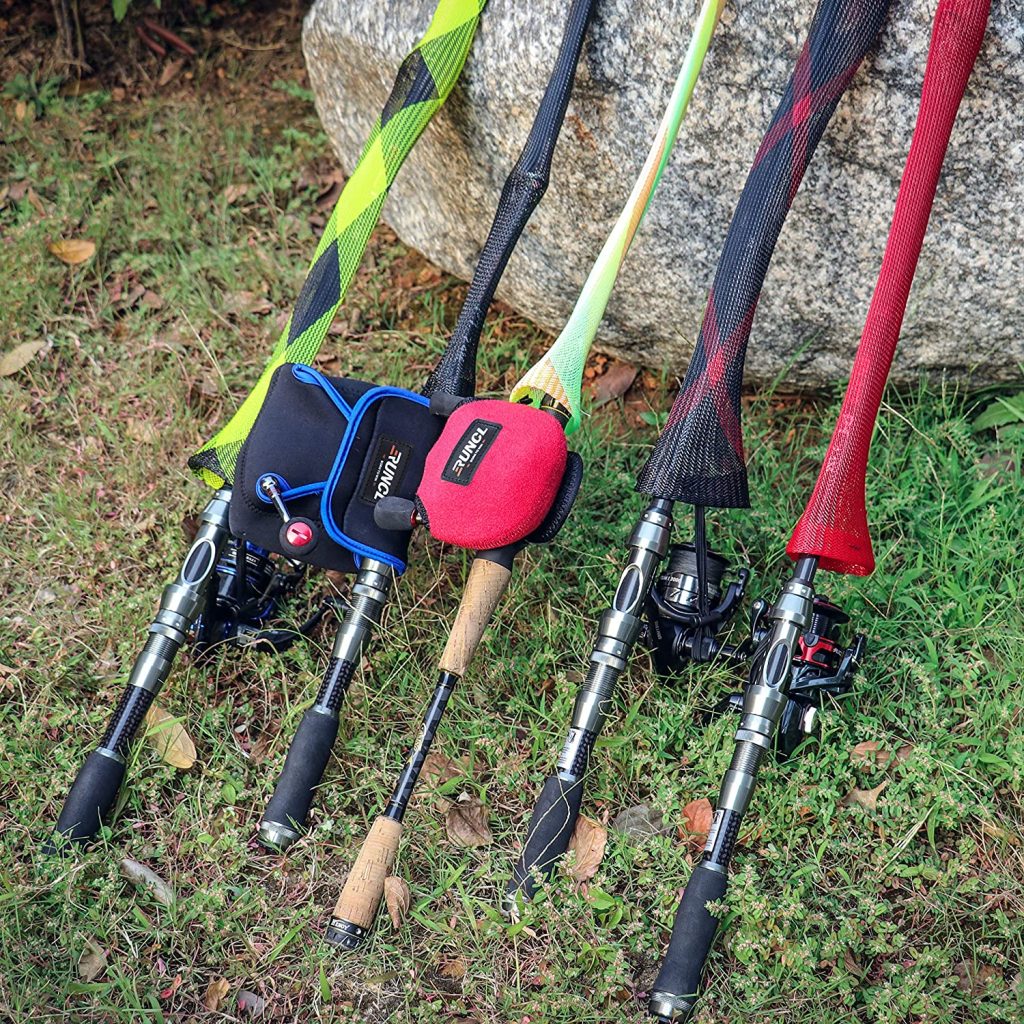 Types of Fishing Rod Socks
Fishing rod sleeves fall into two distinct categories depending on the type of rods. They are suitable for spinning rods or casting rods. The main difference between the two is that the former is wider to accommodate the spinning rods and the eyelet features while the latter is thinner. During the selection process, pick in line with the desired style.
Size
The rod socks come in different sizes, and a buyer must select what fits their rods best. Socks should cover a maximum of 2.36 inches in width to accommodate all types of rods. As for the length, you can get personalized to your rod's size. Understand that rotary rods and big eye rods cannot share the same rod sock in width. The same applies to the short and long fishing rods. As such, a buyer must confirm the sizes before purchasing.
Material
The most common material for making these rod socks is PET (Polyethylene Terephthalate). It is a plastic resin or polyester and is widely used as a packaging material. It is suitable for making rod socks with a considerable elasticity limit and tensile strength. They are breathable, and hooks can be conveniently removed if snagged or caught.
You may also come across some fishing pole socks made from woven plastic. Typically, they are secured using velcro base straps. As you select the right option, check the PET material's quality before making a final purchase decision.
Quality
The PET rod socks have been tested and proved to be the best. They are durable and tough, making it resilient to corrosion from salt and impurities in the seawater. The material is vital since it provides good abrasion resistance and does not soak up moisture.
Cost
Most retailers out here sell angling rod socks in packs. The sets vary from 4 to 10 pieces, which directly translates to the cost. Depending on your needs, get the necessary components to suit the purpose. Do due diligence to determine which supplier offers more pieces at pocket-friendly pieces.
Keep in mind the type also determines the cost of a rod sock. If you are buying in bulk, look at the delivery fees, increasing unnecessary costs.
Color
Rod socks are available in an array of colors. The colors include red, orange, blue, purple, black and green blended, black, white blende, green and yellow blend, and army green. If you are color sensitive, ensure you pick a combination of colors that best suits you. The variety of colors provides you with every day rich and color fishing lifestyle.
Availability
Angling rods are available in all leading fishing retiling stores around the United States. These retailers and sites sell a variety of angling rods from reputable brands; hence you can pick depending on your tastes and preferences.
Ease of Use
The fact that the rod sock is made of PET eases the useability of the device. As an amateur, the spin casting rods are the best due to their renowned ease of use. They are wide enough to accommodate extensive spinning rods hence giving you the advantage of learning faster,
Your Fishing Rod
Rods can be classified into different types depending on the materials, the fishing grounds, specifications, and length. If you have carbon fiber rods, you may need to get the rod socks that ideally fit. Fly rods are thin and flexible, which implies that they require a thinner sock.
As for the baitcasting and spin casting rods, they are mostly used by novices. During your search, find the rod sock that adequately fits your type and design of the fishing rod.
Conclusion
If you love your fishing rods and want them to stay in good shape and be organized, you should invest in high-quality fishing rods socks. They cost much less than the fishing rods but will work wonders in protecting your fishing rods.
This will go on a long way to improve your angling skills in your journey to becoming a pro angler.
Finally, take your time during the purchase and get the best rod sleeves for your rods and you will not regret it!