The best live bait tanks have built-in aerators, rechargeable batteries, are portable, and have durable, commercial-grade materials.
When it comes to using live bait, it's often best to have bait that's lively and fresh instead of using minnows or various types of bait fish that are about to go belly-up. Keeping your bait alive for hours at a time has been a challenge anglers have faced for many years and is an issue as old as fishing itself. However, thanks to the recent innovations made by various brands in the fishing industry, anglers now have the means to keep their bait in prime condition for many hours or even days at a time thanks to live bait tanks. 
If you're searching for a great quality live bait tank for your next fishing trip, there are a number of good products on the market that you might want to consider. We've done most of the legwork and compiled this article to lay out some of our picks for the best live bait tanks available, as well as a guide for selecting the one that's right for you. 
Why Do I Need a Live Bait Tank? 
Most fish are attracted to bait that's lively and spry as opposed to a minnow or shad that's stopped moving. If you're fishing for species like catfish that typically eat dead or dying fish and other creatures, there's little need for a high-quality tank that will keep your bait alive. However, for most game fish species in both freshwater and saltwater fishing, you'll need to do everything you can to keep your bait in the best condition possible. 
If you're fishing from a well-equipped boat, you'll have the luxury of using a live bait tank that's already installed and properly aerated and conditioned. For anglers who don't have a bait tank on their boat, or are planning to fish from a kayak or on the shoreline, a live bait tank lets you keep your bait in great condition for hours. 
Having a live bait tank that's portable and battery-powered to last for days at a time gives you a major advantage over anglers who might rely on other means of storing their bait. Certain premium quality live bait tanks can keep a wide range of bait fish in tip-top shape for many days at a time. This let's anglers venture farther into different waterways in search of trophy game fish and to also extend their trips by a few days as they won't have to return to the bait shop and refill their bucket with new minnows. 
We also have a guide to help you keep your live bait alive for longer.
In the next section, we'll list our selections for the 7 best live bait tanks available in today's market. We base these picks on a number of factors that might differ depending on the type of fishing you're doing and whether you're on the shoreline or in a kayak or other watercraft. If you're looking to purchase a great live bait tank for your next fishing trip, these 7 options are a great starting point. 
How We Rate Products
I thoroughly review all products to measure their performance, durability, and value for money. This is done through bench and field testing to check how the product performs. This testing results in an overall score that I give to all products. All metrics are scored out of 5.
Performance
The performance score is how well this product fulfills its primary purpose. Does it have all the features and optional extras you need to catch the target species? We also interview expert anglers on their experience to build a broader and more comprehensive view on the performance under multiple conditions.
Test 1: Confirm that the max drag meets the manufacturer's specifications.
Test 2: Test the maximum casting distance using a 1.0-ounce lure.
Test 3: Test the accuracy by casting 10 times into a 3 ft diameter circle at 30 yards.
Test 4: Check the versatility and the ability to handle multiple uses by field testing with 3 different lures and baits.
Durability
Durability refers to how long the product will continue functioning. I twist, bend, and break all the products to check their longevity. This score is for the materials of construction, the quality of the workmanship, and the servicing requirements. There are also bonus points for manufacturers' warranty.
For products that we can't test for long enough, we also consult with experts who have been using them for multiple decades to judge their longevity.
Test 5: Pull it apart to check the grease and oil levels, how difficult it is to maintain, and whether any sand or salt has deposited after use in saltwater.
Value for Money
The final aspect of the scoring system is the price or, more specifically, the value for money. Value for money is a comparison against the closest alternative products, both by the same manufacturer and other brands.
Overall Score
Finally, I average the three scores of performance, durability, and value for money to give the overall score of each product reviewed.
To see more details, please read the complete guide on how we test and evaluate fishing products.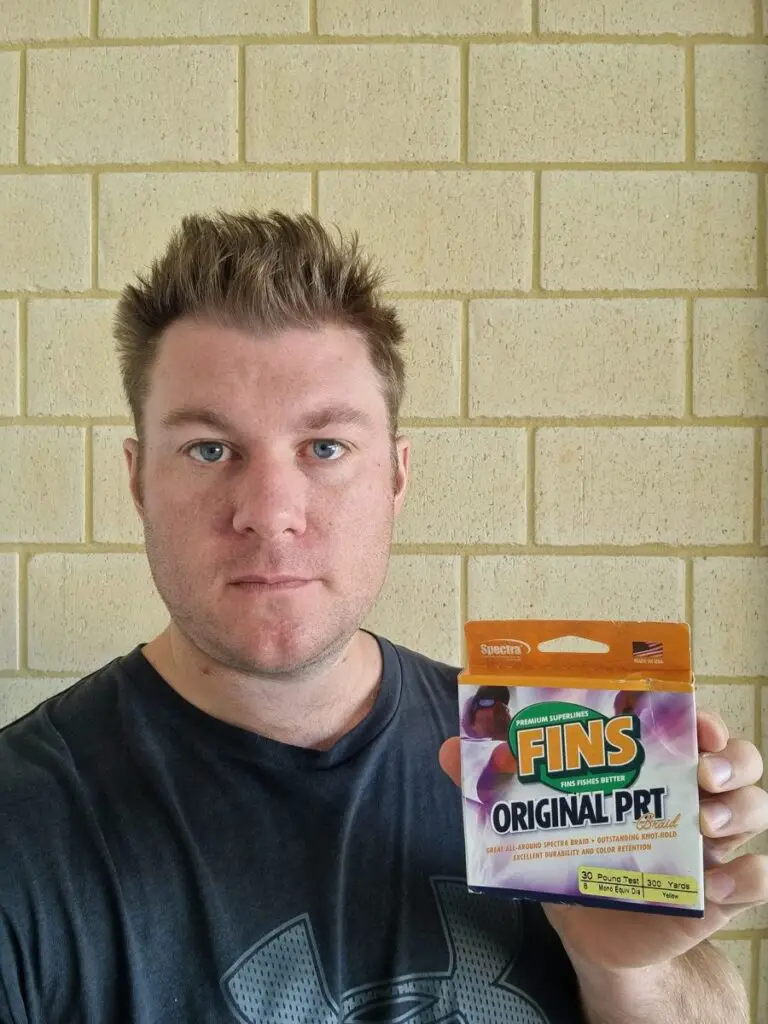 1. Engel Live Bait Cooler 
Bestseller No. 1
If you're searching for the best live bait tank in the fishing industry today, it's hard to beat the Engel Live Bait Cooler. This compact and lightweight tank is well-suited for fishing from the shoreline or in a boat, but is also perfect for kayak anglers. It offers plenty of insulation so that your bait won't be affected by the outside temperature and can double as a cooler. 
The Engel Live Bait Cooler is arguably the most durable model on our list of the best live bait tanks thanks to its high-grade PP copolymer shell. The polystyrene foam insulation provides outstanding insulation while not adding too much extra weight. This bait tank weighs only 7 pounds and has a convenient shoulder strap if you want to tote it to your fishing spot. 
The Live Bait Cooler is also well-equipped in terms of its aeration system. It features a 2-speed aeration pump that operates using a 2-way power system. The pump system is designed to maximize the amount of aeration and battery life, giving you extensive life that lets you keep your bait fresh for many hours at a time. Inside the tank, you'll find a pull net instead of a hand tray, making it easy to get your bait instead of reaching down into the water. 
The Engel Live Bait Cooler is made with the air tube port on the top of the tank instead of the side. This allows anglers to use more of the tank's capacity and also cuts down on overflow splashing that often occurs when you let the cooler vent around the air tube. The aeration system's battery can be recharged using a 12V adapter, which means you can plug it into a standard cigarette lighter and keep it running for as long as you need. 
This live bait tank comes in a variety of colors and sizes, which lets you select the one that's just right for your own personal needs. The 30Q Live Bait model is perhaps best for kayak anglers as it fits perfectly inside the rear tank well on most kayaks while also featuring four rod holders that are mounted on either side of the cooler. This one is obviously more expensive than most other options, but it's the ideal choice for serious anglers who often fish with expensive and hard-to-find bait they want to keep alive as long as possible. 
Pros
Easy to transport with a shoulder strap
Rechargeable 12V aeration system battery
Durable, high grade copolymer design
Cons
More expensive option but suited for serious fishermen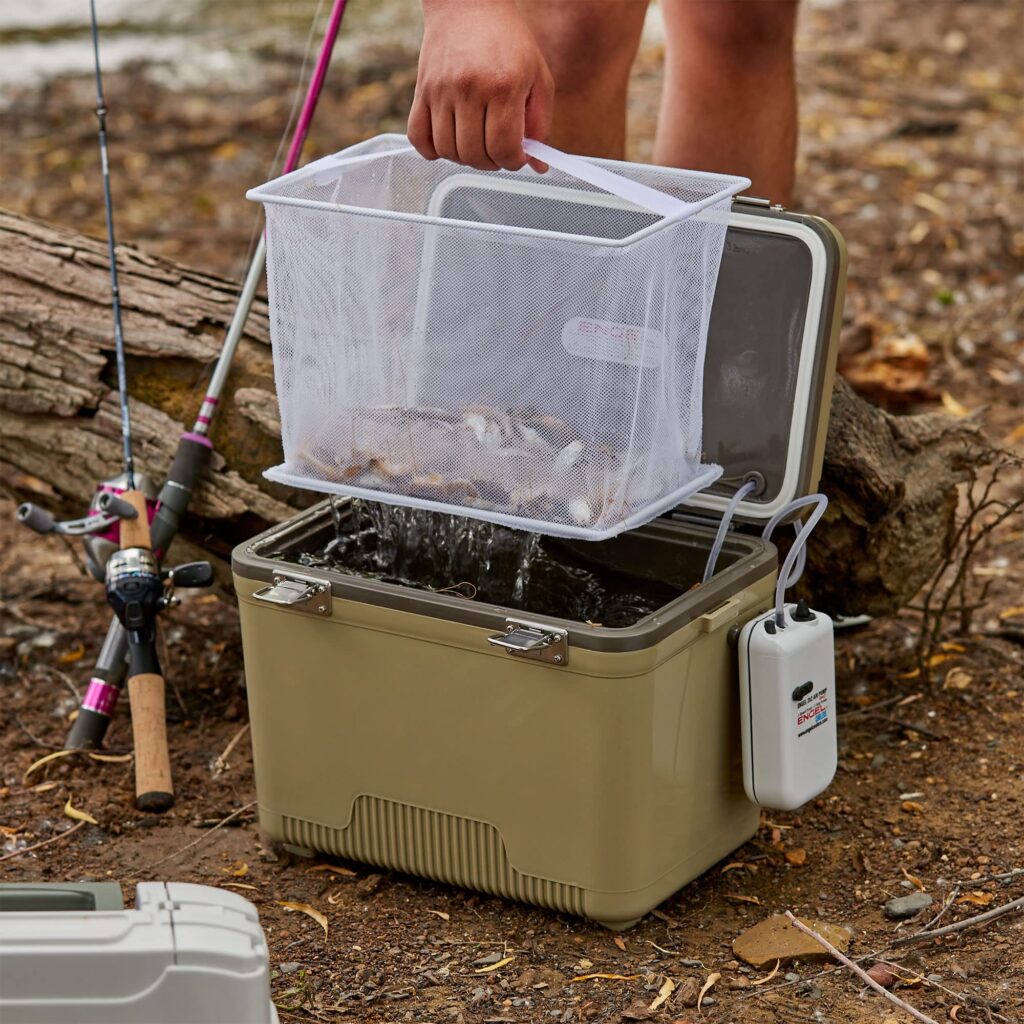 2. Frabill Magnum Bait Station 
ON SALE $50.00 OFF
Bestseller No. 1
The Frabill Magnum Bait Station is arguably the best live bait tank you'll find in today's fishing industry and rivals the Engel in many ways. It's incredibly tough and well-insulated thanks to commercial-grade foam insulation and an injection-molded base. Frabill has extensively tested the Magnum Bait Station in hot and cold weather. This tank performs exceptionally well in both conditions and is perfect for fishing on sweltering-hot days on the open ocean or on frigid winter ice fishing trips. 
It comes with a deluxe aerator that operates using two D batteries and a 12V adapter port that allows you to charge it when necessary. Frabill offers the Magnum Bait Station in three different sizes: a small 13 quart model, a 19 quart and a large 30 quart option. Each model has the same basic capabilities, but the 30 quart model comes with a Dual aerator system that's great for storing large amounts of live bait in one container. 
The Frabill Magnum Bait Station comes with an oversized handle on the 13 and 19 quart model and the 30 quart offers two large side handles for better portability. The 19 quart size will fit into the rear tank wells of most kayaks. The only potential downside to this one is that it's much more expensive than most other models, but serious anglers should view this as a worthy investment. 
Pros
Commercial grade foam insulation is suited for hot weather locations
Multiple size options to find something that suits your needs
Cons
More expensive than other options but still good value for money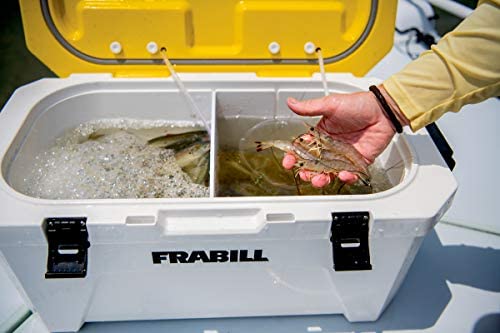 3. Fishernomics Collapsible Fishing Bucket Livewell 
For most anglers, space comes at a premium and you can't afford to have a large, bulky bait tank that takes up too much space in your boat or kayak. The Fishernomics Collapsible Fishing Bucket Livewell is a unique live bait tank that is the most versatile option on our list. This one is collapsible and allows you to break it down once you're done fishing for the day so you don't have to lug a tank full of water back to shore. The Fishernomics Collapsible Fishing Bucket Livewell has plenty of features that make this an interesting option that can function virtually anywhere. 
It offers a breathable, easy-to-open drop lid that lets you pop open and quickly get your bait instead of having to open the entire top of the tank like other models. It operates using a rechargeable oxygen aeration pump that offers up to 13 hours of continuous use, or can be used for nearly 25 hours in intermittent mode, which turns the unit on for 20 seconds after it remains off for 20 seconds. 
This one can be charged with a standard USB port and charger, so you won't have to worry about running out of batteries. It holds more than 9 gallons of water at a time and also comes with convenient handles and a shoulder strap that make it very easy to carry. This one is relatively affordable and is great for anglers who want to conserve space in their vehicle or boat. 
Pros
Collapsible design is suited for small boats or walking anglers
Good battery life will keep your bait alive all day
Affordable option
Cons
Not as durable as a hard case live bait bucket
4. Marine Metal 20-Gallon Bait Saver Livewell System
ON SALE $2.64 OFF
Bestseller No. 1
Our next option might not be as aesthetically pleasing, but it's built to be more functional than anything else. The Marine Metal 20-Gallon Bait Saver Livewell System is a live bait tank that professional anglers and guides have relied on for many years. This massive bucket tank allows you to store large amounts of bait, which is ideal for boats headed many miles offshore or for other fishing scenarios when you want to use it as a livewell. 
The large barrel is made of UV resistant material that helps keep the water regulated and won't get overheated easily on hot days. This one comes with a filter-guard, hinged lid, and a Bait Saver aerator system that operates on a 12V DC battery system. This ready-to-use system comes in a 20-gallon or 10-gallon model and lasts many hours on the water. 
Pros
Large size can store enough bait for professional anglers
UV resistant material for hot, high sun days
Cons
Not an aesthetically pleasing design – its ugly
5. Wilderness Systems Thrive Baitwell
The Wilderness Systems Thrive Baitwell is another option that's perfectly-designed for using with most kayaks. It's incredibly tough and rugged and can hold bait for many hours at a time thanks to a solar-powered aeration system. This tank holds up to 26 liters and the aeration system has a flow rate of 3 liters per minute. 
The Wilderness Systems Thrive Baitwell operates using a Lithium ion battery that can be recharged using a standard USB port system with four different ports that also provide output. This means you can use your fully-charged Thrive Baitwell to charge cameras and phones while you're on the water, which is a huge convenience for anglers who like to film their fishing trips. 
The Thrive Baitwell also comes with a mesh bag that allows you to easily remove all the bait at once. It's compatible with solar panels for anglers who like to go on extended adventures where they might not have access to any other power source. This one is a bit more expensive, but is perfect for serious kayak anglers. 
Pros
Compatible with solar panels for extended fishing trips
You can use its battery to charge other devices
Cons
Not affordable but good for serious kayaking anglers
6. Marine Metal Cool Bubbles Plastic Bucket and Pump
ON SALE $21.22 OFF
Bestseller No. 1
The Marine Metal Cool Bubble Plastic Bucket and Pump system is an ideal choice if you're looking for something that's more budget-friendly. This one is affordable and great for beginner or novice anglers who simply don't want to shell out hundreds of dollars for a live bait tank. It's made with a small 8-quart bucket or a larger 5-gallon bucket with a dip-net for easy access to the live bait inside. 
This one runs from a simple Bubbles B3 model pump aeration system that operates using two D batteries. It's advertised as capable of providing as many as 85 hours on fresh batteries, which is much longer than most other systems. This one is ideal for fishing in colder weather as it will provide constant water temperature with proper aeration. 
This one isn't equipped with the many bells and whistles other options have, but it is affordable and does the job. 
Pros
Can last for 85 hours which is many times more than any other option – with D batteries you can also bring extras to stay on the water even longer
Affordable – suitable for beginner anglers
Maintains a constant water temperature which helps keep bait fish alive in cold environments
Cons
Doesn't have the features of the other competitors
7. PLUSINNO Foldable Fishing Bait Bucket
For anglers looking for a foldable bait tank that will easily fit inside most kayaks or boats, the PLUSINNO Foldable Fishing Bait Bucket is a solid choice. This one is a great deal, but doesn't come with an aeration system included, which means you'll have to select your own system that will be compatible with a small, 23-liter tank. 
The oxygen pump port is located on the top of the tank and there's also a small pocket on the side where you can store your aeration system. The PLUSINNO Foldable Fishing Bait Bucket is lightweight and collapses into a very small, easy-to-transport unit. You can purchase this product in two different sizes—a 6-gallon or a 3-gallon model. 
It comes with a zippered net lid that allows you to store your live bait and the fish you catch in the same container. This is a great starter model for young anglers or anyone on a tight budget. 
Pros
Very easy to store and transport with the collapsible design
Affordable price tag
Cons
Doesn't have an aeration system included
Not suitable for experienced anglers
Live Bait Tank Buyer's Guide 
If you're in the market for a new live bait tank and you don't really know what to look for, there are a few specific characteristics and features you'll want to pay close attention to as you search. Remember when and where you'll be using this live bait tank as you want to get the right size and features for your fishing trips. 
Here are the most important factors you should look for in each live bait tank model you consider. 
Size 
Before you do anything else, you need to be sure of what kind of fishing you plan to do with this live bait tank. Suppose you're going to be fishing from the shoreline only. In that case, you can get by with a relatively affordable tank that sits easily on level ground and can be transported without any trouble. However, if you're a kayak angler, you will be forced to work with the space you have on your boat. 
Be sure to choose a tank that won't be too large or heavy for your kayak or other watercraft. If you're on a larger boat, you'll have much more room to work with and can comfortably fit a larger 30 quart tank on board. 
The size of your live bait tank also comes into play depending on the type of bait you plan to use and the quantity of bait fish you plan to have inside the tank. If you're on a larger boat with as many as four people on board, you might want to select a larger 30 quart model that will allow you to take plenty of bait fish for the day. 
It's also important to take into consideration the type of bait you plan on using and how much space they might need to move around inside the tank in order to maintain optimal condition. If minnows, shad or other bait fish are too cramped inside a tank, it could severely limit the time they will stay alive. However, if you have ample space for them inside the tank and the proper amount of aeration, the bait fish should stay lively and fresh for as long as the aeration system in your tank is operating. 
Durability 
If you're a casual angler who only gets out on the water a few times each year, you won't actually need a live bait tank that's particularly rugged for your outings. Most bank fishermen like to use the standard bait bucket and aeration system as these are the most affordable and offer the right capabilities to keep your bait alive and well for hours while you fish. 
For anglers traveling deep into the wilderness on foot or in a kayak or boat, you'll need a much more durable and tough live bait tank that will withstand the elements. For kayak anglers, it's important to have a tank that won't be easily damaged if you tip over or run into any rocks or other structure on the water. 
Also, if you're planning on going deep into the remote areas for your fishing trips, be sure that you get a tank that's well-insulated so the water and the bait inside don't overheat or get too cold due to outside temperatures. 
Aeration System 
The most important part of any live bait tank is arguably the aeration system. Depending on the size of your tank, you'll need to make sure the aeration system you're using can provide enough filtration and flow for the water to have optimal oxygen levels. This will go a long way in keeping your bait alive and healthy. 
Most of the top live bait tanks you'll find in online retail and sporting goods stores will likely have an aeration system already installed, but some models do not include these with the tank purchase. It's best to select an aeration system with a flow of at least 1 liter per minute if you're running a tank that's roughly 3-5 gallons. An aeration system with a flow of at least 3 liters per minute is recommended for larger tanks. 
Power Source 
Most aeration systems in modern live bait tanks operate on simple D size batteries. Depending on the quality and brand of the aerator and the number of batteries, you might be able to get several hours out of a single set of fresh batteries. If you're going on an extended trip and need to keep your bait fresh for a few days at a time, it's crucial that you pack at least two sets of fresh batteries in order to secure enough power to operate the live bait tank as long as you need. 
Some anglers would rather opt for a tank capable of being charged through a standard USB cable and port. This allows them to use their phone charger or plug their aeration system into the cigarette lighter on their vehicle. For anglers who want a fail-proof means of powering their live bait tank on long fishing trips, it's recommended that they select a model that is compatible with solar powered devices. 
Last update on 2022-11-29 / Affiliate links / Images from Amazon Product Advertising API