Fishing for Crappie can be very fun, normally found in bigger ponds or the shallow parts of lakes. People fish for crappie because they are found in very aesthetically pleasing areas of nature. Experienced fishermen will know that your best bet at catching crappie is to have a very light hookset.
If you're an inexperienced fisherman you may think having the most robust and strong rod is the best way to catch any fish you want. I can assure you that different fish will require different types of equipment, whether that be a reel, line, or a rod. In the case of crappie you want to have a rod that has very light sensitivity and one where you will feel the lightest of nibbles.
Here I am going to be discussing what is the best line to use when catching Crappie, I will also be discussing why I think the line is best for the use of Crappie, you may think that you can use any old regular line but you are just going to be making your fishing trip  a much less successful one for yourself. So hopefully I can help you make the most knowledgeable choice when it comes time to make your final decision.
Let's get started.
7 Best Fishing Line For Crappie
1. Seaguar Invizx Fluorocarbon
Seaguars Invizx is an incredibly good fluorocarbon line. It's sensitive, very strong and also clear. These are all very sought-after features for fishermen who are experts at catching Crappie. With its strength and sensitivity, it is a must-have if you are going to be taken seriously.
The brightest spark of the Invizx is its handling, allowing you to feel the full experience of catching a fish without making it too much of a physical struggle for yourself. It's tangle free and provides the perfect amount of give when you begin to reel. For tackle that is ultra light, you should still use either a braid or mono, but this truly is one of the best handling lines on the market today.
It is incredibly sensitive which is perfect for fishing Crappie as they won't be aggressive towards your bait and you will need to make sure that you have your focus on any little jiggles in your line once it has been cast. The weakest part of the line is its laco of abrasion resistance however this won't really be an issue for catching Crappie as they tend to stay in the quieter parts of lakes surrounded by soft mud or sand.
Pros
Highly sensitive 
Strong
Handling
Cons
Poor abrasion resistance – I got some line damage from some underwater structure.
ON SALE $5.00 OFF
2. Sufix 832
The Sufix 832 is a braided line. The line is incredibly strong and can provide a fair amount of long-lasting durability. Making it a very favored choice for many experienced fishermen. The line is made with quite a high-tech approach, as it is made from several Dyneema fibers which improve. Strength abrasion resistance and casting. 
If you run the line through your fingers you would be able to feel how smooth it is which given how resistant it is to abrasions is quite surprising. Casting is another thing that the Sufix 832 gets right. 
The Sufix 832 is available in a variety of different colors and weights, so it means its user can have full control of what they are casting. The only weakness of this line is something that happens to all braid lines and that is that it has weak knot strength. This isn't specific to Sufix and is an issue with all braided lines.
Pros
Good casting
Highly Sensitive
Different weights to choose from, 
Cons
I noticed it had weaker knot strength than some of the alternate options.
ON SALE $13.40 OFF
3. SpiderWire Stealth
This line from SpiderWire is again a braided line that is available in a wide variety of colors and weights. It is very strong but also very smooth with braided lines the strength is to be expected but the smoothness is a welcomed surprise. 
The casting process works extremely well with the SpiderWire Stealth line. It has a minimal line stretch and is highly sensitive. However, as previously mentioned, braided lines often produce weak knot strength. 
As it comes in a wide variety of colors and weights you can choose what specific one is best for you, however, it should be stated that the SpiderWire Stealth line can fade in the water. 
Pros
Variety of weights
Highly sensitive
Great for casting
Cons
ON SALE $8.00 OFF
4. Sunline Super FC Sniper
The Sunline Super line is a fluorocarbon one. It has a resin coating to improve the limpness, abrasion resistance and handling, which results in a much better casting experience. Some say that a fluorocarbon will never be on par with braid or mono lines but this makes a very good attempt at it.
It is highly sensitive and due to its resin coat is hugely abrasion resistant. This gives you a much better sensitivity with giving up its casting distance and is truly impressive. It is also of low visibility which can be of high importance when catching fish that aren't overly aggressive to your bait. 
Although not as weak as the knot strength of a braided line it, unfortunately, doesn't hold up to the strength of the previously mentioned fluorocarbon line Seaguar Invizx but that doesn't mean this line should be washed away.
Pros
Abrasion-resistant
Great casting
Highly sensitive
Cons
5. McCoy Mean Green
The McCoys Mean Green line is a nylon monofilament. Which provides lots of strength. It is available in a few different colors so as not to let the name of the product fool you. The line is highly limp which allows it to cast almost perfectly.
Due to how it is made it has great knot strength and is highly resistant to abrasions. It has low vis options at its disposal making it a highly sought-after line as this is great for catching fish in low water activity areas. 
Perhaps fishing throughout the day isn't for your liking and you prefer to fish much later at night, so don't panic with this line. It has night fishing options available to satisfy your needs.
Pros
Strong knot
Abrasion-resistant
Available in different colors
Cons
Not as sensitive as a braid or fluorocarbon line.
6. Stren Original
The Stren Original is a Nylon Monofilament line. It comes in both low and high vis, as well it comes in fluorescent for the people who love to fish at night. It also comes in a variety of different colors so you can choose based on what is best for your specific needs.
It is a strong line and is incredibly resistant to abrasions. I recommend this line for those fishermen who love to fish around in rougher terrain. It is limp which makes it very easy to cast well and also can be tied with ease. 
It is also quite sensitive which comes as a surprise based on what type of line it is. It is good at detecting faint strikes even when you've cast out quite a bit of line. Although it is not going to be as sensitive as lines that are of a braid or fluorocarbon making it is still very surprising how sensitive it actually is. 
Pros
Great casting
Night fishing available
Incredibly resistant to abrasions
Ease when tying
Cons
Not as sensitive as Braided or fluorocarbon lines.
7. KastKing Superpower
The KastKing Superpower is a braided line, making it an incredibly highly sensitive line that provides absolutely zero stretch. This will provide you with the ability to feel even the slightest of touches or nibbles that a fish may make.
It features an incredibly high abrasion resistance allowing its users to fish in lakes that are full of rocks and other forms of debris that a line that wasn't as resistant to abrasions wouldn't be able to handle without damage. 
It allows quite a long cast while maintaining accuracy and sensitivity due to its ability to provide no stretch whatsoever making it a perfect choice for catching Crappie. 
It also has very low line memory which for those who don't understand what that is, line memory is when a line that is sat on a spool will develop curls and tangles making it a much more difficult casting process and can even impact the length of how far you can even cast the actual line.
It's impossible to remove line memory as a whole because it unfortunately is just what happens when its on a spool but the low memory that the KastKing Superpower offers is something that shouldn't be taken lightly.
As mentioned the line is abrasion resistant which also makes it an incredibly durable line not only strong, a durable line is incredibly important when it comes to fishing, especially in places where you may be dragging the line over rough terrain.
Pros
Durable
Very low memory line
Accurate
Highly sensitive 
Zero stretch when using this line
Resistant to abrasions
Cons
Like other braided lines it has weak knot strength but this is an issue with all braided lines, like previously mentioned.
Crappie Fishing Line Buyers Guide
Accuracy
Accuracy is highly important when it comes to fishing, and of course, at first, you may be inaccurate with your casting, which is of course expected as getting the proper technique will only come with time and practice.
That being said, it is important the equipment you use gives you the best chance of being accurate. Again that doesn't automatically mean you will be able to catch plenty of fish but it does mean you'll be able to cast exactly where you want to which will give you the best chance.
Accuracy can be impacted by a number of things such as what type of line it is all the way to what protective coating the line has on it too. Before making your final decision it is recommended that you research properly how accurate the line you are using is. The above-stated products are all above average in terms of accuracy.
Abrasion Resistance
Again if a line isn't resistant to abrasions it can become damaged when being dragged over different types of debris such as rocks or perhaps through thick mud. Whether a line is resistant to abrasions is determined by what has been used when making and what has been used to coat the line.
This can impact the durability of the line too. It is highly important that the line you select as being the best for you is abrasion resistant for the purposes mentioned. Lines can become damaged due to the nature of fishing so before making your final decision it is again recommended to research to ensure the kine you have selected is best for the type of fishing you are going to be trying.
Sensitivity
Sensitivity is one of the most important things when it comes to catching Crappie as they will not be aggressive towards your bait. Sensitivity is the key to any good line, luckily the above-stated products are all highly sensitive. In the places that crappie are found it is often very low activity water, so the sensitivity can make or break the success that you will have when fishing in those types of areas.
The sensitivity can be impacted by what type of line is used as obviously some are more sensitive than others, Monofilament lines for example are less sensitive than Fluorocarbon lines.
Night Fishing
If the lines offer availability for night fishing then it's only important if you are going to be fishing at night. You may notice some subtle differences in terms of what the lines feature when they are specific for night use but not majorly, the only difference really is the visibility of the line.
It is important that if you know you are going to be doing night fishing that you select the lines that offer that as availability otherwise you truly will be fishing in the dark which as you can imagine is very difficult.
Weight 
The weight of the line is very important and can impact the distance that you can even cast the line out to if it is overweight for example. Any line that is heavier than 6 lbs is a little much in my opinion and isn't necessary.
Crappies are a lot of fun to catch but they don't grow to be incredibly big so you won't need a heavier line to reel them in. The lines that are listed above are all a standard weight and are not overweight for Crappie fishing.
It is important to do proper research when it comes to what weighted line you should use for specific fish as they all require different weights to have the most success at catching them, but you shouldn't sacrifice casting distance for Crappie. 
Strength
The strength of the line for Crappie, isn't majorly important because they don't grow to be the biggest fish. That being said, the pull of a fish is something to be taken into account.
The strength can be impacted by lots of things but for crappie you shouldn't sacrifice something like sensitivity due to the nature of the fish that you are going to be catching. Strength is something that should only hold priority over something like sensitivity if you are going to be fishing in rougher waters with more aggressive fish, those are not Crappies.
Before making your final decision it is important to check that you have done your proper research on what type line best suits your specific needs which is determined by the type of fishing and the type of fish you are looking for, other areas to look to are durability abrasion resistance, accuracy and whether the line provides its user with stretch, preferable you would like zero stretch in your line.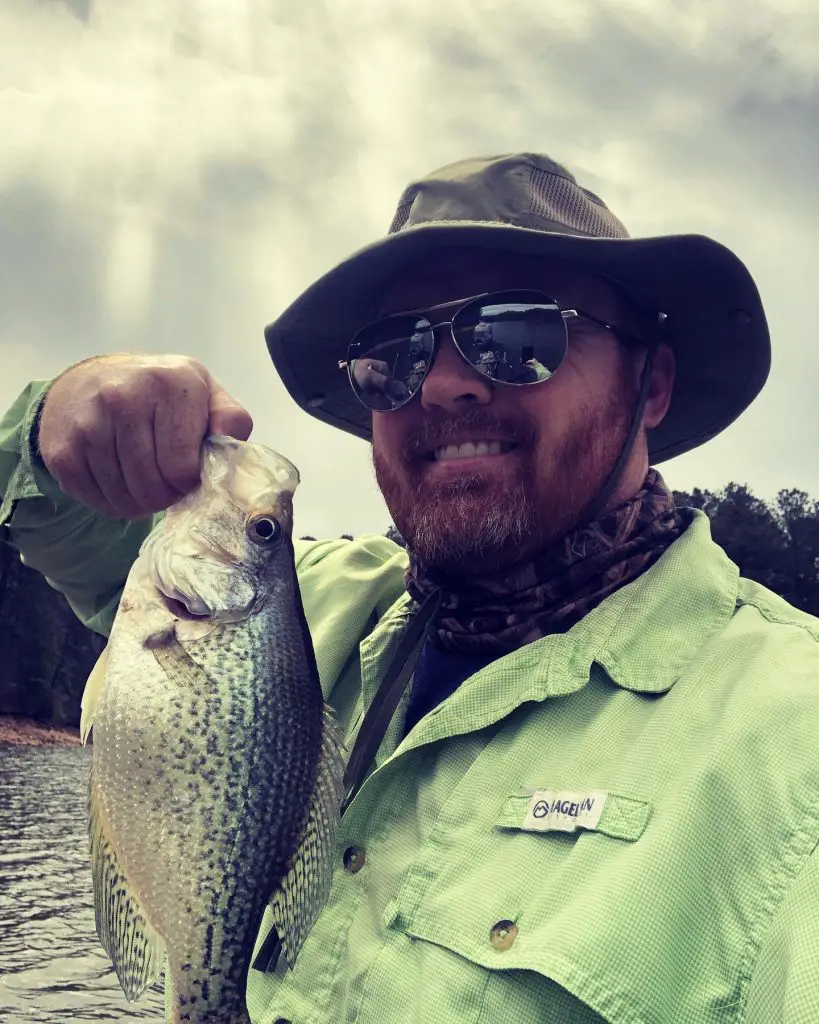 Frequently Asked Questions
Is the weight of the line important when it comes to catching Crappies?
The weight of the line is important, but mainly for catching much bigger fish than crappies, you will be successful with a much lighter line as if it is heavier it can impact the sensitivity of the line which is one thing you will need a lot of to be successful.
It is recommended that the line you choose to use sits between four to six lbs as this will provide enough senstiivty while also remaining strong enough to make the reeling process the most struggle free.
Are the above products all highly accurate?
Yes, The above products are all highly accurate and provide a wonderful experience when casting the line out, they are smooth and strong as well as being incredibly precise when you use a good technique in your cast. Accuracy is an important aspect of catching Crappie.
Is line memory important?
Line memory is very important however it's unavoidable, line memory is when the line has begun to curl due to being on the spool. You should aim for lines that are orientated to be of low memory for the best results.
Last update on 2022-04-27 / Affiliate links / Images from Amazon Product Advertising API