The best-sized kayak for ocean fishing is 12 to 14 feet in length, as this gives more stability for casting, without becoming difficult to maneuver through waves and swell. A longer kayak will provide better tracking and stability, making it safer and more comfortable in rough water.
Kayak fishing is incredibly fun and challenging, but it's important to understand that one size kayak doesn't usually work for any fishing environment. It's crucial that you use a kayak that's designed to handle the challenges you'll face in certain types of fishing environments. 
When it comes to fishing in the ocean, there's a certain size kayak you'll need if you want to remain upright and have the capability of cutting through the swells with ease. In this article, we'll discuss what size kayak you'll need for ocean fishing and the reasons behind this particular kayak style. 
Ocean Kayak Fishing Overview 
There are several specific challenges that anglers face when fishing in the ocean. Unlike fishing in the shallow waters of a calm reservoir or slow-moving river, ocean kayak fishing is a completely different animal. You'll need a kayak that can handle the blustery winds and larger waves if you want to have much success in fishing. 
The small, compact kayak models that are often used by anglers for fishing on freshwater lakes and rivers simply won't cut it for fishing on the ocean. Here, you'll need a kayak that's no less than 12' in length as it's key to helping you stay upright in tumultuous conditions. If you were to ask any experienced ocean kayak angler, you'll probably be told that it's better to have a 14' kayak for ocean fishing and this is what I would personally recommend.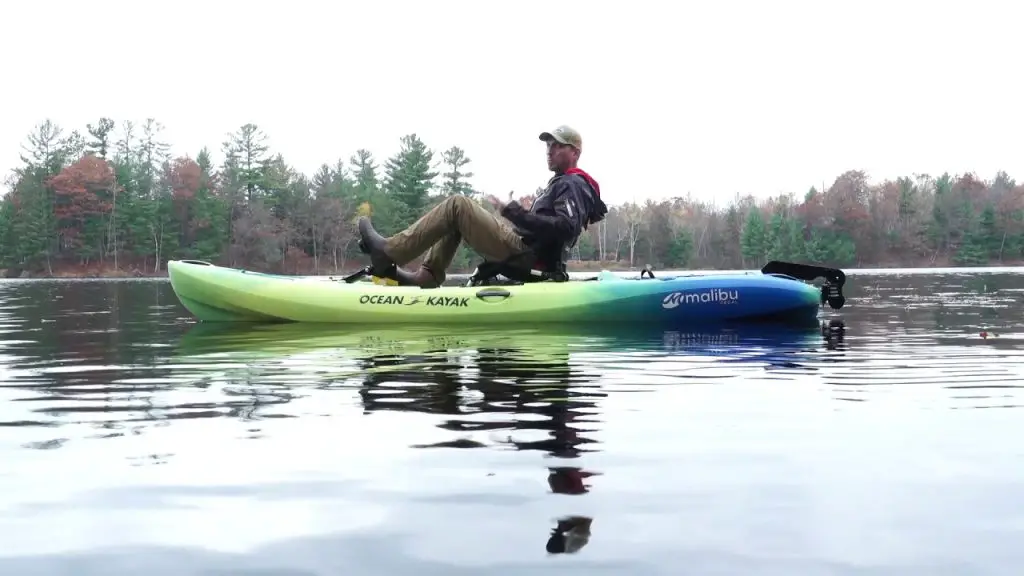 Kayak Design Elements
There are many designs and models when it comes to kayaks and it's essential that you have a working knowledge of the different elements of a kayak if you want to have a better grasp on what type of kayak is best for your own ocean fishing needs.  There are exciting new kayak designs being released each year and brands are creating vessels in a way that significantly improves the quality of your kayaking experience on the water. 
Kayaks are produced in either a sit-inside or sit-on-top model that each have their own distinct advantages. The sit-inside kayak model is great for those who want to maintain a low center-of-gravity and have control over their kayak for better maneuverability. However, the sit-inside design is not ideal for fishing and makes it incredibly tough to cast or land a fish in one of these kayaks. 
The sit-on-top kayak models are made in one or two person (tandem) models, but some brands have large three-person kayaks. In years past, you'd be forced to rely only on a paddle to get you to your chosen destination, but kayak brands have now started to produce various methods of propelling a kayak. These propulsion methods include a pedal systems, as well as motorized models that create a nearly hands-free kayaking experience that allows you to go anywhere you want (as long as you have the battery-power to get there and back). 
In the following sections, we'll explain more about certain kayak design elements that will influence the boat's performance on the water. 
Width 
One of the key aspects of having a stable kayak—in freshwater or saltwater environments—is width. Kayaks that are designed with more width will often have better overall stability that one that is more narrow. It is true that a more narrow kayak will allow you to have greater speed and better tracking, but it's not a good idea to go with a narrow kayak for fishing on the ocean. 
A wider kayak offers more stability when you're faced with navigating ocean swells, which can be extremely tough with a narrow kayak. You'll also need to have extra room for your fishing gear, as well as a cooler and any other items needed for ocean fishing. Having a kayak with more width creates more space for you to store this kind of gear on board. 
The best ocean kayaks typically have a width of around 32 inches. Some models offer a more narrow 28-inch design while others might have a very wide body that's 36 inches or wider. If you're a novice kayak angler, it's best to stick with the recommended 32 inches to begin your time on the ocean. 
Length 
As we've already mentioned, it's better to have a kayak that offers more space if you're planning to fish in the ocean. A 14' kayak is usually considered to be ideal for most anglers, but some might opt for a longer or shorter model depending on their specific needs. 
Having a long, narrow kayak allows you to maintain higher speeds as it naturally cuts through the water. However, you'll need to take into account the fact that your kayak needs to be at least 30 inches if you want to have ample room for your fishing gear. 
It's understandable to want a kayak that will allow you to have better speed and tracking on the ocean as you will likely be traveling a greater distance than you would on a lake or reservoir. Your main concern should be stability and having a kayak that allows you to comfortably sit in choppy conditions and fish is more important than being able to move faster when paddling. 
Having a kayak that's shorter than 12 feet will greatly increase your risk for capsizing. Not only should you want to avoid going into the water yourself, but you can also lose a lot of expensive gear in doing so. If you are an angler that mostly fishes along the inlets and around the shoreline, a short kayak might be acceptable, but those who plan to fish out on the ocean absolutely must have a kayak that's at least 12 feet long.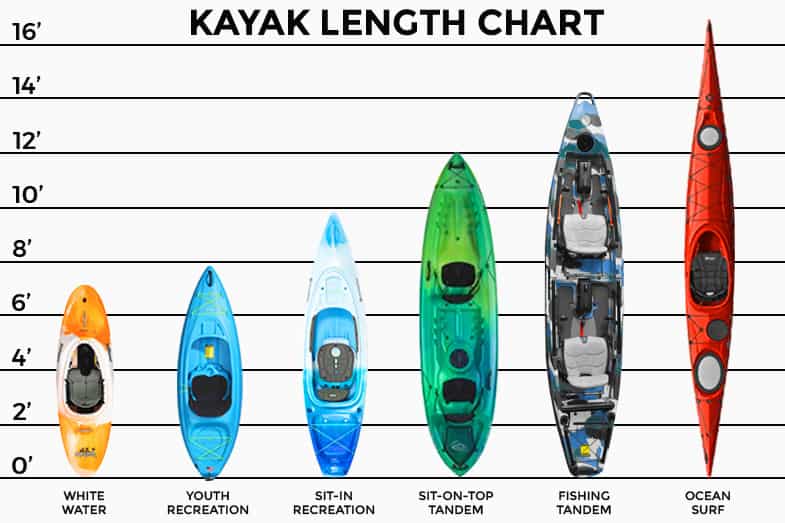 Height
Another important factor you should consider is the height, or depth of your kayak. Most ocean kayaks will have less height as this helps them maintain their position in high winds. A kayak that has a very high design will be more prone to tipping over if you encounter strong winds and choppy water on the ocean. 
When choosing a kayak for ocean fishing, it's good to consider how much gear you'll need to store inside the kayak's hull. Many kayak models now offer dry storage hulls in the bow, stern or even the middle below the seat. These dry storage options are great additions that allow you to store a load of gear in a way that keeps it from contacting saltwater and getting wet. 
If you're looking for a good ocean fishing kayak, it's better to have one that is considered to be a shorter build. There really isn't a specific measurement that you want to use as a rule of thumb, but any angler that's big or tall should consider using a kayak that has less height for ocean fishing. 
Primary or Secondary Stability 
Many kayak anglers often pay little attention to whether their kayak offers more primary or secondary stability, but this is a key factor for ocean fishing kayaks. A kayak's hull is always made in a way that can offer more stability from the center, or greater balance on the edges or sides. This is essentially the difference between primary and secondary stability. 
Primary stability is basically the kayak's ability to remain still and upright as long as the user is seated. Kayaks with more primary stability usually feel more stable in calm, flat waters. While this is fine in lakes and reservoirs, you might consider a kayak with more secondary stability on the ocean. 
Secondary stability refers to the kayak having more resistance to tipping along the outer edges. This basically means that you will be able to lean out closer to the edge without tipping over when using a kayak that has better secondary stability. It's actually recommended for ocean kayak anglers to use kayaks that offer secondary stability as this allows them to handle the choppy waters and waves on the sea. 
Using a kayak that offers better secondary stability often takes some getting used to for beginners, but it helps in maintaining your balance when faced with large swells and choppy conditions. 
Hull Shape 
The kayak's hull shape often plays a significant role in its overall performance on the ocean. Hull design is often less important for anglers that are going to be fishing on calm lakes and slow-moving rivers, but ocean anglers will usually face difficult waters that might be dangerous with the wrong style hull. 
The common U-shaped hull is one that offers great secondary stability and is very popular among ocean fishing kayaks. The V-shaped hull design is one that delivers better primary stability and is very popular for freshwater anglers that are rarely concerned with navigating through rough water. 
There are some kayak brands that offer a tri-shaped hull which combines both primary and secondary stability for an overall smooth experience on the water in any type of conditions. These tri-hull designed kayaks will not have as much speed as either a U-shaped or V-shaped hull, but will be considerably more stable than either model.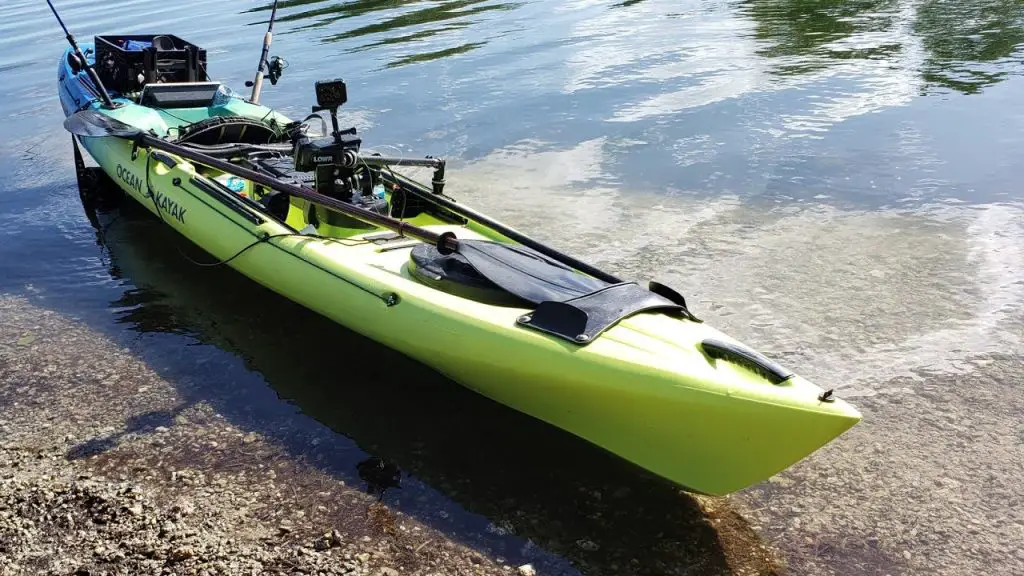 Rocker 
Another item you should consider when looking for the right sized kayak for ocean fishing is how much rocker the kayak has. Rocker is a term that's used to refer to the level of curvature the kayak has in relation to the waterline. A boat that has very little or no rocker would essentially appear to be a raft that sits flat on top of the water, but one that has a high level of rocker would be more akin to a canoe with a bow and stern that curve upward out of the water. 
A kayak with a high rocker usually helps the boat cut through the waves and allows it to be much easier to maneuver and turn in the water. 
Conclusion 
Choosing the right ocean fishing kayak is not as simple as it may seem, especially with so many different brands, styles and designs available on the market today. With the points we've mentioned in this article, you should have a basic understanding of the different elements that are involved in a kayak's performance on the water. 
Above all, it's important that you have a kayak that you feel safe and comfortable in if you want to get the most out of your ocean kayak fishing experience.