We have put together 20 of the most interesting and innovative Kayak Storage Ideas to inspire you to upgrade your garage or yard. We have scoured the internet for the the best and brightest DIY and home improvement ideas for keeping your kayak protected and out of the elements.
One of the main problems with fishing kayak's is the amount of room they take up when not in use. Without a good storage system you can lose a lot of garage space with your kayak, paddles, cooler, outfitting equipment, seats, rods, reels, and tackle bags.
If you have your own amazing kayak storage construction at home, then we would love to see it and share it with our readers. If you have any experience or wisdom to share then please leave a comment at the end. If you don't want to bother with DIY building your own, then have a look at these kayak storage hooks that can help you wall mount your kayak easily.
There are a few common themes throughout – wooden shelves, PVC stands, hanging straps, and or steel platforms.
Let's go!
20 Kayak Storage Ideas
1. Pine Wooden Stand
The first kayak storage is a very simple, but structurally strong pine wooden stands for two kayaks and room underneath for cooler and camping gear.
We love how simple and strong this stand can be. It keeps your kayak off the ground and away from insects and water. 
It wouldn't take longer than a weekend to construct and will protect your kayak for years to come.
This is a brilliant kayak storage option that everyone should consider for themselves.
Source: Wilker_dos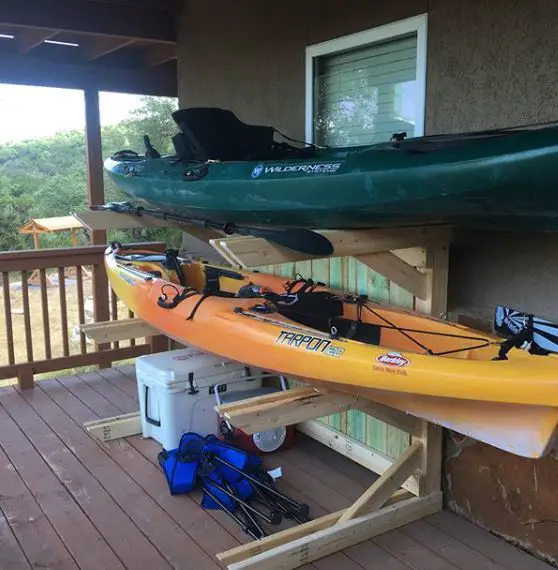 2. Ceiling Kayak Storage
This youtube video by House/Work shows how to store your kayak on the ceiling. This will keep your kayak out of the way and gives you a lot of extra room. We love storing kayaks out of the way, particularly in areas that normally don't store anything.
This system uses a simple rope and pulley system with cheap and easy tools that can be bought at your local hardware store.
As long as you have a high ceiling and beams to install pulleys then this should be a seriously considered option.
3. PVC Kayak Rack
Number 3 on our list is a simple PVC Kayak Rack video by Ray Stein. For just over $100 for parts that you can get from your local plumbing store, this is a cheap and easy way to build a stand yourself.
If is also incredibly light if you want a stand that you can move and transport frequently.
The only downside is that it is not as strong as some of the wooden options. If you have heavy ocean going fishing kayaks then you might want to consider a different design.
4. Wooden Kayak Platform
Another wooden platform, this kayak storage section by Maddux Wood Works has the smart idea of adding foam padding to the supports to avoid scratches and damage.
This particular stand is stored outdoors and requires the kayak to be wrapped in plastic to protect it from rain and the weather. But there is nothing stopping you from building this and keeping it indoors.
The other brilliant aspect of this design is the floor where you can store your paddles and accessories.
Source: MadduxWoodWorks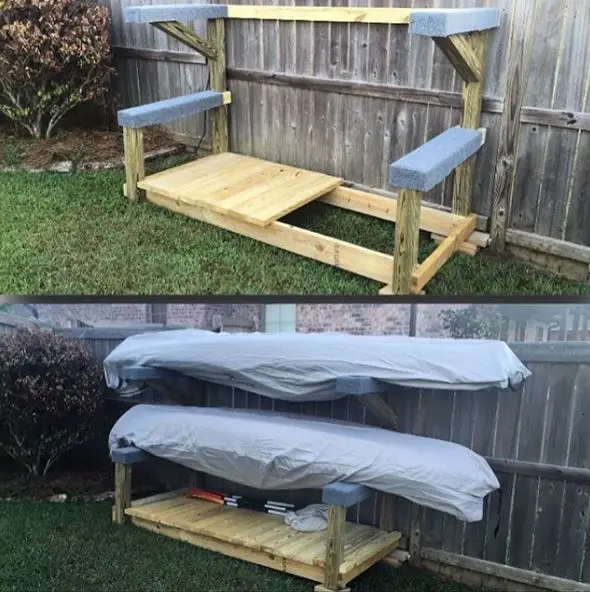 5. Square Wooden Kayak Stand
Thomas Janenko's design is the definition of simplicity.
This is a square wooden stand for a two heavy kayaks – one on top and one underneath. It is very strong but also allows for access to the kayak for maintenance or outfitting.
Its winning aspect that has earned it a place on this list and are wheels. Its combination of lightweight and wheels means that you can move it easily even when loaded.
Source: Thomas_Janenko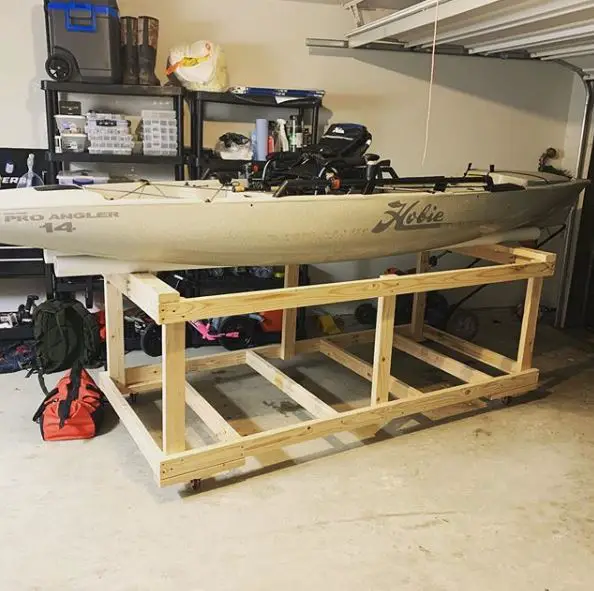 6. PVC Kayak Stand
Smilin' Don has put together these instructions for building a PVC plastic stands for three kayaks. Make sure you set the height between the kayaks to suit the size of your own, particularly if you have heavy duty fishing kayaks.
The PVC options are great because they are easy to build, and are lightweight but strong. Storing your kayak off the floor is always useful for keeping it out of any moisture and creepy crawly insects.
7. Wood and Steel Kayak Stand
This video by Ideal Grain made the list because of its combination of materials. The main structure is made from wood, but it has steel kayak stands for the upper kayaks to reduce weight. The stands also have foam protection to avoid scratches and damage.
For a stand that is built in one afternoon, this is certainly one to consider.
8. Kayak and Bike Combination Stand
This is a two piece kayak stand and bike combination stand. For people with multiple hobbies, this is a brilliant idea for keeping both your interests in one place. This allows for two kayaks underneath, but you will really have to consider the size of your kayaks particularly if they you have a thicker pedal kayak.
The wooden construction is both strong and light. You could easily add wheels to give it more maneuverability as well.
Source: rstphoto88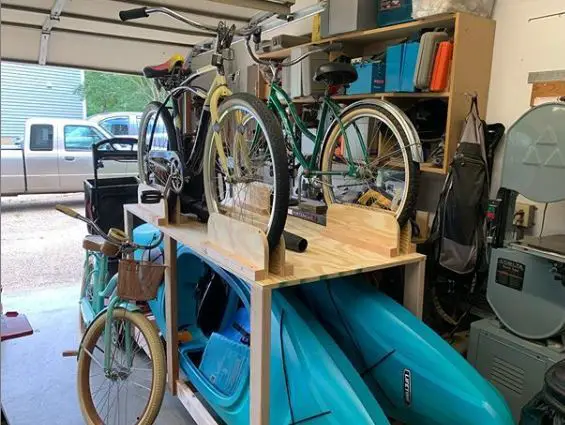 9. Outdoor Kayak Stand with Roof
This outdoor kayak stand by Mason Wood has a pretty remarkable roof structure to protect it from the rain. The kayaks themselves are attached with straps so you don't need any stands or platforms.
The paddles are attached to the structure beams to keep them out of the way. 
This is a permanent structure, so make sure you select the ideal place for it before construction starts.
It also looks brilliant and is a feature in your yard that will impress your guests.
Source: Mason Wood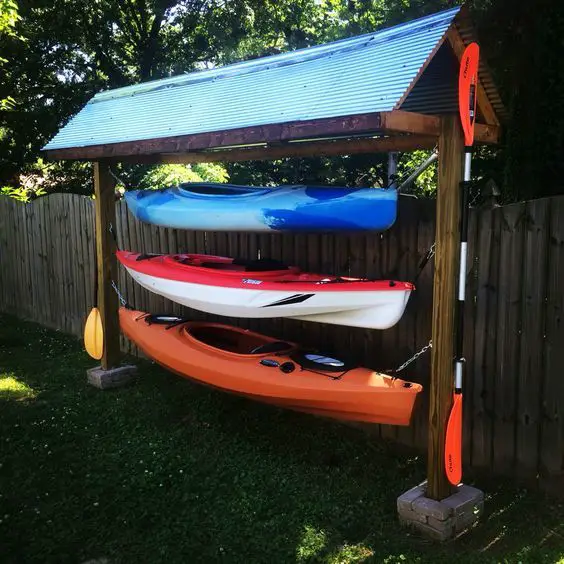 10. Cheap PVC Kayak Stand
PVC stands are a favorite because of their low cost, ease of construction, and low weight. This can be picked up and moved anywhere you want.
Unlike most stands, this can store four kayaks. You can also adjust the height of each opening to fit your own personal kayaks depending on their size.
Stands like this are a great way of gaining space by putting four kayaks into the floor space of where one used to be.
Source: Redisaflavor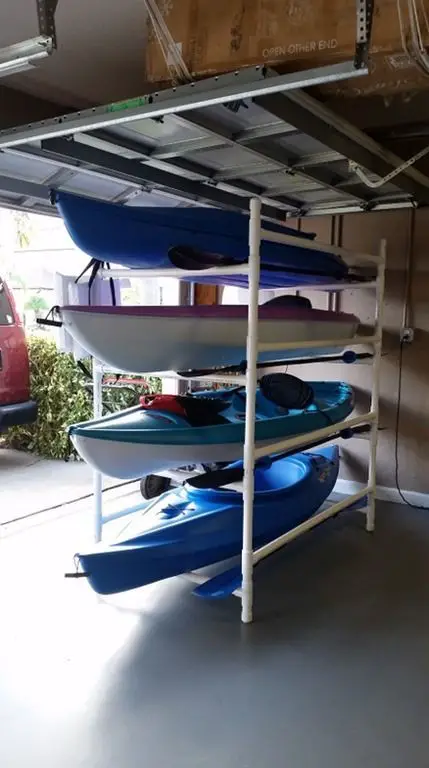 11. Scrap Wood Kayak Stand
WS Warrior Stew built this two kayak wooden stand out of scrap wood, in an incredibly low cost option. You really can build kayak stands out of a variety of materials depending on your needs and budget.
Wooden stands are strong and lightweight. They keep your kayak off the ground and out of the elements. You can use this outside in your yard or in your garage.
12. Six Kayak Wooden Stand
Paddle in Pink made this six kayak wooden stand and really cleaned up a mess of kayaks. This shows how you can build any stand to suit your needs. Wood is versatile and strong enough to store larger numbers and higher weights than the PVC options.
13. Heavy Duty Wood Kayak Stand
Rustic Goose made this heavy duty wooden stand for three kayaks. What makes it different is the heavy duty nature of the design. It is also very open ended and would fit almost any size and weight of kayak.
Even with the larger wooden beams, it is still able to be moved although you might need two people to lift it.
14. Wall Hanging Kayak Stand
One of the options we love is storing your kayaks hanging from the wall. This keeps them out of the way and allows for storage of other equipment on the floor.
It also means that you don't need to construct a heavy stand and as long as your installation is done properly it should be able to hand most standard sized kayaks.
This idea by Sherri Marie shows how two sit on top kayaks can be stored on a sliding, wall mounted system that gives a lot of flexibility and takes up minimal space.
Source: Sherri_Marie_B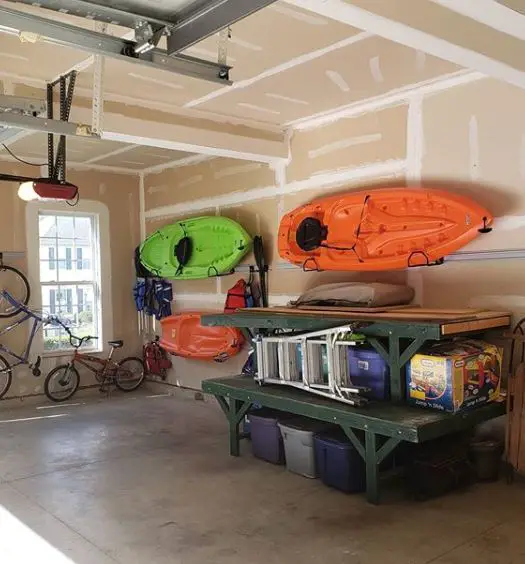 15. Wall Mounted Wooden Kayak Stand
Another wall mounted kayak stand is this wooden one by Detached Garage.
The wooden mounts can keep two large kayaks out of the way but can also hold a lot of weight.
They are simple to build and install and will work for years to come.
This combination of strength, simplicity, low cost, and strength make it one of our favorite options.
Source: DetachedGarage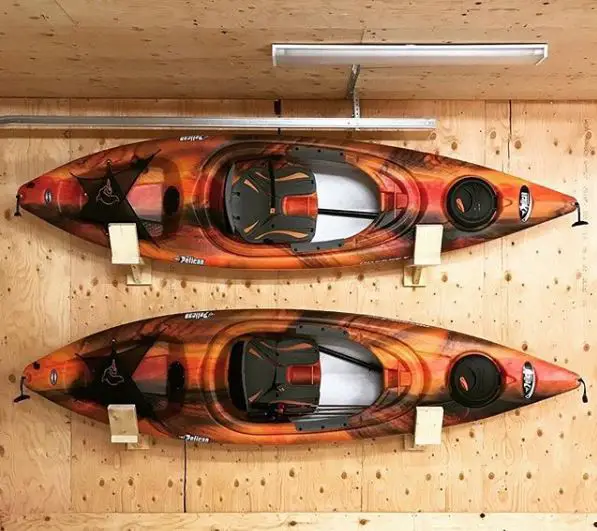 16. PVC Kayak and Storage Stand
PVC stands are a popular options due to their ease of construction and low cost.
This design by Bass Fishing Social can hold two to three kayaks as well as all of your camping gear. It can be built with parts from your local hardware or plumbing store.
This stand keeps your kayaks off the ground and away from the elements. It is also lightweight and easy to move. Just be careful with how much weight you put onto it.
Certainly one to think about.
Source: Bass Fishing Social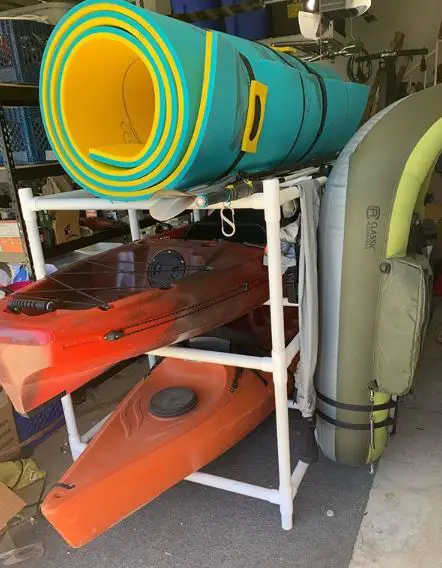 17. Hanging Strap Kayak Storage Design
One of the last styles of kayak storage in our list is the hanging strap design. This only requires a hook on your wall and you have got your kayak storage organized.
You can adjust the straps to change the height depending on your own kayak requirements.
ActivelyOrganized have created the most simple way to store your kayak out of the way. Just please, please, please, make sure you install the hook properly and with enough strength so that you don't damage your wall.
Source: ActivelyOrganized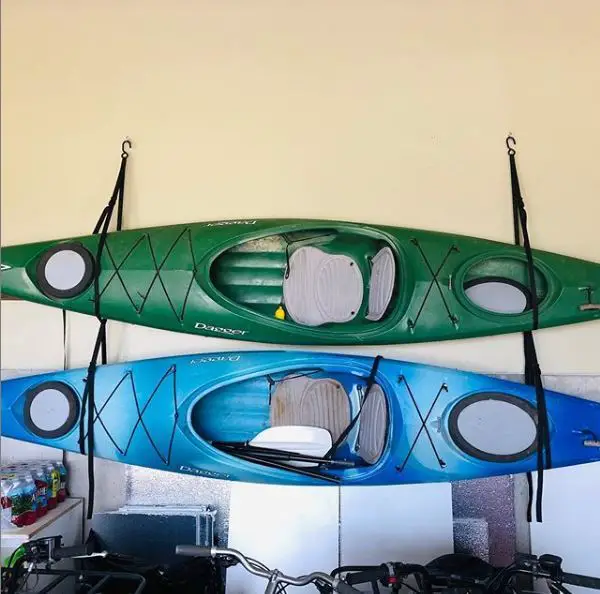 18. Pulley and Rope Kayak Storage
This inspiration from FlowersandYarn is brilliant. It uses a pulley and rope system to store your kayaks above your garage door. This space is normally completely unused and unusable.
If you have the ability to add this pulley system to your ceiling then this is one of the best ways of maximizing your garage space.
It keeps your kayak off the floor and out of the way.
Source: FlowersandYarn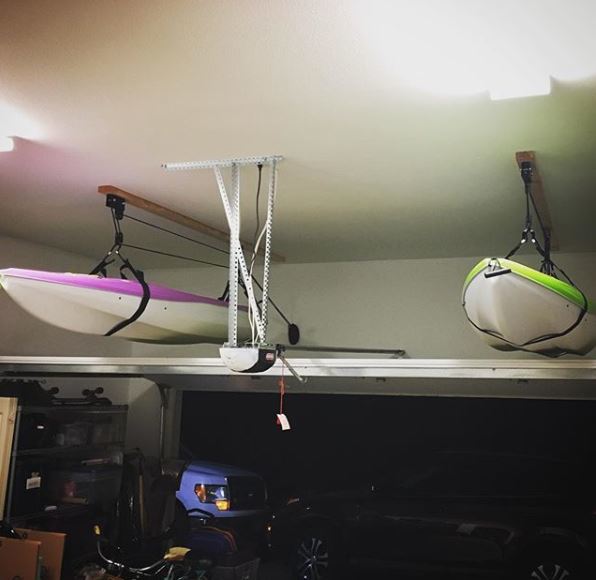 19. Upright Vertical Kayak Stand
Even when kayaks are stored in a wooden stand, they can still take up a fair bit of space due to their width. This vertical, upright kayak storage idea by Ralph Blackwelder helps to eliminate this.
All that it requires is a small stand installed on the ceiling to hold the top of the kayak and a foam base to protect the end.
This is a brilliant combination of low cost, low space, low weight kayak storage option. 
One of the best we have seen!
20. Painted PVC Kayak Stand
Rated Red have taken the idea of a PVC stand and brought it to the next level through a very simple idea – paint it! Adding a layer of grey spray paint make this plastic stand look like steel and is very stylish.
It maintains the benefits of low cost, and light weight PVC and has made it look beautiful. You can choose the color of paint to make it either blend in or stand out.
It is all up to your creativity.
Conclusion
That brings us to the end of our Kayak Storage Ideas. There are a few different ideas that are common in all of the ideas:
Wooden Shelves
Hanging Straps
PVC Stands
Steel Platforms
We would love to know whether you have found inspiration to build your own kayak storage stand. Please share with us in the comments below if we were able to help out at all. That would truly make my day!
Keeping your kayak and gear out of the rain and moisture is key to making sure it lasts for years to come and giving you the best value for money.
Happy fishing!