The best trout lures for streams and rivers include Mepps Aglia Spinner, Panther Martin Classic Spinner, Rapala Original Floating Minnow, Blue Fox Vibrax Spinner, and Rooster Tail Spinner. These lures excel in attracting trout with their lifelike appearance, enticing action, and versatility in various water conditions.
This article highlights the best trout lures available and why I like them.
Crankbait 
2 to 5" Length Range
8 Color Variations
Spinnerbait Lure
4" Length
6 Color Variations
We have broken down each of the lures by species of trout and their ability to work in streams and rivers so that you can pick the exact model that suits your fishing requirements.
1. Dynamic Lure
Slender, Low Profile Crankbait Design, Small Lipped
Slow Sinking Top Water Lure, Optimal Depth 0-2 feet, and real-life like profile
Multiple BB Inner Chamber design maintains balance through the water, prevents rolling and mimics real life baitfish
Ultra-sharp Durable Size #10 Hooks
The dynamic lure is one of the most popular crankbaits on the market. Its slender design has a small front lip and multiple rattling ball bearings inside to attract the trout's attention. Depending on the model, these shallow lures target 0-4 feet deep, which is ideal for clear water in rivers and lakes. It is made from sturdy ABS plastic so that larger trout won't damage it.
It is hard to beat at this price and has 17 different color variations. Make sure you put a few of these in your tackle box to change them depending on what the fish are biting. They are also available in two sizes – 2.25″ and 3″.
Split rings attach two size #10 treble hooks, giving you two chances to hook a hungry trout.
It is always a good idea to carry multiple lures with different attracting methods – for example, this lure with a rattling BB inside and a sparkling spinnerbait to use sunlight.
I strongly recommend adding a few different colors of Dynamic Lures to your tackle box. They are proven to catch trout in rivers and will last for multiple seasons.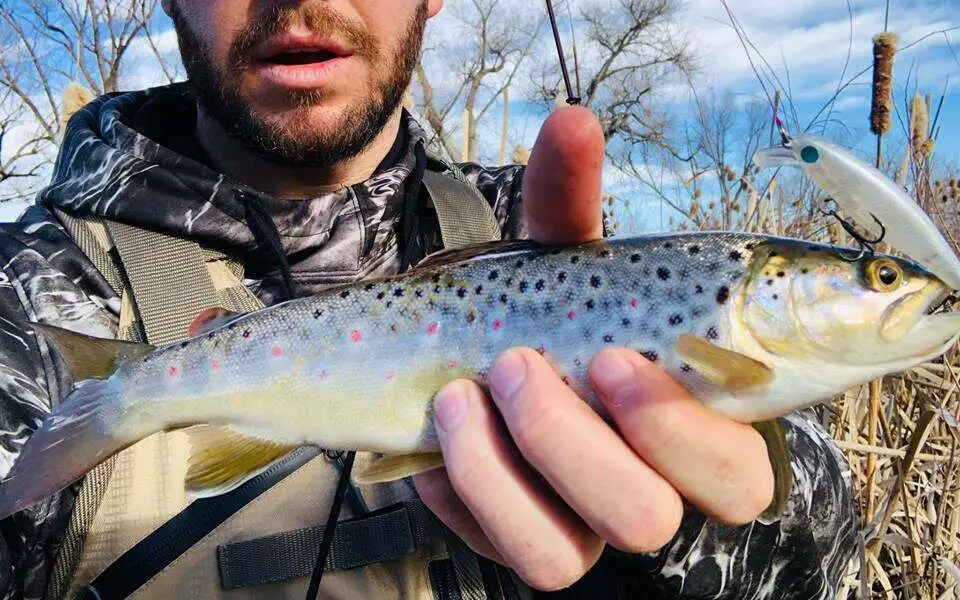 Pros
Huge range of options – 17 color variations and 2 sizes
Two treble hooks lead to a higher strike rate
Attention-grabbing internal rattling ball bearings
Cons
2. Leland Lures Trout Magnet
Unique shad dart head and split tail allows the lure to fall horizontally
Flows naturally with the stream
Use a constant 1-inch to 3-inch twitches of the rod tip
Lure looks life-like as it flows downstream
Another trendy trout lure is the trout magnet. The shad dart head design and split tail mean the lure falls horizontally, so it is still effective even when not retrieved. It will flow naturally downstream, giving you more options about putting the bait in front of the fish when trout fishing in rivers and lakes.
They are incredibly light at 1/64 ounces and can be jigged with tiny 1-3 inch rod tip twitches. You have ultimate control over the movement and behavior of this fishing lure. So it will become more effective as you learn how to use it to catch trout.
This lure is best used by experienced trout anglers who have the ability to manipulate the lure's movement and gain an extra edge.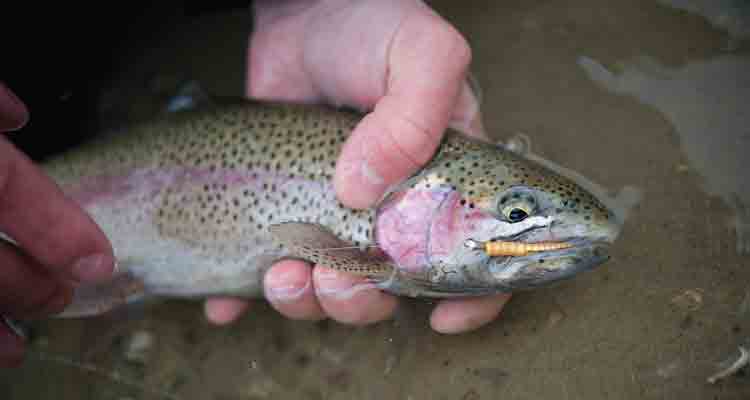 Pros
Extremely lightweight with plenty of angler control
Affordable with 4 per packet
Falls horizontally to give strike potential when stationary
Cons
Difficult to cast long distances due to its lightweight
3. Mepps Spinners
Mepps are another popular fishing lure for trout, and the Aglia is one of their best – we will go into more detail about the spinners in the Dolly Varden section. This recommendation is a kit of 6 different Mepps spinners. This combination gives you different spinner and skirt colors to adjust your lure depending on what the fish are looking for.
They have solid brass bodies, and the blades are either copper, brass, or silver/gold plated.
These fishing lures are hand-assembled in the USA and are high quality.
Mepps are famous for catching trout for decades. They are extremely effective and have earned a place in your lure collection.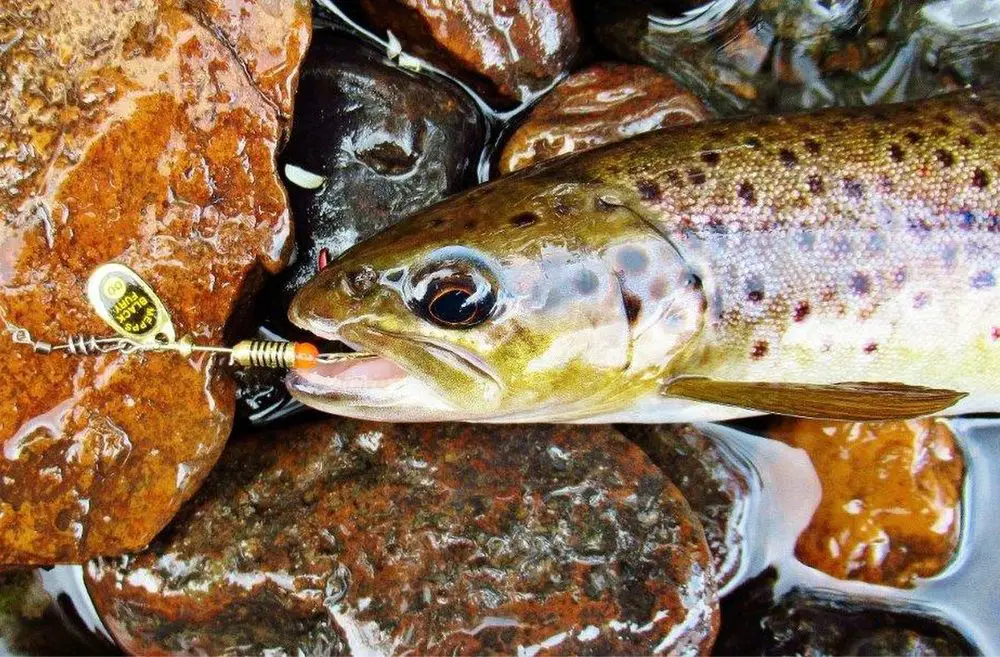 Pros
Made in the USA
Extremely durable materials of construction
Cons
It can be more expensive to purchase a kit
Skirt conditions can degrade over time
4. Rapala Countdown
Balsa Construction
Custom Swimming Action
Controlled Depth Technique
Large Size Range
VMC Black Nickel Hooks
The Rapala countdown is the standard for controlled depth lures. If you want to get to a certain depth in clear water without getting stuck in weeds or structures, this is the fish lure for you. It is designed to run 7-10 feet deep and is suitable for larger trout.
It is made from balsa wood and sturdy, lasting for years.
One of the features of the Rapala Countdown design is its consistent sinking rate of 1 foot per second. This allows you to predict and control the depth of your lure at any time. If there is a particular underwater log or hollow in your target lake or stream that you want to target, then this lure is ideal.
Every single lure is hand-tuned and tank-tested so that it will swim with its unique action straight out of the packet every time.
Plenty of colors are available, so you can adjust to put the perfect color in front of the hungry brook trout.
I am a big fan of Rapala's lure range. The advantage of the Countdown is the predictable sinking rate so you can control the lure's position in the most likely holes where trout are resting.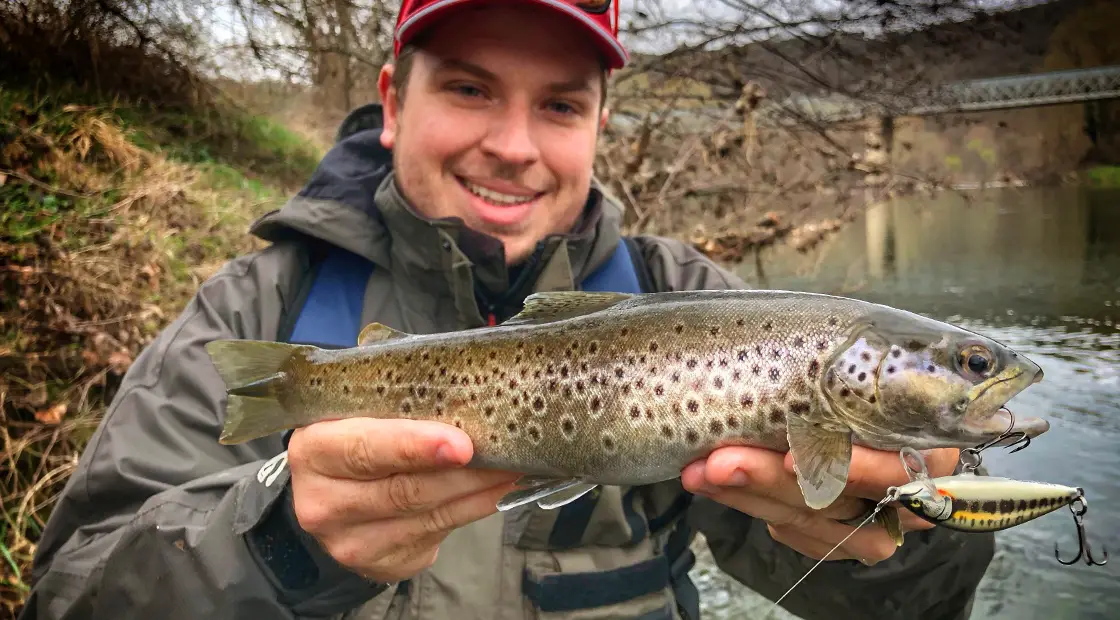 Pros
Consistent sinking rate to target particular depths
Hand-tuned and tank-tested
Cons
Fish strikes can damage the balsa wood
Specs
Weight – 7/16 oz
Length – 3 1/2 inch
Running Depth – 7-10 feet
5. Rebel Lures Teeny Wee Frog
The Rebel Teeny Wee Frog looks just like a real frog and fish love to eat frogs
Work the Teeny Wee Frog slowly on top to mimic a frog that's dazed and confused
Tremendously effective in clear-water streams
Super-realistic ultralight crankbait that bass, panfish, and trout can't resis
Rebel Lures make a few different designs of lures, from the teeny crawfish to this teeny wee frog. Three different models are available with different sizes and retrieve depths. The colors are very close to realistic frog colors.
I recommend finding out what your local frogs look like and trying to pick a color as close to them as possible.
Cast and retrieve with an erratic action to try and mimic the behavior of a real frog trying to escape a hungry bull trout.
If you like this, look at their similar Rebel Jointed Minnow.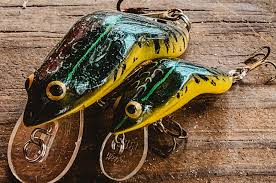 Pros
Mimics local food sources for improved strike rates
Erratic action that imitates a real-life frog swimming
Cons
You need to have the right colors to match your local frog species
6. Mepps Aglia Spinner
Give off an attractive flash
Good casting distance and durable design
World's most popular trout lure
Affordable price tag
The Mepps Aglia Spinner is claimed to be the world's number 1 fishing lure. I do not know if that is true, but it is undoubtedly one of my favorites. They are cheap and available in various colors, both in the blade and the beads.
At only 1/6 ounce in weight, these are a good combination of reasonable casting distance and robust design that won't get bent when a big Dolly Varden takes a bite of one.
There are also different sizes to get the exact sized lure for your target fish. Mepps has an excellent reputation for quality, so you don't need to worry about this lure breaking or not performing.
The Mepps Aglia Spinner gives off an attractive flash and vibration that will make aggressive trout strike.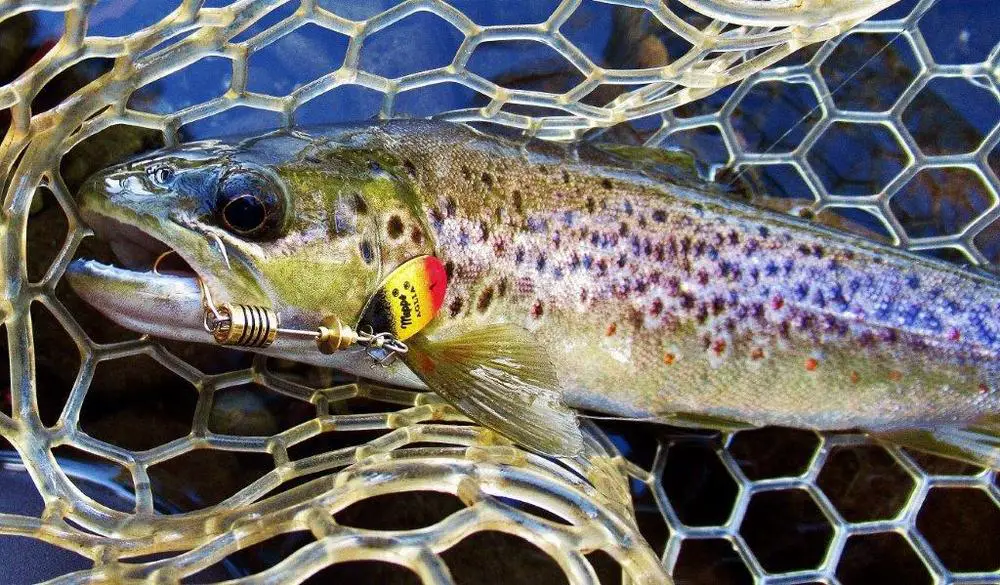 Pros
Lots of visual flashes and movement that attract territorial trout
Good casting distances
Durable material of construction that won't get damaged or degrade
Cons
Difficult to control the depth
7. Rapala Original Floater
Balsa Wood Construction
Natural Minnow Profile
VMC Black Nickel Hooks
Available In Classic & Bleeding Patterns
Hand Tuned & Tank Tested
It does not matter what fish you are targeting; you should always have a Rapala Original in your tackle box, especially for lake trout. This classic bait has proven itself under a variety of conditions for years.
Like the countdown above, the original is made from balsa wood and is available in different sizes and colors.
You really can't go past a Rapala classic lure like this one. Ideal for beginners and experienced anglers.
For different options by Rapala, another design is the Blue Fox Vibrax.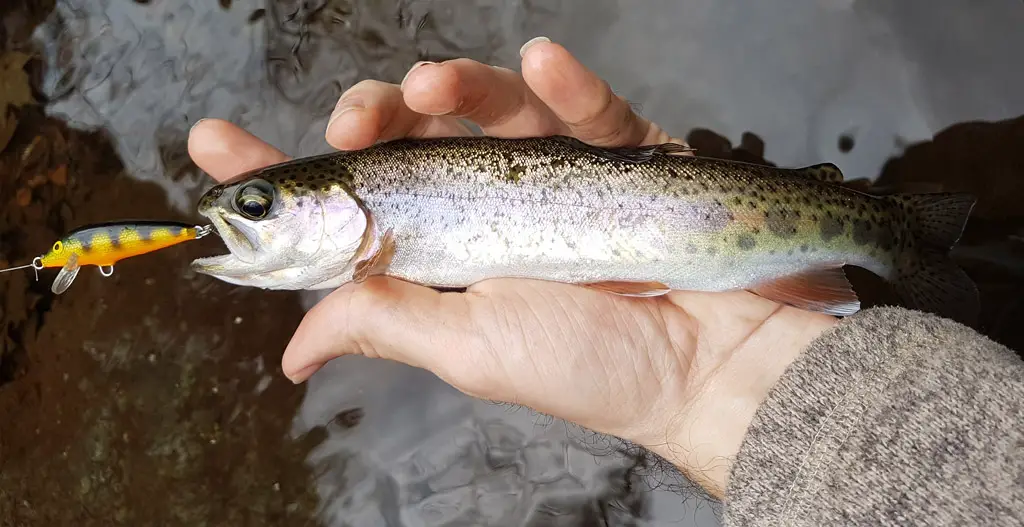 Pros
Tried and proven over decades by thousands of successful trout anglers
Cons
A bit more expensive than some of the alternate options
A fish strike can damage balsa wood
8. Trout Magnet Ultimate Kit
Will not work without the right line and floats
Hook and body fall horizontally in the water
Very smooth copolymer line is made for light line fishing
Ideal size to drift small lures or bait
If you want everything you need in one place, look for a trout lure kit. This trout magnet contains 85 pieces, including floats, fluoro leader, fishing line, hooks, and split tail bodies. This gives you a wide variety of colors to play around with until you find something the trout are looking for.
As described above, the trout magnet body falls horizontally, allowing you to catch fish even when the lure is floating in a fast-flowing river or sinking through the water column directly next to the structure.
This comes in a good-sized box that fits your tackle box or a fishing vest. Made in the USA from high-quality plastic that won't tear when a fish strikes.
Pros
Made in the USA
Trout Magnet falls horizontally, so it gives strike opportunities when stationary
Variety of colors and styles to find what the fish are hungry for
Cons
Nil – this is an affordable option
9. Berkley Trout Powerbait
Combines Salmon Egg and Trout worm into one incredible bait
Different head and tail colors for maximum contrast in the water column
Made from quality materials
Extremely durable and long lasting
Powerbait is a scientifically proven bait that is becoming increasingly popular among trout anglers. They have a lifelike movement and are extremely versatile. Unlike hard-bodied fishing lures, they also have a strong scent that attracts fish. It is claimed that fish will hold on for 18 times longer on a powerbait than a lure, so you have a lot more time to strike and land that big trout.
Berkley manufacturers have been developing powerbait varieties for 25 years, and are available in hundreds of colors, sizes, and designs. I would encourage everyone to look at these to understand how many different powerbaits there are! I'm sure you can find one you want to try out.
Berkley Powerbait is very different from the hard body crankbaits and spinners mentioned above but is just as enticing. Rather than using flash and vibration, they use scent and flavor.
Pros
Extremely affordable
Scientifically proven scent and flavor
Cons
Consumables that will need to be disposed of and replaced
10. Copper John Trout Fly
Hand-tied by professionals who take great pride in their craftsmanship
Flies are tied using high quality Mustard hooks
Pack of 1 dozen flies
If you want high-quality, professionally made, hand-tied trout flies, check out the Copper John. Copper John is a famous fly designer and is incredibly lifelike in their appearance. Even if you are a beginner at fly fishing, you will have success with a fly like this.
This product comes with 12 flies – 3 of 4 different hook sizes. And they use Mustard hooks, the premier hook manufacturer, so you don't need to worry about low-quality hooks that will bend and lose that big fish.
Pros
Hand-tied by a craftsman
Variation in style and color
Very affordable at less than $1 each
Cons
11. Panther Martin Trout Lure
Unique shaft through blade design creates easiest and fastest spinning action in the world
Convex/concave blades send out Sonic vibrations that are irresistable to fish
Heavy weighted bodies cast like bullets and go down deeper
Super sharp premium quality hooks keep fish caught
The Panther Martin is a famous, bestselling blade spinnerbait renowned amongst trout anglers. It has a convex/concave blade that sends out sonic vibrations. These vibrations are designed to attract inquisitive trout. The weighted body allows for long casting distances and deeper in clear lakes and rivers. The heavy sinker allows this lure to get deeper toward the fish, even in fast-flowing streams.
It also has sharp treble hooks to keep that trophy trout on the line.
The unique holographic colors reflect sunlight which attracts trout from further away. They are especially effective when sparkling light stands out in low light conditions.
It is available in 17 colors and 6 sizes from 1/16 oz to 3/8 oz. Beware, the smaller sizes can have trouble casting in windy conditions.
Plenty of packs are available to get multiple sizes and colors, so you can change up to find what the trout are interested in.
Pros
Plenty of variations – 17 colors and 6 sizes
Heavy sinker allows use in fast-flowing rivers and steams
Cons
Smaller sizes don't have the casting distance, especially when windy conditions
12. Luhr Jensen Krocodile Lure
Versatile, multi-species Narrow minnow shape
Heavy-duty construction
Great for Trout Tuna Bass Fishing
3X strong treble hook
Chrome Plated with Silver Prism
The Luhr Jensen is another popular brand with an excellent reputation, and the Krocodile design is a great option for trout anglers. It is simple in its design, with a spinning blade made from polished, corrosion-resistant metal. It has a treble hook attached. There are 11 different colors and sizes available.
The polished blade gives maximum flashing of sunlight to attract hungry trout. Some colors include silver reflex, blue mackerel, fire tiger, and rainbow trout.
This is a versatile lure, and I recommend that all trout anglers keep a few in their tackle box. It is also effective against other popular species like largemouth bass.
Pros
11 different sizes and colors are available
Polished spoon to attract territorial trout and bass
Cons
Most expensive than the other options
Specs
Length – 3/16 – 5/16 inch
Weight – 1 oz
13. Yakima Rooster Tail Lure
Hand tied hackle tail
Stainless steel wire
18 different colors available
Make sure to match the hatch
The Rooster Tail lure combines the spinnerbait blade to through off sunlight and a pulsating hackle tail to attract the strike. The lure is weighted for additional casting distance. There are 18 different colors available, so make sure you learn what your local trout are feeding on so that you can match the hatch as closely as possible.
The wire is stainless steel, and the hackle tail is hand-tied for higher-quality construction and is painted with durable paint for a quality finish. You don't want to lose color after a few bites from a hungry trout.
We recommend getting a few different sizes and colors in your tackle bag to try out different baits until you find one that works.
While this article is focused on trout fishing, the rooster tail is also suitable for bass and panfish, like crappie and bluegill.
Pros
Affordable when purchased in a pack
18 different colors
Weighted body for long casting distance
Cons
Make sure you have enough colors so that you can pick the right one for your local fish
Specs
Buying Guide for Trout Lures
But just buying the right lure is not enough – you also need to be able to use it. That is an entirely new topic in itself.
I have compiled this brief overview of what to look for when purchasing trout lures.
Trout Lure Color
The best trout lure color matches the local trout's food source, so select a lure of a similar size, shape, and color to mimic their primary food source.
The color of your lure significantly impacts whether the trout view it as a food source worth biting, another trout worth fighting, or a stick worth ignoring.
The classic advice is to 'match the hatch' – to find out what the trout are naturally feeding on and to select a lure of a similar size, shape, and color. This will give you a greater chance of mimicking their primary food source.
If you are fishing at depth, consider a blue color, as this is one of the last colors to disappear due to the low light.
Metallic colors are also helpful as they are similar to the flashes of fish scales as the light hits them.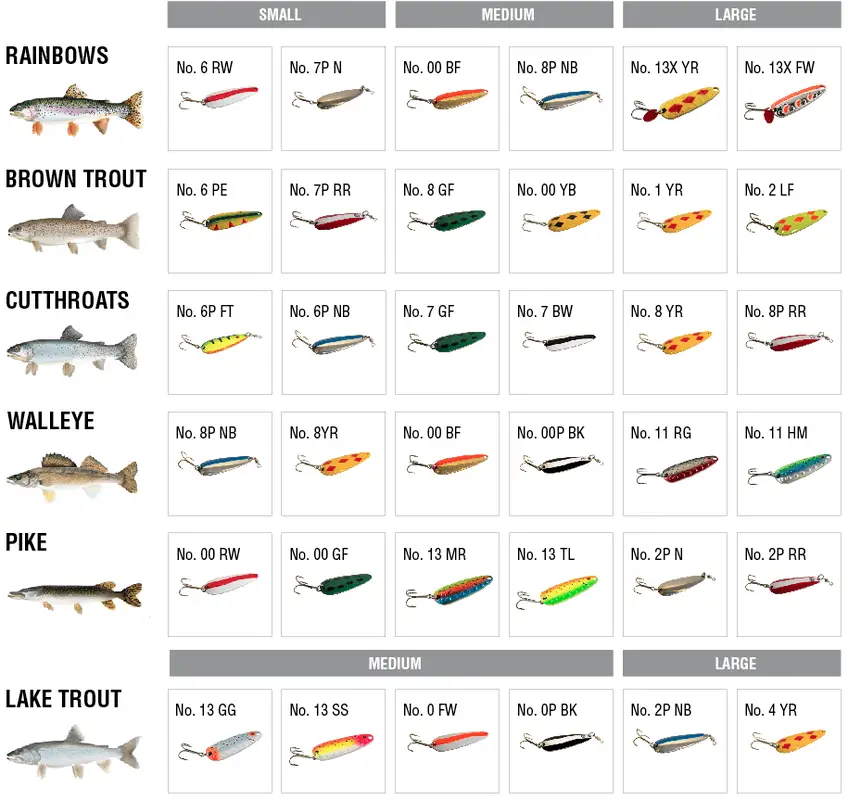 Trout Lure Size
The best size for trout lures is to match the size of the primary food source for local trout, which is generally between 1.5 and 3.5 inches. Make sure also to match the color to mimic the local bait source.
The lure size you pick is an important factor, particularly if you are chasing trophy-sized trout. Picking a large lure might increase your likelihood of catching a large fish but also reduce your likelihood of catching small fish.
You can take a few types of strategies with trout – give them a small enough lure to swallow the entire thing whole or a large enough lure that they want to bite it out of a territorial need.
This also depends on the time of year – are they feeding vigorously to build up enough size for winter, or are they in protection mode around the spawning season.
My general rule is to give yourself enough options to switch to a different one if one lure isn't working.
Conclusion
Plenty of other articles on the internet also have some great lures that are available and work well with trout that might be worth reading.
We have focused on some of the most popular trout lure manufacturers and the ones we have succeeded with. Hundreds of thousands of other lures available on the market could work as well. Although we can't test every lure, we love going out and finding new lures. Please let us know if you have any new lures that work well for you.