Maintaining your fishing reel is crucial to making sure it lasts a lifetime and doesn't fail when it is needed most. I have learned this lesson the hard way after I picked up an old spinning reel when I was younger and couldn't even turn it after the bearings had seized. Applying fishing reel grease or oil is a great way to avoid future mechanical breakdowns.
If you haven't re-greased some of your fishing reels in the last few years then I would highly recommend it. You will be shocked at the improvement in the performance of your reel with new grease on the gearing. It will feel like a brand new fishing reel.
2 Ounce Tub
Superior lubricity, water stability, load-carrying capacity and rust protection
Performs over a wide temperature range
Excellent oxidation and thermal resistance
REMEMBER: Oil goes on bearings and grease goes on gears
Grabbing a tub of fishing reel grease is a great addition to your tackle box so that you can make sure your reels are kept in good condition all year round.
1. Penn Fishing Reel Grease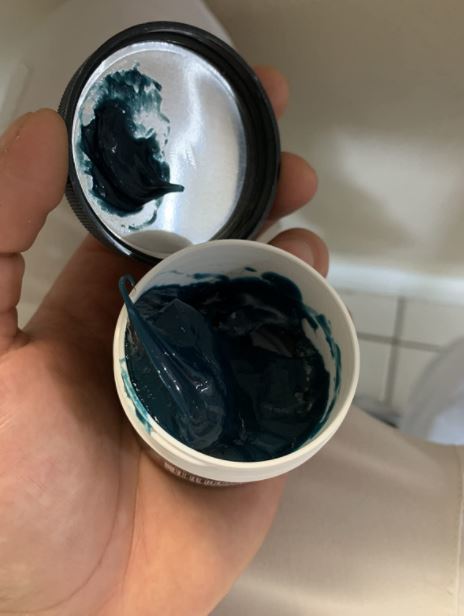 Penn is one of the world's top manufacturers of fishing reels, and they also provide this grease. Available in tubs as small as 2 oz, these are good value for money and are highly recommended to add to your fishing gear collection.
They also come with significantly more grease than the smaller toothpaste-shaped tubes. If you have multiple reels to maintain or apply grease frequently, then the Penn-style tub will certainly offer more value for money.
It is made from high-quality components and features superior water stability and rust protection. This achieves my recommendation as to the best fishing reel grease.
Pros
2 oz tub will last years
High value for money quantity
Superior water stability and rust protection
Cons
Can be a messy application scooping from the tub
2 Ounce Tub
Superior lubricity, water stability, load-carrying capacity and rust protection
Performs over a wide temperature range
Excellent oxidation and thermal resistance
2. Quantum Hot Sauce Reel Grease
This Quantum Hot Sauce is 100% fully synthetic grease. It provides good corrosion resistance and is specially designed for fishing reels. There are not many fishing products on the market that can achieve a 5.0-star rating, but this is one of them.
If you haven't replaced the grease in your old reels for many years, then I guarantee that you will be shocked if you put some hot sauce grease into them.
This grease is also made in the USA and comes in a 0.4 oz tube. At this price point, it is a no-brainer to add to your tackle box.
Pros
Made in the USA
Good corrosion resistance
100% fully synthetic grease
Cons
Only a small quantity so if you have a lot of reels then this might not be suitable
Long Lasting Lubrication
Superior Protection
Low Friction Polymers
5 Year Warranty Against Defects
3. Ardent Reel Butter
Another great option is the Ardent reel butter. This yellow grease is 100% synthetic and is compatible with all reel components.
This grease contains a rust inhibitor. It also features a UV tracer so you can view it under a blacklight and see if any areas need re-application.
It also contains an anti-gumming agent to improve performance over time.
This grease is suitable for both freshwater and saltwater.
Pros
Contains a rust inhibitor
UV tracer to view under a blacklight
Suitable for freshwater and saltwater
Cons
More expensive than some other options
Fully Synthetic Lubricant
Anti-Gumming Agent
Super Low Viscosity and high surface tension reduces wear and noise
Consistent performance within a wide range of temperatures
4. Cal's Universal Fishing Reel Grease
If you have different manufacturers' fishing reels and don't want to buy both Penn and Abu Garcia greases, then consider a universal fishing reel grease like this one from Cal's.
It boasts saltwater corrosion resistance, and safe use on drag materials, seals, and o-rings. It also has minimal grease creep which means it stays where you place it and you don't need to worry about it falling off after use.
Available in both purple and tan colors, and in both 1 ounce and 1 pound tubs.
Pros
Universal fishing reel grease
Minimal grease creep
Available in both small and large tubs
Cons
Can be difficult to apply from the tub
1 Ounce Tub
Reduces Gear Train Friction
Superior Heat and Wear Resistance
Purple Color to See Where Applied
5. Abu Garcia Fishing Reel Oil
Abu Garcia also provides their own reel grease, reel degreaser, and reel oil. This is perfect for baitcaster reels.
This is both resistant to hot and cold environments. It comes in a 1 oz tube with a needle applicator that helps get oil into tight spots. It also helps avoid getting oil into the wrong places. I would rate this as one of the best fishing reel oils available on the market.
Pros
Needle Applicator 1 oz Tube
Good value for money
Cons
Low Viscosity Formula
Resistant to Heat and Cold
Ideal for Baitcasting Reels
Corrosion Resistant
Remember to check with your manufacturer about whether they have any grease recommendations.
Fishing Reel Maintenance Guide
Required Materials
Your spinning, baitcaster, or overhead reel
Suitable reel oil
Suitable reel grease
Cleaning solvent
Cleaning materials – cloth, paper towels, cotton buds, a fine brush
Fishing Reel Maintenance Video
The video below is a great illustration of how you can maintain your reels simply and quickly. Made by PISCIFUN, this 2-minute video is certainly worth a watch:
The key takeaways are:
G

et a fine bristled brush and a grease applicator.

A little bit of grease on a gear goes a long way.

Paint the grease on the gear so that it goes between the teeth.

A

properly greased gear should not have any excess grease visible.
If you over-grease your gears, then your reel will feel 'gummed up' and 'sticky'. It will also result in your drag not working as efficiently.
Really pay close attention to the quantity of grease that is being added so that you do not create a new problem while you are trying to maintain your reel.
The next video is from Angling Authority going through how they maintain a Shimano Stradic.
How to Apply Fishing Grease
Follow these 5 simple steps to apply fishing grease to your reel and make sure that it continues to perform for years to come:
Pull your reel apart – use the documentation that can from your reel's manufacturer. Some modern reels have gotten so complicated that getting them apart and putting them back together correctly is not an easy task.
Remove the gears – fishing reels have two main gears, the pinion, and drive, which we describe later in this article.
Apply the grease – this can be done with an applicator or a fine bristled brush. Apply it to the teeth and remove any excess. The finished gear should not have any visible excess grease.
Complete any additional maintenance tasks – give your reel a thorough clean and oil the bearings if you haven't done this recently.
Put your reel back together – again pull out your reel's schematic if this is difficult.
Fishing reels are made up of two main gears – the pinion and the drive. The interaction between these two gears is how it converts the rotation of the handle into the rotation of the spool. The diagram from the US patent for fishing reels can give you a clearer idea of how they interact: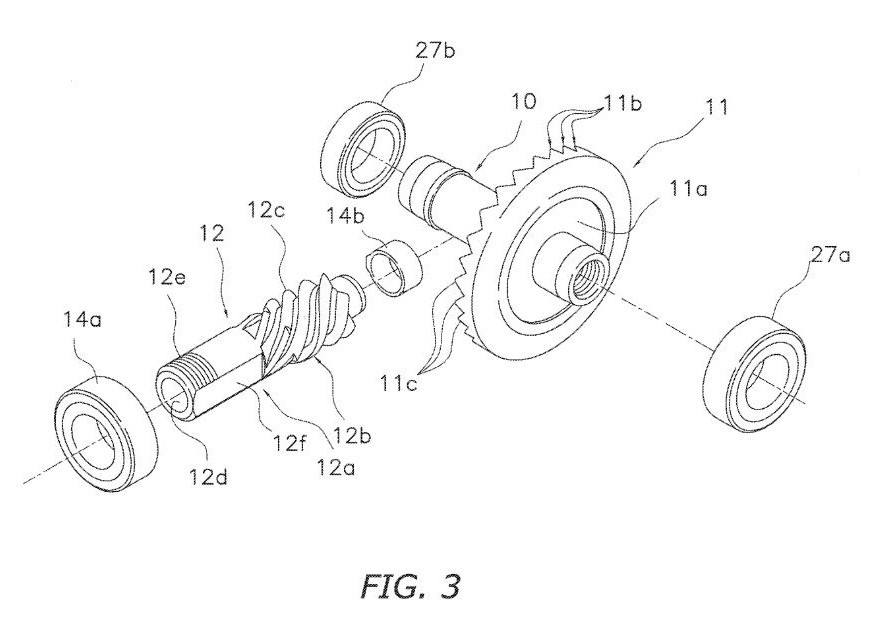 Greasing both the pinion and drive gears should be done when you are completing your maintenance.
There are a large number of fishing greases available on the market. I have made a recommendation about what is the best available – but check the operating and maintenance manual from the manufacturer of your reel to see if they have any recommendations.
Features
Not all grease is manufactured in the same way with the same components, so make sure you understand what you are looking at when reading through the manufacturer's product descriptions:
Lubricating Properties
This describes the amount of friction this grease removes and is a good indicator of performance.
Separation Rates
Grease is made as a combination of oil and soap, and you do not want these components to separate.
Rust Inhibitors
If you are fishing in saltwater then picking a grease containing a rust inhibitor is a must.
Water Resistance
Poor quality grease can get dislodged by water flow if it is not designed to be water-resistant.
Thermal Stability
The gears of a fishing reel can generate significant heat, particularly in summer, so make sure your grease can handle high temperatures. This also applies to ice fishing reels if you need low-temperature grease.
Each of these provides a key indicator of the performance of the grease and will help you make a purchase decision. But if this is too complicated then please read through our list of the best fishing reel grease options below.
Frequently Asked Questions
How often should you apply fishing grease to a fishing reel?
If you keep your fishing reels clean and dry then you should be able to apply a light oil every 6 months and replace the grease every 2-3 years.
If you fully submerge your reels in saltwater frequently then you will want to re-grease them more often.
Conclusion
If you have any advice about maintaining reels, particularly using fishing reel grease or oils, then please leave a comment below so that others can learn from your wisdom.
While maintenance is not the first thing you want to be doing with your fishing reel, it is important and will make sure it continues to perform for years to come.
Some other good-quality fishing reel grease that we have not mentioned include Interflon Fin Grease, Yamalube Marine Grease, and Shimano Dura-Ace.
Happy fishing!