The best spinning reels have a smooth retrieve due to its ball bearings, sufficient line capacity of the required diameter, plenty of max drag, durable drag washers, corrosion-resistant materials, lightweight design, and a gear ratio suited to your target species, such as the Pflueger President.
There is nothing I love more than heading down to the water and spending a few hours fishing. But ensuring you have top-quality equipment is crucial to ensure you don't come home empty-handed.
I have put together this buying guide of the best spinning reels to help you sift between the marketing hype and the proven technologies that pro anglers care about.
I have evaluated high-quality spinning reels over the last decade of my fishing journey to help you avoid wasting your time and money on a dud. I have tried and tested each of these reels extensively, and I am sure that you will be able to find a spinning reel that suits your target species and particular circumstances.
Based on my own personal testing experience, I evaluate each reel based on its performance, durability, price, value for money, and comfort.
How We Rate Products
I thoroughly review all products to measure their performance, durability, and value for money. This is done through bench and field testing to check how the product performs. This testing results in an overall score that I give to all products. All metrics are scored out of 5.
Performance
The performance score is how well this product fulfills its primary purpose. Does it have all the features and optional extras you need to catch the target species? We also interview expert anglers on their experience to build a broader and more comprehensive view on the performance under multiple conditions.
Test 1: Confirm that the max drag meets the manufacturer's specifications.
Test 2: Test the maximum casting distance using a 1.0-ounce lure.
Test 3: Test the accuracy by casting 10 times into a 3 ft diameter circle at 30 yards.
Test 4: Check the versatility and the ability to handle multiple uses by field testing with 3 different lures and baits.
Durability
Durability refers to how long the product will continue functioning. I twist, bend, and break all the products to check their longevity. This score is for the materials of construction, the quality of the workmanship, and the servicing requirements. There are also bonus points for manufacturers' warranty.
For products that we can't test for long enough, we also consult with experts who have been using them for multiple decades to judge their longevity.
Test 5: Pull it apart to check the grease and oil levels, how difficult it is to maintain, and whether any sand or salt has deposited after use in saltwater.
Value for Money
The final aspect of the scoring system is the price or, more specifically, the value for money. Value for money is a comparison against the closest alternative products, both by the same manufacturer and other brands.
Overall Score
Finally, I average the three scores of performance, durability, and value for money to give the overall score of each product reviewed.
To see more details, please read the complete guide on how we test and evaluate fishing products.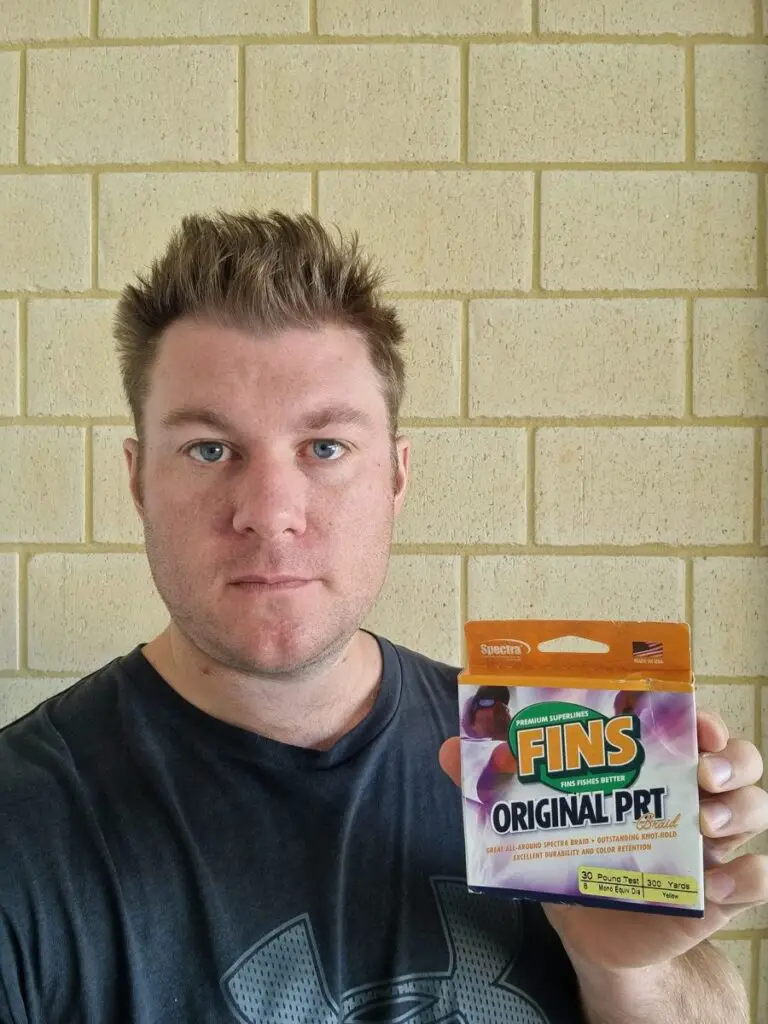 Let's explore the best options available on the market for spinning reels.
These have been ranked based on my tried and tested experimentation over years of angling based on performance, durability, and value for money.
This chart shows a summary of the best spinning reels in terms of their performance compared to their cost. The reels in the top left corner are the best value-for-money options.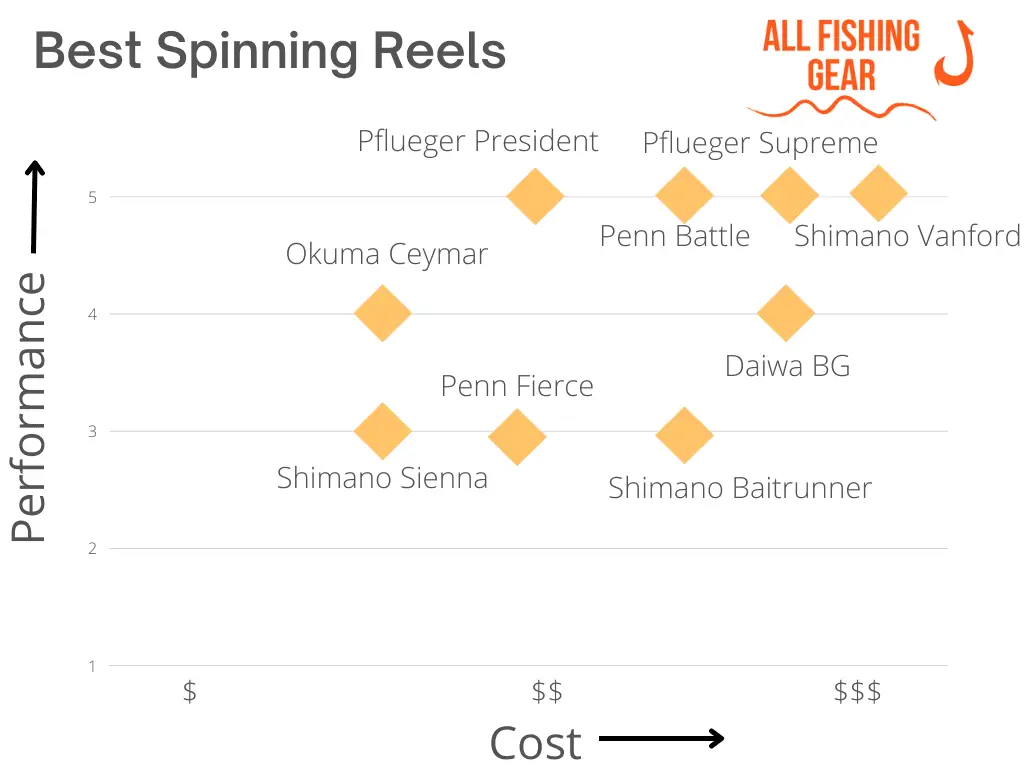 1. Pflueger President Spinning Reel – Best Overall Reel
9+1 Stainless Steel Ball Bearings

Oil Coated Drag Washers

Lightweight Graphite Body

Comfortable Rubber Handle Knob
Drag Isn't Enough for Large Saltwater Species
The Pflueger President series is one of the most popular products on the market and was designed for anglers who need high performance without spending a lot of money. Though this option is not a budget-priced reel, it still comes within the budget most serious anglers can afford.
The President is built to last with a metal body, high-quality handle, and metal-cased rotor. I genuinely believe that the best way to get value for money is to pick a reel that will last for years.
The high-quality machined bearing system is cased in steel to better protect the reel in the saltwater.
The feature I like most about this reel is that it comes with Sure-Click bail – this makes a solid snap sound when you open the bail, so you always know what position it is in. It also has an on/off instant anti-reverse bearing.
Also, each model is extremely lightweight, which can eliminate some muscle soreness after a full day of fishing.
Why I Like It:
9 stainless steel ball bearings + 1 roller bearing
Corrosion-resistant
Smooth haul system with oil-coated washers
Graphite body
Soft rubber knobs
Pros:
Durable
Easy Casting
Smooth Drag System
Quite A Reliable Spinning Reel
Cons:
Drag isn't enough for large gamefish
Verdict
I have selected the Pflueger President as the number 1 on my list because this well-crafted spinning reel has a reputation for performance and durability. It is also among the lightest on the market.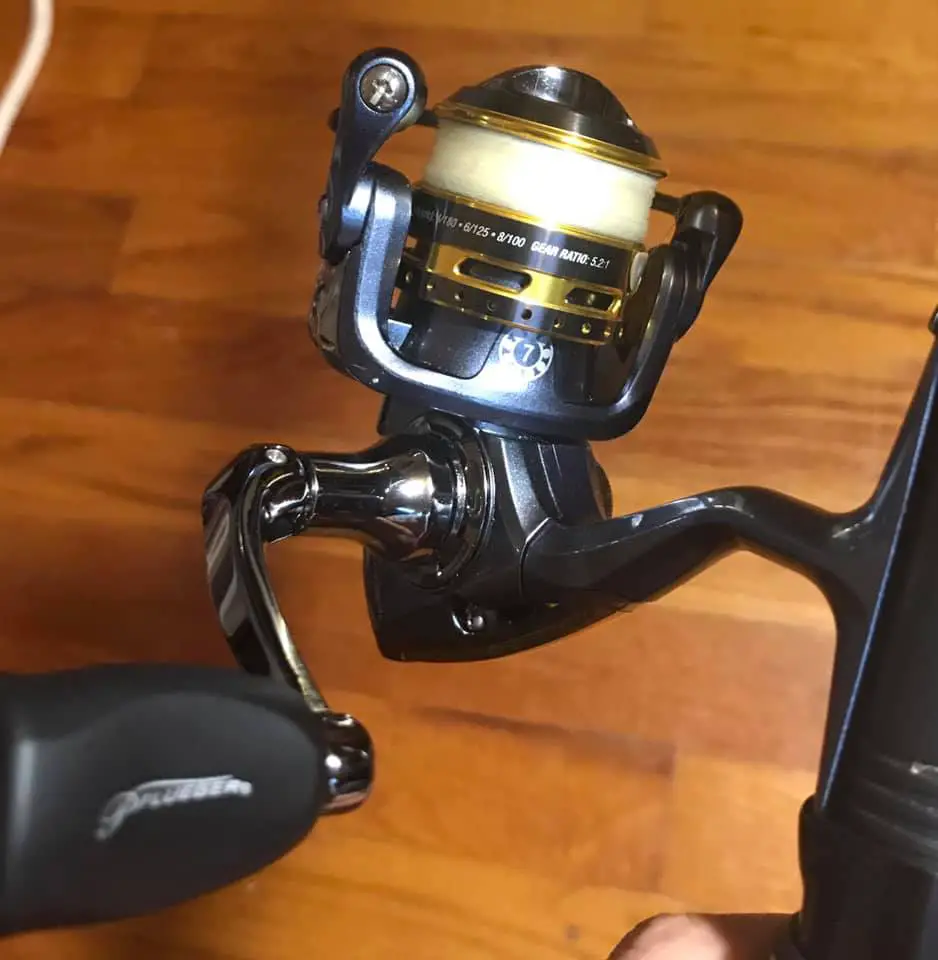 2. Penn Battle III Spinning Reel – Best Value for Money Reel
Saltwater Ready

HT-100 Drag Washers

Extremely Durable Material

Wide Range of Sizes Available

High Speed Options for Fast Moving Lures
Full Metal Body Makes it Heavier

Higher Price than Battle II Predecessor
The Penn Battle III Spinning Reel is my choice for the best value-for-money spinning reel.
With the help of a good spinning reel, fishing will be more fun, and you will lose fewer fish. The Penn Battle Spinning Reel is one of the best spinning reels for the money I have experienced that combines high performance with simple ease of use.
The Battle III is one of my favorite reels and is often our top recommendation, depending on your circumstances. I have spent many fishing trips fighting trophy fish with a Penn Battle in my hand.
This Penn Battle comes in different sizes ranging from 1000 to 8000.
However, the gear ratio of 2500-4000 is 6:2:1, the other versions 5000 and 6000 have a 5:6:1 gear ratio, and the largest model 8000 comes with a gear ratio of 5:3:1. All of the models have six ball bearings.
Why I Like It:
This reel comes with 20% extra drag compared with previous evolutions.
Smooth retrieve and suitable for saltwater with six stainless steel ball bearings.
The large line capacity rings let you see how much line is left on the spool.
Improved corrosion resistance can handle salt and sand.
Pros:
Smooth Drag System
Solid, Durable Reel
High Line Capacity
Anti-Reverse System
Cons:
Heavier than some other alternatives
What is the difference between the Penn Battle II and Battle III?
The Battle III comes with the upgraded body, rotor, and bail design of the Slammer III. This gives the Battle III improved durability and performance, albeit at a higher cost. If you can afford the difference, I recommend the newer option.
Verdict
Don't let the weight of Penn's Battle spinning reel trick you – this reel is not lightweight. The Battle II range is a solid workhorse reel that suits freshwater and saltwater anglers. If you expect your reels to handle the stress and strain that a lifetime of hard work can deliver, then the Battle is a great option.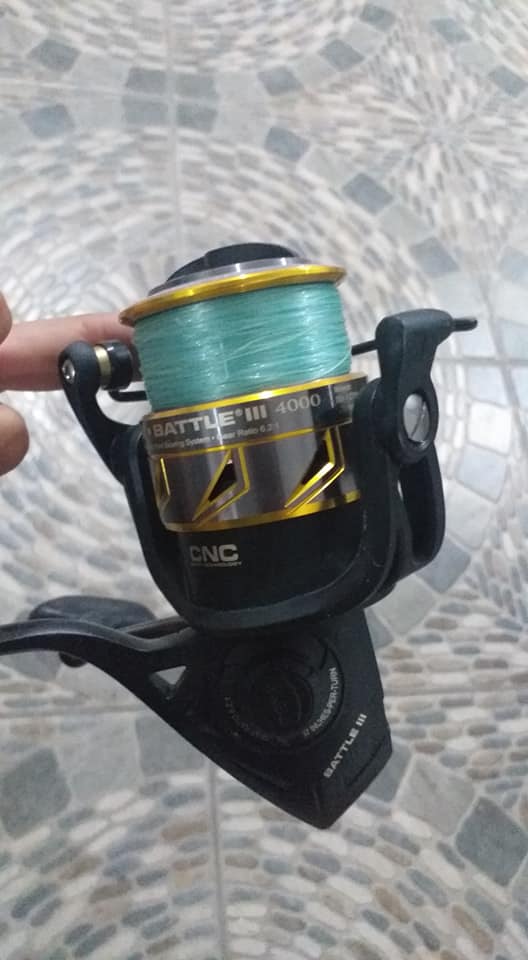 3. Pflueger Supreme XT Spinning Reel – Best Long Distance Casting Reel
Long Distance Casting Reel
Extremely High Line Capacity
10 Corrosion Resistant Ball Bearings
Sealed Carbon Drag System
Can Have Issues with Heavy Saltwater - Flush After Use
The Pflueger Supreme XT is my recommendation for the best long-distance spinning reel.
Pflueger is a great manufacturer worth including in this list for the best saltwater reels. The Pflueger Supreme XT Spinning Reel is highly rated.
The reel is extremely lightweight and, at the same time, has first-class gearing and ball-bearing features. It is very durable and high-performing during drags, casts, and cranks.
It is ideal for a wide range of fish and angling applications. It is exceptionally light at a very affordable price range.
From my experience, the Plueger Supreme XT also has the longest line capacity in this list of the top fishing reels to assist you in casting further and fighting big fish for longer.
The Supreme XT Spinning reel has four models weighing only 9.6 ounces. It has a sealed carbon system that always remains lubricated.
Why I Like It:
10 Corrosion Resistant Stainless Steel Ball Bearings
Magnesium Body Rotor
Sealed Carbon Drag
Carbon Handle that is 21% lighter than aluminum
Braid Ready Spool
Pros:
Extremely Light
Braid Ready Spool
Smooth Drag Performance
Affordable
Verdict
The Supreme XT spinning reel will give you a smooth casting experience. It is incredibly versatile and suitable for a wide range of fishing applications.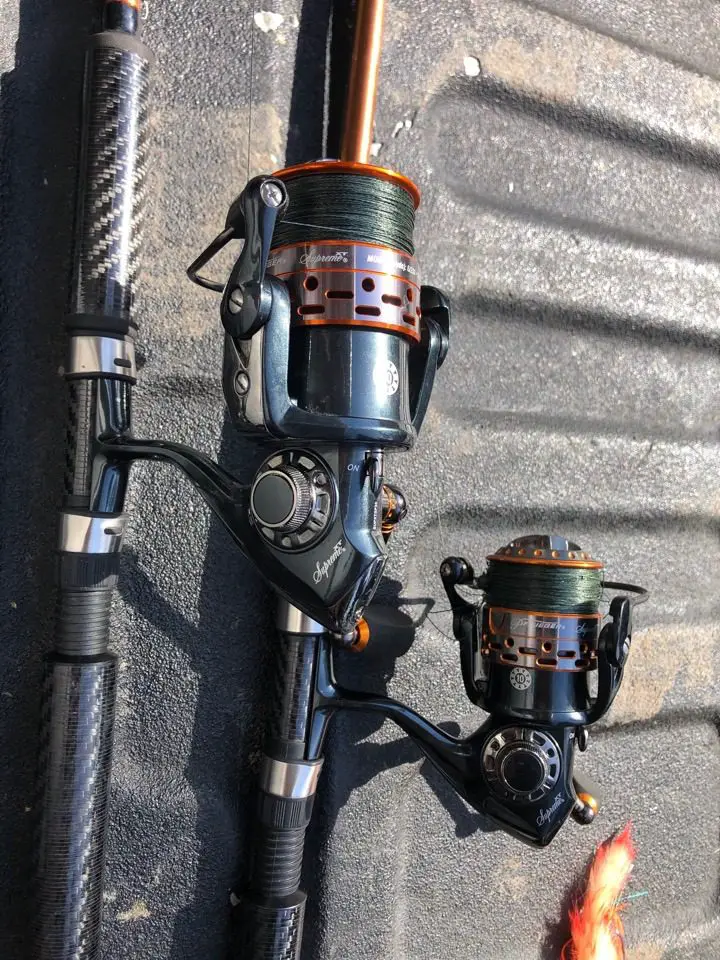 4. ​Shimano Vanford Reel – Best Saltwater Reel
Lower Weight than its Predecessor

Extremely Durable

Long Casting Distance

Full of Shimano's Latest Technology
More Expensive than the Shimano Stradic Ci4+
The Shimano Vanford is my recommendation for the best saltwater spinning reel.
If you are looking for the best spinning reels for the money, then the Shimano Vanford is the top contender. Shimano is renowned for making high-quality products with leading-edge technology. They are my favorite brand for fishing reels. The Vanford is an upgrade on the ever-popular Stradic Ci4+.
This lightweight spinning reel is designed for anglers who want a more affordable option. However, it also gives high performance and looks good with great aesthetics, in my opinion. This combination makes it into one of the top spinning reels.
This spinning reel comes with a 6:4:1 gear ratio and weighs under 7 ounces for the most popular sizes.
Why I Like It:
7+1 ball bearings for smooth operations
Max Drag of 7-24 pounds depending on the model
Line Retrieve of 35 inches per crank
Pros:
Extremely Lightweight
Looks Great
Well Crafted
Designed For Saltwater Use
Verdict
It is one of my favorite spinning reels for small saltwater fish species. The Shimano Vanford is one of the most popular reels throughout the United States and has a good combination of low weight, affordable price, high performance, and high-quality manufacture.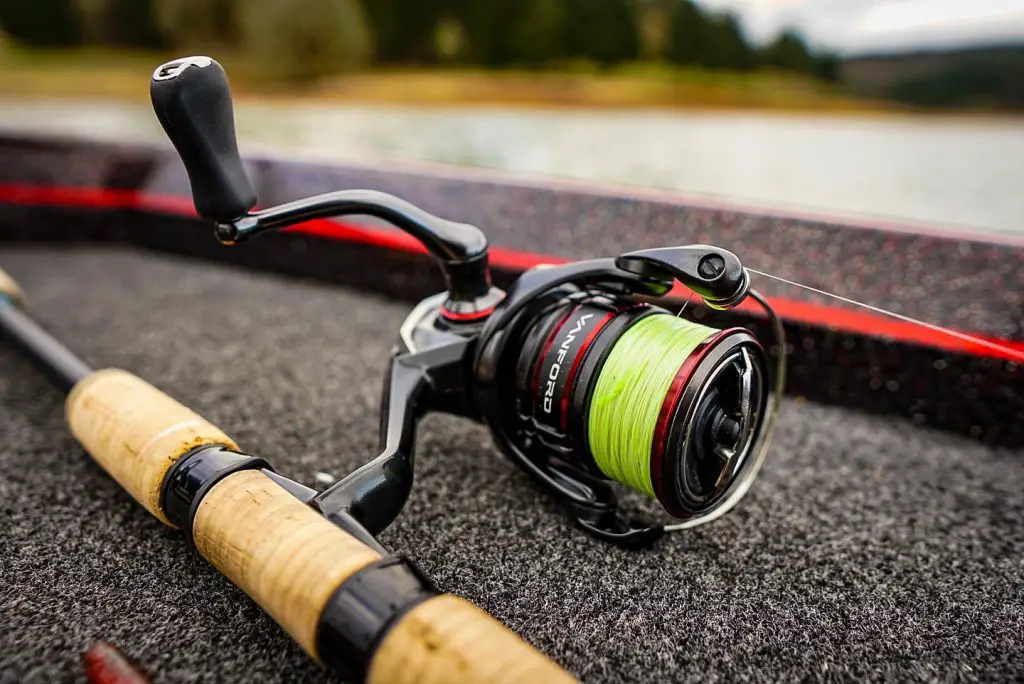 5. Daiwa BG Spinning Reel – Most Durable
Saltwater Ready

Braid Ready - No Mono Backing Required

Machined Aluminum Housing

Infinite Anti-Reverse System
Lower Max Drag

Heavier than Alternatives
Daiwa put a lot of effort into upgrading their technology to create the Daiwa BG. It comes with upgraded materials and technologies to create a great balance between performance and durability.
Full body metal acts as the protective shield, and the BG has an anodized machined aluminum housing. The larger-sized models are specifically designed for big game saltwater species.
Why I Like It:
Let's dig into the benefits and features of this excellent reel. Have a look.
Digigear precision gear cutting for closer meshing.
The full metal body gives it almost no flex, which is especially important when under the load of a hungry fish.
A lot of effort has been put into improving the waterproofing which again adds to the long-term durability.
I found the wide grip handle to be very comfortable and easy to find in a hurry.
Pros
The aluminum metal body is extremely durable and you will get a long-lasting lifespan out of this reel.
Stainless steel ball bearings along with the digigear precision-engineered gearing give it a smoother retrieve when compared with the older Daiwa models.
Cons
The bail arm does seem to be less robust than the rest of the reel.
The max drag is on the lower side, especially for smaller models.
Verdict
The Daiwa BG is one of my personal favorites because of its balance – it has high performance, it is well made from high-quality materials, it is durable, and has solid specifications. You can certainly do a lot worse, particularly at such a low price range.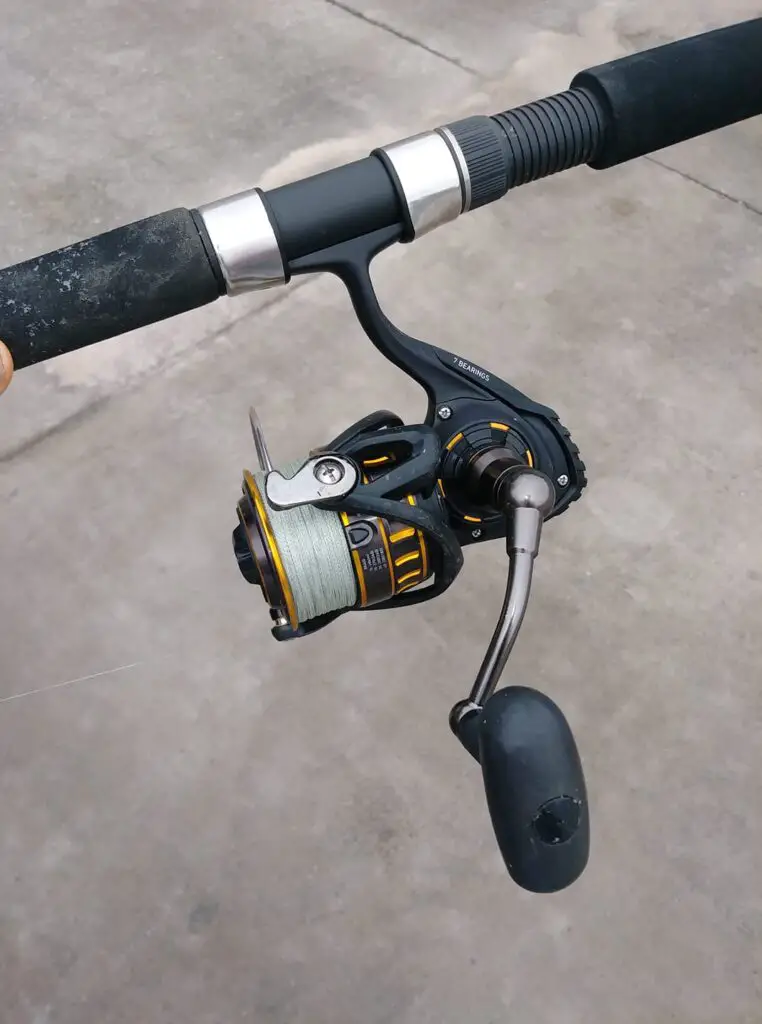 6. Okuma Ceymar Lightweight Spinning Reel – Best Reel Under $50
Saltwater Ready

7+1 Ball Bearings

Multi-disc Drag System

Extremely Lightweight
Lacks Powerful Drag System

Low Gear Ratio Isn't Suited for Fast Moving Lures

Lacks the Features of Premium Brands
If you are searching for a reliable reel under fifty bucks, this Okuma Spinning Reel is undoubtedly on the top of that list. Compared to the other reels, it has a smooth retrieve, is beautifully designed, and is precise in its operation.
The best thing about this spinning reel is it comes in five different styles. These styles are classified according to the purpose – Each style is designed for specific work:
C-10: Great For Small Ice Fishing Outfits
This reel is the smallest Ceymar in this family. It is great for a 2 to 6-pound test fishing line. This reel is designed for sunfish, trout, bluegill, and crappie fishing. For best performance, pair with an ultra-light fishing rod.
C-30, C-40: A Versatile Performers In Freshwater
Intermediate sizes are the most versatile anglers. It suits steelhead, bass, carp fishing, walleye, and more. Therefore, the size 30 is designed for finesse applications. It is perfect for jigging walleye or drop-shotting bass with a 6 to 8-pound fishing line.
On the other hand, C-40 comes with a larger capacity. It is designed for bigger fish like catfish, steelhead, and bigger lures. It can hold a 10 to 12-pound line.
C-55: Great For Fishing In Inshore Saltwater
When it comes to Inshore Saltwater fishing, C-55 is brilliant – It's a highly capable reel. It is capable enough to hold bigger fish like snook, and striped bass. redfish and shallow water bottom fish. It will hold a 15-pound monofilament line of roughly 240-yards – using a braided line of 20 to 30 pounds to fit similar lengths.
C-65: Great For Jetty, Pier, & Big Water Fishing
The size 65 is made to hold oversized fish. It is equipped with higher cranking power and max drag. In saltwater, it is perfect for casting from jetties and piers. The C-65 will be best for casting big river and lake fish like catfish in freshwater.
Why I Like It:
Let's dig into the benefits and features:
It comes with a multi-disc drag system – This system makes it pretty powerful
7 ball bearings and 1 roller bearing
The company offers a 1-Year Limited Warranty
Machine cut brass pinion gear
It is made up of a 2-tone machined aluminum spool
The C-65 comes with an Ergo Grip handle
Pros
Anti-Reverse Roller Bearing
Dynamic Design
Supremely Comfortable
Cons
Only comes with a 1-Year Warranty
Verdict
The Okuma Ceymar is a brilliant entry-level reel. It performs well and is lightweight and reliable compared to this category's other reels. If price is an object then look at this option, I would recommend it for budget-conscious beginner anglers.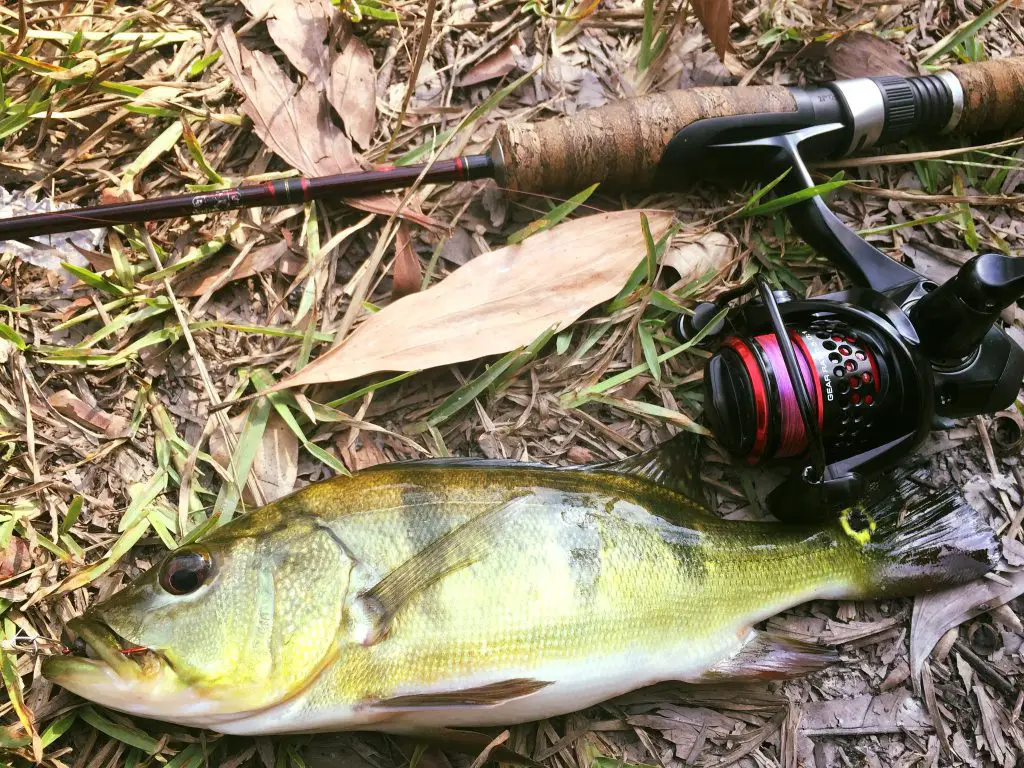 7. Penn Fierce II Spinning Reel – Best Offshore Saltwater Reel
Saltwater Ready

4 Stainless Steel Ball Bearings

Versatile Size Models Available

Line Capacity Rings
Full Metal Body Weighs More than Alternatives

Lower Drag for Similar Sized Options
From the very first impression, this Penn spinning reel will impress you with its amazing looks. One of the things I love about the Penn is that this spinning reel has a smooth retrieve. I would recommend giving it a go for anyone who has never tried a Penn reel – it is like no other reel manufacturer.
When it comes to retrieving a lure, this is one of the best spinning reels. The feature we like most about this reel is its high max drag.
It comes in several sizes, starting with 2500 up to 8000.
Why I Like It:
These Features include:
This reel comes with premium performance and durability at a very reasonable value
Durable construction with a heavy-duty aluminum bail wire
Enclosed in a full metal body
Instant ant-reverse bearing
4 shielded stainless steel ball bearings
1/3 and 2/3 marked line capacity rings
As it comes with a super line spool, it doesn't require any backing.
Pros:
Smooth Retrieves
Durable Construction
Don't Need Any Backing
Superior Leverage
Cons:
Lots of options – make sure you select the right one for your requirements
Verdict
This fishing combo has got everything you want from a reliable reel. The Penn Fierce is a favorite among anglers everywhere. If you are looking for a cheap reel that delivers, look at Penn.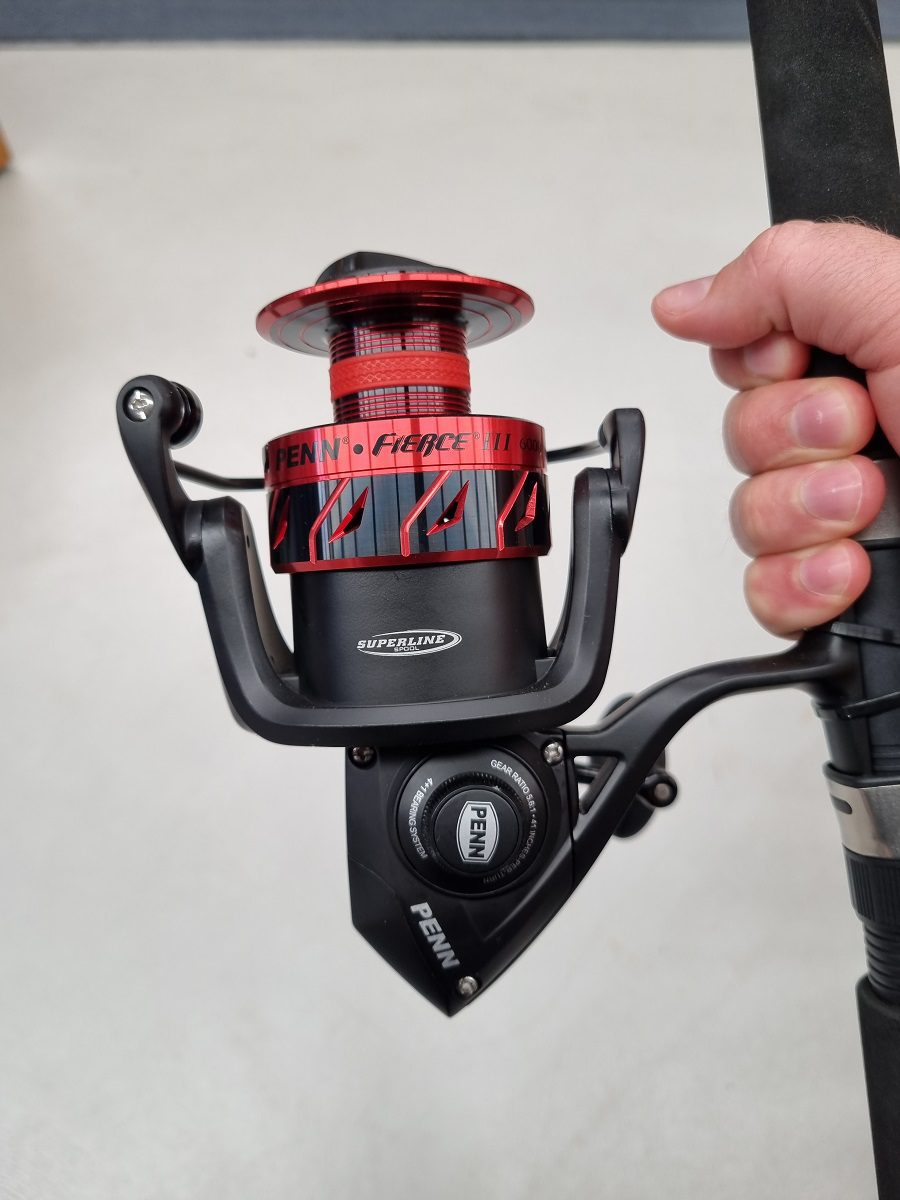 8. Shimano Sienna FG Spinning Reel – Most Affordable
Saltwater Ready

Extremely Affordable and Great Value for Money

Propulsion Line Management System

Graphite Reel, Frame, and Side Plate
Lower Gear Ratio is Too Slow for Spinnerbaits

Rougher Retrieve Due to Less Ball Bearings

Not Suitable for Large Offshore Fish Species
Are you worried about spending a lot of money to pick a spinning reel that doesn't come with all of the features?
Shimano paved the way, especially for someone who wants an amazing spinning reel on a tight budget. Shimano is one of the leading reel brands (and my personal favorite) for its stunning technology and design.
I tested a Shimano Sienna FG 4000 spinning reel that I purchased from Tackle World purely for this test case. I spooled it with 10 lb monofilament fishing line and went to my local fishing hot spot to give it a test. I paired this reel with an Ugly Stik Platinum Spinning Rod that was around 7 feet long and relatively lightweight.
Why I Like It:
Let's dig into the benefits and features:
Propulsion line management system to cast further and reduce backlash
Anti-reverse system
Graphite reel, frame, side plate
Ported handle shank
Varispeed oscillation
Pros:
Tremendously Lightweight
Soft Gear
Simple Casting Procedure
Cons:
Doesn't have all the features of a high-end reel
Not suitable for large offshore fish
Verdict
Shimano is one of the best around, and if you want to get their technology at a decent price, then look at the Sienna. I would certainly recommend looking at some of the more expensive Shimano reels if you have the budget for it, but this reel will do the job – no question.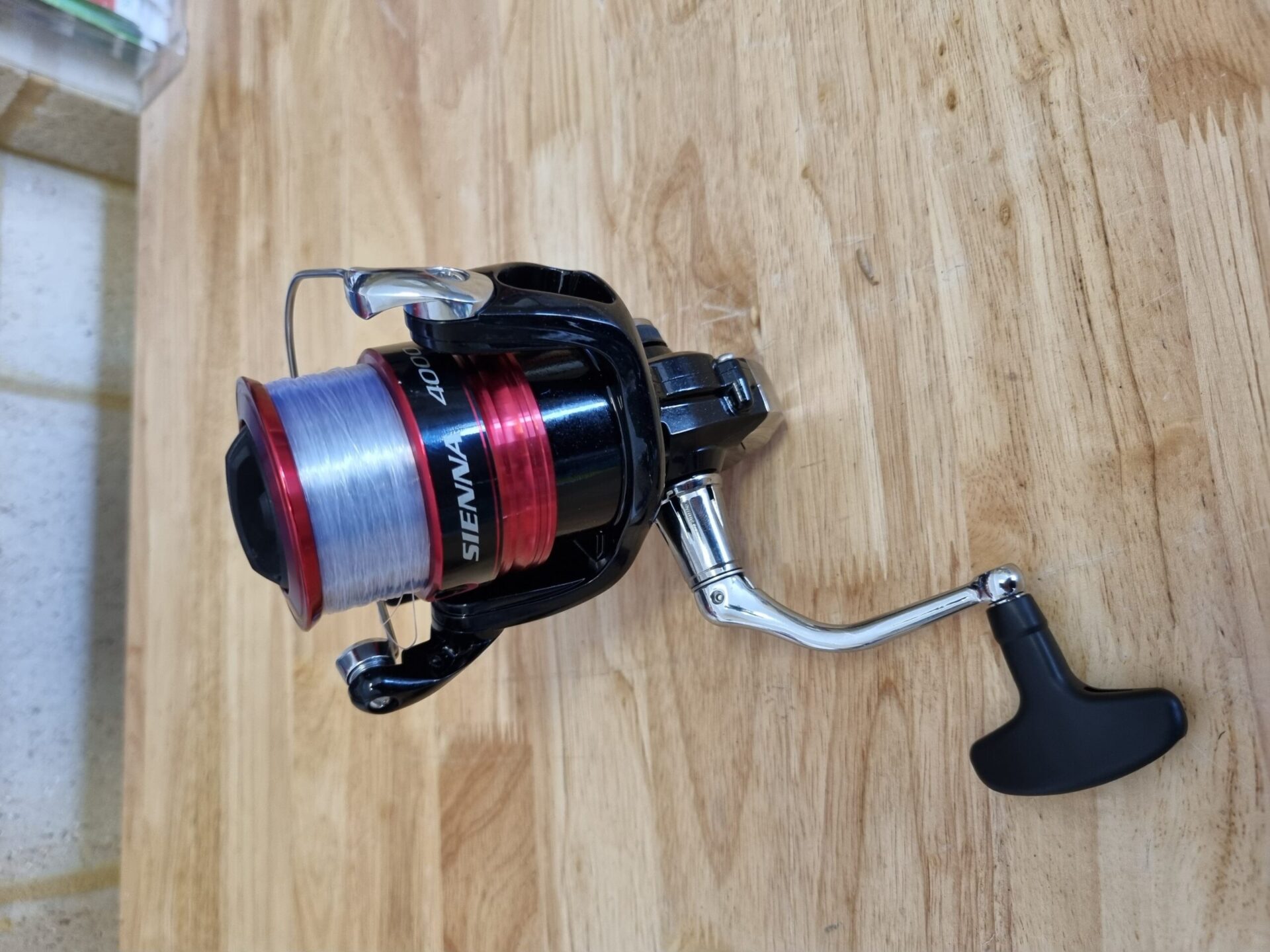 9. Shimano IX Rear Drag Spinning Reel – Best Freshwater Spinning Reel
Solid Aluminum Frame and Handle

Propulsion Line Management System

Shielded Ball Bearings

Rear Drag is Easier to Adjust During a Fight
Lower Gear Ratio Isn't Suited for Fast Moving Lures

Rear Drag Adjustment is Not For Everyone
Shimano has finally released a spinning model that most anglers or professionals can afford. I love Shimano reels, but they generally have a premium price tag.
You will first notice its sleek blackish look thanks to its stunning mechanical design and excellent drag system. The Shimano IX Spinning Reel is not only a great spinning reel for the angler but also at a modest price.
Why I Like It:
The frame and handle are constructed of solid aluminum. The combination of graphite and solid aluminum makes it extra durable.
Shimano designed this reel for saltwater to survive and protect against damage with all graphite material like side plate, frame, spool, and rotor.
More than anything, these spinning reels are light. One of them is 9.6 ounces, and another is 1.5 pounds. So you will not be getting fatigued casting for extended sessions.
The handles are made as traditional T-shaped. At the same time, paddle-shaped depending on which size you prefer.
This reel is an easy casting and level winding reel. The Propulsion Line Management System allows the line to flow off the spool gently. It ensures a longer cast without making huge backlashes.
The S A-RB bearings come with shielding on each side and protect from dirt.
Pros:
This is a lightweight spinning reel.
Unlike most reels, this has a rear drag so you can adjust it easily while fighting a fish.
It casts effortlessly.
Cons:
Can have trouble casting in rough weather
Take care of the graphite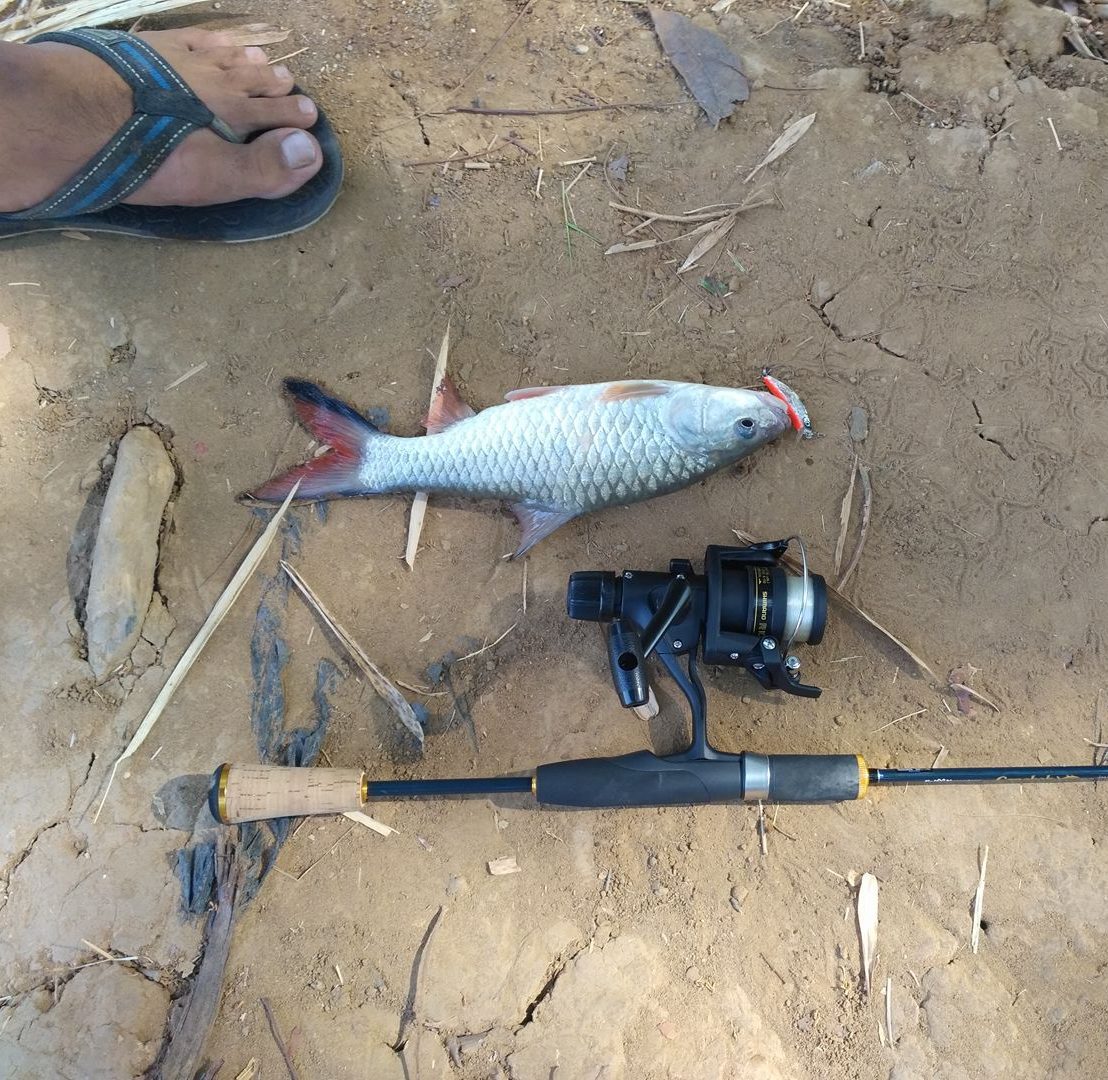 10. Shimano Baitrunner D Spinning Reel – Best Heavy Duty Reel
Super Stopper II Anti-Reverse

Corrosion Resistant Bearings

Propulsion Line Management System

Cold Forged Aluminum
Low Drag for a Saltwater Reel

High Price Tag Considering Lack of Features
Last on our list of the top spinning reels is the Shimano Baitrunner D. If you are worried that spending less than $200 means you have to pick a spinning reel without some superb features, then look at the Shimano Baitrunner.
Shimano paved the way for new fishing technology, especially for someone who wants an excellent saltwater spinning reel on a tight budget. You will get everything you want from this ideal spinning reel.
Shimano is one of my favorite fishing brands because of the attention to detail they put into everything – from the design to the materials and everything in between. Shimano is a byword for quality and durability.
This Baitrunner D series from Shimano offers several medium-sized reels for saltwater. At the same time, these are readily available in four other models from 4000-12000. However, the line capacity of this model starts from 8 Ib mono and 15 Ib in the braid. As it goes high, the line capacity also is shown as 20 Ib mono and 80Ib in braid on the 12000 model of the D series.
Make sure you pick a reel size that suits your needs, depending on the type of fish – predatory fish like mackerel tend to run hard and require longer fishing line spool lengths, while tarpon fight hard and require stronger and thicker fishing line.
Why I Like It:
The first noticeable feature is its anti-reverse mechanism. It comes with a Super Stopper II, where one bearing is used to eliminate any back play. This will help avoid bird nesting or spooling your line out when you don't want it to.
It also has the Shimano SA-RB anti-rust bearing. This is referred to as 'Metal Shield' and is one of the ways that Shimano builds corrosion resistance.
The spool is made from cold-forged aluminum, which gives it superior durability and low weight.
It also has a good balance with Shimano's Dyna, which maintains the reel's stability during retrieval.
Finally, it also has Shimano's Propulsion Line Management, which helps to give longer casting distance by spooling the line on neatly. This also helps to fit more line onto the spool and prevents backlash.
Pros:
Affordable
Long Casting Distance
Excellent Line Lay
Comfortable Grips
Able to tackle Lake Trout, Salmon, Crappie, or any large-sized Saltwater Species
Shimano produces high-quality products with the latest and greatest technology available.
Cons:
The max drag is on the low side for a saltwater fishing reel.
The price tag is higher than the OC version, and doesn't seem justified based on its features and specifications.
Not suitable for smaller fish species – not available in sizes less than 4000.
My Verdict
This reel has excellent engineered qualities. It is a specialist baitrunner design that you would only get if you target particular saltwater species like snapper, stripers, or bluefish. If you are fishing for these species are have a low hook-up percentage, then you should certainly consider switching to a baitrunner – this will certainly help you to strike at the right time after the fish has swallowed your live bait.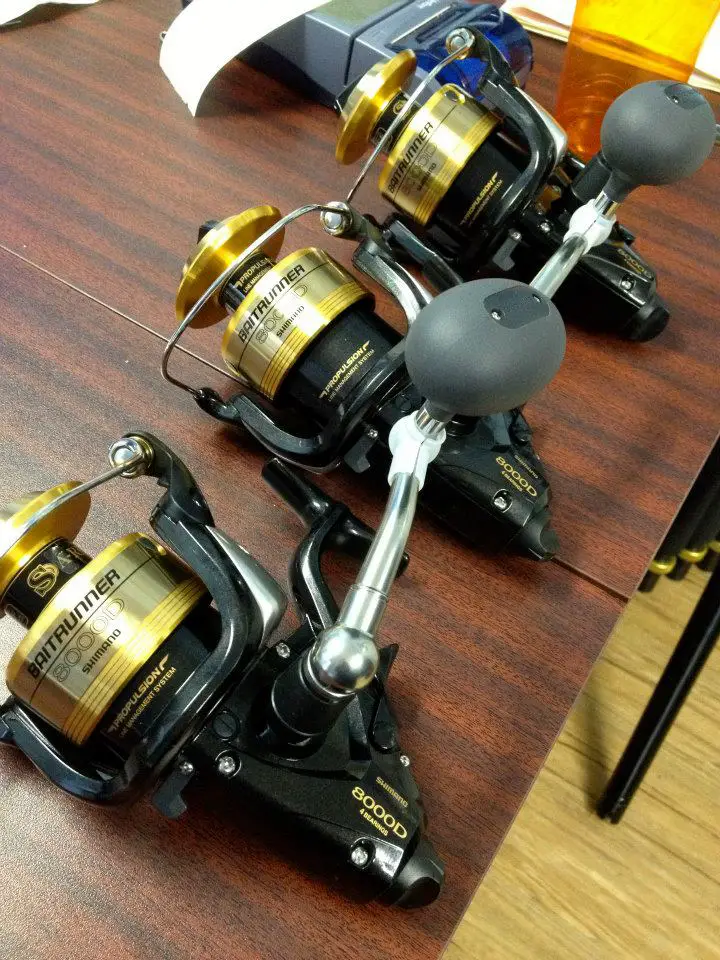 Specification Comparison
It can be difficult to tell the difference between these features and benefits. So let's focus entirely on the data and the specifications. All of this information is based on a size 3000 reel model.
| | | | | | | | | | |
| --- | --- | --- | --- | --- | --- | --- | --- | --- | --- |
| Spinning Reel | Score | Ball Bearings | Suitable for Saltwater | Retrieve Rate | Gear Ratio | Max Drag | Weight | Mono Capacity (6lb) | Price Range |
| Pflueger President | 5/5 | 9+1 | No | 31 inches | 6.2:1 | 10 lb | 7.6 oz | 145 yards | $$ |
| Penn Battle II | 5/5 | 5+1 | Yes | 35 inches | 6.2:1 | 15 lb | 12.3 oz | 210 yards | $$ |
| Pflueger Supreme XT | 5/5 | 10 | No | 33 inches | 6.2:1 | 12 lb | 8.0 oz | 230 yards | $$ |
| Shimano Vanford | 5/5 | 7+1 | Yes | 35 inches | 6.4:1 | 20 lb | 6.4 oz | 230 yards | $$$ |
| Daiwa BG | 4/5 | 6+1 | Yes | 37 inches | 5.6:1 | 15 lb | 10.8 oz | 280 yards | $$ |
| Okuma Ceymar | 4/5 | 7+1 | Yes | 25 inches | 5.0:1 | 15 lb | 8.1 oz | 180 yards | $$ |
| Penn Fierce II | 3/5 | 4+1 | Yes | 35 inches | 6.2:1 | 10 lb | 11.7 | 220 yards | $$ |
| Shimano Sienna | 3/5 | 3+1 | Yes | 28 inches | 5.0:1 | 9 lb | 8.8 oz | 110 yards | $ |
| Shimano IX | 3/5 | 0 | Yes | 21 inches | 4.1:1 | 7 lb | 8.6 oz | 170 yards | $ |
| Shimano Baitrunner D | 3/5 | 3+1 | Yes | 28 inches | 4.8:1 | 15 lb | 13.5 oz | 260 yards | $$$ |
Spinning Reel Buying Guide
Before purchasing a reel, you should consider some key design factors that make it work. This impacts the equipment's performance, durability, longevity, and value.
You may not have heard of some of the technical terms we use, but don't worry – this section is designed for beginner anglers.
So let's take a look.
Types of Fishing Reels
There are five types of Fishing Reels available in the market:
Spinning Reels:
Spinning reels are the most popular type of fishing reels used by anglers. The internal gears of Spinning Reels give it a high retrieval rate and maximum drag. They provide the furthest casting distance and are the most versatile. You can use spinning reels on anything from bass to large gamefish and from ponds to the ocean.
They are also the easiest to use, with a very low chance of your line knotting unexpectedly. We always recommend spinning reels for beginners.
Baitcasting Reels:
The next most common option is a baitcaster. As the name indicates, these reels are designed for casting. They give better accuracy in casting but not as much distance as a spinning reel. They also can have a much higher gear ratio which can suit particular lures that need to be retrieved extremely fast, like a spoonbait lure.
Baitcasters are normally used for a specific purpose, such as fishing with crankbaits for bass or drop-shotting.
Conventional Reels:
If you are an avid angler, a conventional reel is for you. Usually, it is engineered with a heavy boat rod. As a result, they are quite durable. They can't cast long distances but are much more suitable for big game fishing from a boat.
Conventional reels are normally used when dropping baits deep onto a reef or trolling behind a boat. We recommend trolling reels for big saltwater gamefish. You can also get electric conventional reels which are well suited for physically disabled anglers or deep-dropping thousands of feet.
Fly Reels:
Another type of fishing reel is the fly reel, which is made for use with a Fly Fishing Rod. Fly reels generally don't have gearing or much in the way of drag. They are a purer form of one-on-one fighting with the fish. Alongside a good pair of polarized sunglasses, a rod and reel are the most important pieces of gear for fly fishing.
Fly feels use a weighted fly fishing line and a light fly as bait. They are commonly used for trout in clear, running rivers.
Spincast Reels:
These types of reels are closed bodies, so all the parts are enclosed by a body. However, there is a hole in the reel from which the reel's fishing line comes out. Spincast reels are recommended for kids – they are simple and easy to use but lack some of the versatility and performance of a spinning reel.
Advantages of Spinning Reels
Versatility
Spinning reels are the most versatile and popular type of fishing reel (Source). They can be used for casting from the beach, trolling from a boat, bottom fishing, casting lures or live bait all in one day.
These features make them suitable for catching almost anything, including bass, panfish, redfish, tarpon, and walleye.
If this is your first even fishing reel, then we always recommend choosing a spinning reel. You can get other types of reels for specific scenarios, but your spinning reel will always be your go-to option.
Light Line, Light Lures
The prime advantage of spinning reels is their capability to cast long distances. The open bail and fixed spool allow the fishing line to flow out with no resistance, which is funnelled through the eyes of the rod.
As a result, it is the easiest to cast with the furthest distance. It rarely creates birds nests or gets tangled. Spinning reels are ideal for beginner anglers.
Because of the extra distance you can cast, spinning rods can also be more suitable for lighter lines and lures. If you are targeting panfish, then you will want low-weight lures.
Great for all Experience Levels
Spinning reels are perfect for teaching someone to fish and cast. The operation is as simple as opening the bail, finger on the line, and letting the lure sail. So as you gain experience, you can easily upgrade if required. But you should always start with a spinning reel.
Learn how to use a spinning reel.
Features You Need to Know
It can be difficult to see through the marketing hype and understand exactly what you are getting for your money. This section gives you a brief overview of the main features to understand the differences between a 5-star and a 1-star product.
Ball Bearings
Ball bearings are a key indicator of reel performance and how smooth the retrieve feels. The more ball bearings, the more evenly distributed the load around the reel frame and internal gearings. You will notice a fairly clear relationship between the price of a reel and the number of ball bearings.
If you are torn between two reels with similar features, pick one with more ball bearings.
Gear Ratio
The gear ratio refers to the number of turns of the reel's spool for each handle turn. For example, a gear ratio of 5.0:1 means that 1 turn of the handle gives 5.0 turns of the spool. In reality, this refers to the retrieve speed of the spinning reel and you need to know how you will be using the reel. You will want a higher gear ratio if you intend to retrieve a lure extremely fast.
Remember that the higher the gear ratio, the less power you can apply. Heavy big gamefish reels often have gear ratios as low as 2.0:1. High-speed baitcasting reels can be as much as 10.0:1 gear ratio.
For spinning reels, I recommend selecting within 5.0:1 and 6.0:1 range. This gives the most versatility and allows you to fish in more different styles.
Corrosion Resistance
If there is one thing that can destroy metal machines quickly, it is water and, in particular, saltwater. Anything you can do to avoid rust is worthwhile. But this will be reflected in the price as construction materials improve. If you are doing saltwater fishing or brackish water, you will want to select a corrosion-resistant spinning reel. The best way to get value for money is to increase the reel's life.
If you are only fishing in freshwater and never venture into salt, you can pick a cheaper reel made from less robust materials.
Line Capacity
The amount of line you need depends on the size and type of fish you are targeting. Panfish need a lot less line than a tuna that will swim off at full speed as soon as it is hooked.
The more the line capacity, the heavier the reel will be, as the spool needs to be physically larger.
You will also want to consider the type of fishing line you will use. Braid fishing line has a much higher line capacity than an equivalent strength mono line.
Max Drag
Finally, a key feature to understand is the maximum drag. This showcases how much weight the drag can apply to the fishing line and the size of fish it can stop. The larger reels come with higher drags, so you can easily pick a suitable model/size of spinning reel to suit your target species. Ensure you get a large enough reel to handle the largest fish you are likely to hook.
The last thing you want is to hook a trophy fish and only then discover that your drag is too light.
Conclusion
To wrap the best spinning reels up, we could say that a great reel can be your best friend in your adventurous fishing experience. However, each spinning reel on our list also has an amazing specification. But we can understand that buying decision is related to various aspects like affordability, purpose, and preference.
We have also written some more specific guides depending on more stringent requirements:
We hope you enjoyed our article. Thanks for being with us.