Spring: Target spawning areas, use slow-moving lures. Summer: Fish early morning or late evening, target deeper structures with jigs or crankbaits. Fall: Focus on schooling baitfish, use spinnerbaits or topwater lures. Winter: Slow down presentations, use finesse techniques, target deeper water near structures with jigs or drop-shot rigs.
There are over 30 million anglers in the US and bass fishing is one of the most popular species to target. 
It can be difficult to have success bass fishing without the right gear, so make sure you have got a proper bass fishing rod, spinning reel, fishing line, and a variety of lures and baits before you head to the water.
Bass are predators and generally have many different food options, so make sure you have many different types of lures and baits with you, from bottom-hugging, to topwater, to spinners, and soft plastic lures.
| Season | Best Bait | Best Lures | Techniques | Depths | Time of Day |
| --- | --- | --- | --- | --- | --- |
| Summer | Frogs, crayfish, worms, shiners | Topwater lures, crankbaits, spinnerbaits | Flipping, pitching, topwater | 8-20 feet | Early morning, dusk |
| Winter | Minnows, shad, jigs | Jigging spoons, blade baits, suspending jerkbaits | Slow jigging, drop-shotting | 20-40 feet | Midday, afternoon |
| Spring | Worms, minnows, shad | Spinnerbaits, crankbaits, lipless crankbaits | Shallow casting, finesse fishing | 4-12 feet | Late morning, afternoon |
| Fall | Shad, crayfish, worms | Spinnerbaits, jerkbaits, squarebill crankbaits | Fan casting, crankbait retrieval | 6-15 feet | Morning, afternoon |
Most anglers who catch big bass are not just lucky – they have the right gear to go along with their knowledge and experience. For a beginner bass angler, have a read through these tips below to help you catch fish all year long.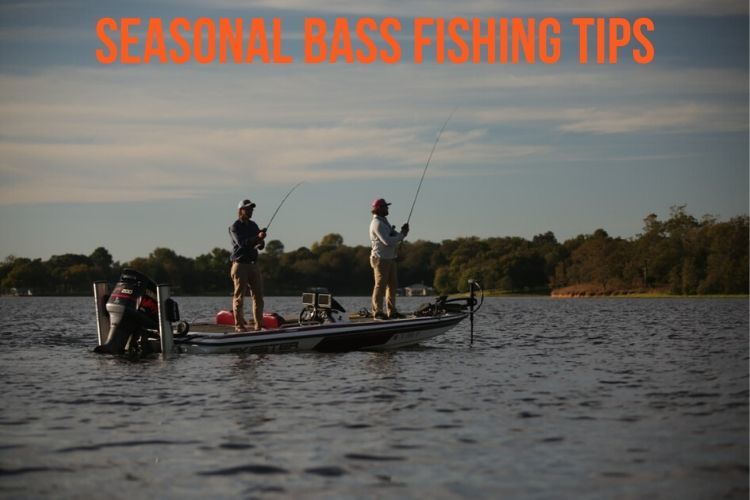 Summer Bass Fishing Tips
Warm weather increases bass metabolisms, meaning that you will feed more often. This gives you more opportunities to put a lure in front of a hungry fish. Fishing for bass in summer is certainly worthwhile trying to increase your chances of catching that big fish.
Bass need three things to survive – food, shelter, and oxygen.
Look for locations within your target environment that will provide all three. These will have more likelihood and having bass either living there or passing through than just randomly throwing a lure into the middle of the lake.
On low light days target the shallow side of a lake or reservoir
On bright days target the deep side of a lake or reservoir
Target underwater ledges and drop-offs
Look for shad spawning areas – shad are perfect for hungry bass
Summer heat might impact us more than the fish – get some UV resistance long sleeve shirts to protect yourself from the sun
Try summer nighttime fishing – this is cooler and is known for producing big bass
Source: Fix.com Blog
Spring Bass Fishing Tips
The warming waters and the start of spawning can turn lazy winter bass into feeding machines. The spring bass fishing season can be one of the most exciting times after a slow winter.
Bass can also be very protective of their nests and territory. Try a lure that mimics a fry predator (such as bluegill) and they may strike to scare it away rather than for food.
Have a look through some of these simple tips to improve your bass fishing this springtime:
While the weather is still cold target the warmer, deeper waters. However, as the weather begins to warm bass will move to the shallows. Identifying when to move is important to a successful day's fishing.
When you get a bite, fish the area thoroughly – there are often more fish nearby
As the temperature changes rapidly don't expect the fish to be in the same place as they were yesterday
Use big lures – big lures catch big bass
Look for areas where warm water is discharging into a large, cold body of water – this may attract the baitfish and hence the bass
Get a good pair of polarized sunglasses – this will help you to identify the baitfish the bass are eating so you can mimic it with your lure
Be stealthy – bass eyes are facing up so they can get spooked easily if you are making too much noise or movement, particularly around small bodies of water like ponds
Winter Bass Fishing Tips
A bass metabolism is much slower in the winter, but this doesn't mean that you can't go fishing. The bite will be a lot slower than in the summertime, but the fish are still there and they still need to eat.
You may need to work harder for that bite, but the bass are at their fattest as they have prepared for the winter.
Use a bottom-hugging bait to imitate dead baitfish
Move your lure very slowly – this helps to replicate the speed of the cold baitfish
Target shallow eddies where the water can get hotter than the deep lake and attract baitfish
Target 15-20 feet structure – deep water has a more stable water temperature
Trust your fish finder – bass will congregate around the baitfish
Be patient – bass aren't feeding as many times per day as in the summertime, so don't give up if you haven't had any bites
Cold weather impacts us more than the fish – get a warm, waterproof jacket for a more enjoyable day fishing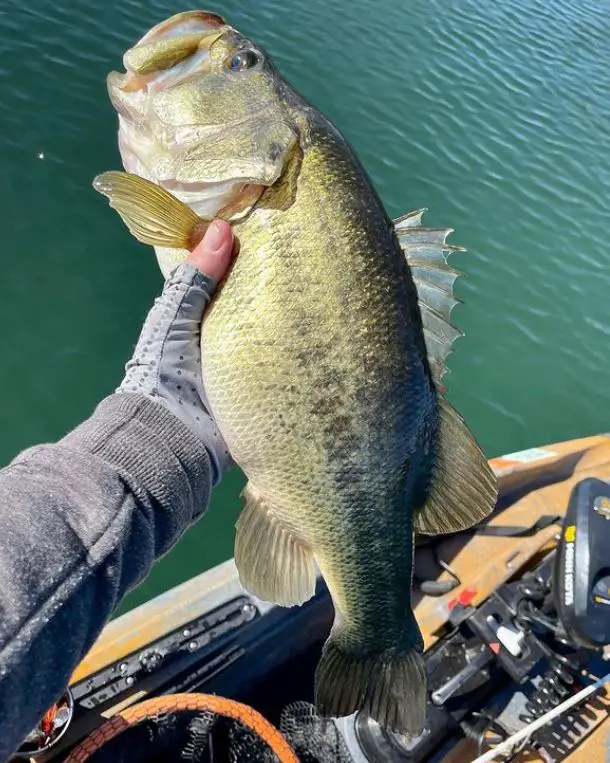 Fall Bass Fishing Tips
Fall is my favorite time for catching bass. It isn't as hot as summer and is more productive than winter. The bass behavior also changes as the shad and other baitfish stop spawning.
The fall turnover is a weather-induced phenomenon that occurs when the top surface layer of water begins to get colder than the deeper water. This causes a reaction in the bass living there and changes their behavior. This means that we need to change your lure types and retrieve tactics as well.
The depth matters more in fall than any other season – change your depth until you find where the bass are feeding. The most common depth range is 15-25 feet.
Bass start eating crawfish – change your lure to match
Keep the bait moving up and down through the water column
Change up your retrieve technique until you start getting bites and then stay with that technique
Look for weed cover – this provides shelter and oxygen for the bass
As fall turns to winter the top water layer starts getting the coldest – again focusing on depth is crucial
Most Popular Bass Fishing Lakes in America
USA Today has put together this list of the 14 most popular bass fishing lakes in the USA. Let me know which ones you have tried in the comments below and whether you had any success. Also, let me know if you have any other lakes that you have had more success on.
Lake Champlain, Vermont
Lake Okeechobee, Florida
Falcon Lake, Texas
Toledo Bend, Louisiana
Lake Fork, Texas
Lake Chickamauga, Tennessee
Lake Jordon, Alabama
Mille Lacs Lake, Minnesota
Lake St. Clair, Michigan
Clear Lake, California
Kentucky Lake, Kentucky
Lake Erie, Ohio
Guntersville Lake, Tennessee​
Sam Rayburn Reservoir, Texas
Conclusion
Bass fishing is one of the most popular hobbies in North America. It is an option throughout the continental United States all year round. Don't think that just because Winter has arrived that you can't go fishing. I hope these seasonal bass fishing tips have helped you try something different and succeed more.
There are also plenty of other fish species in America that you will enjoy catching.
Having the best tackle is also another idea to increase the number of bass you catch – don't go fishing with substandard gear.
The final tip is to handle your bass with care.
Happy fishing!