The Kong is KastKing's answer to handle big game fish, in both freshwater and saltwater.
I was looking for a new surf rod that can handle anything including powerful sharks – so I picked a 10-ft KastKing Kong rod. And the rod lived up to the King Kong imagery.
I tried it out and wanted to share my experiences to help you decide whether it suits your needs.
Built For Powerful Fish
Visible Bright Green Tip
EVA Handle with Rubber Wrap
Stainless Steel Guides
Overview
The KastKing Kong is a big game rod that is suitable for freshwater and saltwater environments, but is especially designed for powerful saltwater species.
For anyone looking to see this rod in action, I have recorded a video review highlighting all of its features:
It is extremely lightweight made from 100% graphite, but doesn't lack any strength. It is available in up to very heavy power, and can handle up to 40 lb line.
If you are looking for a value for money big game fishing rod for either spinning or casting reels, you can't go past the KastKing Kong.
I also love just saying KastKing Kong.
Field Testing Results
I picked a 10-ft, 2 piece surf rod that I paired with my new KastKing Kapstan Elite. It has a fast action, and a medium-heavy power. It took it down to the local beach near my house to test it out personally. I used a heavy sinker and frozen bait to increase casting distance and entice whatever species happened to be lurking nearby.
Casting Distance
The most important performance factor for a surf rod is the casting distance. If you can't get your bait beyond the breaking waves and into the strike zone, then nothing else matters.
Thankfully the 10-ft Kong rod performed admirably. The fast action tip allowed me to pendulum swing the heavy sinker 100+ feet without any trouble.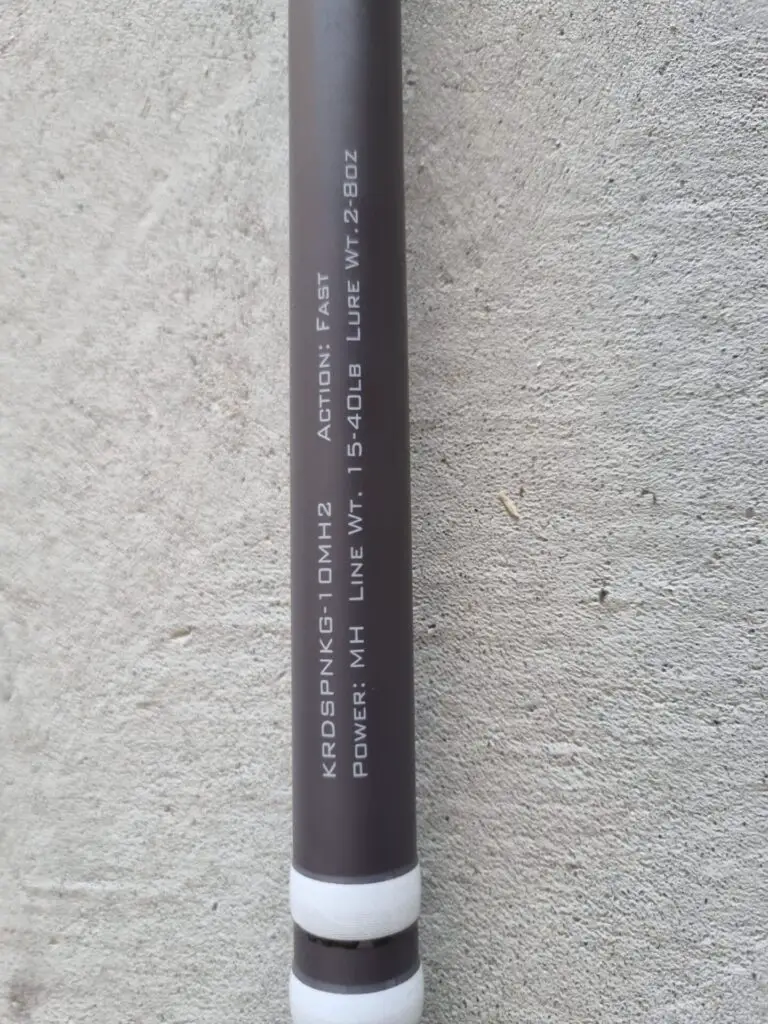 Grip Comfort
Return readers of my blog will know that I am a huge fan of cork grips. I love their soft feel and the way they look. But the Kong's rubber-wrapped EVA grip might have changed my mind.
It is made with grooves molded in for your fingers, that are superior to most other rod grips that I have tried. It doesn't matter how much fish blood or squid ink you get on your hands, the Kong's grip remains non-slip.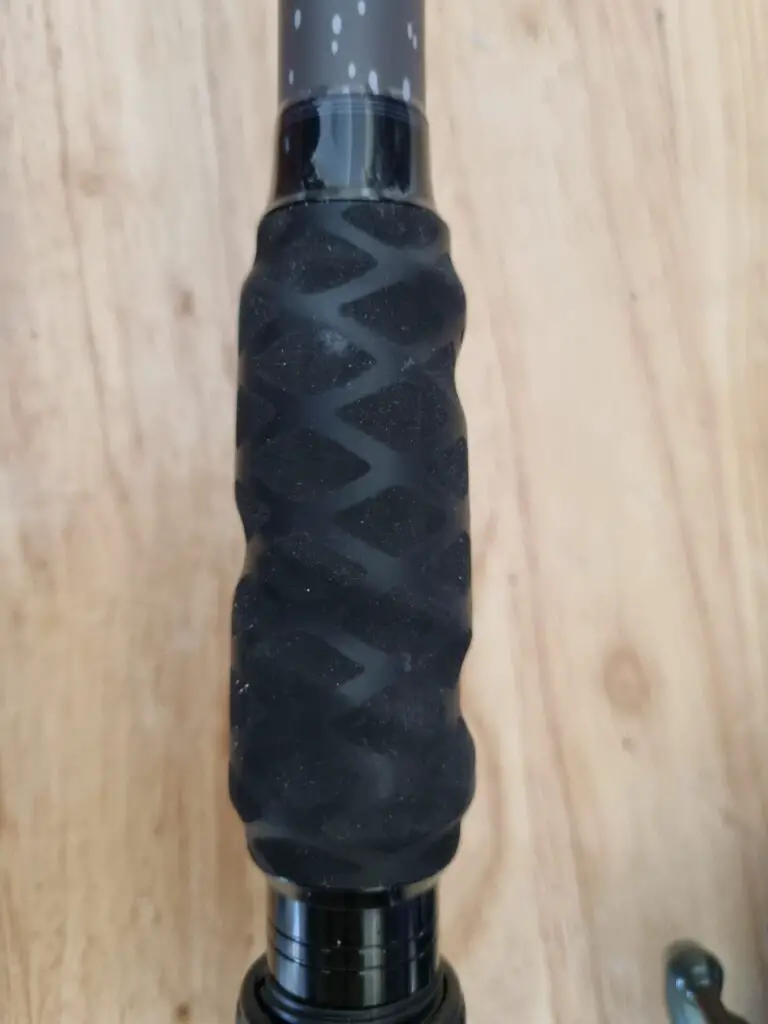 Power and Stiffness
When you are targeting larger saltwater fish, like I was, the power of the rod's spine is paramount. Unfortuantly the first thing I got to reel in was some weed, but even that didn't give any trouble to the Kong.
I really like the combination of fast action and medium-heavy power. It is probably one of the most common action/power combos and again proved why. The high sensitivity with strong spine is ideally suited for striking and then battling even the most aggressive species.
Features
I always have trouble explaining the difference between a cheap rod and an expensive one. They are both long and straight with line guides. But the difference is clear when you have a fish attached.
The durability of materials required for saltwater is also significant. Unless you want to be buying a new rod every year because the sand and salt has corroded it away, pick a rod that is designed specifically for saltwater (like the Kong).
Bright Green Strike Tip
All of the Kong models come with a bright green strike tip. KastKing call it chartreuse, but the rest of us call it bright green.
This color stands out against the blue sky and the blue water. It is very clear when you have a strike or a nibble or even the most subtle bite.
From an aesthetic perspective, the green probably doesn't suit. But when it comes it performance, it really works.
It doesn't matter whether you are looking away or talking to your buddy, the bright green contrasts against the background and gets your attention from your peripheral vision.
I even tried it out night fishing and it was still clearly visible compared to a dull Penn rod my buddy was using.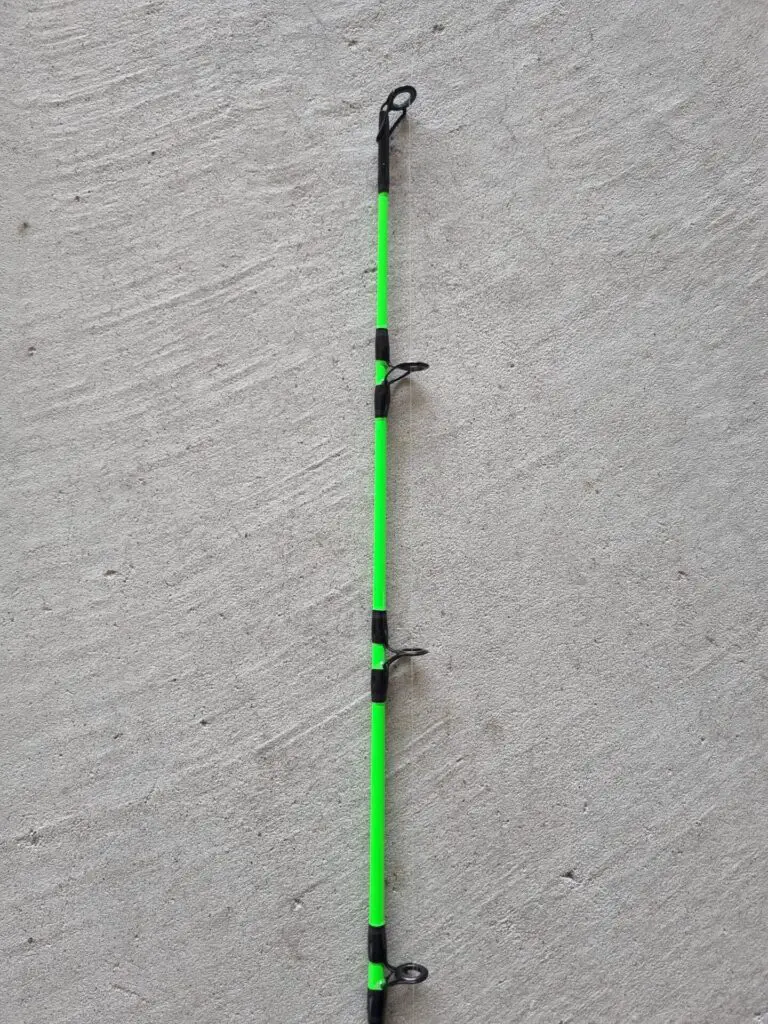 Durable Construction
The quality of the line guides is a good measure of overall fishing rod quality. If the guides are poorly designed and constructed, then the rest of the rod is likely bad as well.
The Kong guides are top shelf.
They are made from stainless steel with a titanium oxide ring. They have a double-foot design for increased strength. When you are battling a powerful saltwater fish, having this extra power is essential.
My rod came with a 40 lb line weight, which allows you to catch very large species. And you need to have sufficiently well designed and constructed line guides to absorb that stress.
Even though it is designed for rough use, still make sure you rinse it thoroughly with freshwater to ensure you get the most life out of your gear. The best way to get value for money is to make sure it lasts a lifetime.
Powerful Graphite Blank
It can be hard to mentally understand the difference between graphite specifications without physically touching the rod. But the Kong is certainly made with new technology. It is hard to believe that such a light rod can have so much power – but it is true.
This rod is made from 100% high-strength S-Curve graphite reinforced with Nano-Resin technology.
This means it lacks the weight that fiberglass alloyed alternatives provide. When you are transporting long surf rods, this is a huge win.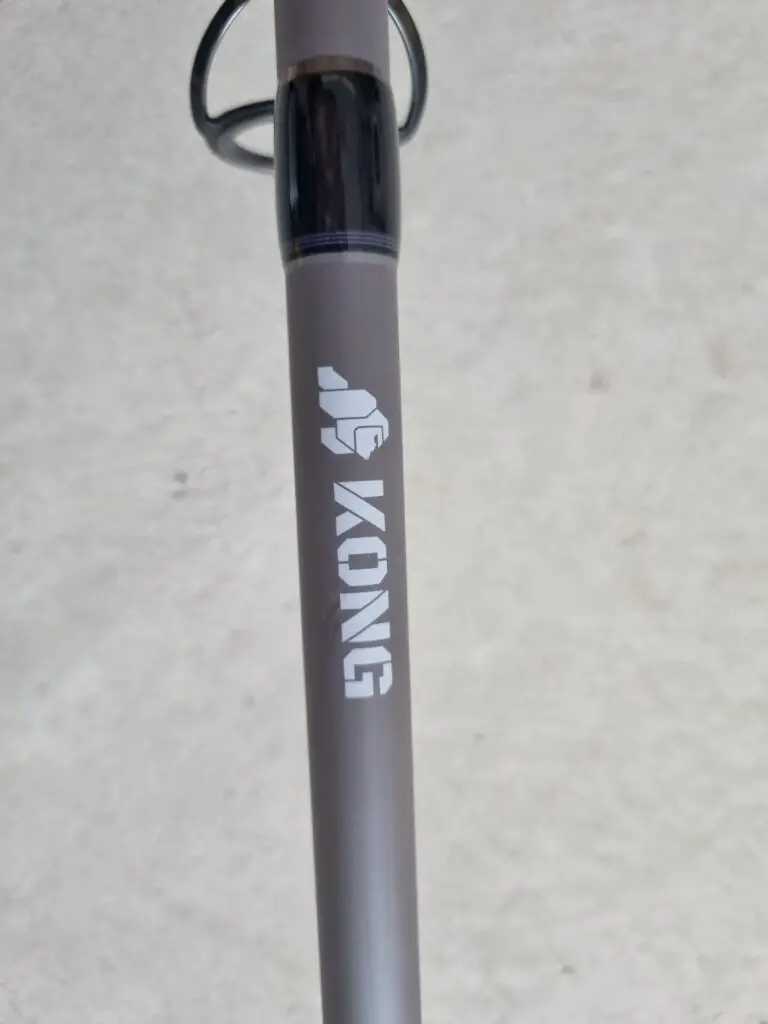 Models Available
There are 9 different sizes available that come in a range of lengths and pieces.
6'6″ to 10'0″ in length
Medium to Very Heavy Power
Only Fast Action
1 and 2 pieces
Spinning and Casting types
Pros
Affordable price tag
Extremely light weight design
Powerful – built specifically for big game fish
Useful bright green tip
Wide range of sizes available – including surf rod size
Cons
While the green tip is great for identifying bites, I don't think it matches the rest of the rod's design aesthetically
Specifications
| | | | | | | | | | |
| --- | --- | --- | --- | --- | --- | --- | --- | --- | --- |
| Model | KRDSPNKG-7M2 | KRDSPNKG-76MH2 | KRDSPNKG-8M2 | KRDSPNKG-8MH2 | KRDSPNKG-10MH2 | KRDCSTKG-70MH2 | KRDCSTKG-76H2 | KRDCSTKG-80VH2 | KRDCSTKG-66XH1 |
| Type | Spinning | Spinning | Spinning | Spinning | Spinning | Casting | Casting | Casting | Casting |
| Length | 7'0 | 7'6 | 8'0 | 8'0 | 10'0 | 7'0 | 7'6 | 8'0 | 6'6 |
| Action | Fast | Fast | Fast | Fast | Fast | Fast | Fast | Fast | Fast |
| Power | Medium | Medium Heavy | Medium | Medium Heavy | Medium Heavy | Medium Heavy | Heavy | Very Heavy | Extra Heavy |
| Line Weight (lb) | 10-20 | 15-40 | 10-20 | 15-40 | 15-40 | 15-40 | 30-60 | 40-80 | 50-100 |
| Lure Weight (oz) | 1/2-2 | 2-8 | 1/2-2 | 2-8 | 2-8 | 2-8 | 4-12 | 6-16 | 8-32 |
| Guides | 7+1 | 7+1 | 8+1 | 8+1 | 10+1 | 7+1 | 8+1 | 8+1 | 7+1 |
| Pcs | 2 | 2 | 2 | 2 | 2 | 2 | 2 | 2 | 1 |
Conclusion
I am very happy with my Kong surf rod and will be using it for years to come. I like the feel of the graphite body and the comfort of the rubber wrapped, EVA grip.
It is affordable and well designed from quality materials. KastKing continue to produce high quality products with a price tag that is staggeringly low.
Anyone looking for a big game rod that doesn't blow the budget, it would be hard to find an alternative that comes close. The only other big game fishing rod that comes close is the Ugly Stik Tiger.