In 1985 Ugly Stik released their latest boat rod called the Tiger and history was made. Ugly Stik rods are famous for their durability but often lack enough sensitivity for experienced anglers to make the change. However, if you are the type of person who doesn't take particularly good care of your rods and have experienced more than a few breakages in recent times then I would strongly recommend getting one of these almost indestructible rods.
I have researched and reviewed the Ugly Stik Tiger Rod, so have a read-through and see if it meets your criteria. This rod has decades worth of testing and insight – if you aren't interested in doing too much research but just want a high-performing and durable boat rod then stop reading and get the Tiger.
Extremely Durable
Powerful Boat Rod
E-Glass with a Graphite Core
Suitable for Large Saltwater Species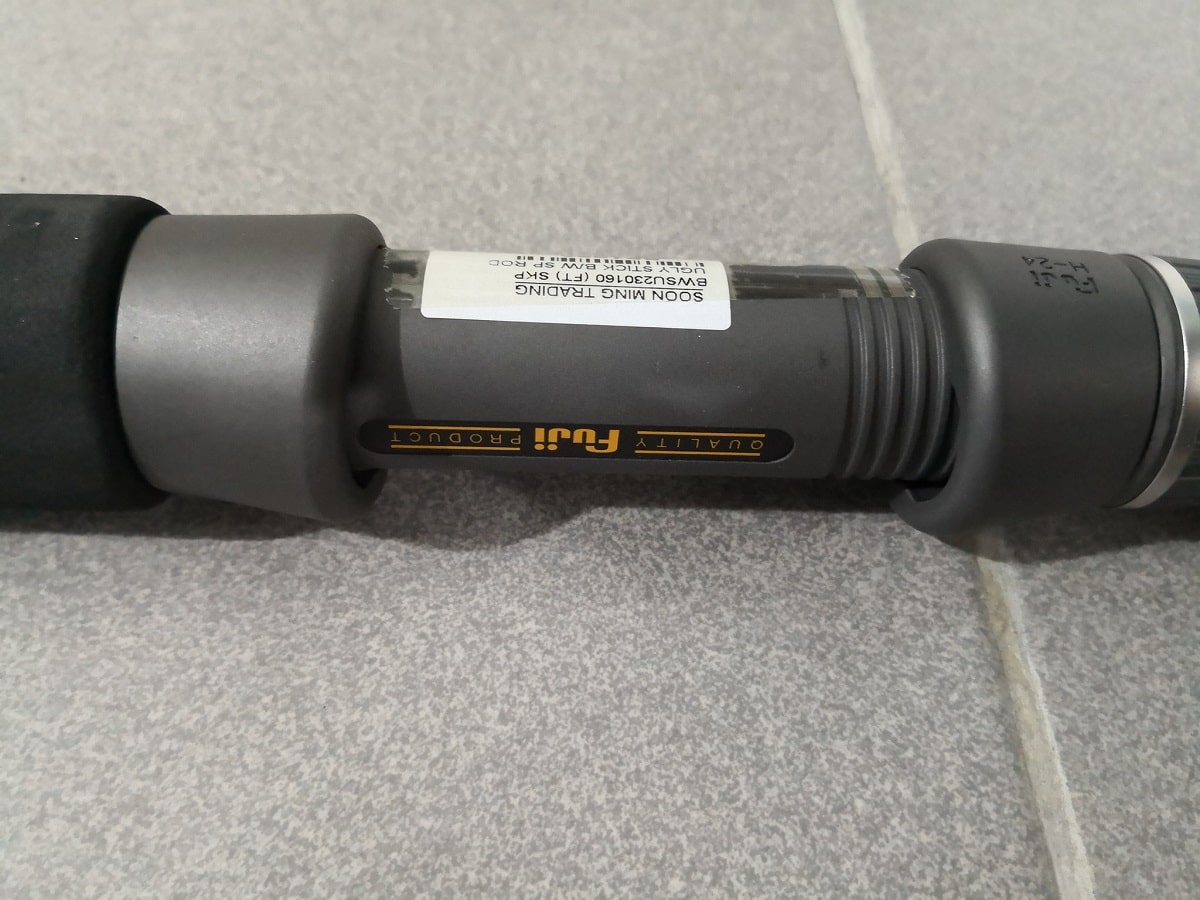 Ugly Stik Tiger Rod
One of the most significant factors that should be considered when buying any kind of fishing gear, in particular, fishing rods is durability. I cannot count how many guides or tips I have broken off an old rod because I wasn't paying attention to where I was putting it or because I was rushing with a fish hooked on a different line. Rods are the most important piece of equipment that can break on any outing due to the amount of stress and strain that is placed on it.
In the past I have made up my mind – "I will be careful with this rod." I'll always place it down safely, I'll store it properly, and I will never accidentally close my truck's tray on the tip. Believe me, this doesn't last long!
What happens after just a few weeks is that you are quickly throwing and tossing the new rod into the bottom of the boats while trying to switch between the fishing poles quickly.
Believe it or not, I am pretty sure that sooner or later you are going to treat your rod carelessly. For that reason alone, you need a rod that can last longer and that can handle all this rough behavior. The most durable rod that I have found is an Ugly Stik. And when it comes to a boat rod, that is the Ugly Stik Tiger.
Features
The Ugly Stik Tiger Rod makes standard rods look flimsy in comparison. These rods are made to handle a beating and are incredibly durable. As their original marketing slogan said, "For big game, choose the big cat."
In addition to this, the rods are built with a blend of Graphite and E-glass – they are crafted to give a super-fast action which is the most popular choice of most anglers. This provides you enough flexibility to cast small lures while still maintaining a sufficient backbone.
The correctly chosen Ugly Stik rod stands out in almost every application of fishing – all you need to do is to choose a combination of power and length according to your needs.
Sensitivity
These are not the most sensitive rods but the fast action does give the tip enough flex. And considering that you will most likely be targeting larger saltwater fish the balance between power and sensitivity swings firmly towards power. It's an outcome of all the design choices that Shakespeare gave to make the fishing rods as durable as possible.
Ugly Stik is famous for not having enough sensitivity but they have made significant improvements in this area over the last few decades. If you are specifically targeting finicky fish that nibble at a bait before striking it then you might want to consider a more sensitive option. But if you are targeting a pelagic predator that strikes like a bull, then the Tiger is ideal.
Durability
There are so few reports of anglers breaking their poles, that you might as well consider the Tiger to be indestructible. Because of its strength, you can choose a slightly less powerful rod than you would use normally. This will help to assist you in detecting lighter strikes.
I could spend paragraphs talking about the legendary durability of Ugly Stik Rods, but I will be concise – the Tiger is no exception. You will not break this rod regardless of what saltwater species you are targeting. That is why I have given it a 5 out of 5 score for durability.
And in terms of value for money, durability plays a big part. A rod that will last for the next 2 decades can be significantly more expensive but still has a better value for money than a rod that's tip breaks off after 2 seasons.
Flexibility
The rods by Shakespeare are not as flexible as other models of the same price but their durability makes them more flexible but selecting a lower power option.
In simple words, you can use a little bit of an underpowered rod without risking rod malfunction. That's one of the ways to get increased flexibility of the rod.
Value for Money
These rods are surprisingly affordable given their performance and quality. I am a big believer that the best value for money is driven by how many years you can continue to use a piece of fishing gear and have it perform as good as new. I will admit that the Tiger is not the cheapest rod available on the market, but I firmly believe it offers good value.
Pros
Extremely high performance with a comfortable grip.
Extreme durability with decades of proven track record makes this a high value for money.
Enough power to handle large saltwater game fish.
Cons
Only available in a single color.
Not a lot of variety in terms of lengths and actions – so make sure it fits your needs. This is a dedicated saltwater trolling rod.
It isn't particularly versatile, so you will likely need additional rods for your casting and spinning requirements.
Specifications
| | | | | | | |
| --- | --- | --- | --- | --- | --- | --- |
| Model (SKU) | 1397906 | 1397907 | 1397908 | 1397909 | 1397910 | 1397911 |
| Length | 6'6″ | 7′ | 7′ | 7′ | 7′ | 8′ |
| Power | Medium | Medium-Light | Medium | Medium | Medium-Heavy | Medium-Light |
| Number of Pieces | 1 | 1 | 1 | 2 | 1 | 2 |
| Weight | 13.2 oz | 14.1 oz | 15.0 oz | 11.5 oz | 15.7 oz | 12.7 oz |
| Number of Guides | 8 | 9 | 9 | 9 | 9 | 9 |
| Line Rating | 15-40 lb | 12-30 lb | 20-50 lb | 10-50 lb | 30-60 lb | 12-30 lb |
Alternative Option Comparison
Conclusion
That brings me to the end of my Ugly Stik Tiger Rod Review. This is a high-quality boat rod that I have given an extremely rare 5 out of 5 score primarily based on its durability. It has an affordable price tag considering the performance you are getting and the peace of mind – this is a rod you will still be using in a decades time.
If you are looking for a heavy-duty trolling rods then have a look at the Ugly Stik Tiger.
Happy fishing!