There is no better feeling then heading down to the beach with your surf rod over your shoulder ready for a few hours of inshore fishing. But making sure you have the right equipment can be the difference between a trophy fish and an empty hook.
I have put together this buyer's guide to help you make a better purchase decision as well as have gone through the top 10 surf rods available on the market at the moment.
If you are looking for a matching fishing reel then read through our buying guide for inshore fishing reels.
Have a read through this article and you will be catching saltwater fish in no time.
Quick Summary – Best Surf Fishing Rods
Surf Fishing Rod Buyer's Guide
I have put together his buyer's guide to help you make a judgement about what actually matters when making a selection on a surf spinning rod. There are thousands of models available all with different claims and marketing.
This guide will explain the key criteria that actually matters to a beach rod including the length, power, action, and material.
Rod Length
Surf rods are generally much longer than you will typically see. This allows it to cast a lot further. You will often need to cast your bait long distances over any inshore waves, seaweed, and shallow sand beds to reach the deeper water where the fish are living.
The minimum length you will want is 8 feet long, but surf rods can go even up to 15 feet long.
You will also want to consider storage. A long surf rod can take up your entire garage if you aren't careful. If storage is a primary concern then you will want to consider a telescoping or multiple part rod that can be seperated.
Shorter rods are easier to store, lighter to carry, and give more leverage on big fish.
Longer rods have an increased casting distance and help you to cast past inshore obstacles but take up more space to store and are heavier to carry and use. If you don't want to use a large rod but still want to fish from the beach past the waves then consider taking up drone fishing.
Rod Power
To make a decision on the fishing rod power you will want to judge what your target fish species is. There is a big difference in the rod requirements between a redfish and a shark.
A heavier rod power is more suitable for larger fish as it can take more weight to bend the rod.
If you aren't targeting a particular species and want to be as versatile as possible then I would select a Medium or Medium-Heavy rod power.
Fish species like sharks, tarpon, tuna, mackerel and other large saltwater fish will require a heavy rod actions.
Small saltwater fish like whiting, trout, redfish, and flounder will require a light or medium rod action.
Rod Action
The action of the rod describes how far the rod tip bends under pressure. 
A fast rod will bend more at the tip of the rod.
A slow rod will bend further down the rod length.
Fast action rods are more sensitive as they bend earlier. This helps to set the hook earlier and you may notice a better strike rate. It also helps to control large fish as you can apply pressure to them more easily.
Slower rods give a longer casting distance with more whipping motion. They are also better at keeping the fish hooked during the fight as it will give more flex as the fish moves its head.
If you are going to be targeting a variety of fish species then I would suggest getting a medium action rod for more versatility.
Material of Construction
Most surf rods are available in either graphite or fiberglass. My preference is for graphite due to the lighter weight but let's expore both options.
Graphite
Graphite rods are my preferred option for most rods. They are lighter and more sensitive. This means you don't need to be carrying heavy gear down to your favorite fishing spot.
It also means you will catch more fish as you will have a better chance to telling the difference between a wave hitting your bait and a fish strike.
Graphite rods are not as durable as fiberglass and can break when struck with a sudden impact.
Fiberglass
Fiberglass rods are cheaper and more durable however they are also heavier and less sensitive to feeling fish strikes. This can be particularly problematic as it is already difficult to feel the fish in amongst the waves of the beach.
The weight can also be a deciding factor – a long rod is already very heavy, so you don't want to be adding an unnesesary weight.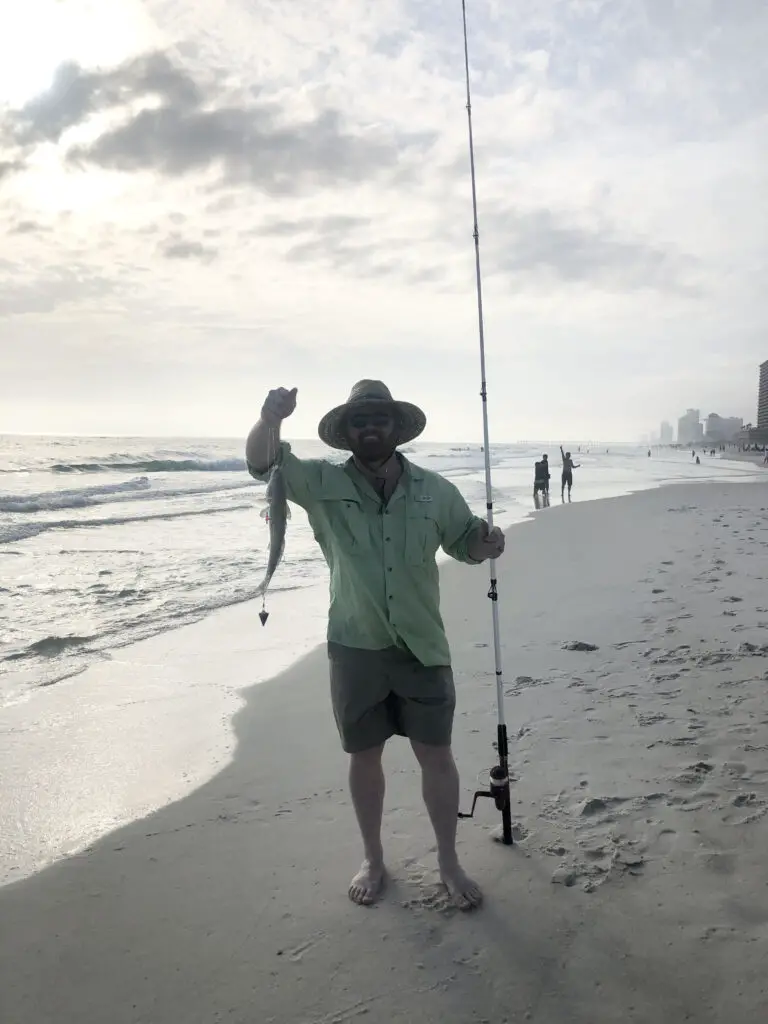 10 Best Surf Fishing Rods
I have gone through the best surf rods available on the market today and given a review on their key criteria so you can make a judgement about whether they meet your personal needs.
1. Penn Carnage II Surf Rod
The first rod on our list and certainly one of the best models available is the PENN Carnage II.
Available in both 9′ and 12′ long, you can pick a rod length that suits you. This is also a two piece rod so you can store it with ease. It is made with graphite which makes it light and easy to transport.
Check the latest price on Bass Pro Shops.
What I Like About It:
The rod power is available in Medium, Medium-Heavy, and Heavy which are the most popular options.
With 8 guides this rod will allow you to cast baits and lures long distances and retrieve the line smoothly and align onto your spool cleanly.
The rod butt also has a stainless steel sleeve to protect it from the sand and saltwater.
Pros
2 piece rod for easy transport and storage
Stainless steel rod butt
Comfortable grip design
Cons
2. Tica Dolphin Surf Rod
Second on the list is the Tica Dolphin UGSA series surf spinning rod. This is an extremely versatile option simply due to the wide range of models:
Length – 8′ to 12′
Power – Medium to Extra-Heavy
Configuration – 1 Piece and 2 Piece
Made from graphite with a non-slip cork handle (a personal preference of mine), and Fuji guides, this is a well made and high quality fishing rod.
What I Like About It:
TICA have a great reputation for quality and if you are looking for a rod outside the main manufacturers, then certainly check out this model.
Pros
High quality cork handle
Fuji guides
Available in 1 or 2 piece
Cons
3. Daiwa Tournament Ballistic Surf Rod
This Daiwa tournament surf rod is designed to win competitions. It is made from 3 pieces so transport is simply, particularly if you are traveling long distances or by plane.
The rod is made from graphite, and is 13'3″ long, which gives it a huge casting distance.
What I Like About It:
The key feature is adjustable balance weights in the rear grip so you can make the rod suit your style perfectly.
With a heavy power and a 17-40 lb line rating, this rod is suitable for catching larger saltwater fish.
Pros
Adjustable balance weights
Tournament rod
Cons
3 piece design can be less sensitive
4. Okuma Longitude Surf Rod
Next up is the Okuma Longitude – this has oversized aluminum oxide guides which gives a clean cast with long distances.
All models are 2 piece for easy of transport. The butt also has a rubber cap for comfort and to avoid slippage. The handle is made from a non-slip cork.
What I Like About It:
This rod has a good combination of quality and price but only with a 1 year warranty.
There are a variety of models available from 8′ to 12′ in length and from Medium to Heavy power. Have a look through the specifications to find one that suits your needs:
| | | | | |
| --- | --- | --- | --- | --- |
| Model | Power | Length | Line Weight | Lure Weight |
| LC-S-802M-1 | M | 8′ 0″ | 15-30 lbs | 1/2-3 oz |
| LC-S-902H-1 | H | 9′ 0″ | 15-40 lbs | 3-6 oz |
| LC-S-1002H-1 | H | 10′ 0″ | 20-40 lbs | 3-8 oz |
| LC-S-1102H-1 | H | 11′ 0″ | 20-40 lbs | 3-8 oz |
| LC-S-1202H-1 | H | 12′ 0″ | 20-40 lbs | 3-8 oz |
| LC-C-902H-1 | H | 9′ 0″ | 15-40 lbs | 1-4 oz |
| LC-C-1202H-1 | H | 12′ 0″ | 20-40 lbs | 3-8 oz |
Pros
Oversized aluminum oxide guides
Non slip cork handle
Rubber cap on butt
Cons
ON SALE $7.78 OFF
5. St Croix Mojo Surf Rod
St Croix have built a strong reputation for high quality fishing rods and the Mojo is no exception. It is available from 7 foot long to 11 foot and from Light-Medium to Medium Heavy power. 
Some models are available in 1 piece with other in 2 piece so you can pick the one that you are interested in based on your transport and storage requirements.
What I Like About It:
The rod is made from graphite with weight saving guides made from zirconium.
This is all backed by a 5 year manufacturers warranty which is hard to beat.
The St Croix Mojo specifications are here to see all the different models in case one suits your needs: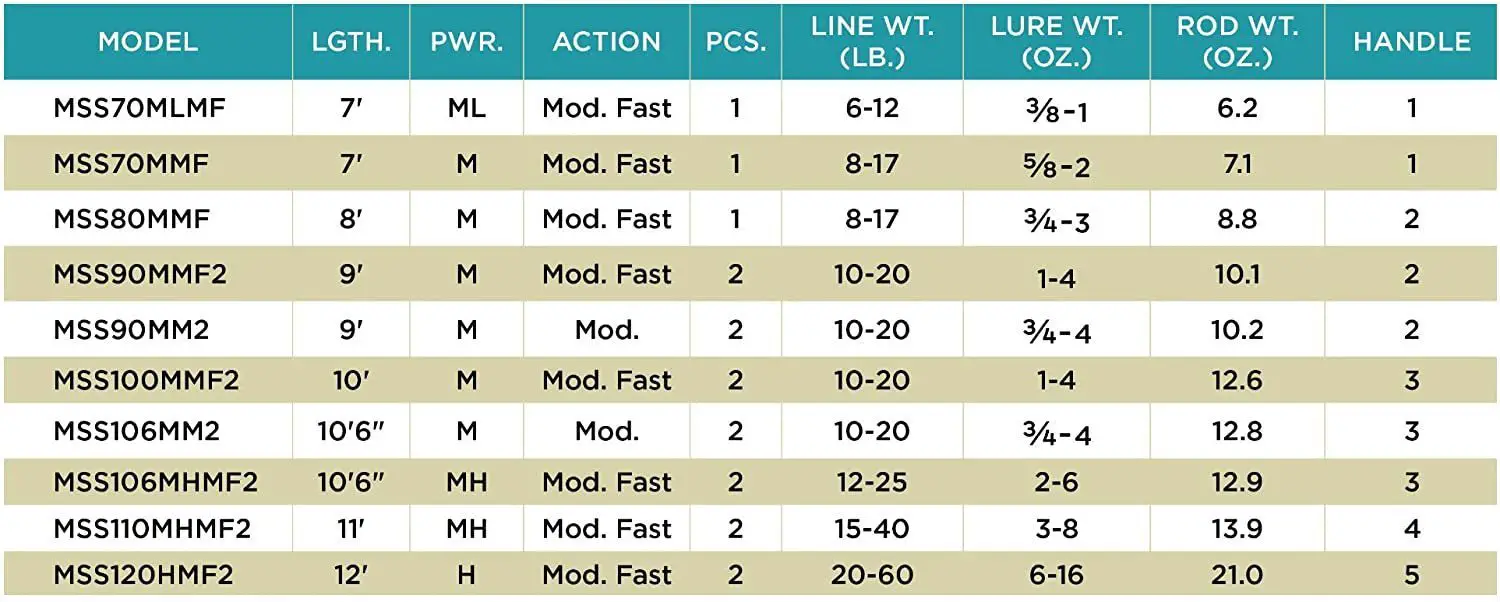 Pros
Premium surf rod
5 year warranty
Graphite material
Multiple models available
Cons
6. Tsunami Airwave Elite Surf Rod
An out of the box option is the Tsunami Airwave Elite. At 10'6″, this is a long medium-heavy action rod. It is made in 2 pieces as most rods of this length are.
What I Like About It:
It has a line rating of 15-30 lbs, so you can catch both large saltwater fish and smaller inshore fish species.
This rod is extremely versatile and can be used in multiple conditions and target species.
Pros
Versatile design
2 piece design for easy transport
Cons
Shorter rod length may not be able to get over the waves
7. Mounchain Spinning Rod
This Mounchain Surf rod is the only fly fishing rod on the list. It is made in 4 pieces to give easy storage and transport as well as a black rod tube to protect it.
What I Like About It:
It is made from carbon fibre which is both durable and flexible. It is 9 foot long with cork handles for non-slip comfort.
The chrome guides are a premium construction and offer improved durability.
This rod is certainly an option to consider for beach fly fishing anglers.
Pros
Chrome guides
Cork handles
Cons
4 piece design can be less sensitive
Shorter than some of the alternatives
8. Okuma Nomad Surf Rod
Another 4 piece surf rod is the Okuma Nomad. At 9′ long, it offers long casting distances and is as short as you would consider for a beach fishing rod.
This rod has a medium power and medium-fast action which is pretty versatile combination. 
What I Like About It:
The line rating is 20-40 lbs which will catch most fish species that you are targeting.
Included is a padded and waterproof case which is ideal for travelling anglers.
Pros
Comes with a padded and waterproof case
Cons
Only 9ft long
4 piece rod can be less sensitive
9. Penn Battalion Surf Rod
Another great product by Penn is the Battalion Surf Casting Rod. Available in 10′ to 12′ these are longer than average rods for long distance casting.
What I Like About It:
With a line rating of 12-20 lbs for the 10′, this rod is lighter than some of the other options. But the 12′ rod increases to 20-40 lb line rating. This versatility in product selection gives you flexbility of choice.
This 2 piece rod has aluminum oxide guides for durability and corrosion resistance.
ON SALE $7.27 OFF
Bestseller No. 1
10. Shimano Speedmaster Surf Rod
I couldn't include a fishing gear guide without mentioning Shimano. The Speedmaster is a heavier rod with a 40-65 lb line rating so you can pull in even large inshore saltwater fish species.
Available in 9′ to 12′ in length for a wide variety of casting distances. It is a 2 piece in all models, and from Moderate to Fast action.
The rubber butt is comfortable when you are holding the rod against your thigh.
Frequently Asked Questions
What is the best length for a surf casting rod?
The best length for a surf casting is between 10-12 feet. The minimum length you will want is 8 feet long, but surf rods can go even up to 15 feet long.
Does a longer surf rod cast further?
Yes, a longer surf rod allows a longer distance cast than a shorter rod, all other aspects being equal. This is one of the reasons that surf anglers prefer longer fishing rods to get their bait behind the breaking waves.
How far can you cast with a 12 foot surf rod?
With a lot of practice and some tailwind help you should be able to cast close to 100 yards, which should get your bait out to the deeper water depending on your beach configuration.
The word record for furthest cast is over 700 feet using the pendulum technique. Have a look at the video below to see how this casting technique gives more distance.
What type of fishing line casts the farthest?
From my experience braid fishing line casts further than any other type of fishing line. Other experiments have shown up to 30% additional casting distance with braid line. Make sure you select an 8 strand braid line which is rounder and has less friction than 4 strand.
Can you use a normal rod for beach fishing?
This really depends on how your beach is setup. You want to be able to get your bait behind the breaking waves into the deeper water where your target fish species is. If your beach doesn't have much surf or the waves are very close to the beach then you should be able to use a smaller rod. However if the waves are larger and further away then you will want to specialized surf rod.
What tide is best for surf fishing?
Our recommendation for the best time for surf fishing is to fish at high tide. This gives the deepest water and can lure in some larger fish who cannot access the area at low tide. This all depends on how your environment has developed.
Conclusion
That brings us to the end of this surf rod review and buyer's guide. I hope you have gained some knowledge and direction to make a better purchase decision. You should also consider getting a beach rod holder so you can enjoy a beverage while you are fishing.
There are also some other great guides available elsewhere if you are looking for more information.
If you have any experience with surf rods then leave a comment below with your wisdom and insight so we can all learn from it. I love to hear from our readers so that everyone can learn and catch more fish.
Now get out there, head down to your local beach, and start fishing!
Last update on 2022-04-17 / Affiliate links / Images from Amazon Product Advertising API