In this article we have scoured the web for the 20 best fishing rod storage ideas to help you improve your garage or boat's rod storage setup.
When you start getting into fishing, particularly with different styles of fishing the number of rods you accumulate can be eye watering. You could easily find yourself with a baitcasting rod, spinning rod, fly rod, heavy boat rod, surf rod, telescopic rod and on and on it goes.
Having the room to keep your rods neat and tidy, out of the elements, and easy to access if crucial. If you don't want to build your own DIY, then have a look through this list of the most popular fishing rod racks on the market at the moment.
Let's dive into some of the best and most interesting inspirational photos and videos we have found.
1. Wooden Fishing Rod Rack
Joshua Taylor has put together this wooden rod rack for under $25 which can store up to 10 rods on the ceiling. This will keep them out of the way and give you more space in your garage.
2. 12 Rod Wooden Rack
This homemade rod rack by Gils Workshop can hold up to 12 rods in an upright position.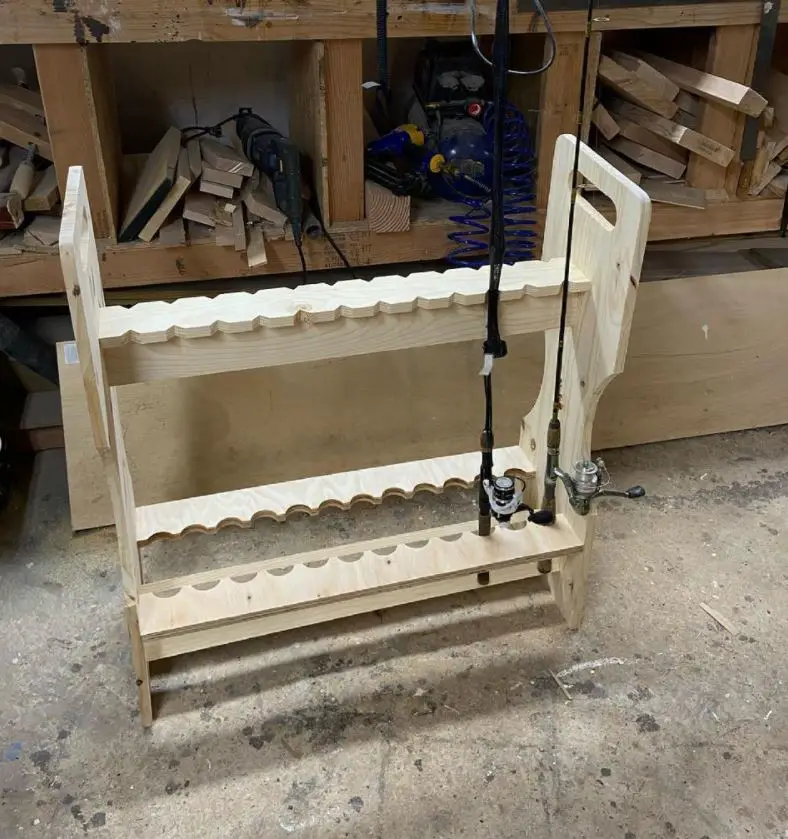 3. Garage Door Fishing Storage
Cobra Storage have given some great inspiration with this garage door storage option. This is wasted space in most peoples houses.
Brilliant idea.
4. Long Rod Storage in a Boat
For a small fishing rod it can be difficult to fit your long rods within the hull. Ocean Angler have put together this short video showing how you can store rods on an angle with a few brackets.
Simple.
5. Store 30 Rods in a Small Space
For the the experienced angler with dozens of rods, the problem with storage can be a nightmare. Check out this simple rod storage idea by the Chosen Life Outdoors. Simple, neat, and tidy – this doesn't take up much room and gives easy access to whatever you need.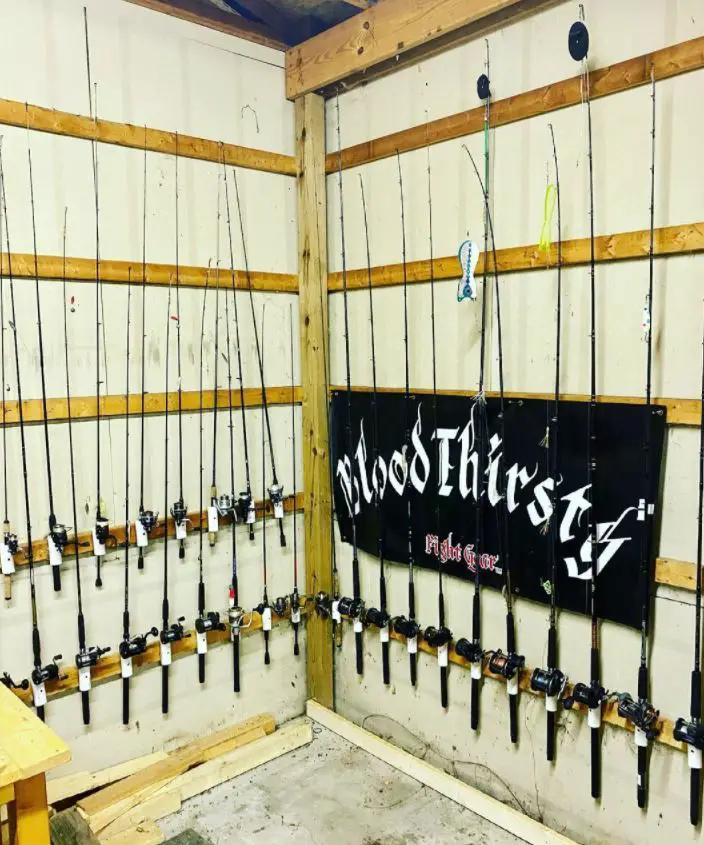 6. High Density Rod Storage DIY Video
Bass Angler Magazine has put together this DIY video so you can follow along step by step.
7. Pegboard Rod Storage
Ancient City Angler have used a peg board to hang their rods from. This is an easy to install and use idea. It is also extremely versatile if you want to add more rods or more them around.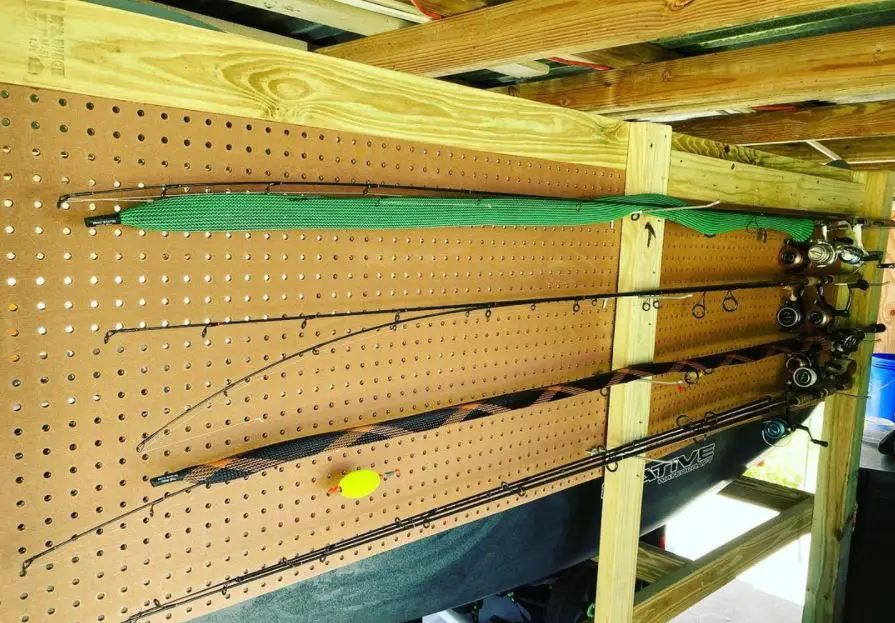 8. Boat Rod Storage
Storing rods on your boat is just as important as storing them in your garage, whether this is during transit or so you can swap between different rods if you change targets. Last Cast Adventures have this video to showcase some boat storage ideas for fishing rods.
9. Wall Clips Rod Storage
CB Design Clips have showcased this idea for attached your rods directly to your wall. Most of the other ideas have a heavy standalone rack, while this option is light and simple.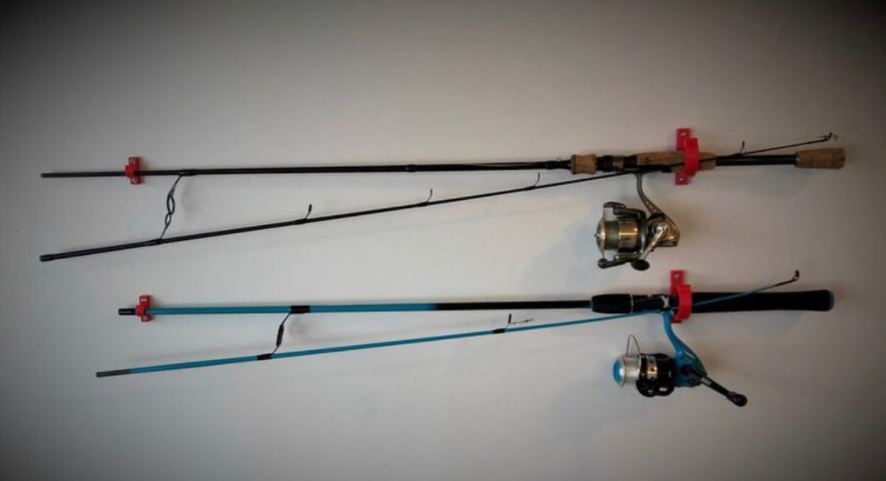 10. Lake Fork Guy's 30 Rod Storage
When you get over 10 fishing rods it can be difficult to find a space for them. This is equally true when you get up to 30 rods. Lake Fork Guy has put together this storage idea for bulk rods.
11. Wall Mounted Fishing Rod Storage
Han A Lo has put together this fishing rod storage inspiration with some wall mounted racks. Simple and neat. This gives enough space for the larger rods while maintaining easy access to the smaller rods on the top.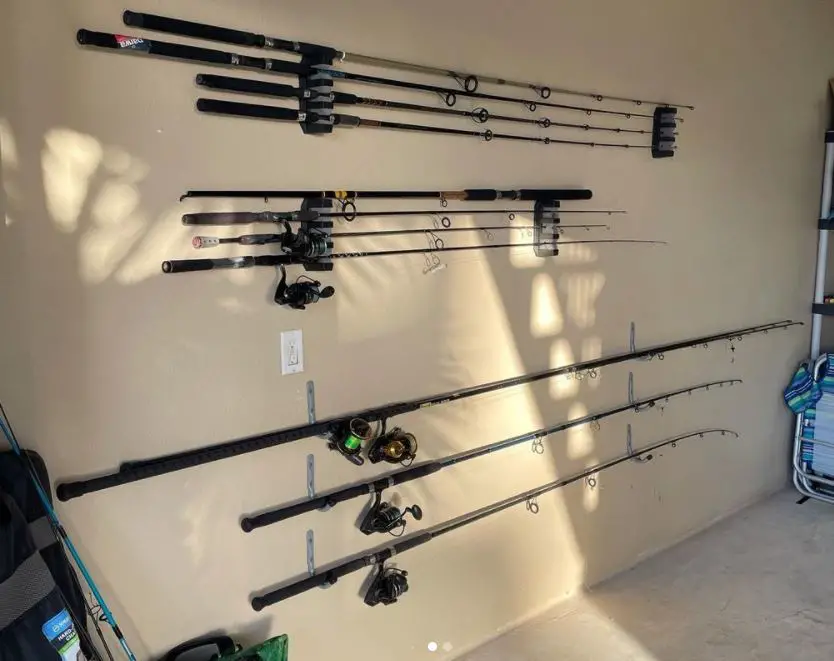 12. Portable Rod Storage Rack
Rod Storage is not just for the garage – it is for transit in your truck as well. This option by Raximus Outdoors is a portable fishing rod rack that you can pick up and take with you whether you are at the garage, the truck, the boat, or the waters edge.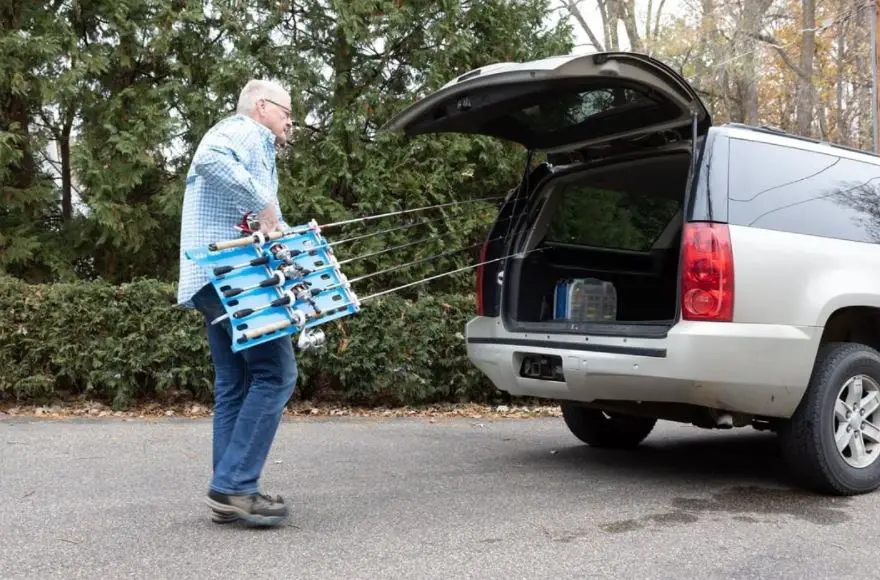 13. Quarantine Built Fishing Rod Rack
Fish Mountain Project got bored in quarantine and put together this DIY Rod Holder.
14. Car Rod Storage
This life hack is gold. Not everyone has a truck and people with cars still love fishing. But how do your store your rods? How about a few stretch cords like this setup by 12 Ellamae.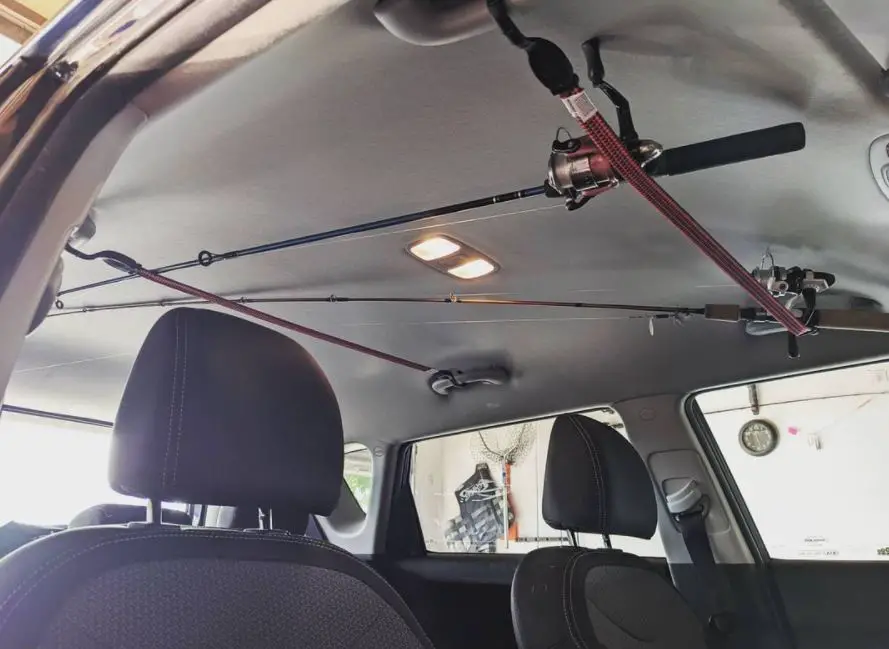 15. Ugly Stik 4 Piece
This Ugly Stik branded 4 piece rod storage looks good and is portable to take down to the beach.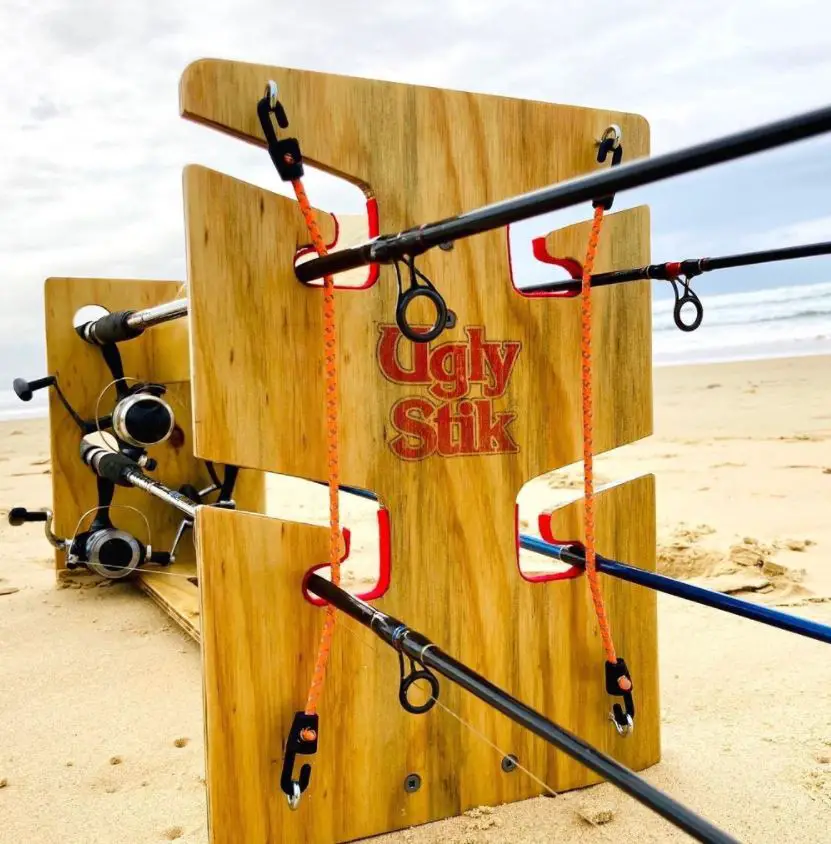 16. Total Fishing Garage Makeover
For anyone looking for their dream fishing workshop, this video by Landshark Outdoors if for you. He has completely remodeled his garage with rod storage, a workbench, fishing line spools, everything you need within arms reach.
17. Wall-less Rod Rack
For everyone who doesn't have any extra wall space available, get your own wall with this portable folding rail.
18. Retrack-a-Rack
Salt Strong have shown off the Retrack-a-Rack system. This is a ceiling storage option with an easy access retractably feature. Certainly one of the more expensive but innovative ideas so far.
19. PVC Boat Rod Storage
PVC is another great material to make a fishing rod storage system from – its light, strong, and cheap.
20. Ceiling Rod Storage
1Cast1Fish has this innovative method for storing rods on the ceiling. This is an often underutilized storage idea. You can also view your rods clearly and access them easily.
That brings us to the end of this article showcasing some ideas about lots of different ways to store your fishing rods. If you have any other ideas then please let us know so that we can share it with our audience.