The Lowrance Elite 7 was first released in 2016 and quickly became a hit among serious anglers who frequently fish in lakes and rivers and offshore scenarios. The Elite-7 series comes in four options allowing anglers to choose between impressive features and capabilities. 
This fish finder is packed with high-caliber features that are sure to pique the interest of anglers of any skill level as the Elite-7 gives you the ability to navigate with ease while also delivering clear imaging capability that allows anglers to see exactly what's beneath their boat. This device is much more than just a fish finder and you'll find that it is a highly useful tool that serious anglers can rely on to give them a major advantage while fishing in any waterway. 
In this article, we'll discuss the different versions of the Lowrance Elite-7 while also taking a closer look at some of the more prominent features that set this fish finder apart as one of the top models that the brand has produced in recent years. 
Ability to store 1000 waypoints with built in GPS
Extremely high end sonar with CHIRP, downscan, and structurescan
Higher resolution display than older models
Lowrance Elite 7 Fish Finder Overview 
Lowrance currently produces the Elite-7 in a Ti and Ti2 version, which are wildly popular among anglers that fish in any environment. The Lowrance Elite-7 Ti2 has just a few added features. Overall, both products are exceptional tools that anglers can use to better understand what's beneath the water's surface in some of their favorite fishing spots. 
This model allows you to view what's under the water surface down to 1,000 feet with incredible accuracy using CHIRP sonar technology. For an even more crisp and clear picture of your underwater surroundings, you can use the DownScan imaging technology that has capability to penetrate down to 300 feet in most cases.
Anglers can also utilize the sidescan sonar capability of the Lowrance Elite-7 Ti to see fish that are slightly to their right or left, letting you cover a much larger swath of water than simply using traditional methods alone. 
Major Differences 
Users can order the Lowrance Elite 7 in the legacy model and the Ti and the Ti2 version. Each of these models from the Elite-7 series fish finders and chartplotters has their own set of features and capabilities. It's important to note the most significant differences between each version. 
The main difference between the Elite-7 and the Elite-7 Ti version is that the latter offers anglers the ability to use Wifi and pair their fishfinder with other Bluetooth devices. The Elite-7 Ti2 also gives users the ability to utilize sidescan sonar technology, as well as a more modern touch-screen display. 
The answer is relatively simple for anglers who might be wondering what the major differences are between the Elite-7 Ti and the Elite-7 Ti2 models. Both models offer the exact same features, but the main difference in the two is that the Elite-7 Ti2 has much greater capability when it comes to the transducer, as well as the Wifi output.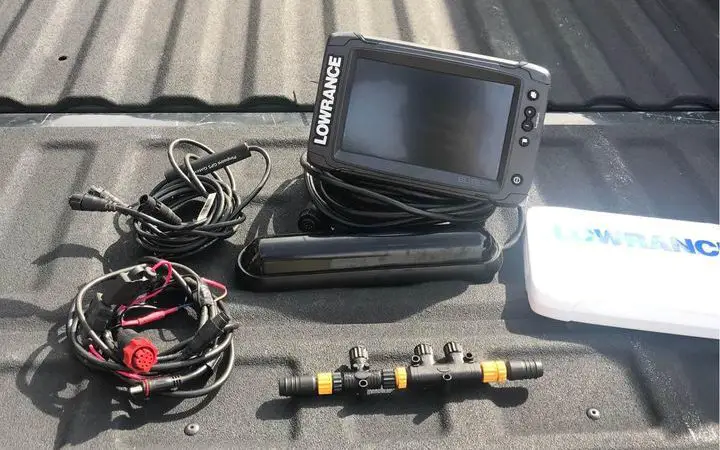 Display 
The Lowrance Elite-7 models all feature a 7-inch screen, which is larger than the Elite-5's standard size, but still a bit smaller than some of the premium fishfinder versions that are currently among the most popular of any on the market. The Elite-7 also offers a boost in pixel rate over its predecessor with an 800h x 400v pixel matrix and a 16:9 aspect ratio. 
Lowrance has gone to even greater lengths to ensure that anglers will have no problems seeing the screen and all the intricate details in any lighting situation, whether in daytime or night. The screen is fully waterproof as it is IPX7-rated, meaning it can withstand full submersion for up to 30 minutes. 
GPS Capability 
The Elite-7 Ti and Ti2 are equipped with highly-accurate GPS systems capable of pinpointing your location to within 20 meters. The GPS has excellent signal capability on any lake within the United States and Canada. 
Anglers will also have a much greater boost in the form of waypoints with the Elite-7 compared to the Elite-5. The GPS location system makes it possible to mark and save up to 3,000 waypoints in a customized setting that helps users designate certain characteristics about each one. 
Like the Elite-5 anglers can save many customized routes on their device, letting them map out some of the best and most productive courses. The Elite-7 allows users to program up to 100 individual routes into the device, letting anglers set multiple waypoints within customized routes. Users will also be able to save up to 100 trails and 10,000 points per trial, which serves as a major advantage in tournament settings when time is limited. 
Elite-7 Ti2 Added Bonus Features 
The Lowrance Elite-7 Ti2 has more features and capabilities than any other model in the Elite-7 series. Anglers will enjoy being able to use an upgraded transducer that has some pretty impressive extras. 
The Elite-7 Ti2 offers an enhanced active imaging 2-in-1 capability, allowing users to view what's below their boat in real-time. This means you can scan and view a real-time video of the area beneath the transducer. Other features included in the Elite-7 Ti2 version are the SideScan, StructureScan, and DownScan abilities. 
The Elite-7 Ti2's top transducer model allows users to harness the Lowrance Active Imaging 3-in-1 technology. This is known as TotalScan technology and gives anglers the means to see everything around their boat with incredible definition. 
It has been noted that some anglers have experienced problems with the CHIRP transducer, which is another reason why many anglers opt for the slightly more expensive transducer that will allow them to utilize more imaging features.
Pros
Ability to store 1000 waypoints with built in GPS
Extremely high end sonar with CHIRP, downscan, and structurescan
Higher resolution display than older models
Cons
Although the features are significantly improved from the Hook model, I have trouble justifying the extra price tag.
Can be difficult to read when wearing polarized sunglasses
Lowrance Hook 5 vs Elite 5
Then you get the Elite 7, which is a significant upgrade and comes with an even higher price tag.
Ability to store 1000 waypoints with built in GPS
Extremely high end sonar with CHIRP, downscan, and structurescan
Higher resolution display than older models
Conclusion 
The Lowrance Elite 7 series fish finder and chartplotter models are some of the most popular in the fishing industry. These units are small enough to be used on any size boat, canoe, kayak or other vessel without much problems. The capability that you'll have with each model is also enough to adequately fish in any freshwater lake or river, as well as the ocean.
If you're a fan of Lowrance systems and are looking for one with a heap of features and extra data, the Lowrance Elite 7 is likely to be an ideal fit.