If you're an angler seeking the perfect spinning reel, the Penn Slammer IV and Penn Spinfisher VI are both strong contenders. This comparison will delve into their features, performance, and value to help you make an informed choice.
The Penn Slammer IV is a powerful, heavy duty offshore fishing reel, while the Penn Spinfisher VI is a versatile saltwater fishing reel with specialist models.
I View This as an Extremely Durable Design

Very High Max Drag

Very High Retrieve Rate

8+1 Stainless Steel Ball Bearings 

Ideal for Charter Fishermen
Saltwater Ready

IPX5 Waterproof Seal

HT-100 Drag Washers

Stainless Steel Ball Bearings

Full Metal Body
Specification Comparison
To try and get an accurate comparison, I've picked the Penn Slammer IV 3500 sized-model, and the Penn Spinfisher VI 3500.
| | | |
| --- | --- | --- |
| Reel Comparison | | |
| | | |
| | | |
| | | |
| Max Drag | 30 lb | 15 lb |
| Mono Line Capacity | 220 yards of 10 lb | 220 yards of 10 lb |
| Braid Line Capacity | 310 yards of 10 lb | 310 yards of 10 lb |
Gearing Comparison
The Penn Slammer IV utilizes CNC Gear Technology for precise, smooth operation. This gearing system enhances durability and performance.
The Penn Spinfisher VI also uses CNC Gear technology, ensuring accuracy and efficiency.
Both reels benefit from this technology, offering superior torque and power. However, they might differ in gear ratios or specific design elements, not disclosed in the provided information.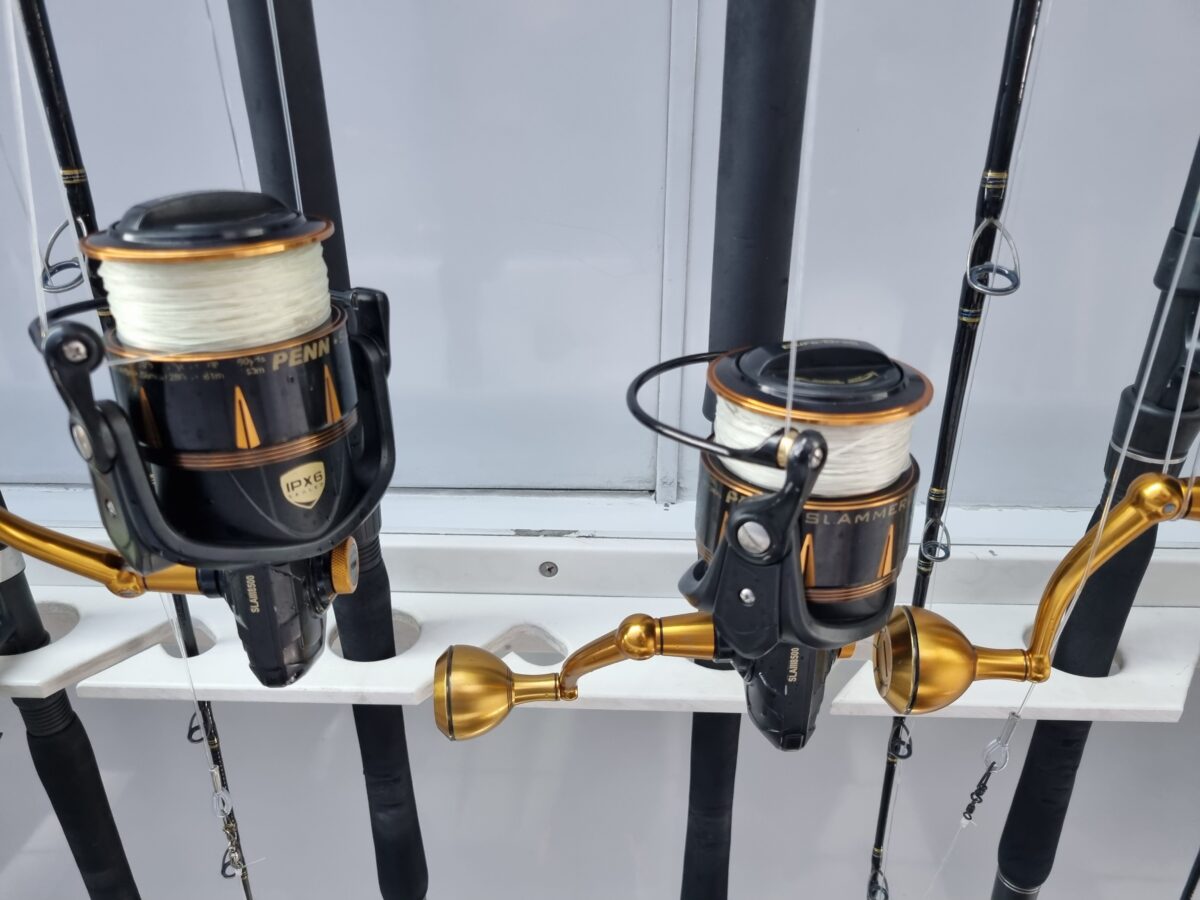 Drag System Comparison
The Penn Slammer IV utilizes Dura-Drag system. It's known for its durability and reliability in handling large fish. The system is heat resistant, providing consistent drag pressure.
The Penn Spinfisher VI uses HT-100 Drag Washers. They offer smooth, friction-less dragging performance. These washers are long-lasting even under heavy loads.
While Dura-Drag excels in reliability, the HT-100 Drag Washers stand out in smoothness and longevity. Both are effective, but their performance varies depending on the fishing conditions and target species.
Body Construction and Materials
The Penn Slammer IV boasts a Full Metal Body, exhibiting robustness and durability. It's designed to endure heavy loads and high-pressure fishing situations.
The Penn Spinfisher VI also features a Full Metal Body, showcasing equally impressive strength and resilience. It's engineered to withstand tough conditions and hard-fighting fish.
Both utilize premium materials ensuring longevity and performance. Despite their similarities, each reel offers unique characteristics catering to different angler preferences.
Value for Money
The Penn Slammer IV offers quality but at a higher price point compared to the Penn Spinfisher VI. The latter provides reasonable functionality at a more affordable rate.
Despite the cost difference, both reels provide exceptional performance. The Slammer IV, being pricier, may have additional features or materials that justify its cost.
The Spinfisher VI offers a balance between affordability and reliable performance. For those on a tighter budget, the Spinfisher VI would be a sensible choice.
However, for those who prioritize additional features and are willing to pay extra, the Slammer IV would be more appropriate.
Best Suited For
The Penn Slammer IV is ideal for heavy-duty offshore angling, perfect for reeling in large game fish. It is designed for challenging situations, where power and durability are crucial.
On the other hand, the Penn Spinfisher VI is a versatile saltwater reel, suitable for a wider range of fishing scenarios. It offers specialist models catering to specific requirements, making it a good choice for those needing adaptability.
Choose the Slammer IV when targeting big, strong marine species. Select the Spinfisher VI when versatility and customization are paramount.
In short, the Slammer IV excels in power and durability while the Spinfisher VI shines in adaptability and specialization.
Verdict
Both the Penn Slammer IV and Spinfisher VI score 8.5 for value. The Slammer IV is higher-priced, yet offers quality and possibly extra features. The Spinfisher VI is more budget-friendly, providing solid performance.
If your budget is tight, go for the Spinfisher VI. If you want extra features and can pay more, choose the Slammer IV.