It's often difficult to find a great quality saltwater spinning reel that's available at a relatively modest price. The Penn Slammer IV is one of the few products that combines toughness and dependability with a fairly reasonable price, but many anglers ask whether or not the Slammer IV really that much better than its predecessor, the Slammer III. 
I'll take a closer look at the Penn Slammer IV in this article and discuss some of the improvements and modifications the brand has made to this wildly popular series of saltwater fishing reels. 
I View This as an Extremely Durable Design

Very High Max Drag

Very High Retrieve Rate

8+1 Stainless Steel Ball Bearings 

Ideal for Charter Fishermen
I Found it to be Heavier Reel Than Other Brands
Penn Slammer IV Overview 
The Slammer IV is one of the newer products from the Penn brand and it has many anglers raving about its performance capabilities and features. The Penn Slammer III is a reel that has achieved near-legendary status since it was introduced a few years ago, but what makes the Slammer IV special is the process that Penn used in developing this new reel. 
The Penn Slammer III was virtually everything a serious saltwater angler could want in his or her reel—exceptionally durable, fully-sealed, smooth action and plenty of power to handle big fish. Penn engineers and design experts claimed that the Slammer III still had a few faults, but the Slammer IV is the result of countless hours of research, testing and receiving input from reputable anglers and guides in the saltwater fishing community. 
The company redesigned the Slammer reel to produce the Slammer IV, but managed to maintain much of the features and characteristics that made the reel so successful. The new Slammer IV is based on the same IPX6 sealed system that works to prevent saltwater, sand and grime from finding its way into the reel's inner workings. Part of this redesign included updating and improving the Slammer Drag System to feature Penn's new Dura-Drag material. 
Superior waterproofing, coupled with the new and improved drag system, makes the Penn Slammer IV certainly worth a closer look for avid saltwater anglers who demand outstanding performance on the water. As a saltwater angler who typically seeks to stay within a reasonable budget when it comes to the purchase of any gear item, I find this reel to be appealing as it offers premium-quality performance and feel without the usual hefty price-tag that accompanies premium fishing products. 
Features 
It's no secret that many of the Penn Slammer IV's features are what has anglers talking about this reel. In the following sections, we'll explain how these features play a role in the reel's overall performance and the level at which it performs in the face of large, hard-pulling saltwater fish. 
Many of these features and the overall characteristics of the Penn Slammer IV essentially make this reel a true workhorse when it comes to saltwater fishing. 
Full Metal Body 
One of the most important aspects of any solid saltwater reel is toughness and rigidity. Many times, anglers like myself have learned the hard way that using a more cost-friendly reel. Significant problems often arise due to the fact that the cheap material these reels are made of result in the inability to withstand the extreme pressure associated with saltwater fishing. 
The Penn Slammer IV is made with a full metal body and side plate to provide you with solid rigidity which helps maintain control over your catch. This metal material is obviously going to be heavier than composite and other types of material, but it's an essential quality that a reel must have if you plan to tackle monster fish. 
IPX6 Sealed Body 
Anglers who fell in love with the Slammer III greatly appreciated the effort and precision Penn showed in creating the reel's IPX6 Sealed body. In order to have a corrosion-resistant reel that will last many years—even for the most dedicated anglers—having a fully-sealed reel is a must. The IPX6 Sealed body helps to lock out everything from saltwater, sand, grime and anything else that might find its way into the reel's interior and cause damage. 
Serious saltwater anglers know that some brands claim that their reels are fully-sealed when they in fact are not. It's unacceptable to have a reel that allows saltwater to seep in over time and corrode the parts that are integral to the product's overall function. The IPX6 Sealed body also seals the spool, which helps extend the life of the reel and maintain its smooth action for many seasons. 
Penn spent a great deal of time to ensure that the IPX6 Sealed body system was capable of locking out certain elements that cause harm to a reel over time. In addition to making sure the body and spool were adequately sealed, Penn design experts also went the extra mile to upgrade the drag system so that it is better-sealed than its predecessor. 
Sealed Slammer Drag System with Dura-Drag 
The Sealed Slammer Drag System has been upgraded so that it operates using the brand's Dura-Drag material. This same drag system is what the brand uses in it's International series reels, which are well-known for having an exceptionally strong and well-functioning drag system. Some of the newer changes from the Slammer III to the IV are reduced minimum drag for better lower end. 
Essentially, the Penn Slammer IV's new changes improves the amount of usable drag that's available to you. It should be noted that the 2500 size Slammer IV utilizes the HT-100 drag system, which is also well-made and capable of delivering smooth, strong control over your catch. The Slammer IV has a max drag rating of 20 lbs in the smallest 2500 size and this rating increases all the way up to 60 lbs max drag in the 10500 size reel. 
CNC Gear Technology 
Penn reels are famous for their smooth action and performance on the water and the Slammer IV is no different. This reel is designed with CNC Gear Technology, which also features a brass main gear. These all-brass CNC gears are capable of withstanding years of use in saltwater environments and are designed to hold up against extreme conditions. 
8+1 Stainless Steel Bearing System 
Another reason why the Penn Slammer IV is capable of delivering smooth action when it comes to casting, reeling and handling large fish is the 8+1 stainless steel bearing system. It's extremely important to have well-made bearings on any saltwater fishing reel in order to lessen the amount of friction caused by the internal workings of the reel's parts. These bearings work beautifully to maintain a smooth action that is comparable to almost any other premium-quality saltwater spinning reel on the market today. 
Other Notable Features 
Some of the other features that should be mentioned when it comes to a review of the Penn Slammer IV include items such as the Hydrophobic bearing in line-roller. This works to keep water from collecting around the roller and maintains the smooth action the reel is known for. The Super Line-Ready spool is also another bonus feature that allows you to use your choice of fishing line without backing needed. 
Performance 
The Penn Slammer IV is usually described as a workhorse among the many other reel models that are available to saltwater anglers today. It's made to provide outstanding durability through its precision-made parts and the quality materials that are used in the manufacturing of each reel. 
The IPX6 Sealed body and spool design are second-to-none when compared with other saltwater spinning reels that are within the same relative price range and class. Keeping the reel well-sealed is one of the most important aspects of ensuring that a product is capable of maintaining its function over the course of many years when used in saltwater fishing environments. This is an upgrade on some of the cheaper alternatives, such as the Penn Clash and Penn Battle.
The overall durability that the Penn Slammer IV offers is something that anglers are still putting to the test ever since the reel was released in September 2021. Those who have truly tested the Slammer IV report that it is more than able to withstand the rigors of fishing for the hardest fighting sportfish, as well as the wear-and-tear that often comes with using a reel for saltwater fishing on a regular basis. 
You won't find any plastic parts on the Penn Slammer IV and most anglers are able to feel the quality craftsmanship in their hands. The difference in this reel and many of the lesser-quality saltwater spinning reels becomes evident once anglers realize that each and every part, both inside and out, on the Slammer IV is made to last. 
Pros
The Slammer 4 comes with the improved dura-drag system that has improved waterproofing and durability compared to the Slammer 3.
This is a heavy duty, workhorse reel – high performance and durable – which makes it a favorite among charter fishermen.
Available in a wide range of sizes and speeds with some high-speed models as well.
Cons
This is a heavier reel – the 2500 sized model is 11 ounces, which is heavier than a lot of 3000 sized spinning reels.
The seals have been improved but it is still an IPX6 – I did experience some leaking through the seals in the Slammer 3 so fingers crossed this has been resolved.
I View This as an Extremely Durable Design

Very High Max Drag

Very High Retrieve Rate

8+1 Stainless Steel Ball Bearings 

Ideal for Charter Fishermen
I Found it to be Heavier Reel Than Other Brands
Specifications
| | | | | | | | | | | | | | |
| --- | --- | --- | --- | --- | --- | --- | --- | --- | --- | --- | --- | --- | --- |
| MODEL NUMBER | SLAIV2500 | SLAIV2500HS | SLAIV3500 | SLAIV4500 | SLAIV4500HS | SLAIV5500 | SLAIV5500BLS | SLAIV6500 | SLAIV6500HS | SLAIV7500 | SLAIV8500 | SLAIV8500HS | SLAIV10500 |
| BEARING COUNT | 9 | 9 | 9 | 9 | 9 | 9 | 9 | 9 | 9 | 9 | 9 | 9 | 9 |
| BRAID CAPACITY YD/LB | 240/10 220/15 160/20 | 240/10 220/15 160/20 | 310/10 270/15 220/20 | 390/15 320/20 250/30 | 390/15 320/20 250/30 | 500/20 380/30 335/40 | 500/20 380/30 335/40 | 485/30 410/40 335/50 | 485/30 410/40 335/50 | 530/40 440/50 400/65 | 730/40 600/50 555/65 | 730/40 600/50 555/65 | 845/50 780/65 540/80 |
| GEAR RATIO | 6.2:1 | 7.0:1 | 6.2:1 | 6.2:1 | 7.0:1 | 5.6:1 | 5.6:1 | 5.6:1 | 6.2:1 | 4.7:1 | 4.7:1 | 5.3:1 | 4.2:1 |
| MAX DRAG | 20lb | 20lb | 30lb | 30lb | 30lb | 40lb | 40lb | 40lb | 40lb | 50lb | 50lb | 50lb | 60lb |
| MONO CAPACITY YD/LB | 255/6 175/8 140/10 | 255/6 175/8 140/10 | 360/6 285/8 220/10 | 425/8 320/10 235/12 | 425/8 320/10 235/12 | 430/10 330/12 230/15 | 430/10 330/12 230/15 | 390/12 345/15 205/20 | 390/12 345/15 205/20 | 490/15 330/20 220/30 | 455/20 310/30 260/40 | 455/20 310/30 260/40 | 435/30 360/40 255/50 |
| RECOVERY RATE | 33″ | 39″ | 37″ | 40″ | 48″ | 39″ | 39″ | 42″ | 48″ | 38″ | 42″ | 50″ | 43″ |
| WEIGHT | 11 oz | 11 oz | 13.9 oz | 15 oz | 15 oz | 22.2 oz | 22.1 oz | 24.2 oz | 24.2 oz | 28.7 oz | 30.7 oz | 30.7 oz | 42.9 oz |
Penn Slammer 3 vs Slammer 4
Let's compare the Penn Slammer 4 with its predecessor the Slammer 3 so that you can get a clearer view of what has been upgraded and the changes in specifications. This comparison is based on the 5500 sized model for both.
You will notice that the performance specs are extremely similar between these two evolutions. In fact the main differences is in the drag system with the Slammer 4 coming with Penn's latest Dura-Drag system. This gives better waterproofing and generally improved durability on a reel that was already famous for being durable.
It also has a new hydrophobic line roller bearing that I expect will improve the smoothness when retrieving.
| | | |
| --- | --- | --- |
| Specification | Slammer 3 | Slammer 4 |
| Bearings | 8 | 9 |
| Max Drag | 40 lb | 40 lb |
| Gear Ratio | 5.6:1 | 5.6:1 |
| Mono Capacity | 430 yards of 10 lb | 430 yards of 10 lb |
| Weight | 22.4 oz | 22.1 oz |
Penn Slammer IV DX
Another comparison to consider is the Slammer IV DX, which is an upgraded version of the IV, which a very upgrades in terms of appearance and technology. It has upgraded stainless steel CNC Gear technology. It comes with an additional bearing in the spool. It has a spare hypalon handle knob, and comes in an exclusive silver and black style.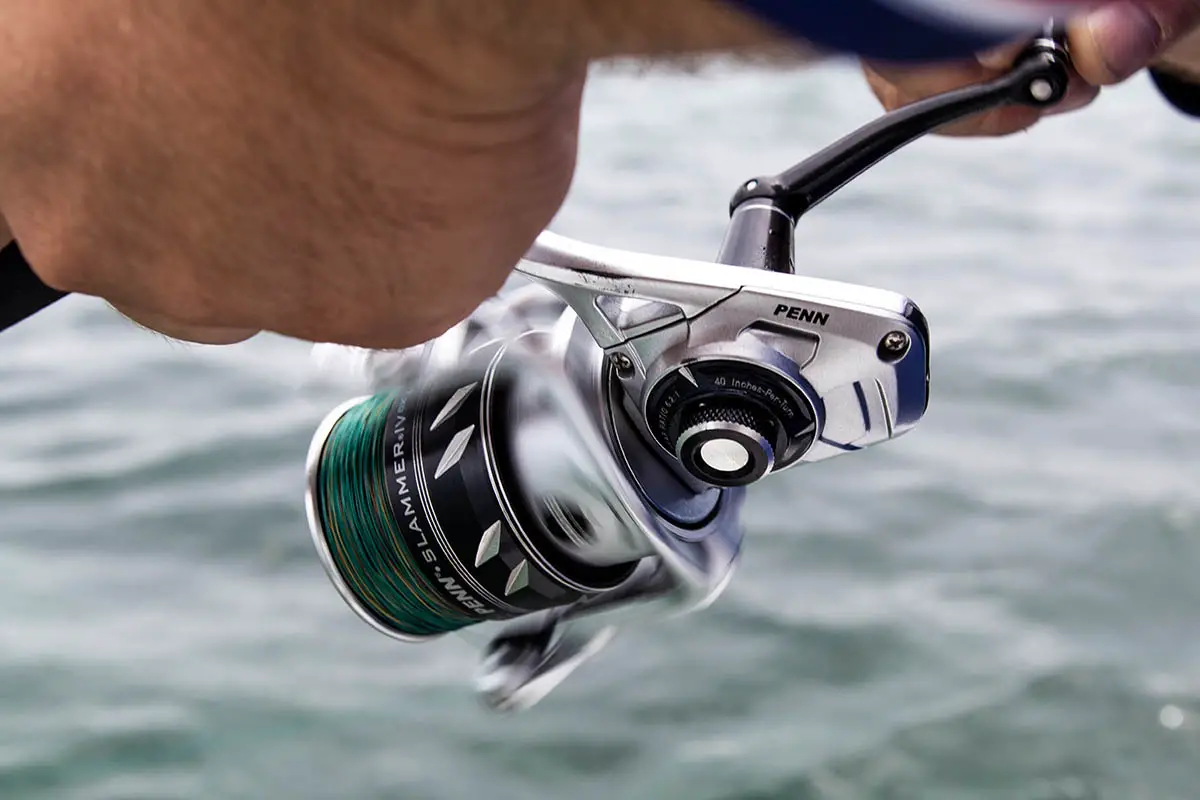 Penn Technology Included
| | |
| --- | --- |
| Penn Technology | Slammer |
| IPX8 Sealed | No |
| IPX6 Sealed | Yes |
| IPX5 Sealed | No |
| CNC Gear Technology | Yes |
| Full Metal Body | Yes |
| Dura Drag | Yes |
| HT-100 Drag Washers | Yes |
| Metal Power Knob | No |
| Sealed Stainless Steel Ball Bearings | Yes |
| Hydrophobic Line Roller Bearing | Yes |
| Braid Ready | Yes |
| Instant Anti-Reverse | Yes |
| Techno Balanced | Yes |
| Line Capacity Rings | Yes |
| Leveline | Yes |
| Superline Spool | No |
Penn Technology Included in the Slammer
Conclusion 
It's clear that Penn spent a considerable amount of time crafting the Slammer IV to function as a tough and reliable saltwater spinning reel. The upgrades that were made to this reel and how it compares to the Slammer III is evidence that the brand utilized the feedback from professional anglers and those within the saltwater fishing industry. 
If you're in need of upgrading your tackle arsenal with a serious workhorse of a reel that will perform as expected when you need it to, the Penn Slammer IV is a product that certainly deserves your attention.