Abu Garcia are one of the premier reel manufacturers and the Abu Garcia Pro Max Baitcaster is no exception. This reel is very durable, made from a graphite frame and graphite sideplates. It also has stainless steel ball bearings that gives it great corrosion resistance.
The bent handle and recessed reel front also make it very comfortable for a long day of casting. The baitcasting design and high gear ratio gives it a high retrieval rate and at only 7.3 ounces, it is light enough to cast all day.
The Pro Max is also available in a spinning design if you don't want the baitcasting model. 
They are currently up to the Pro Max 3 model which is an improvement upon the older 2 version.
No matter what species you target from bass fishing to trout fishing, the Pro Max is certainly worth your consideration. It is one of best budget reels on the market.
Learn more about how we score products.
Abu Garcia Pro Max Features
Power Disk™ drag system gives smooth drag performance
Duragear™ brass gear for extended gear life
7 stainless steel ball bearings + 1 roller bearing provides smooth operation
Durable machined double anodized aluminum spool
MaxTrax™ brake system for supreme speed and casting control
Compact bent handle and star
Comfortable design with recessed reel front
One piece graphite frame
Graphite sideplates
Durability and Corrosion Resistance
The materials of construction for the Pro Max are designed to handle all weather conditions and saltwater environments – no matter whether heavy rain, brackish water, or full ocean saltwater.
The Pro Max is made from a one piece graphite frame and graphite sideplates to protect it from bumps and drops. The gear is brass to give it a longer life. The ball bearings are stainless steel. The spool is made from double anodized aluminum spool.
All of this high quality materials means that the Pro Max is very resistant to corrosion and will last for years to come. At this price range it is a remarkably well made reel.
The weight of this reel is 7.3 ounces, which is middle of the road, but certainly light enough to cast with for extended periods without getting a sore arm.
Abu Garcia are renowned for making durable baitcasting reels and the Pro Max is no exception.
Comfortable, Ergonomic Design
The Pro Max has an extremely low profile design, which makes it more comfortable to grip onto the rod and reel combo when setting the hook. The Pro Max is available in a combo with a rod which gives it even more comfort as well.
The reel has a recessed foot which makes it sit low on the rod and giving it better balance.
The handle can be a little short if you have big hands, so keep this in mind when making your decision.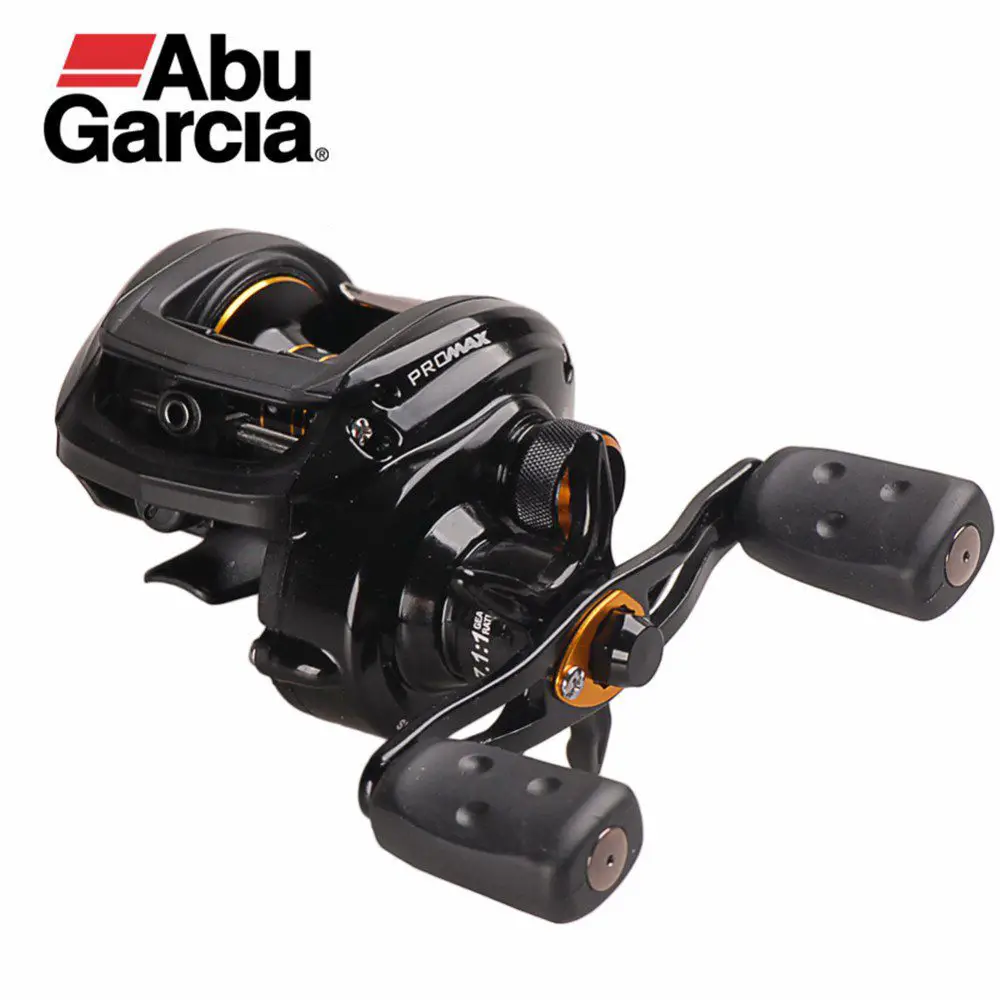 Unique Drag and Brake Systems
The drag wheel sits in behind the handle which makes it easy to access and adjust whenever you need to. The Power Drag system is the same as is available in several other models.
This is the same drag system as the Abu Garcia Silver Max.
It can deliver 17-18 pounds of drag which is more than you will need for fishing with this type of reel. It applies a constant pressure on the drag throughout the entirety of the fish retrieval. The drag has almost no play in my experience.
The brakes are incredibly easy to set with only one or two clicks that gives you better casting distance without backlash. The brake adjustment is located externally on the opposite side plate to the drag.
All of the adjustments of the brakes and drag is right at your fingertips at all times.
Pros
The power Drag system applies constant pressure on the line spooling out
Unique braking system helps to prevent backlash and air knots
Improved performance with 7+1 stainless steel ball bearings
Cons
While this is still an affordable option, it is the most expensive compared to the Black Max and Silver Max
Video Review
Video is often a great way to show the performance of a piece of fishing gear that can't be described in words. Please have a look at this video below to see the Abu Garcia Pro Max Baitcaster reel in action. The key quote from the Wisconsin Wildman in this video is "The Pro Max is Bulletproof"
Abu Garcia Pro Max vs Black Max
I always like to compare reels to alternate options so you can judge the differences and whether you would prefer a more premium or more entry level competitor. For this case I have picked the Abu Garcia Black Max.
The Black Max is the most affordable option of the two, however it does come with a slightly lower gear ratio and number of ball bearings. If you are looking to be retrieving a fast moving lure that needs the improved performance then I would recommend going for the upgraded model in the Pro Max.
| | | |
| --- | --- | --- |
| Specifications | Black Max | Pro Max |
| Gear Ratio | 6.4:1 | 7.1:1 |
| Weight | 7.3 oz | 7.3 oz |
| Line Capacity | 145 yards of 12 lb mono | 145 yards of 12 lb mono |
| Bearings | 4+1 | 7+1 |
| Max Drag | 18 lb | 17 lb |
| Retrieve Rate | 26 inches | 29 inches |
| Price | $ | $$ |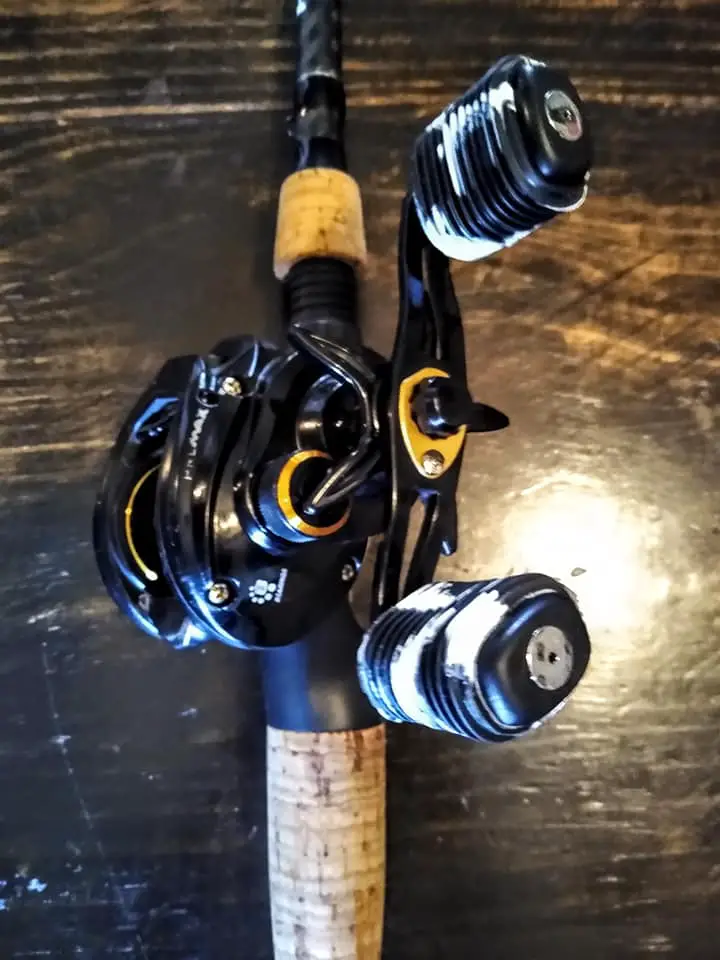 Specifications
For those of you who are interested in specifications, we have compiled some of the key metrics below:
| | |
| --- | --- |
| BALL BEARINGS | 7+1 |
| GEAR RATIO | 7.1:1 |
| LINE CAPACITY (MONO) | 145yd/12lb |
| LINE CAPACITY (BRAID) | 140yd/30lb |
| DRAG | 17 lbs |
| WEIGHT | 7.3 oz |
Conclusions
The Abu Garcia Pro Max baitcaster reel feels like a premium reel without the high price tag. It is made from high quality materials that will prevent corrosion and is highly durable. This makes it great value for money and will last for years to come. Abu Garcia reels are generally pretty bulletproof.
The reel is light enough to be able to cast all day and has a high retrieve rate. It also looks great with a brilliant style and its low-profile design.
It doesn't matter if you are a beginner or an experienced angler, but any Abu Garcia reels, and in particular the Pro Max is certainly worth your consideration.
If you have used a Pro Max before and have any experiences of your own to share to help everyone to make their own decision then please leave a comment below.
Happy fishing!