The best baitcasting reels have a high-speed gear ratio of 6.5:1 or more, a minimum of 10 lb max drag, at least 5 ball bearings, and weigh less than 8 ounces, such as the Shimano Curado.
I judge each reel personally based on its performance, durability, cost, value for money, and comfort based on my own individual testing experience. I have tested each of these reels using my insight from over a decade of angling experience.
I've taken the time to narrow down the many selections currently for sale into this list to help you select the one that's just right for your needs. 
Before we begin, look at this chart showing the comparative cost vs performance for baitcasting reels. This can help you to narrow down which reels you may be interested in depending on your budget and performance requirements.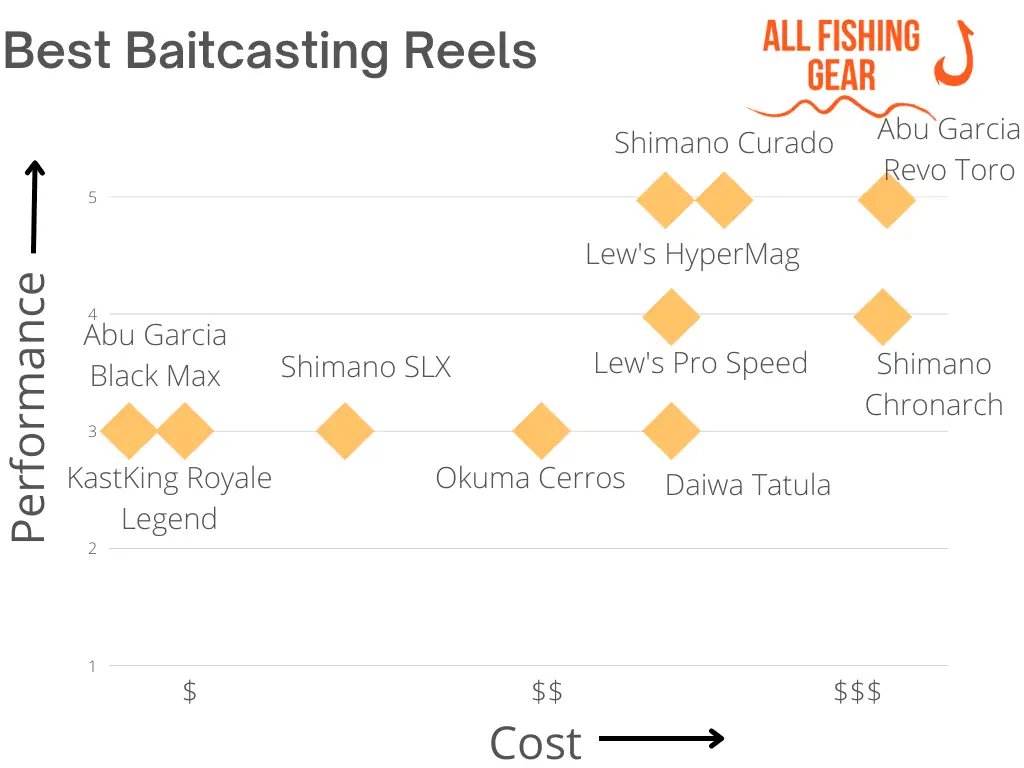 1. Shimano Curado DC – Best Baitcasting Reel
I Have Owned This For Over 10 Years and Still Love It

Superior Digital Braking System

I Enjoy the Smooth Casting and Retrieve

Extremely Durable Design

Cross Carbon Fiber Drag System
Relatively Expensive Price Tag

I Measured that it has Lost Some Of Its Drag Capacity Over Time
Overall Score – 4/5⭐⭐⭐⭐
Performance – 5/5 ⭐⭐⭐⭐⭐
Durability – 5/5⭐⭐⭐⭐⭐
Value for Money – 3/5 ⭐⭐⭐
The Shimano Curado DC made some serious waves when it hit the market a year ago. This reel was one of the most highly-anticipated products on the market in recent years as it offered anglers with virtually everything they could possibly want in a low-profile baitcaster.
"DC" stands for Digital Control, meaning the Curado DC utilizes a digital braking system that is designed to function at a much higher level than most other types of digital braking systems as it monitors the speed of the reel's spool at a whopping 1,000 times per second. 
When it was released, the Shimano Curado DC was billed as a reel that is 'backlash-proof,' meaning anglers wouldn't have to worry about the prospect of spending considerable amounts of time untangling their lines if the braking system didn't perform as intended. Once anglers began using the reel, it was said to be every bit as effective as advertised when it comes to preventing backlash, which is a major advantage to professional anglers who know well that every second they spend on the water is extremely valuable. 
What I Like About It
The Shimano Curado DC is a reel that really packs in almost everything an angler could want in a bait casting reel for a price that's relatively affordable considering the internal components that are included. This reel brings to the table a Hagane alloy body, micro module gears, Cross Carbon fiber drag system, X-Ship pinion support and many other items that combine to make it a clear favorite among anglers of all skill levels. 
I personally own a Shimano Curado and have used it extensively over the last decade.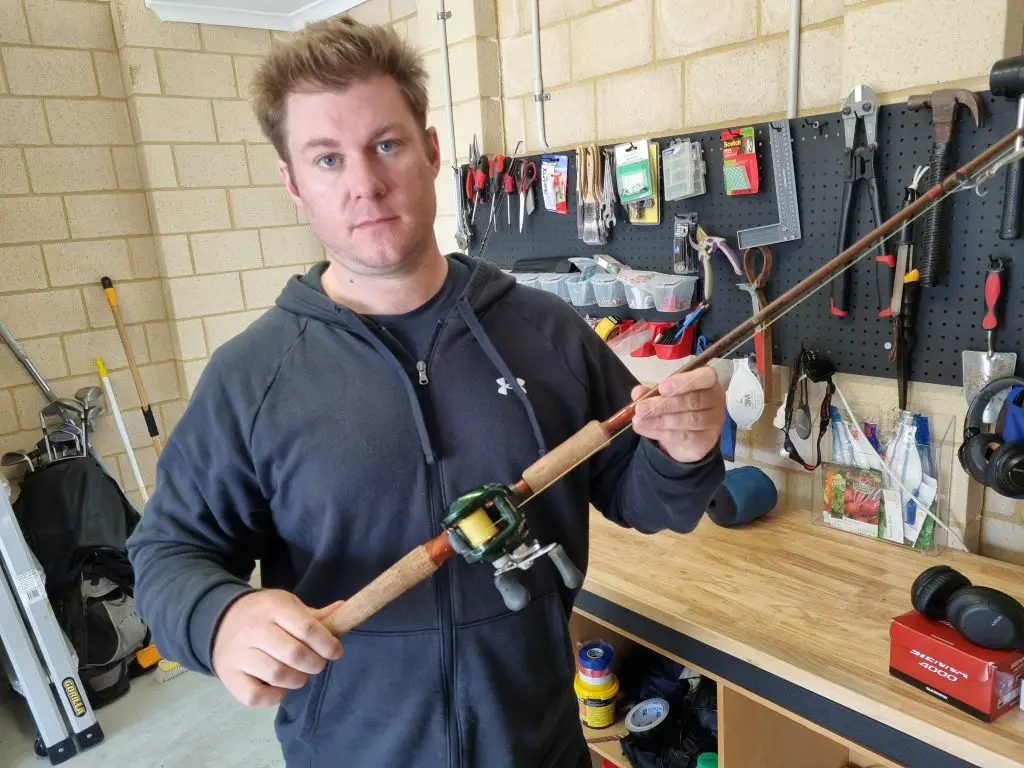 Pros:
Superior digital braking system 
Smooth casting and retrieve
Extremely durable design 
Cons:
2. Abu Garcia Revo Toro – Best Casting Reel for Bass Fishing
High 25 Pound Max Drag

Extremely Tough Design

High-Power Model Available

Oversized EVA Grip Handle
Larger Size at Over 13 Ounces

Lower Retrieve Rate at Only 23 Inches Per Crank
Overall Score – 4/5⭐⭐⭐⭐
Performance – 5/5 ⭐⭐⭐⭐⭐
Durability – 5/5 ⭐⭐⭐⭐⭐
Value for Money – 3/5 ⭐⭐⭐
Another model that is an easy addition to this list is the Abu Garcia Revo Toro. Abu Garcia has been in the fishing industry for many years and their headline models have always been some of the most impressive reels on the market. The Abu Garcia Revo Toro is no different as this one offers a high-power model that is built with an extremely tough and durable design. 
It is made with an alloy frame and side plates that help lock out any corrosion that might seep into the interior portions of the 5+1 ball bearing system. The reel would be heavier if the brand didn't utilize X2-Craftic framing material designed to provide the same toughness you might expect in alloy, but without the added weight. 
What I Like About It
The Abu Garcia Revo Toro features a Power Stack Carbon Matrix drag system that is specially designed to withstand extreme amounts of pressure while not impeding the overall smooth casting and retrieval ability that this reel offers. Anglers who prefer large handles will love the oversized EVA grip handles with which the Abu Garcia Revo Toro is made. 
Pros:
Powerful drag system at 25 lbs, which is the highest on this list.
Extremely tough 
Corrosion-resistant 
Centrifugal brake system 
Cons:
Larger size
Expensive price
This is a heavy reel – it is over 13 ounces compared to most other reels in the 7-8 ounce range.
It has the lowest retrieve rate at 23 inches per crank which can be difficult to fish with fast moving lures.
3. Lew's Hyper Mag SLP
High-Speed Model Available

High 20 lb Max Drag

Extremely Lightweight Design at 5.4 Ounces

Adjustable Braking System
Overall Score – 4/5⭐⭐⭐⭐
Performance – 5/5 ⭐⭐⭐⭐⭐
Durability – 5/5⭐⭐⭐⭐⭐
Value for Money – 3/5 ⭐⭐⭐
Lew's has been at the top of the fishing industry for a number of years when it comes to producing some of the best fishing reels. Their Lew's Hyper Mag SLP is easily one of my favorite baitcasting reels currently on the market as it packs in a number of high-profile features and components that combine for an exceptionally smooth experience. 
The reel is crafted using magnesium construction material around its frame, giving it a much lighter feel than other reels without sacrificing much durability. Professional anglers have taken a keen interest in this particular model as it is exceptionally lightweight and provides a higher level of sensitivity than other materials. 
What I Like About It
The reel is made with a 7.5:1 and 8.3:1 gear ratio, which is ideal for anglers who are looking for a faster retrieve. This makes the Lew's Hyper Mag SLP perfect for use with various soft plastic rigs that anglers sometimes want to fish along the bottom faster than normal. The reel features a centrifugal braking system that can easily be adjusted, as well as an audible tension clicker, and double-shielded ball bearings. 
Pros:
Extremely lightweight at under 6 ounces compared to the other reels in the 7-8 ounce weight range.
Fast gear ratio 
Smooth casting and retrieve 
Adjustable braking system 
Cons:
4. Shimano Chronarch MGL 150
Gold Standard for Lightweight Baitcasters

8+1 Ball Bearings

SVS Infinity Braking System

Smooth, Adjustable Drag System with Dartanium II Washers
Only 11 lb Max Drag

Expensive Model
Overall Score – 4/5 ⭐⭐⭐⭐
Performance – 4/5 ⭐⭐⭐⭐
Durability – 5/5 ⭐⭐⭐⭐⭐
Value for Money – 3/5 ⭐⭐⭐
If you're relatively familiar with the Shimano brand, you might not be surprised to see that we added a second model from this company in the top half of my list. The Shimano Chronarch MGL 150 has a reputation that precedes itself as one of the best overall baitcasting reels on the market, in particular for bass fishing.
The only real downside to this one is that it is priced a bit higher than the other options. However, the price is not likely to be an issue for highly-skilled anglers who are aware of their investment when purchasing a product like this. 
The Shimano Chronarch MGL 150 features the brand's new carbon-composite frame that is capable of delivering outstanding durability while being much more lightweight than the usual aluminum or graphite material that is more commonly used. This model comes with the X-Ship gear system that is designed to be more powerful than most other fishing reels of its kind on the market today. 
What I Like About It
This fishing reel also features a very smooth drag system that is equipped with Dartanium II washers. This drag system can be easily adjusted on the fly during a fight with a sizable fish, which can be quite an advantage for anglers who find themselves locked in a struggle with a larger-sized game fish. 
Pros:
Lightweight and durable 
SVS Infinity braking system 
Smooth, adjustable drag system 
Cons:
5. Daiwa Tatula CT
T-Wing Levelwind System

Lightweight Aluminum Frame

Anti-Reverse Capability

Extremely Lightweight at Under 7 Ounces

Magforce-Z Braking System
Overall Score – 3/5 ⭐⭐⭐
Performance – 3/5 ⭐⭐⭐
Durability – 3/5 ⭐⭐⭐
Value for Money – 3/5 ⭐⭐⭐
The Daiwa brand is one that has been producing great quality baitcast reels for decades. The Daiwa Tatula CT is a model that's much more affordable than the first four options on my list, but it still offers quite a bit of premium features that seasoned anglers will look for in a solid reel setup. 
This is a fantastic baitcasting reel for the money and is certainly a great option for beginners.
This model is surprisingly durable considering its low-profile, lightweight body construction that's made out of an aluminum frame. The internal components are just what most anglers are looking for as the Daiwa Tatula CT offers instant anti-reverse capability along with a 7+1 bearing system which is said to be exceptionally smooth. 
What I Like About It
Anglers have noted that this fishing reel seems to deliver a more accurate casting experience, which is mostly due to the brand's inclusion of the T-Wing Levelwind system that is designed to allow for casts that are longer and more accurate than most other models. This is an ideal choice for anglers who might want a high-quality reel that won't necessarily cost a small fortune. 
The Daiwa Tatula is also leading Bassmaster angler Seth Feider's preferred casting reel.
Pros:
Lightweight design 
Longer, more accurate casting 
Smooth ball bearing system 
Affordable price
Cons:
Not corrosion-resistant so make sure you give it a thorough flush with freshwater after use.
6. Lew's Tournament Pro Speed Spool LFS – Best Value for Money Baitcast Reel
Side Tension Control Knob

11 Bearing System

6.4 Ounce Lightweight Design

Powerful 20 lb Max Drag
Nil - One of the Most Attractive Options on the Market
Overall Score – 4/5 ⭐⭐⭐⭐
Performance – 4/5 ⭐⭐⭐⭐
Durability – 4/5 ⭐⭐⭐⭐
Value for Money – 4/5 ⭐⭐⭐⭐
The Lew's Tournament Pro Speed Spool LFS is very similar to the brand's other model that's known as the Tournament MB. However, this particular option is another one that's designed to be a bit lighter, as well as offering anglers with a more speedy retrieve thanks to a higher gear ratio. The Lew's Tournament Pro Speed Spool LFS lives up to its namesake as the LFS portion of the branding stands for Lighter, Faster, Stronger. 
This reel offers more ball bearings than most other Lew's models, which gives it an incredibly smooth casting and reeling feel that professional anglers consider to be among the best that Lew's has to offer. Factor in that with the reel's lightweight design and it's easy to see why so many skilled anglers like to use this reel for lures and setups that often require them to quickly reel in slack and keep their lure moving across the water in order to maintain a fish's attention and entice a strike. 
What I Like About It
This reel also has some impressive features like the Pro Speed Spool which offers a Speed Dial that's built into the side with a tension control knob. Anglers who prefer a lighter reel that gives them as much speed as they need for any range of lures will find the Lew's Tournament Pro Speed Spool LFS to be one of the most attractive options currently on the market. 
Pros:
Lightweight 
Faster gear ratio 
Speed adjustment 
11-bearing system 
Cons:
7. Okuma Cerros
9+1 Ball Bearing System

Affordable Price Tag

Solid Warranty

Smooth Casting and Retrieve
Overall Score – 3/5 ⭐⭐⭐
Performance – 3/5 ⭐⭐⭐
Durability – 3/5 ⭐⭐⭐
Value for Money – 4/5 ⭐⭐⭐⭐
Okuma has grown in popularity in recent years as more and more anglers are now purchasing this brand's products from overseas to the United States and other countries. The Okuma brand has long been known as one that produces some of the best quality fishing gear and tackle for an exceptionally affordable price, but the lower cost doesn't necessarily mean that this model is of lesser quality than most other baitcasting reels. 
The Okuma Cerros Casting Reel offers a 9+1 ball bearing system that is among the smoothest casting and retrieving of any alternative you'll find priced at under $100. The drag system is also smooth, but it's not quite as strong as some of the other models on this list, which might be a dealbreaker for anglers who prefer a model that will be capable of fighting larger-sized game fish species. 
What I Like About It
The functioning of the Okuma Cerros Casting Reel is said to be incredibly easy and many anglers note that this model feels very much like a premium reel despite the fact that it can usually be purchased for less than half of what you might pay for some of the top brands' headline models. 
Pros:
Smooth casting and retrieve 
Quite durable 
Solid warranty 
Cons:
Drag isn't as strong as some others on my list
8. Shimano SLX XT
S3D Spool Technology Reduces Vibration

Solid SVS Braking System

S-A-RB Ball Bearing System

Tough Frame
Lowest Retrieve Rate Not Suited for Jerkbaits

Only 11 lb Max Drag
Overall Score – 3/5 ⭐⭐⭐
Performance – 3/5 ⭐⭐⭐
Durability – 4/5 ⭐⭐⭐⭐
Value for Money – 3/5 ⭐⭐⭐
If you're a fan of Shimano products, but you find yourself trying to stay within a more reasonable budget when it comes to shopping for a decent baitcasting rod, the Shimano SLX XT is the ideal choice for you. This model has nearly all of the same type of premium-quality features and components that Shimano is known for their baitcasting reels, but you won't have to break open the piggy bank to get your hands on this one. 
Bass anglers love this model as it is considered to be one of the smoothest and toughest at this price point. This one is made with the brand's famous SVS braking system that helps alleviate most of the anglers' concerns with backlashing. The S-A-RB ball bearing system is also said to be exceptionally smooth and the rigid Hagane construction frame material is strong enough to stand up to almost anything you're likely to encounter on the water. 
What I Like About It
The Shimano SLX XT is able to achieve a cast that's nearly as smooth as the brand's other premium options thanks to its S3D Spool technology, which is designed to reduce the amount of vibration caused when anglers try to cast the reel with a considerable amount of force. 
Pros:
Tough frame
Smooth casting 
Solid braking system 
Cons:
Retrieve is not as smooth as other models.
This reel has the lowest retrieve rate of all the reels which means that you will need to work harder to fish with any fast moving lures. It is better suited for deep diving crankbaits.
9. Abu Garcia Black Max
One-Piece Graphite Material

4+1 Stainless Steel Ball Bearings

MagTrax Braking System

Solid 18 lb Max Drag
Some Durability Concerns of Internal Components
Overall Score – 3/5 ⭐⭐⭐
Performance – 3/5 ⭐⭐⭐
Durability – 2/5 ⭐⭐
Value for Money – 3/5 ⭐⭐⭐
For anglers who are looking for a solid choice that is about as budget-friendly as you'll find, look no further than the Abu Garcia Black Max. This reel is made to the same high quality standards that other Abu Garcia products are manufactured with and maintains a surprising level of quality for a reel that's priced well below some of the other options on my list. 
In fact, this model could easily be considered the best budget baitcasting reel on the market today. The frame is made from a one-piece graphite material that's surprisingly tough. The 4+1 stainless steel ball bearing system offers plenty of friction dampening technology and creates a smooth casting and retrieving experience that anglers of all skill levels will likely appreciate. 
What I Like About It
This model's MagTrax braking system is one that helps to guard against the possibility of anglers easily backlashing their line, but it doesn't feature the same premium-level braking systems that other models on my list have. Nevertheless, this reel is a solid addition to my list and it certainly won't disappoint anyone hoping to find a good, affordable baitcasting reel. 
Pros:
Budget-friendly 
Smooth casting 
Decent braking system 
Cons:
Some durability concerns related to internal components 
10. KastKing Royale Legend GT
Shielded 5+1 Ball Bearings

Two Gear Ratio Options

Ideal for Fast Moving Lures

Lightweight Design
Requires Regular Maintenance

Some Durability Concerns
Overall Score – 3/5 ⭐⭐⭐
Performance – 3/5 ⭐⭐⭐
Durability – 3/5 ⭐⭐⭐
Value for Money – 4/5 ⭐⭐⭐⭐
Rounding out my list is the latest version from KastKing. This brand has recently grown in popularity as anglers who prefer to stick within a reasonable budget have continually found that the KastKing brand is one to be respected in the fishing industry for its solid quality and reputable customer service.
What I Like About It
The KastKing Royale Legend GT is a respectable addition to my list, but most anglers would be shocked if they used the reel before seeing the price tag. Many anglers report that the KastKing Royale Legend GT fishes much like a premium-quality rod and offers the same exceptionally smooth feel that they are often looking for. 
The shielded 5+1 ball bearing system delivers a smooth casting and retrieval experience while the magnet fiber braking system tends to do its job without much of a fuss. The only main concern most anglers have related to the KastKing Royale Legend GT is its durability. However, there are plenty of reasons for anglers to view this reel as one that's perfect for beginner anglers. 
Pros
This is one of the most affordable reels on my list and is packed full of features. I believe it is one of the best value for money options on the market at the moment.
It has a very high retrieve rate at 32 inches per crank, which is suited for fast moving lures.
It also has the most ball bearings at 11+1.
Cons
I don't feel like it has the highest durability and you may find some damage or loss of performance over time.
Specification Comparison
It can be difficult to tell the difference between all of these features and benefits. So let's focus entirely on the data and the specifications.
| | | | | | | | |
| --- | --- | --- | --- | --- | --- | --- | --- |
| Baitcasting Reel | Score | Ball Bearings | Retrieve Rate | Gear Ratio | Max Drag | Weight | Price Range |
| Shimano Curado DC | 4/5 | 6+1 | 31 inches | 7.4:1 | 11 lb | 7.6 oz | $$$ |
| Abu Garcia Revo Toro | 4/5 | 7+1 | 23 inches | 4.9:1 | 25 lb | 13.5 oz | $$$$ |
| Lew's HyperMag SLP | 4/5 | 10+1 | 30 inches | 7.5:1 | 20 lb | 5.4 oz | $$$ |
| Shimano Chronarch MGL | 4/5 | 7+1 | 26 inches | 6.2:1 | 13 lb | 6.9 oz | $$$$ |
| Daiwa Tatula CT | 3/5 | 7+1 | 26 inches | 6.3:1 | 13 lb | 8.1 oz | $$$ |
| Lew's Tournament Pro Speed | 4/5 | 11 | 28 inches | 6.4:1 | 20 lb | 6.4 oz | $$$ |
| Okuma Cerros | 3/5 | 9+1 | 27 inches | 6.6:1 | 11 lb | 8.4 oz | $$$ |
| Shimano SLX XT | 3/5 | 3+1 | 24 inches | 6.3:1 | 11 lb | 6.8 oz | $$ |
| Abu Garcia Black Max | 3/5 | 4+1 | 26 inches | 6.4:1 | 18 lb | 7.3 oz | $ |
| KastKing Royale Legend GT | 3/5 | 11+1 | 32 inches | 7.0:1 | 17 lb | 7.5 oz | $ |
Table Highlighting the Key Specifications and Scores of the Best Baitcasting Reels
How We Rate Products
Russ Egan and Donny Karr have over 40 years of combined fishing experience. We know the difference between a high-quality reel and a poor alternative.
I thoroughly review all products to measure their performance, durability, and value for money. I conduct bench and field testing to check how the product performs. Each reel is tested for at least 8 hours, with a full test taking 2 full weeks. This testing results in an overall score that I give to all products. All metrics are scored out of 5.
Performance
The performance score is how well this product fulfills its primary purpose. Does it have all the features and optional extras you need to catch the target species? I also interview expert anglers on their experience to build a broader and more comprehensive view on the performance under multiple conditions.
I take all reels down to my local freshwater lake for bass and panfish, or inshore fishing off the beach for redfish.
Test 1: I confirm that the max drag meets the manufacturer's specifications using a calibrated scale.
Test 2: I test the maximum casting distance using a 1.0-ounce lure.
Test 3: I test the accuracy by casting 10 times into a 3 ft diameter circle at 30 yards.
Test 4: I check the versatility and the ability to handle multiple uses by field testing with 3 different lures and baits, by actually going fishing.
Durability
Durability refers to how long the product will continue functioning. I twist, bend, and break all the products to check their longevity. This score is for the materials of construction, the quality of the workmanship, and the servicing requirements. There are also bonus points for manufacturers' warranty.
For products that I can't test for long enough, I also consult with experts who have been using them for multiple decades to judge their longevity.
Test 5: I pull it apart to check the grease and oil levels, how difficult it is to maintain, and whether any sand or salt has deposited after use in saltwater.
Value for Money
The final aspect of the scoring system is the price or, more specifically, the value for money. Value for money is a comparison against the closest alternative products, both by the same manufacturer and other brands.
Overall Score
Finally, I average the three scores of performance, durability, and value for money to give the overall score of each product reviewed.
To see more details, please read the complete guide on how I test and evaluate fishing products.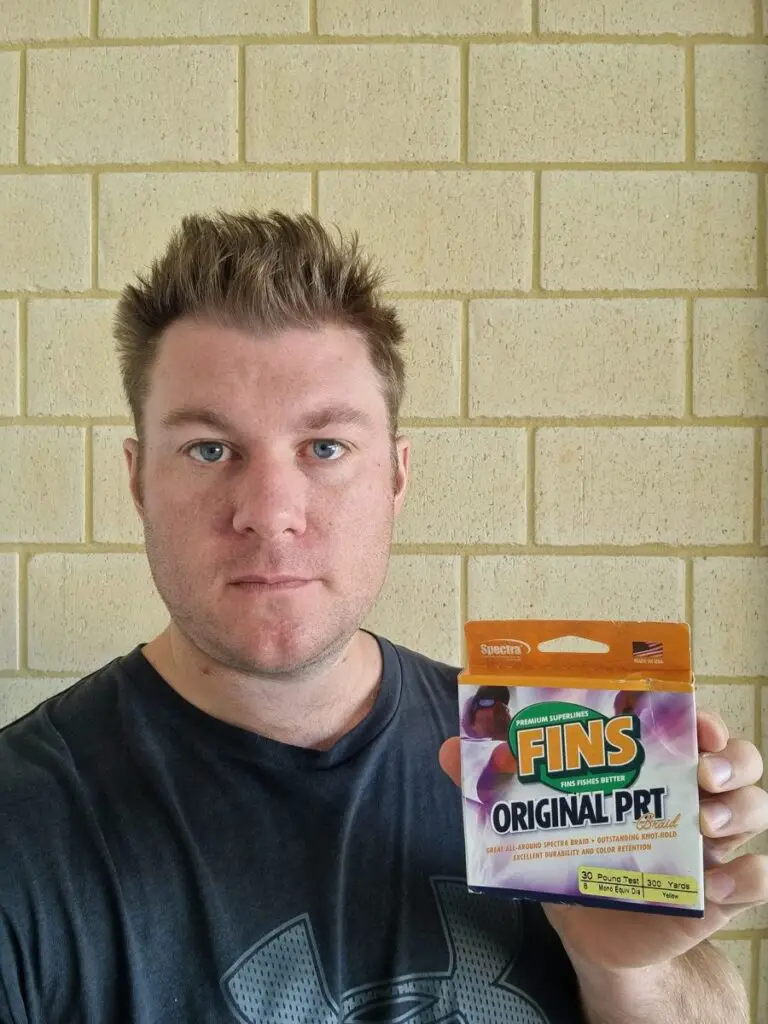 Baitcasting Reel Buyer's Guide 
When browsing through the many different brands and models of baitcasting reels that are currently available in today's market, there are a few key components and characteristics that you should always keep an eye out for in order to make sure you're getting a solid product that won't let you down. 
Benefits of Using a Baitcasting Reel 
Baitcasting reels have been around for a number of decades and companies that produce these specialized fish-catching machines have been increasingly making better and more efficient models each year. In general, baitcasting reels are made to give the angler a greater amount of accuracy and control over their cast, as well as their retrieve and a number of other factors. 
In addition to having the ability to cast farther with baitcaster reels, anglers can also have much greater levels of control in relation to the speed with which their lure is retrieved. Most professional anglers find that a baitcasting rod and reel allows them to more easily jerk the rod tip without slack in the line and produce the types of jerking or darting motions with crankbaits and swimbaits that are so often able to entice a fish to strike. 
Gear Ratio 
The gear ratio is considered among the most important aspects of a baitcasting reel, or any other type of reel. Most professional and other competitive anglers consider a reel's gear ratio to be indicative of its ability to handle retrieves, as well as provide an edge when fighting an especially large species of game fish that require an angler to rely heavily on the toughness of their equipment and its ability to give them an advantage. 
The gear ratio simply refers to the speed at which the reel's spool rotates in relation to the individual turns of the handle. The gear ratio is indicated in a format g:1 where g refers to the number of full rotations the spool will make for each full revolution of the handle.  A higher gear ratio means you'll be able to reel in more line with each individual turn of the reel's handle. 
There are a wide variety of gear ratios that can be more advantageous to anglers using a certain type of lure or rig, or fishing for specific types of game fish that might require a faster retrieve than others. You'll find that some of the most common gear ratios in baitcasting reels are generally going to be 5.4:1 or 6.4:1, both of which are capable of being highly versatile in retrieving anything from crankbaits to slow-moving plastic lures. 
Suppose you're just getting started in the world of fishing. In that case, I recommend that you stick with one single gear ratio in order to help you gain a better feel and understanding of the amount of line you're able to take in with one single revolution of the handle. Once you've become more acquainted with this number, you'll be able to more readily feel and understand just how much a higher or lower gear ratio is going to affect the overall retrieve of your rig depending on the type of lure you're using. 
A lower gear ratio is commonly used for lures like a large spinnerbait, deep-diving crankbait, or even an A-rig. This is mainly because the reel's gear ratio will keep you from reeling too fast and causing too much of a variation in the speed of your lure, which can turn away a fish that might be following a crankbait or spinnerbait deep under the surface. Many professional anglers also prefer these low gear ratios for fishing in heavy cover when they might need to pull a fish out of brush or another type of debris quickly in order to avoid being tangled in a mess and losing the fish. 
It's advisable to use a higher gear ratio for lures that will require you to reel in a good bit of slack during your retrieve, especially if you're trying to maintain a faster speed. This is important for using with lures like topwater frogs, or various kinds of soft plastic lure setups that will be bounced across the bottom. 
Braking System 
One of the most easily misunderstood concepts of a baitcasting reel is the braking system. This is mostly because other types of reels don't incorporate a braking system, so anglers who are more accustomed to using a spinning reel or other type of setup will not be familiar with braking systems and how they play a role in the overall performance of your gear. 
One of the most notorious characteristics of a baitcasting reel is its susceptibility to being backlashed. This is also called a variety of other terms like bird's nest, and tangles, but the overall concept is simple—the reel will become backlashed when an angler makes a cast and doesn't properly time his or her efforts to stop the spool from spinning with their thumb. Failing to stop the spool in time will allow it to continue spinning freely, emptying off large amounts of fishing line that will compile at the opening of the reel where the line feeds off the spool. 
This can be a huge frustration for anglers as a backlash can take several minutes to untangle, but in the worst cases, you'll be forced to cut the line and spend even more time working to free the knotted line before once again tying on your lure and making another cast. 
I have spent enough time trying to undo a serious air knot tangle that I am a big fan of the modern designs with braking systems.
Brake systems on modern baitcasting reels can be made from four main types of components that include:
Manual 
Magnetic 
Centrifugal 
Digital 
If a baitcasting reel has no braking system, you can rest assured that you'll spend more time dealing with backlashed line as there is virtually no room for error when it comes to stopping the spool on each cast. A premium model will offer anglers a quality braking system that can recognize when the lure has made contact with the water, which will then cause it to slow the spool down to varying degrees. 
I personally prefer a reel that has a digital braking system as they are more capable of recognizing the moment a spool needs to be slowed down in order to help avoid backlashing their line. However, centrifugal and magnetic braking systems are also very capable of adequately slowing a spool's rotation down enough to avoid the dreaded bird's nest. 
Spool Size 
Just as with any other type of reel, it's important to take into consideration the size of the spool when it comes to a baitcasting reel. A larger spool will essentially allow you to use heavier line while smaller spools are generally considered better for shorter casts. The line capacity is dictated by the spool diameter and depth.
Most anglers who use techniques like flipping or pitching around docks and other types of structure rely on smaller spools as they can more easily control the accuracy of each cast. 
Ball Bearings 
Most anglers know that a reel must have ball bearings in order to smoothly operate and prevent as much friction as possible during each cast and retrieve. Ball bearings are very important in baitcasting reels just like they are necessary in spinning reels. A good rule of thumb is the more ball bearings a reel has, the more smooth its operation will be. 
I also pay close attention to the methods used in producing the ball bearings of a reel as some brands might try to cut corners by using cheaply-made ball bearings in their reels instead of the more costly bearings that will guarantee a smoother cast and retrieve. 
Construction Material 
One of the most important characteristics I consider when seeking a quality reel is the specific type of material that the frame is made of. In most cases, baitcasting reels will be constructed from graphite or even aluminum material. I believe both of these types of frame composition will provide adequate strength and durability, which ensures that it can stand up to the elements and even the toughest fighting fish when the time comes. 
However, selecting a baitcasting reel that's made of a cheaper material that often includes plastic components should be a serious concern for anglers looking to purchase a tough, reliable reel that won't easily be broken under immense pressure. Graphite frames are more lightweight than aluminum material, so you must understand the differences if you're in the market for a more lightweight reel for catching smaller species of game fish. 
High-quality materials also require less maintenance such as cleaning.
Handle Size and Material 
One of the most overlooked parts of any reel is the handle. Some anglers might assume that the handle plays a relatively small role in the overall performance and comfort level of the reel, but experienced fishing enthusiasts know that the size and material of a handle can make a big difference in the overall feel in your hands. 
I personally prefer a larger handle since it allows me to get a faster grip so they can begin reeling in their lure, or setting the hook on a fish – I do have large hands though. This is especially important for baits that you don't want sitting idle in the water once you've made your cast. However, some anglers like to have a smaller handle as it is simply more comfortable when reeling. 
This is a characteristic that really comes down to an angler's personal preference and it might take a good bit of time before you'll have a better understanding of the type of handle size and material that you generally prefer. 
Final Thoughts 
Finding a solid baitcasting reel might seem like a daunting task at first, but if you follow the tips and suggestions I've provided in this article, you should be off to a great start. There are lots of choices available on the market today, so be sure to select one that you feel confident with—even if it's a relatively more affordable model. All the reels on my list will certainly do their job and last many years when cared for and used properly.
Based on my field testing, the best baitcaiter reel is the Shimano Curado DC, due to its price, performance, and build quality.
If you are still looking for more reels, check out the Piscifun Torrent, Abu Garcia Revo SX, or Kastking Rover.